In case it's not obvious, you will need to get the Tank unit by finding a tank in the Legacy map and staring at it for several seconds. It's buried under a small group of trees.
Now surely, you think, how can you NOT possess a tank well? For starters, driving directly into the enemy Barrel Rollers won't help. This guide tells you how to possess a tank using methods that are much more effective than AI tanks.
Basics: How The Tank Works
Controlling a tank is actually a bit more complex than you'd expect.
Basics: Movement
Tanks still move using WASD, like other units, however, there are a few notable changes.
First of all, they have minor changes to speed depending on which direction they go in. Moving with S is slowest, though not by much, and moving diagonally forward appears to be the fastest. The tank also deals damage on contact, which again varies. It deals practically nothing on the top of the tank, a little bit on the sides when moving, and of course, the most on the bottom, because you can run over things.
When trying to avoid projectiles, you will usually need to use a particular method, this method is simple: drive parallel to your opponent using A or D, and once they fire, immediately stop and tap any other movement key. This will work with a lot of projectiles, including enemy Tank Rounds, which move very fast.
Basics: The Tank Gun
The tank gun is the tank's dedicated weapon, swivelling around on the top of the tank. Its tank gun deals approximately about half a Mammoth's health bar in one hit, and takes about 3 seconds to recharge, which doesn't sound like a lot until it is.
The tank gun also has a few interesting properties not noticeable at first. It will actually deal damage when moving, dealing rather decent damage on par with the run-over damage of the tank's treads. The AI will also swat regular size Wobblers with the tank gun barrel in melee.
The tank's gun is not perfectly accurate, but it's damn close. It can't angle up or down, and has very slight gravity that doesn't really do much. The gun will try and rotate to the centre of your screen, and combined with how the movement works, means that it will point to one side when holding A or D, and backwards when holding S.
Practice
In this next part which will probably be unfinished forever I offer several different exercises to practice in Sandbox Mode, with different conditions.
Practice: Elephant VS Machine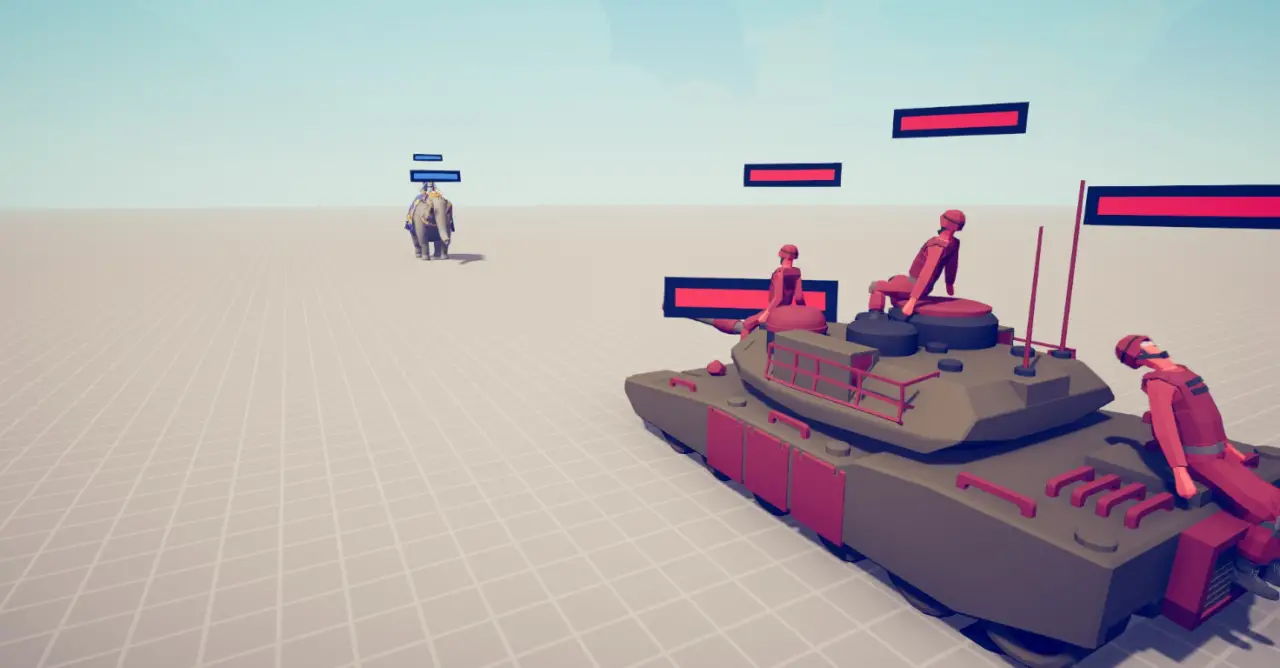 Difficulty: Easy
Opponent: 1 Sacred Elephant
Conditions: You can't use the tank gun.
Strategy: You will need to practice avoiding the rider's spear throws because they hurt a lot, as well as rush down the elephant and damage it quickly enough without the gun.
Practice: No Moving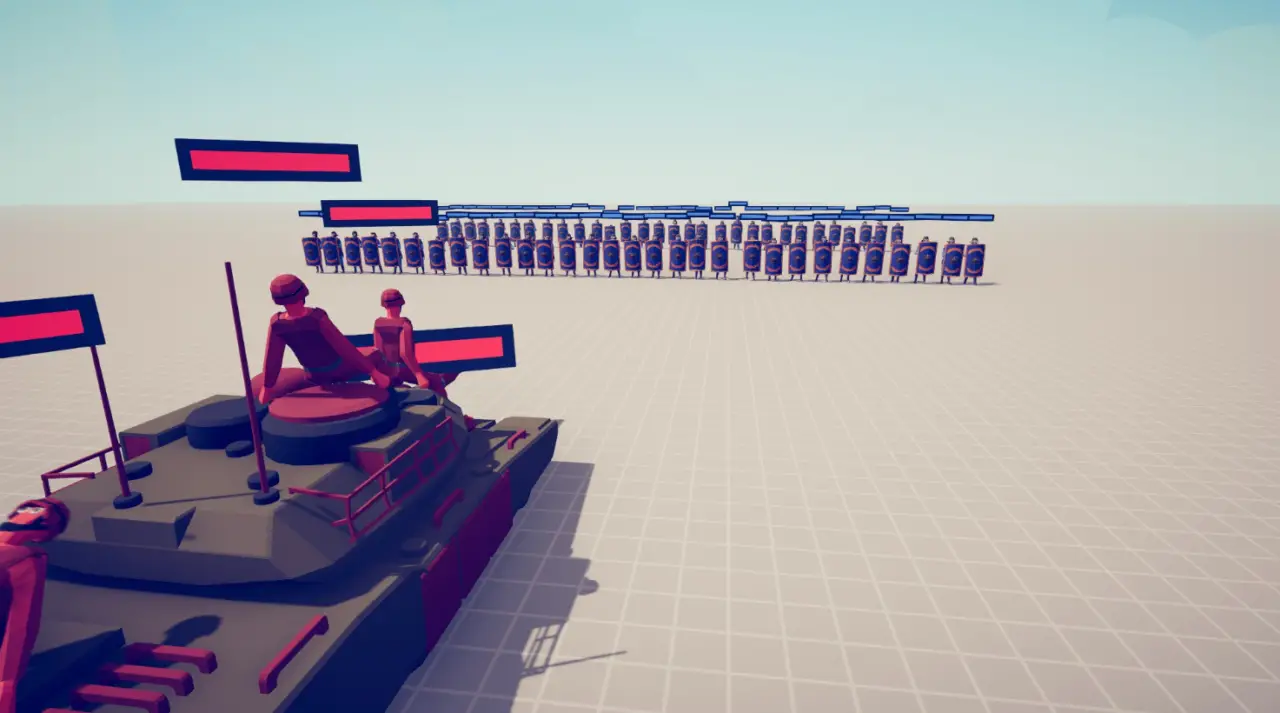 Difficulty: Moderate
Opponent: 60 Shield Bearers in two ranks of 30 each.
Conditions: You cannot use any of the directional keys. No, don't just place your tank miles away from the shield bearers. Be reasonable here.
Strategy: You will need to properly judge where to fire your tank shots for the most damage, figuring out where to prioritize. Once some Shield Bearers get into melee range (which they probably will) you will learn that the tank gun barrel's length prevents firing at enemies too close, so you must barrel-swat the close shield bearers whilst firing at the far away ones.
Practice: Claws of Death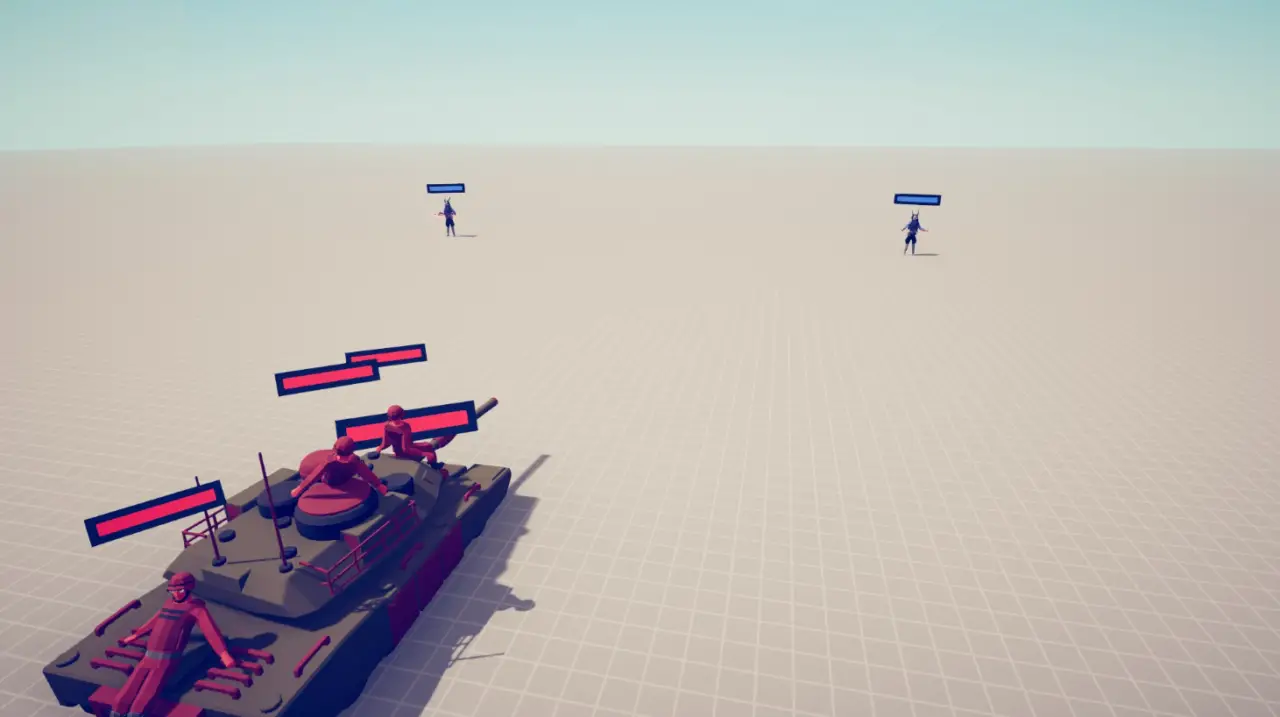 Difficulty: Moderate
Opponents: Two Death Bringers.
Conditions: None, just kill the Death Bringers.
Strategy: Don't let the Conditions fool you, you effectively cannot use the tank gun as Death Bringers have one of the best projectile dodges in the game. You will need to kill the Death Bringers without the gun (thus putting you in melee combat) and do it before the Death Bringers bring you some death.
Practice: 1v1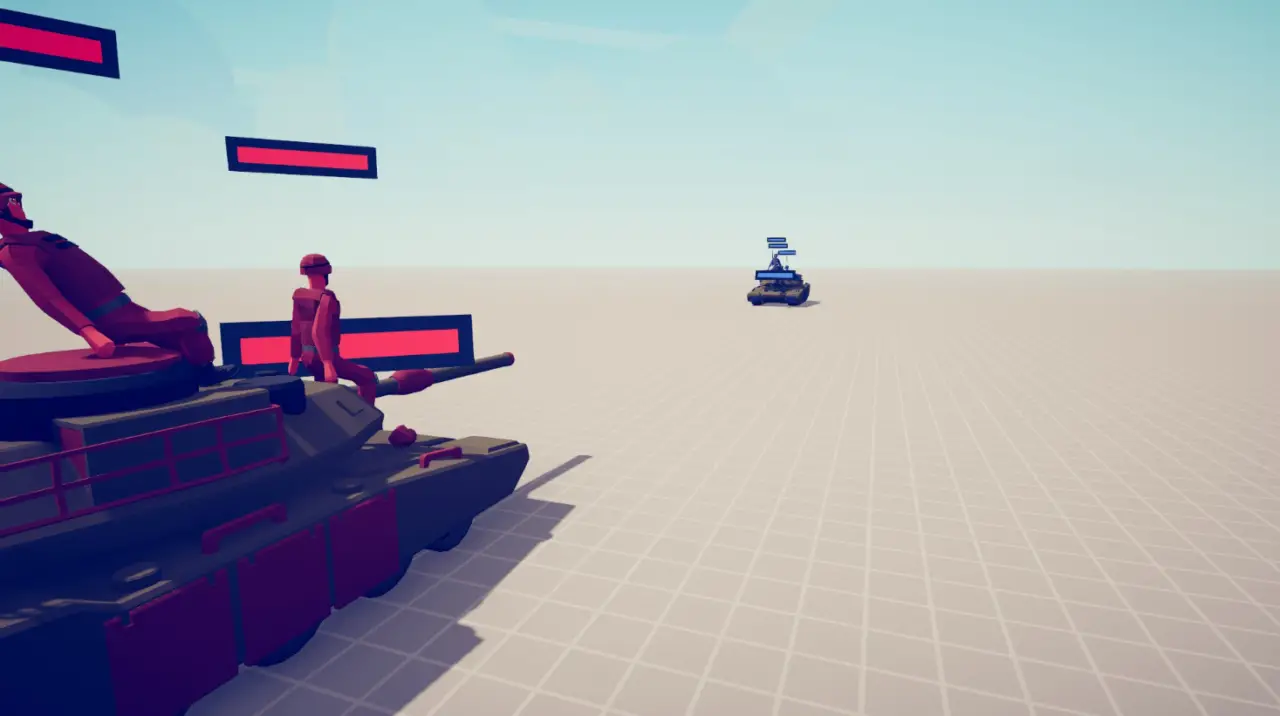 Difficulty: Hard
Opponents: 1 Tank
Conditions: None
Strategy: The AI tank has better reflexes than you, but you have better brains than the AI. It will always start with an accurate shot at you, and you will probably be considerably less accurate. You'll need to dodge said shot before a chase begins with the AI ramming its front into your tank's behind. Both tanks will be too close to each other to use the guns, so the very first seconds are the most vital.
Practice: Outgunned
Difficulty: Hard
Opponents: Two Tanks with a Standard Bearer to keep them still.
Conditions: Survive at least 2 shots from each AI tank
Strategy: This is entirely an exercise in dodging fast-moving, painful projectiles. Don't fight back, just dodge. It's very difficult, one of if not the most difficult practices in this guide, since one mistake will either heavily damage you or kill you.
Practice: Spooky Bullet Hell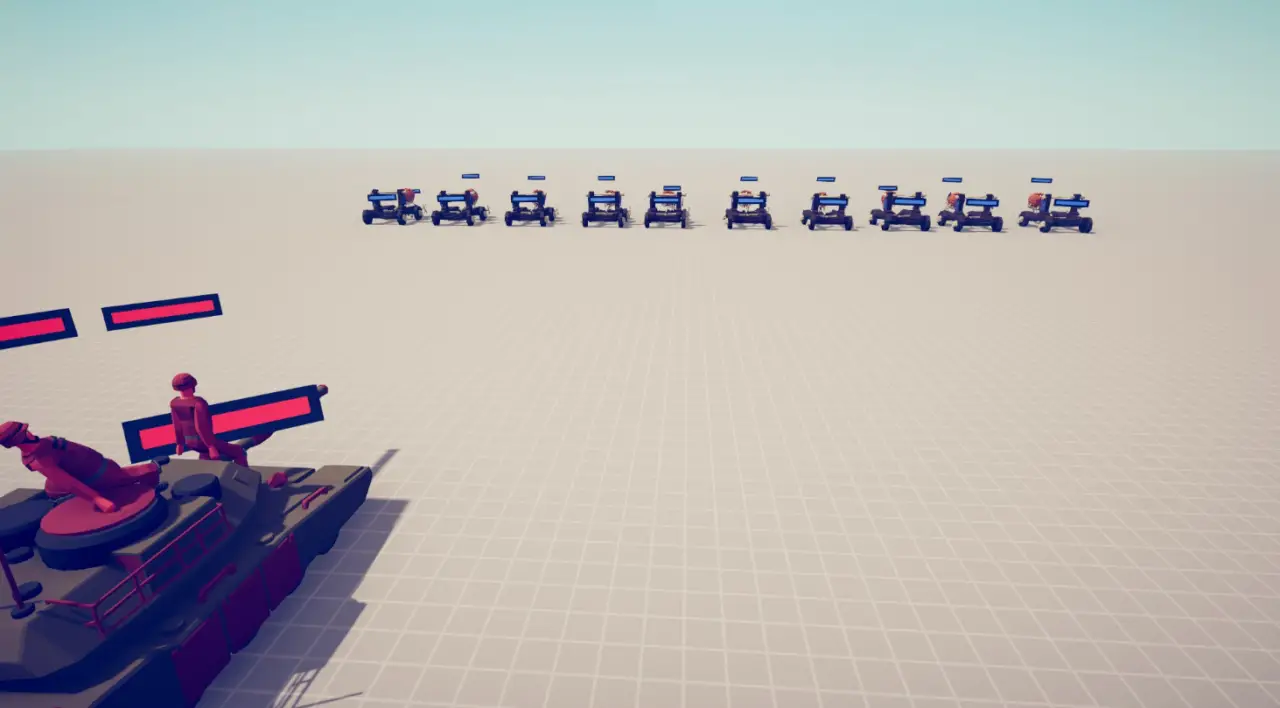 Difficulty: Medium
Opponents: 10 Pumpkin Catapults
Conditions: Do not fight back, survive 3 volleys of pumpkins without taking a single hit of damage. You cannot move out of the way of the catapults until they all have fired their pumpkins.
Strategy: Playing something like Undertale or Touhou would really benefit you here, as you need to navigate a tank in between the pumpkins. To start, they are very predictable and easy, but the catapults will bunch up and fire at different times afterward, which can make it difficult to predict where they land.
Practice: Three to One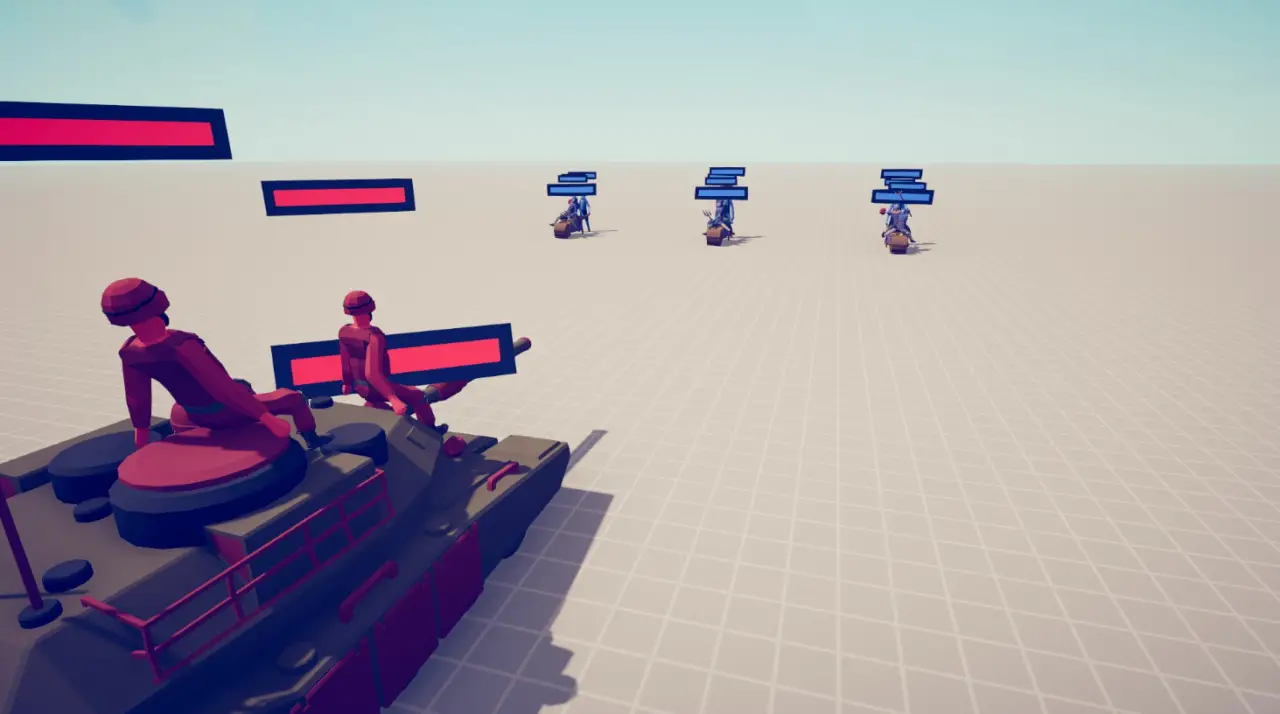 Difficulty: Medium
Opponents: Three Wheelbarrows
Conditions: You cannot fire the tank gun.
Strategy: Use the tank's raw power to your advantage, the enemy has a numbers advantage, ranged weaponry that you don't, but you have raw damage and health on your side. Don't bother dodging the apples, but make sure not to get overwhelmed.
Tanks with Friends
I'll finish off this guide with a game you can play. The ingredients are as follows:
A friend who also has TABS and an internet connection
Said friend must have the Tank unlocked
A multiplayer game with a said friend on a map that has no walls – Holes and Low Ground are two great ones
How to play:
Set your multiplayer game settings to have 3 unit cap on each side, with 18,000 funds. If you want to use different amounts of tanks on each side, remember your six times tables and how numbers work and change the values accordingly.
Once you have the settings right, have both players place 3 (or whatever numbers you set) tanks on each side. Ready up, and once the battle starts possess any tank on your side of the field. Let the match continue from there.
You can also try with just one tank on each side, so you can practice tanks with your friends
If you have no friends because you spend your time reading stupid guides about tanks on Steam, then you can always play in Sandbox Mode using the AI, but it's much better with an actual player on the other side as the AI is pretty predictable.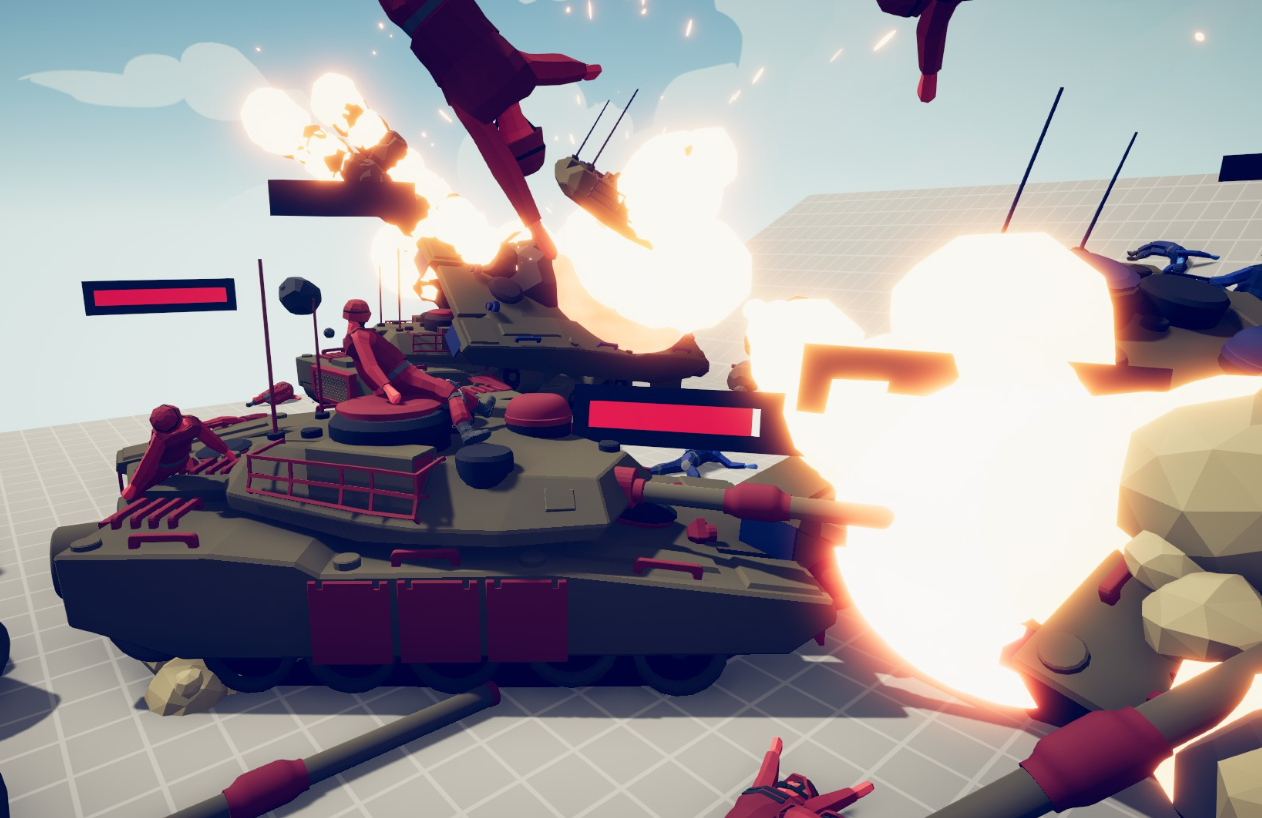 If you believe that any of the content on this site violates your rights, including your intellectual property rights, please contact us immediately using our contact form.