This guide will show you how to configure resolutions other than those offered by the in-game settings menu.
Ultrawide Screen Support
Enter the Windows Registry Editor. If you don't know what the Registry Editor is, probably you shouldn't mess with it. Be sure to know what you are doing before following the next steps.
Go to Computer\HKEY_CURRENT_USER\SOFTWARE\FLAZM\Time Loader
Now you should see the following registries:

Change the registries for Width and Height according to your needs. Note that you can use the option "Decimal" in the screen below, so you don't have to convert your resolution number into Hex.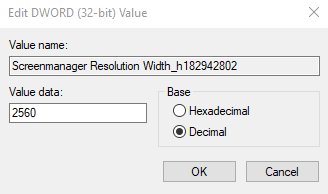 Close the Windows Registry Editor and start the game.
Notes
After changing the resolution in the registry DO NOT change it again in the in-game settings menu, otherwise, you'll have to repeat the steps above.
The game screen actually uses all of your widescreen during the game, giving more visual area than a regular screen. The image is not stretched to fill the screen.
The in-game menus actually seem to stretch a little bit but are totally usable.
It's a shame that a PC game in 2021 does not support Ultrawide screens out from the box and the players have to do this.
And that concludes this Time Loader guide. Help us improve this guide by leaving your suggestions in the comment section below.
If you believe that any of the content on this site violates your rights, including your intellectual property rights, please contact us immediately using our contact form.