Title: Timberborn
Release Date: September 15, 2021
Developer: Mechanistry
Publisher: Mechanistry
A visual representation depicting the step-by-step process of the Iron Tooth faction in cultivating, nurturing, collecting, and transforming their modified food products. The purpose of this visual aid is to provide a comprehensive overview of the requirements for each food variant, enabling users to make informed decisions regarding the optimal timing and quantities for planting.
Food Chain Graphics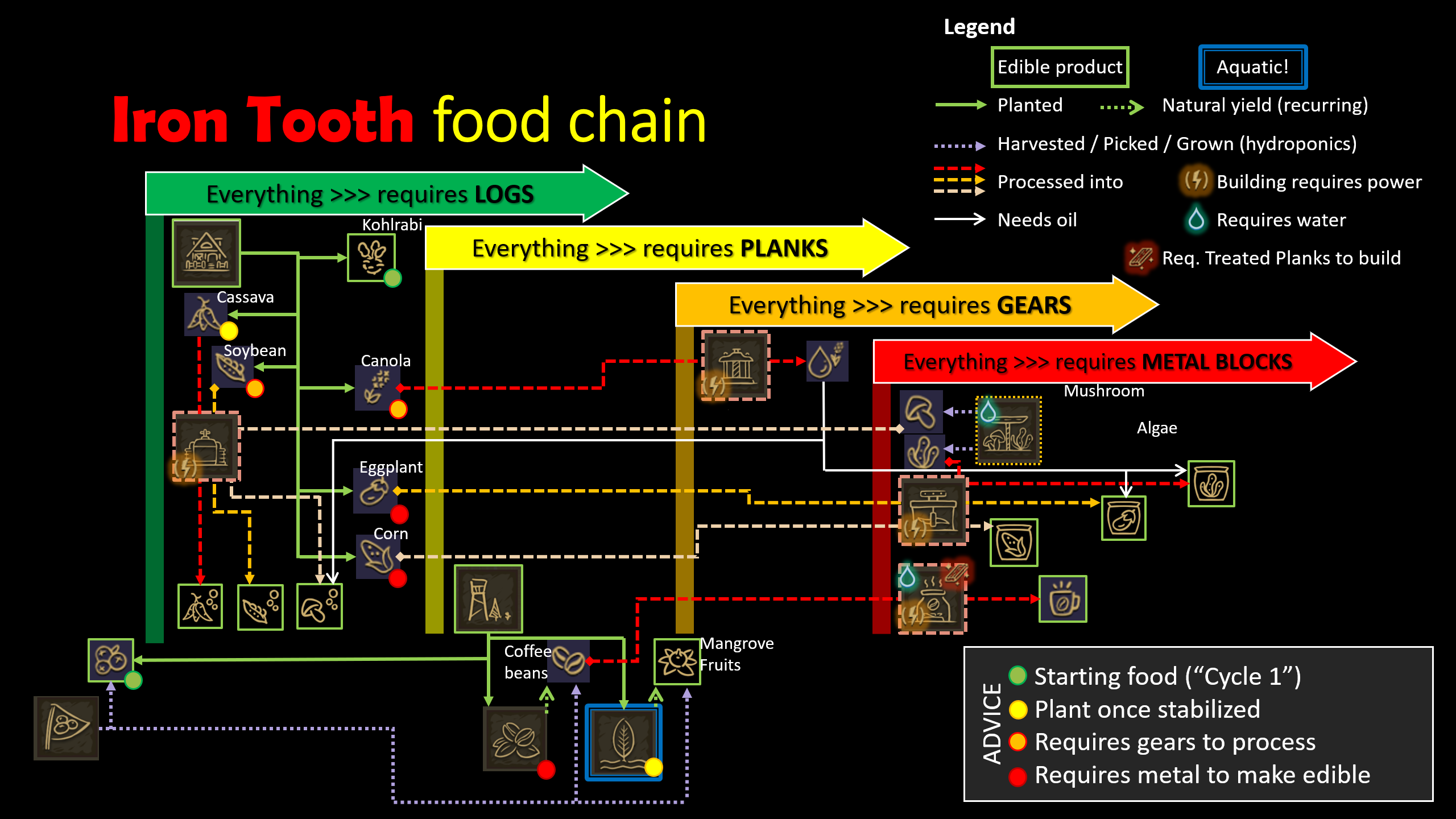 Recommendation
Early phase ("Cycle 1"):
In the initial stages, it is advisable to focus primarily on planting a substantial quantity of kohlrabies. If you have the necessary resources and means to generate power, you may also consider planting cassava, which requires fermentation. Planting any other crops would be inefficient and a misuse of valuable land since gears are essential for converting them into edible products.
Once stability is achieved with the presence of a forester:
If you have access to a "lake" or reservoir, it is recommended to cultivate mangroves due to their directly consumable fruits, ability to regrow effortlessly, and their positive impact on well-being.
One cycle before commencing gear production:
When you anticipate the imminent start of gear production, it is crucial to dedicate a significant portion of land to cultivating canola. Canola serves as a valuable resource as it can be transformed into oil using an oil press (which requires gears). Additionally, with oil, you can ferment soybeans.
Metal blocks:
Upon initiating the collection of scrap metal, it is an opportune moment to consider planting eggplants and corn. Once you obtain metal blocks, you can construct a food processor to convert these crops into rations. It's important to note that eggplant rations necessitate the availability of oil, so it is essential to monitor its stockpile.
Furthermore, the acquisition of metal blocks enables the construction of hydroponic gardens, which facilitate the growth of algae and mushrooms, albeit at the expense of a substantial amount of water. It is advisable to increase the number of pumps to accommodate this demand.
Treated planks:
Lastly, to relish a well-deserved cup of coffee, you will require gears, metal blocks, and treated planks. This implies the need for collecting pine resin and other related resources.
That's everything we are sharing today for this Timberborn guide. This guide was originally created and written by Alcator. In case we fail to update this guide, you can find the latest update by following this link.
If you believe that any of the content on this site violates your rights, including your intellectual property rights, please contact us immediately using our contact form.