Title: The Texas Chain Saw Massacre
Release Date: August 18, 2023
Developer: Sumo Digital
Publisher: Gun Interactive
This guide aims to provide a comprehensive overview of blood values, totals, and collection amounts from buckets, considering both scenarios with and without perks in effect.
Introduction
If you've spent any time playing the game Family, you may have noticed that blood harvesting isn't immediately obvious. It often requires repeated gameplay and adjustments to understand how this statistic works and achieve the desired numbers. Moreover, there can be confusion regarding how buckets contribute to your overall blood total. To address these issues, I've gathered all the relevant statistics and included valuable information about how perks impact both blood collection and the overall blood totals.
Blood Harvesting Stat
The Blood Harvesting stat has a significant impact on various aspects of the game. It influences the amount of blood you can store in your vial, which, in turn, affects the blood you collect from blood buckets. Additionally, it plays a role in the amount of blood you gain from striking victims and executing them. All these factors are directly connected to the maximum total blood you can hold.



Totals (With and Without Perks)
The only aspect directly influenced by investing points into blood harvesting is your total blood storage capacity. The amount of blood collected, regardless of the method used, is always a percentage of your total blood storage. This consistency has been observed throughout all of my experiences.
I've included a graph below illustrating the totals without perks. It shows a linear progression, starting from 15 (the lowest value nearest to a multiple of 5) and increasing up to the maximum value of 50.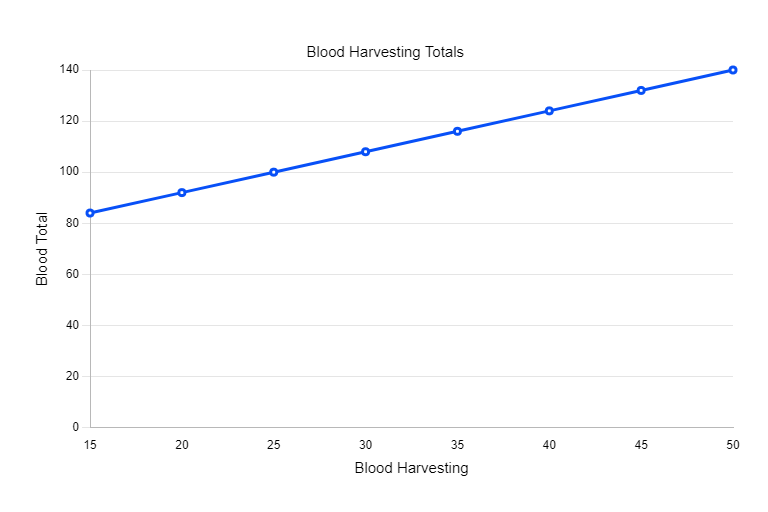 When you have the Blood Banker perk, you can increase your maximum blood storage by 10%, 20%, or 30%, depending on the perk's level. This increase directly adds to the totals previously mentioned. Here's a graph illustrating the totals for a level 3 Blood Banker perk: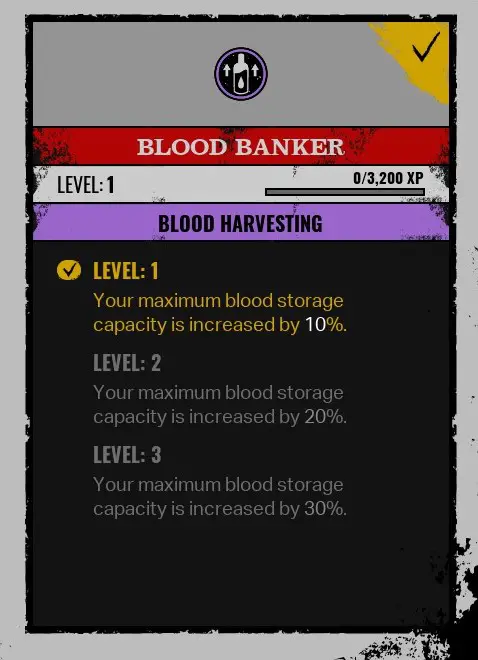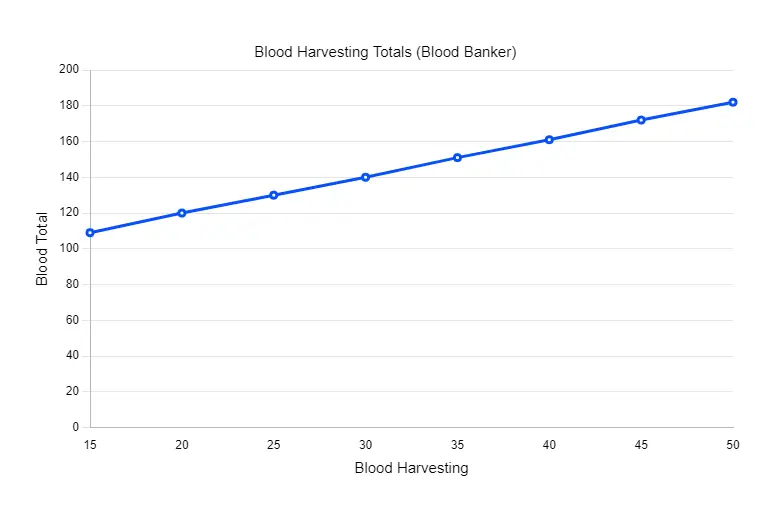 There has been a significant rise, with a substantial total increase observed, going from 140 to 182!
Harvesting Blood (Buckets and Victims)
When you gather blood, whether from a victim or a blood bucket, you receive a portion of your total blood supply. You may have already noticed this phenomenon.
Specifically, you obtain precisely 1/5 or 20% of your maximum blood from buckets, and 1/10 or 10% from striking victims. In my experience, kills have consistently filled me up to 100%, but there is a possibility that this may vary. If you possess any numerical data on this matter, I'd appreciate hearing about it.
It's worth mentioning that certain perks, notably Universal Donor or Surgical, significantly enhance your blood collection capabilities.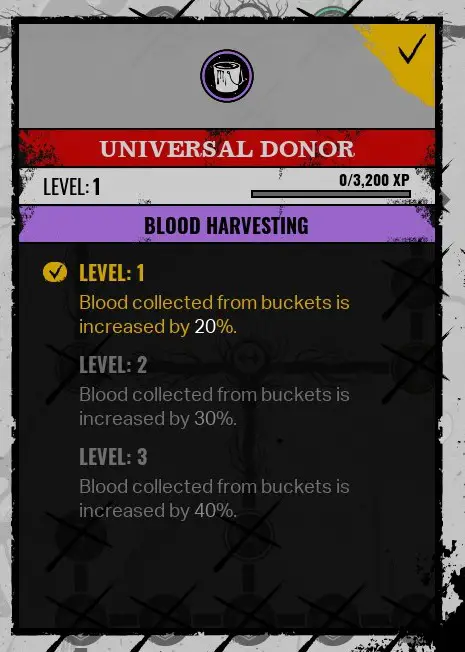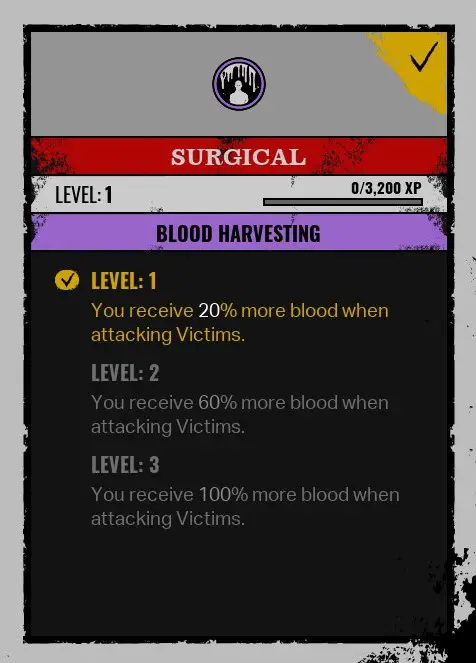 Universal Donor will boost your blood collection from buckets to 24%/26%/28%, surpassing the standard 20% rate.
With Surgical, your blood acquisition from hitting victims increases to 12%/16%/20% per strike, exceeding the usual 10% increment.
That's everything we are sharing today for this The Texas Chain Saw Massacre guide. This guide was originally created and written by Vi<3. In case we fail to update this guide, you can find the latest update by following this link.
If you believe that any of the content on this site violates your rights, including your intellectual property rights, please contact us immediately using our contact form.