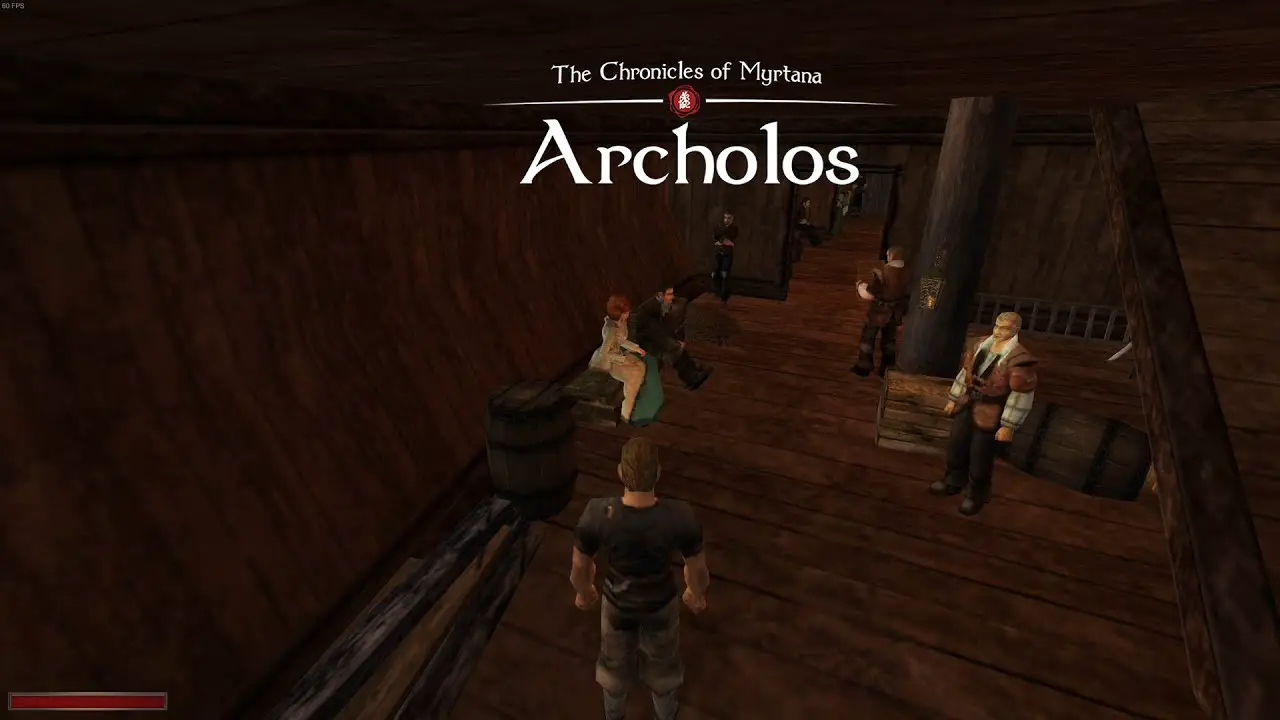 A description of every marker on the Archolos city map which includes NPC names and what they have to offer. If you are here for specific teachers I recommend checking out other existing guides!
Archolos City Map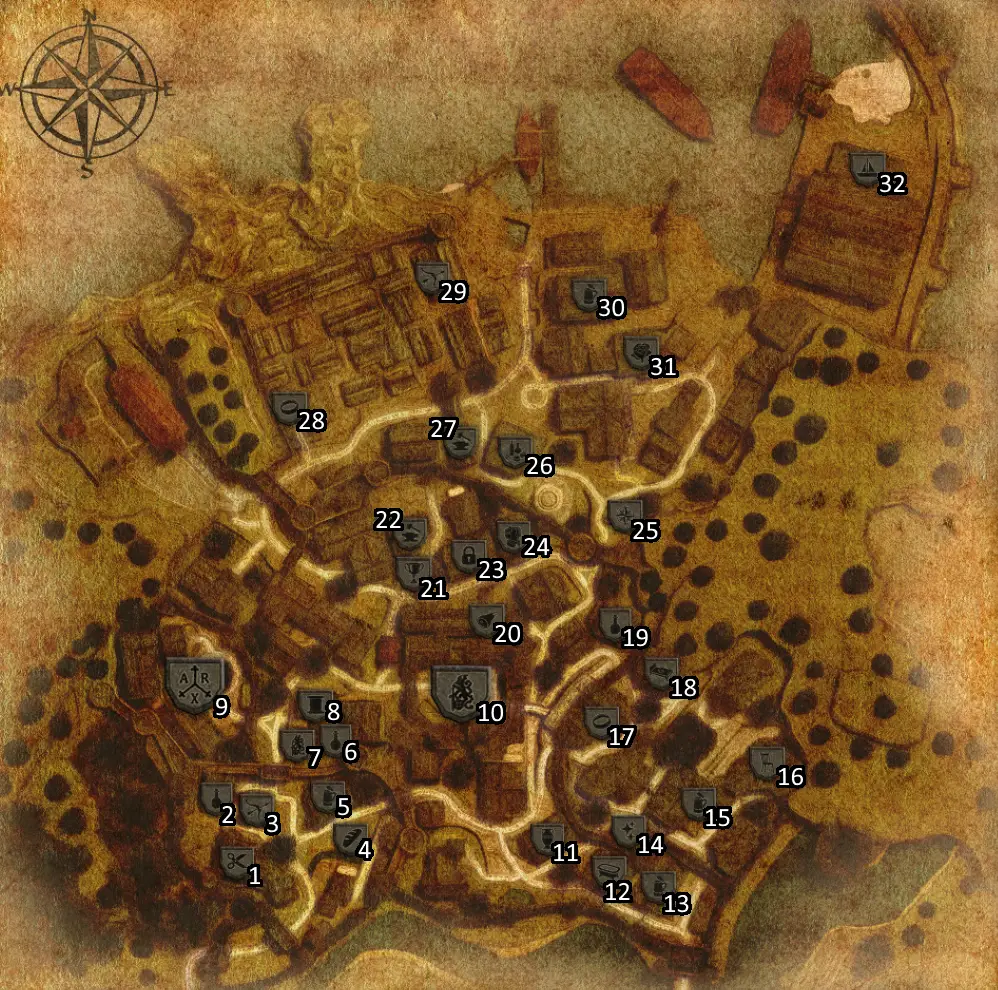 Legends
Name | Description | People of interest
Insignia | Tailor Shop | Tailor
Clothes, Outfits
Shard of the World | Alchemist Shop | Hershlik
Alchemy Potions + Elixirs, Alchemy ingredients, Alchemy recipes
On the Trail of the Beast | Bowyer's Workshop | Frida
Bow/Crossbow vendor, Buys Animal/Monster trophies
Fire's Calling | Bakery | Baker
Food vendor
Dark Paladine | Brewery | Tomas
Food vendor
War of the Elements | Barber's Workshop | Figaro
Alchemy ingredients
Decision Time | Office | Matey
Citizenship
Three Sailors | Writing Workshop | Venzel
Trainer, Books
Merchant Guild
Diva – Scrolls | Garos – Beast bounties, Trainer | Grif – Trophy vendor | Adelard – Trainer | Otmar | Ernesto | Docan – Trainer | Caramon – Trainer | Ingor – Armor vendor, Trainer | Ronja | Rudi | Lorenzo
City Guard
Urych – One random food dish per day (only if part of the city guard) | Sall – Trainer | Oktav – Trainer, Criminal bounties | Corum – Healer | Lennart – Melee weapon vendor | Roderich – Trainer | Logar | Winstan | Arwid | Guido
Shadows of the Past – Museum – Miron
Buys old coins
Lagoon | Bathhouse
Regenerate Health for free
Broken String | Inn | Gerstand
Food vendor
The North Star | Astrology Workshop | Astrologer
Book vendor
Ernesto's Hostelry | Inn
Valley of the Dawn | Furniture Store | Katrina
Valley of Gold | Jewelry Workshop | Susanne
Accessory vendor
Corsair's Hideout | Hotel | Receptionist
Rent a room for 100 GP
Sisters' Cauldron | Herbalist Workshop | Fadha, Ramha
Trainer, Alchemy vendor
Bloody Retaliation | Slaughterhouse/Butcher | Slager
Food vendor
Payback Time | Pawn Shop | Luna
The Third Warrior | Blacksmith's Workshop | Odgar
Trainer, Melee weapon vendor
From the Life of a Thief | Locksmith's Workshop | Davis
Buys Valuables and Wood (only if apprentice)
The Great War | Armorer's Workshop | Armorer
Armor vendor, Upgrade armor
Odyssey | Cartographer | Ludwig
Map vendor
The Traveller | Variety Shop | Alice
Accessory vendor & more
The Last Clash | Blacksmith's Workshop | Walter
Melee weapon vendor
Golden Gate – Variety Shop – Huug
"Magical" artifacts
In Exile | Bowyer's Workshop | Bowyer's Corpse
Siren's Wail | Inn | Helga
Food vendor, Information
Dark Mysteries | Brothel
Event at Sea | Shipyard
I hope this will help some of you! I wish I would've had something like this for my first playthrough, but maybe I'm alone in that. Please let me know if I missed anything important or if you feel like there is something that I should add to this guide.
That's everything we are sharing today for this The Chronicles Of Myrtana: Archolos guide. This guide was originally created and written by Excuritas. In case we fail to update this guide, you can find the latest update by following this link.
If you believe that any of the content on this site violates your rights, including your intellectual property rights, please contact us immediately using our contact form.