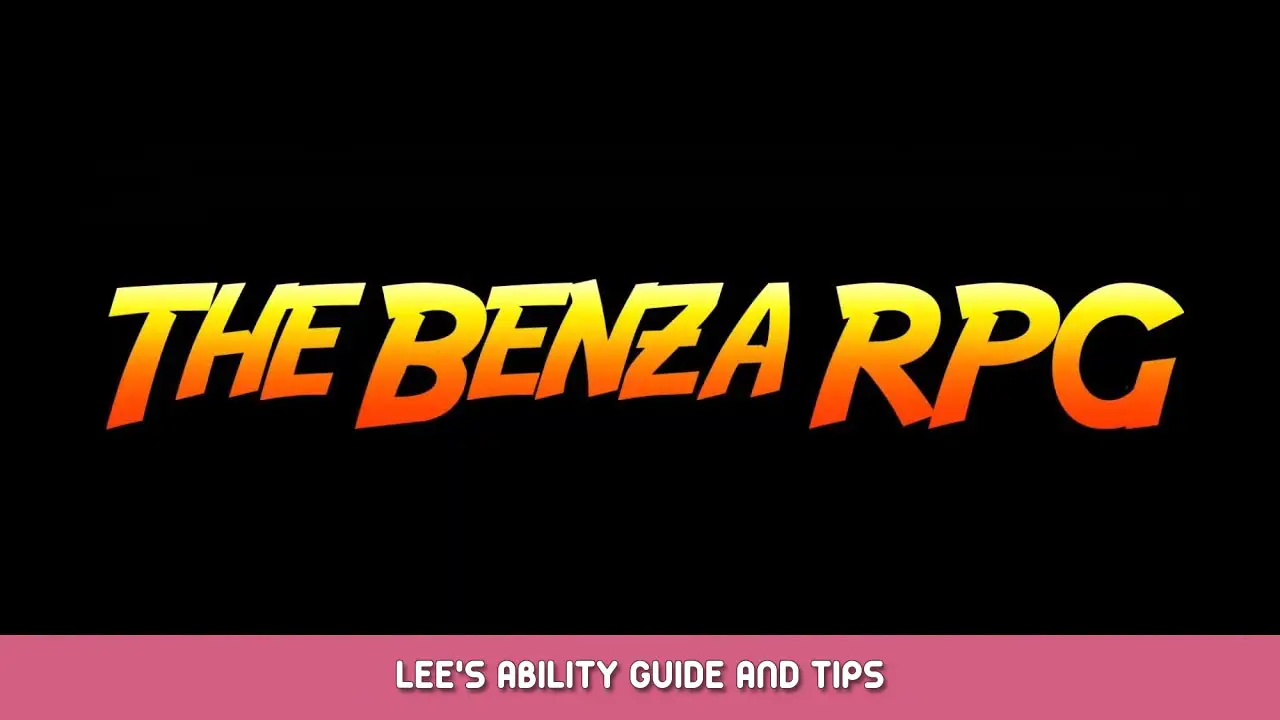 Lee's an excellent character who's moves all have an element of luck attached them. One problem: His moves are all in Korean. This guide will break down what each move does.
Introduction to Lee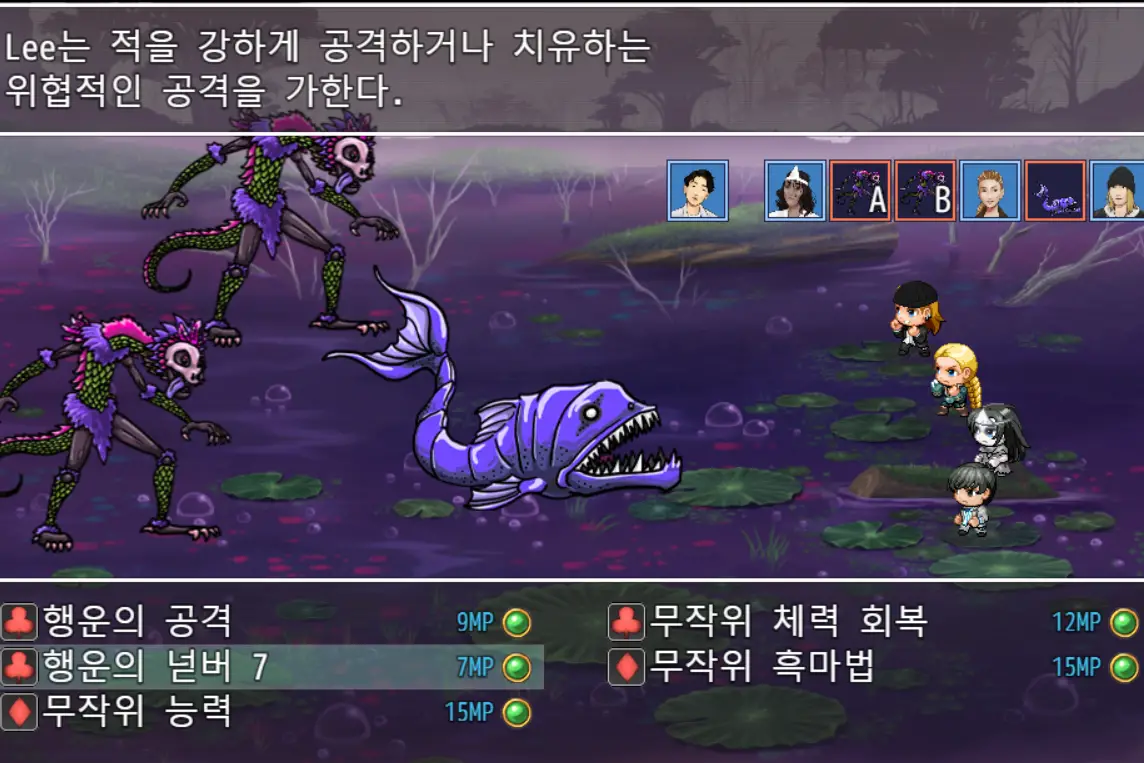 Lee is a character that appears in "The Benza" and "Benza English" as a regular character. Though the rest of the cast speaks in Japanese, Lee is the only character who doesn't understand Japanese and speaks all of his lines in Korean. He usually says something very helpful, but since the other characters cannot understand him, his advice goes unheard.
In "The Benza RPG", Lee's dialog is all in Korean. By using a translation application you can check what he is saying. Often Lee's commentary is a helpful tip about a boss fight or a funny comment about what's happening, so it's worth doing if you have a translation application handy. However, Lee's comments are not necessary to translate to fully enjoy the came.
Lee has a very interesting collection of abilities. Beyond them all having an element of luck involved, the abilities are all in Korean. At first this can be a bit confusing, once you get used to his special skills, you'll find that Lee is quite strong and actually fairly easy to use.
Each ability will be explained and the random effects will all be examined in this guide.
"무작위 체력 회복" Random Heal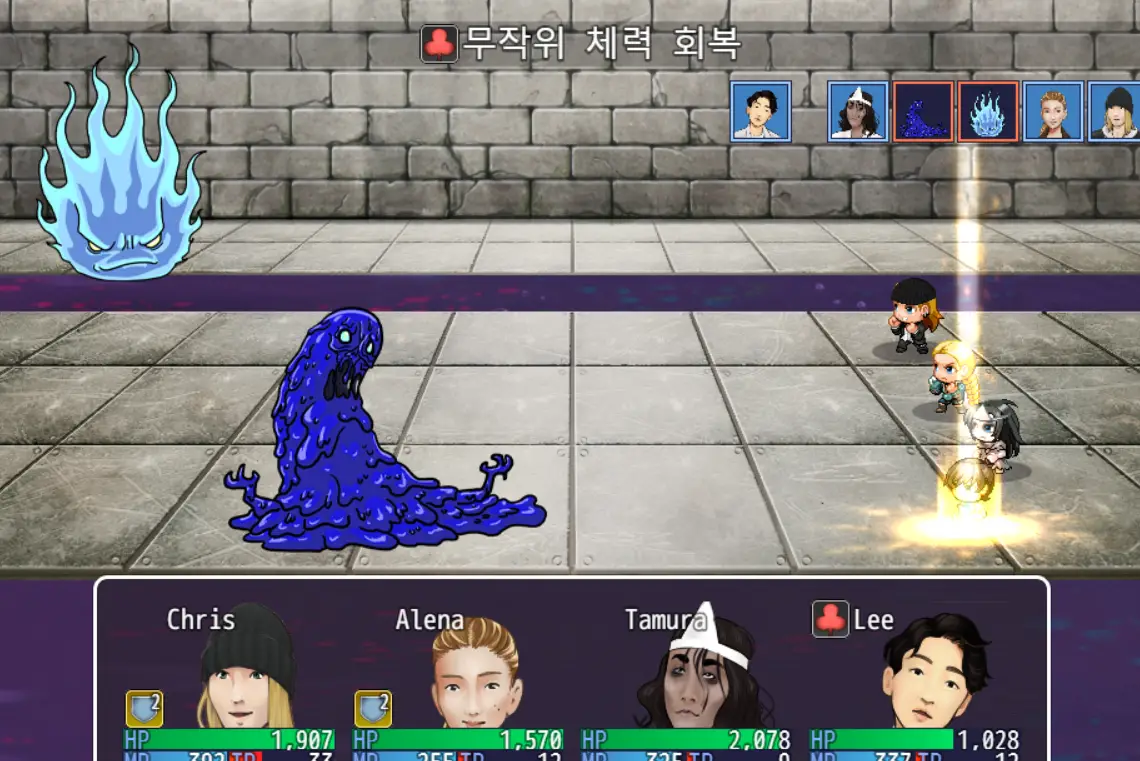 Learned at: Level 3
Description: "Lee는 타격을 입은 후에 자동적으로 치유된다.이 능력을 한번 \n사용하고 나서는 아군에게 무작위로 사용된다."
After casting, Lee receives a status effect icon that looks like a spade. If Lee is hit he will be healed and then the status will move to a different character. Once they are hit they will be healed and then the status will once again move to a different character. This will repeat four times.
This ability can be used multiple times as long as Lee doesn't currently have the status effect on him. There is no drawback to using this, and it is very useful to have up in boss fights as emergency healing support.
"무작위 능력" Random Negative Status Effect
Learned at: Level 5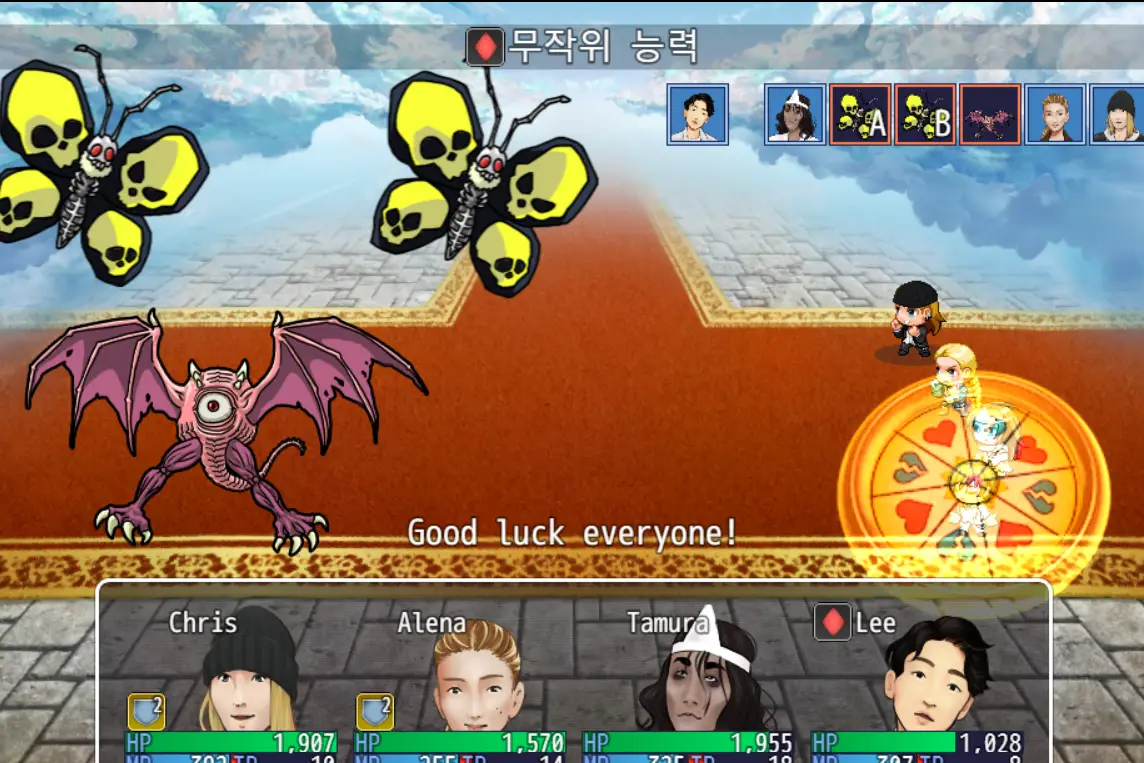 Description: "Lee는 몬스터에게 무작위로 능력을 사용한다. \n도움이 될 수도 아닐 수도 있다."
Lee uses a random status effect on the monsters. This could be anything from Silence to Death Toll. Again, incredibly useful considering when Lee is in the party the only negative status effects that are readily available are sleep via Chris and flare via Alena. The only downside is there is no way to know what negative status effect Lee is going to use. It is possible for him to use effects that the monsters are immune to.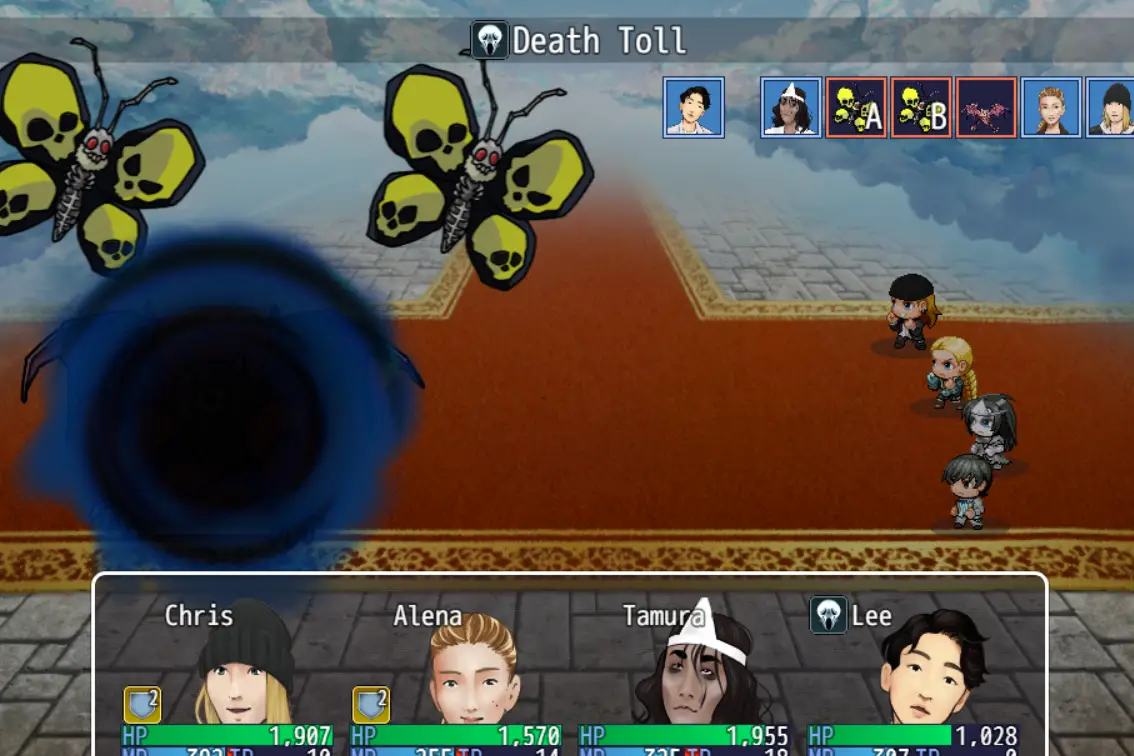 Tamura can actually learn "Death Toll" via this ability! It's a neat way to learn a haunting a long time before it actually shows up from a monster. Considering a lot of the opponents in The Benza Battle Arena are not immune to "Death Toll", it's a great way to cheese some of the matches.
Possible effects: Sleep, silence, poison, death toll, amnesia, paralyze, toxic, confusion, flare
"행운의 넏버 7" Lucky Number 7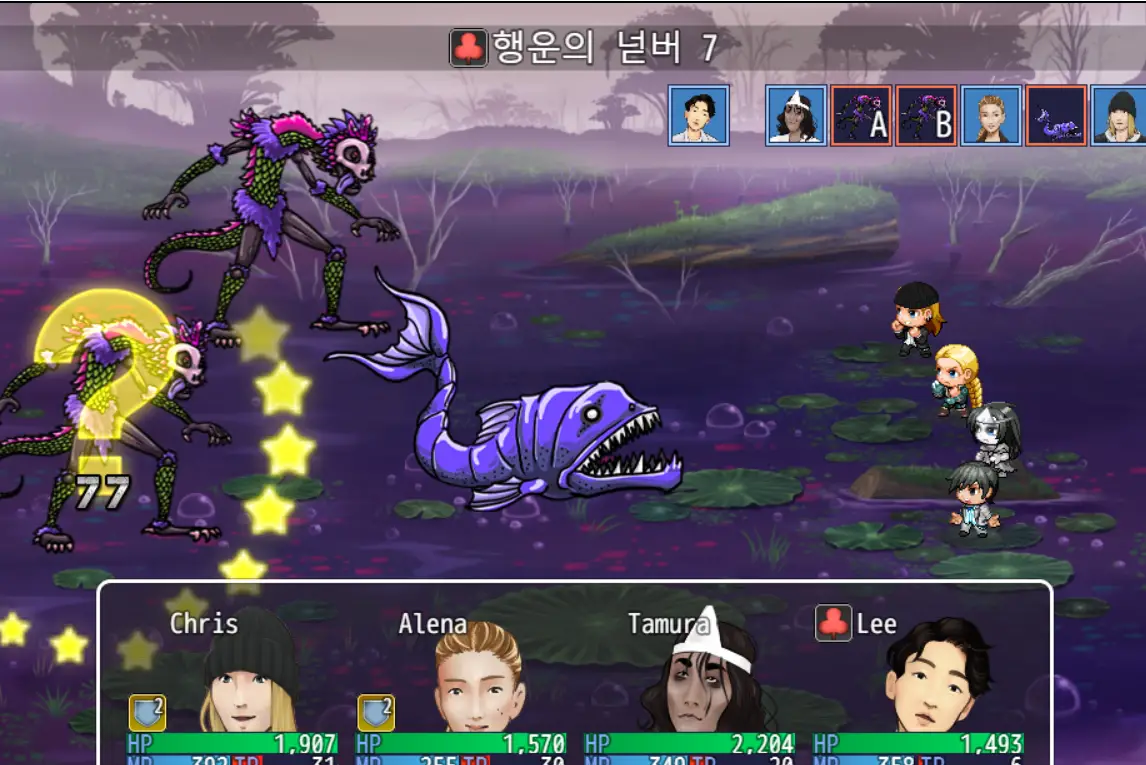 Learned At: Level 7
Description: "Lee는 적을 강하게 공격하거나 치유하는 \n위협적인 공격을 가한다."
Lee will either hit a monster for 7, 77, or 777 damage three times. There is a slight chance that he will heal a monster for 77 HP.
Why would you risk healing the monster? If Lee is able to proc 777 several times, it will bring a swift end to almost any boss fight and can really save you some time. It has the potential to do more damage than any other ability available at the point in the game that Lee is in the party.
Is the risk worth it? That's up to you to decide.
"무작위 흑마법" Random Elemental Damage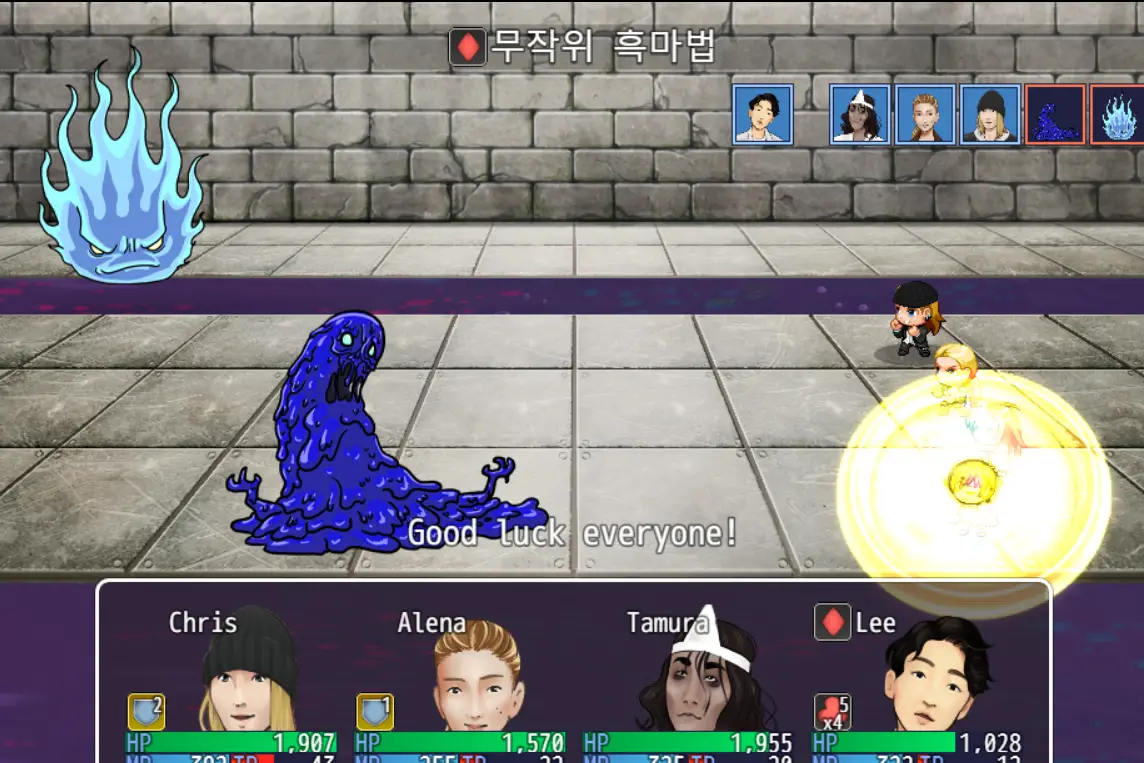 Learned At: Level 9
Description: "Lee는 무작위로 흑마법 주문을 사용한다. \n아마 이것은 기본데미지보다 훨씬 강력할 것이다"
Lee casts a random elemental damage spell. It could be earth, wind, or water element. Additionally, he has a small chance of using "Gravity 1" or "Gravity 2" which both remove a fixed percent of the monster's remaining HP. This is very useful in combination with Tamura's "Etheral Balance" as Lee's magic damage will heal the entire party.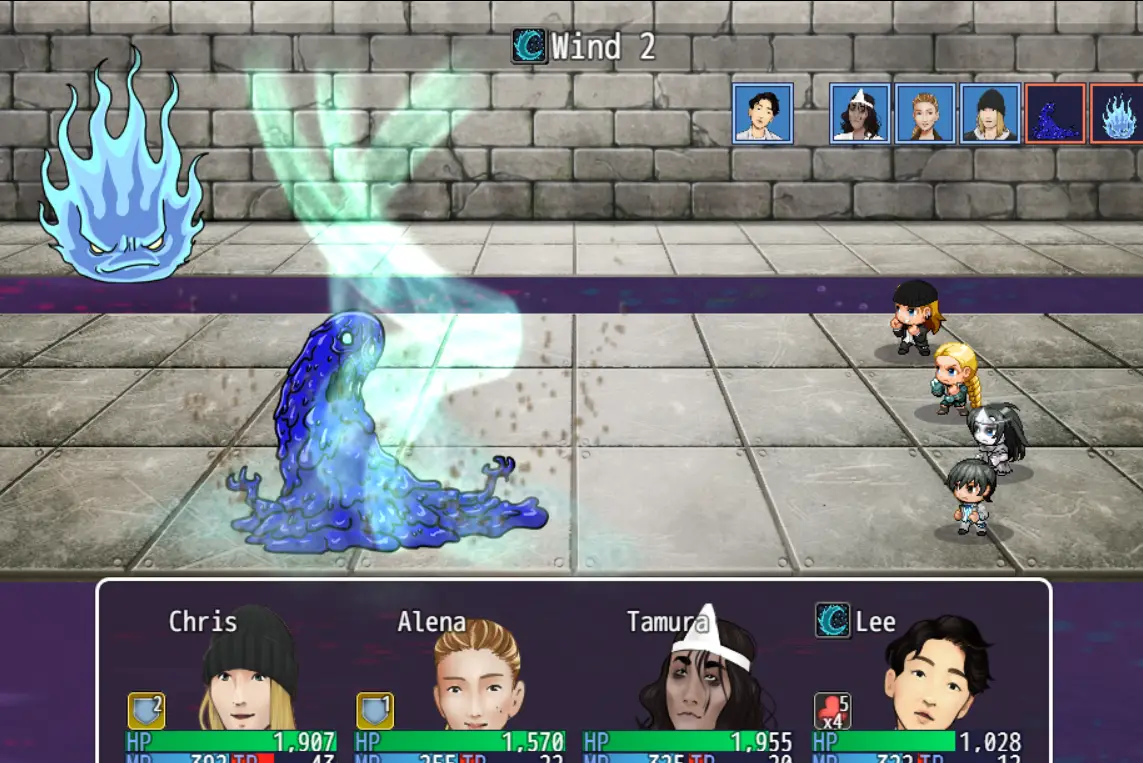 This ability is magical damage, so MAT affects the damage output. Make sure to equip Lee accordingly if you plan on using this ability a lot to maximize the damage.
The only real risk involved with this ability is that there is a chance Lee will use an element that the monster is not weak to. Having said that, damage is damage and there is no chance of him using it against the party. There's not much risk here.
Possible Magic: Wind 1, Wind 2, Earth 1, Earth 2, Water 1, Water 2, Gravity 1, Gravity 2
"타격 혹은 빗나감" Random Attack (Weapon Skill)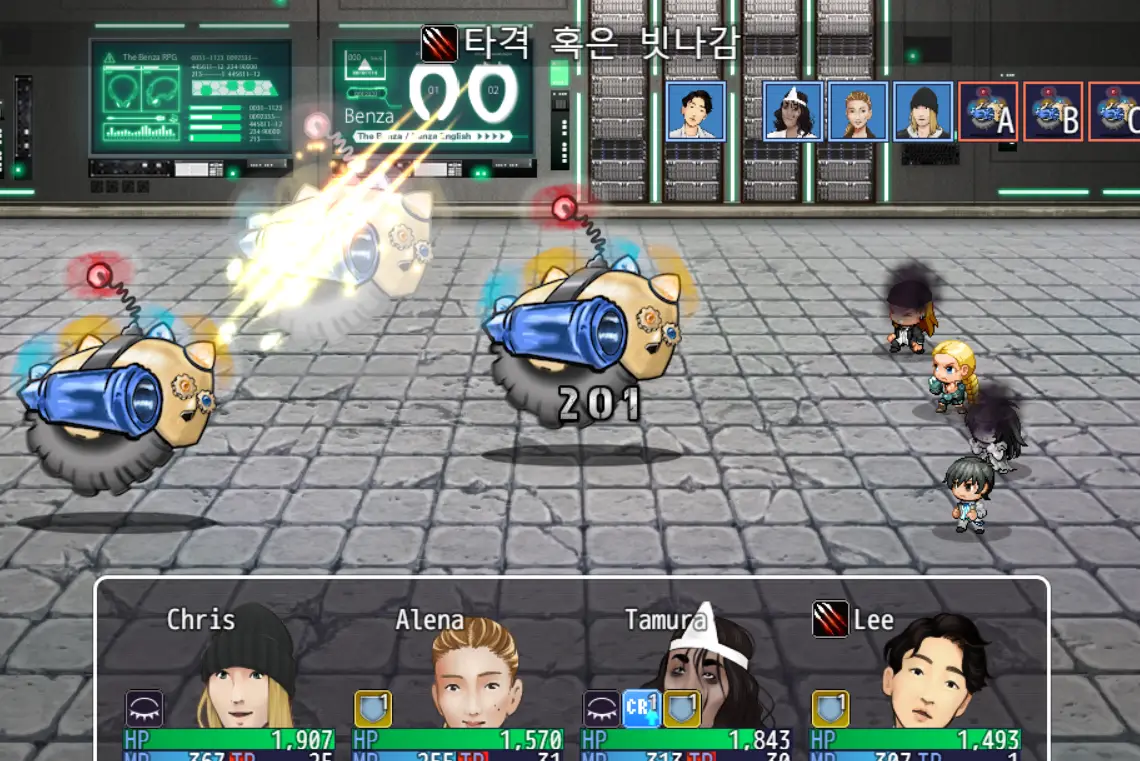 Learned At: Level 10
Description: "Lee는 4번 거칠게 공격한다. 이것은 강하게 타격하거나 빗나간다"
Lee attacks four times with a high miss rate. If he hits, a random character will be given a boost to their critical hit rate for their next attack. There's not much of a risk here other than Lee not hitting the enemy on any of the four attacks.
"행운의 공격" Lucky Strike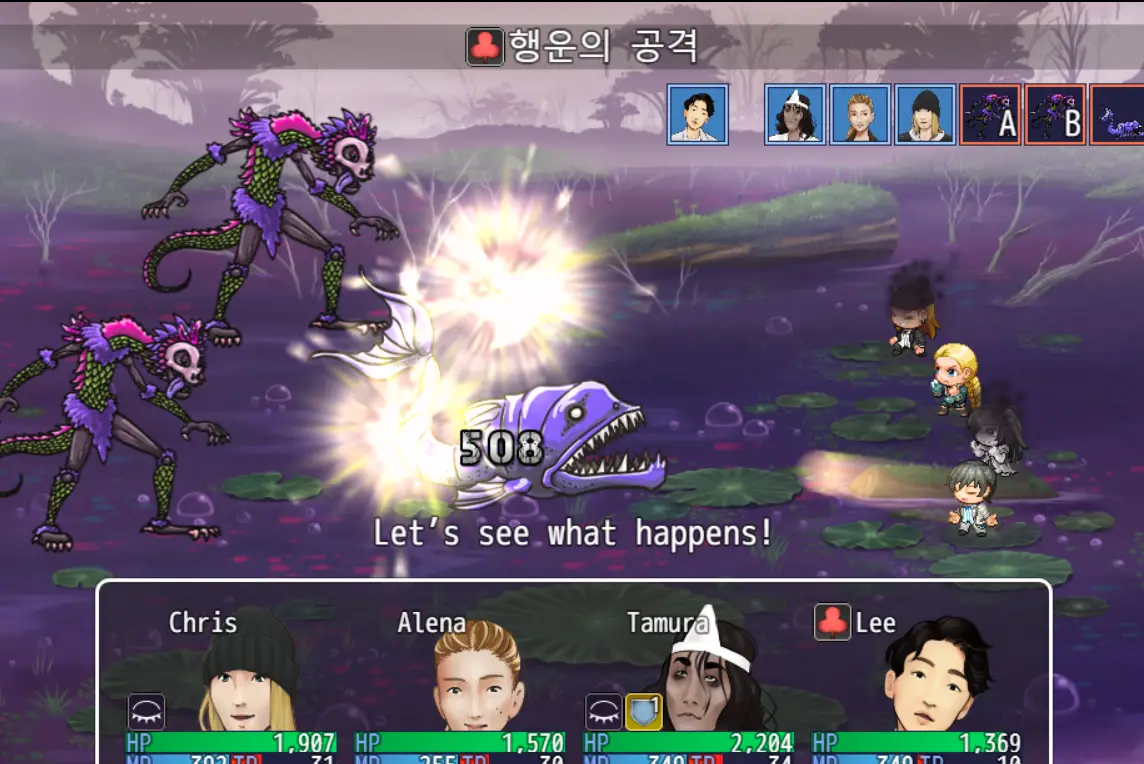 Learned At: Level 12
Description: "Lee는 자신에게 행운을 주거나 불운을 주는 공격을 한다"
Lee attacks, and if he hits he will get a boost to his luck. If he misses, there is no penalty. I think there's a lot of better things that you could do with Lee, and luck doesn't really add enough to a fight to spend a turn trying this move out.
Skip it and use his random element attack instead.
"반사거울" Copy Move
Learned At: Level 14
Description: "Lee는 적의 마지막 특수 공격을 반사한다"
There's no luck involved with this move once you understand how it works. Lee mimics the selected monster's last used attack. This means that you have to pay attention to the monster's attacks so that you use this ability at the right time, other wise it will just be a waste of TP.
For example, if the first monster uses "Heal 1" and the second monster uses "Wind 1", selecting the first monster with this move will cause Lee to use "Heal 1" on the party. Selecting the second monster will cause Lee to use "Wind 1".
This essentially enables Lee to use any move in the game that the monsters can use, so if it is timed right it can be very powerful.
That's everything we are sharing today for this The Benza RPG guide. This guide was originally created and written by craft777. In case we fail to update this guide, you can find the latest update by following this link.
If you believe that any of the content on this site violates your rights, including your intellectual property rights, please contact us immediately using our contact form.