Title: The Baby In Yellow
Release Date: May 26, 2023
Developer: Team Terrible
Publisher: Team Terrible
This guide will be showing you how to get the Celestial Spinner achievement in The Baby In Yellow. This achievement requires players to spin the Globe of Carcosa in the game.
Appearance
In either "The Laboratory" or "Worlds Collide" chapters of the Black Cat Chapter, the Globe of Carcosa makes an appearance. This enigmatic object is characterized by its golden hue and features a solitary island atop its surface.
Unlocking the door
Upon entering the Alchemy Room, take a left, where you'll encounter a door that requires a green moon key for access. To obtain this moon key, you'll need to follow these steps:
Begin by brewing the magnet potion, which consists of combining red and blue reagents. Once you have concocted the pink potion, feed it to the baby. This action will magnetize the pink key to the baby, allowing you to retrieve it. You can then use this key to unlock the kitchen, which is located either next to the toy box or near the door with the dead flower on it.
Locate the valve handle on the bench and attach it to the missing pipe situated next to the room you wish to access. Additionally, while in the kitchen, you can earn extra achievements. Here's one of them: In the top section of the fridge, you'll find a turkey. Placing it in the oven and closing the door will cook it. However, repeating this action after cooking it will cause the oven to burp and eject a partially eaten turkey.
Position the baby underneath the pipe and quickly administer the magnet potion to the baby. Then, turn the valve. This sequence of actions should result in the appearance of the green moon key.
Finally, use the green moon key to unlock the door and gain entry to the desired room.
Finding the globe
Upon entering the library, make a right turn. You'll notice a chair situated next to a pink candle. Adjacent to this chair, there's a shelf mounted on the wall. On this shelf, you'll find the globe. Your objective is quite straightforward – simply give the globe a spin, and you'll unlock the achievement!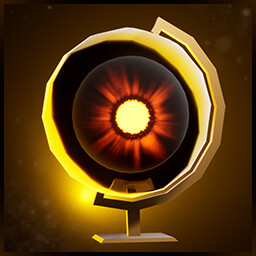 Celestial Spinner
Spin Globe of Carcosa
That's everything we are sharing today for this The Baby In Yellow guide. This guide was originally created and written by Luke. In case we fail to update this guide, you can find the latest update by following this link.
If you believe that any of the content on this site violates your rights, including your intellectual property rights, please contact us immediately using our contact form.