Title: Terra Nil
Release Date: March 28, 2023
Developer: Free Lives
Publisher: Devolver Digital
This guide will just go over each achievement and any recommended tips/tricks for the difficult ones. Many of these milestones are relatively easy to obtain and will not take long to obtain. I finished the game in about 15 hours, although I did have some idle time, so I'd estimate 10-12 hours for full completion. If I missed anything or if you know a quicker way to gain an achievement, please leave a comment; I'm putting what worked best for me but am open to all suggestions.
Campaign
A large portion of these achievements will be unlocked as you progress through the game. So don't worry about chasing them all down. I'd recommend playing the game organically because the campaign isn't very long, then returning to each location to unlock any specific ones you may have missed.
If you have any questions or would want to see a photo of any of the achievements, please leave a comment and let me know.
Valley of the Wind

Restore the River Valley
Will unlock by completing the first 'map'.
Abundant Life

Discover all animal species and fully restore biomes and climate conditions in the tropical region
Completing the first map in the second region unlocks this. Every map will have a drop down menu with conditions; selecting them will add waypoints to your environment bars indicating where you need to be for temperature, etc.
Beneath the Snow

Discover all animal species and fully restore biomes and climate conditions in the polar region
After the tropical region, the polar region is the third. Certainly a strategic biome.
Oryx and Crake

Discover all animal species and fully restore biomes and climate conditions in the continental region
Once again, another achievement for just discovering all circumstances and so on. In some biomes, this is sufficient.
Open-cast Reclamation
Restore the Abandoned Quarry
Once you have fully restored the first map for all regions, you will be able to access a second map for all of them. These are (in my opinion) a lot easier and more fun than the original maps because several things have changed.
Flooded Isles

Restore the Archipelago
Second map – Tropical region
Northern Glaciation

Restore the Polluted Fjord
Second map – Polar Region
Urban Renewal
Restore the Irradiated Sprawl
This one is quite simple, but I've observed a lot of confusion regarding how to collect the dandelions in both maps in this region. So, once you've cleared the radiation in all places, you'll notice these boxes circled below. This is where you can generate the dandelions.
Global Rejuvenation

Completely restore the planet
Congratulations, you have completed all of the maps and regions.
Aerial View

Use screenshot mode to take a full map screenshot
To access Screenshot Mode, use the ESC key on your computer. Once the screenshot is captured, it will be unlocked – the screenshot should be instantly saved to your steam account and ready for upload if you so want.
Screensaver

Appreciate the beauty of nature for at least 60 seconds
When you fully restore a map, it will ask you if you want to continue or "Appreciate". It will play a movie of your rebuilt world for you to enjoy.
Wildfire

Burn down 25 buildings with a single fire
This one was simpler and more natural to complete if you're new to the game and don't completely understand the fundamentals, as I was. You may have accidentally set fire to an entire field, destroying all of your hard work. Simply place a number of structures on a flat plot of land and use the Solar Beam to ignite dried-out grass.
Minecraft Rocks!

Create rock by causing lava and river to meet
Simply utilize the Seismic blast around pockets of lava to make a passage towards the ocean in the Polar Region.
Marine Haven

Restore the tropical region with at least 40% of the map being underwater
This task will be easier to do in the Archipelago. Simply use the Dredge to extract dirt from the seafloor. You'll have to be clever with this because you can't go past 60% land, and the Forest will require a lot of land. Try adding land around the raised dirt because that's where the Posts for the forest will spawn. I'd also advocate raising your temperature early on because it's required to utilize several tools that are also required to proceed to phase 3, and it'll be a never-ending battle if you have to burn your limited quantity of forestry just to raise the temperature.
Antarctic Oasis

Restore the Volcanic Glacier while still having at least 15 lava tiles
The goal is to keep the temperature high to avoid snowfall and lava freezing into rock the first time you visit this place. I'd recommend going for 100% control over the region first, then returning to the map to try again – because snowfall is required to unlock the Beneath the Snow achievement.
Goldilocks

Have 3 bears living on 3 different hills at least 10 tiles apart in the River Valley
This goal was fairly simple – just focus on having the bear criteria on three different slopes in the River Valley. The following are the criteria for a bear to spawn:
20 Forest
1 Beehive
Raised Elevation
Perfect Location

Construct an Animal Observatory at the intersection of 4 different tier 2 biomes
I'd recommend finishing this one in the arctic zone because you'll have more acreage to play with. Some people have finished it in the tropical region, but to each their own. Save the map's bottom region for Terraforming in the final step.
Complete the game normally so that you can progress to phase 3.
Using the Excavator in phase 3 allows you to dig up soil and carry it into the water using Monorails – take advantage of this. Before you drop the dirt, make sure to hover around to find the ideal place because the soil will rise with height depending on where you drop it. The problem with doing it on the original map is that Kelp will not spawn properly where the dirt is slightly higher underwater, as indicated in the photo.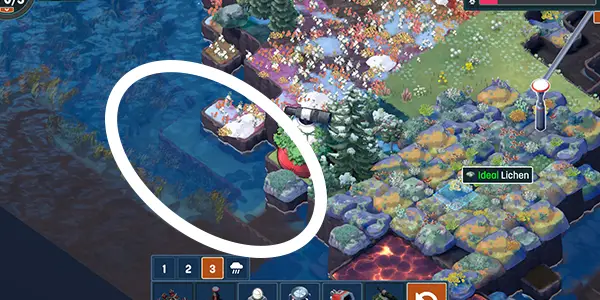 You can completely avoid this by using the excavator and transferring the goods via monorail. Be careful with how you put up your biomes from now on, and remember that Tundra can only spawn on high ground.
I'd propose burning a wide area to spawn the boreal forest, but first re-water some of the scorched dirt to keep the Boreal from spawning all over the rock. You'll have an area to spawn the Tundra from then on. The Lichen rocks will be very easy to reach because you can use the unlocked Cannon in phase 3 to shoot them 6 blocks at a time. The image depicted is exactly how I got mine after custom terraforming.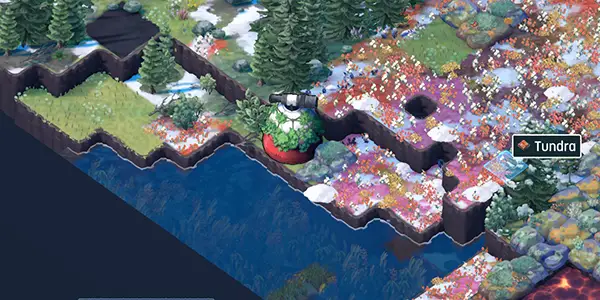 That's everything we are sharing today for this Terra Nil guide. This guide was originally created and written by ghost. In case we fail to update this guide, you can find the latest update by following this link.
If you believe that any of the content on this site violates your rights, including your intellectual property rights, please contact us immediately using our contact form.