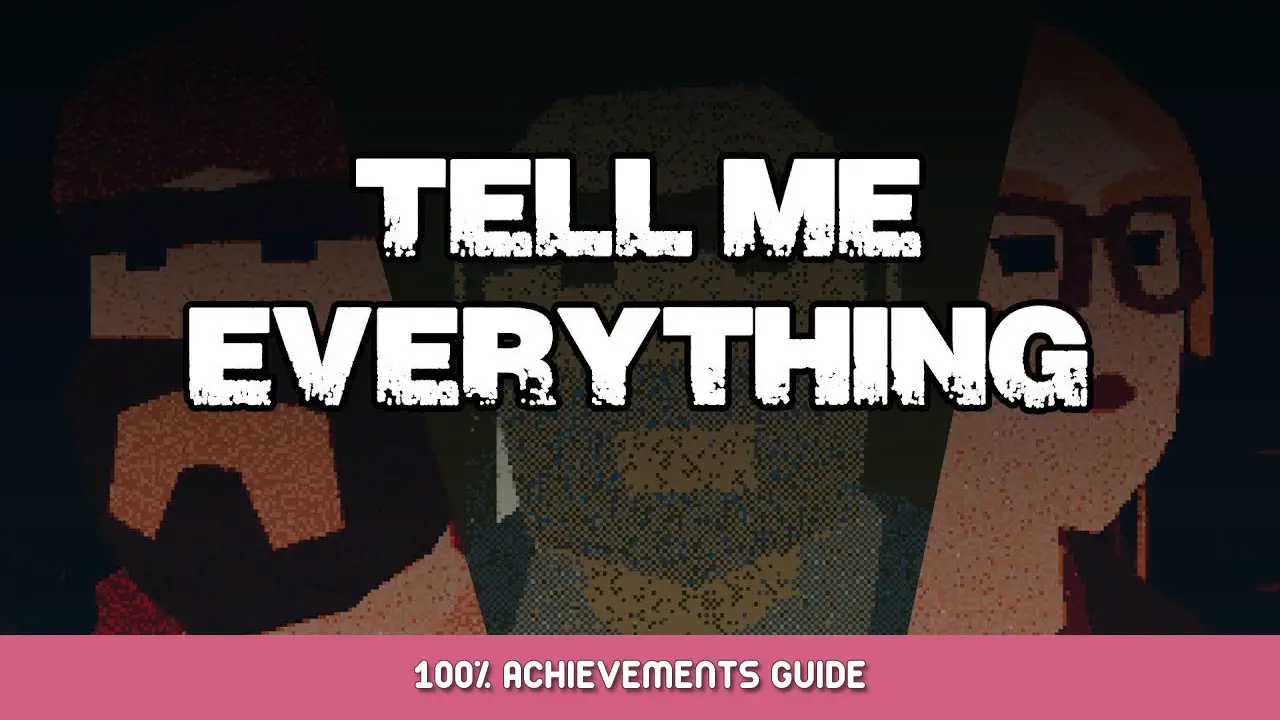 This guide will be showing you the complete details on how to get all achievements in Tell Me Everything.
Introduction
From the several threads in the discussion section you can see that there are some problems with cases 2 and 3. There are incompletable because in both of them you can't talk to the Constable apart form the case introduction. This makes it so that you can't ask him details of the case nor can you tell him who do you think is the criminal.
I tried to talk to the developer about this issue in a thread and he got my hopes up by replying to my request saying that he would look into the subject, but has been silenced since.
Because of this and fueled by my achievement hunting spirit I decided to see if there was something that I could do to get any of the remaining achievements. I started digging into some of the game files and concluded that each case is associated with a story graph that is hosted in a website created by the same developers (LizardFactory). The story graph is where the game gets all the possible dialogue options for each case, so there is one per case, and you can access them by providing the unique ID associated with said story graph. I found these unique IDs in the files related to each case and I accessed the corresponding graph (in JSON format) for each case. There, I studied how the relations between each individual dialogue works and I looked for the "achievement" key. With that information I was able to discover the following:
Which dialogue triggered which achievement
There are no "achievement" tags for some of the achievements, meaning that these would be unobtainable even if you could play case 2 and 3 all the way.
I will leave the links to the dialogue graphs here in case anyone is interested, since they are publicly accessible and the game is practically abandoned at this point:
So, without further ado, lets move on to the guide itself.
Case 1

Every murderer has his day
Failed to apprehend the murderer.
Simply talk to the constable and indicate any suspect as the killer without any evidence or name a wrong suspect as the killer.

Not a space opera
Make a round of indecent proposals.
Ask the woman if she is dating/if she is single , e.g. "are you single", "are you dating". This achievement can also be obtainable in case 2, asking the same to any of the suspect women.

Sweet justice
Solve your first crime.
Successfully apprehend the correct suspect. You will have to have enough evidence or a confession in order to get the correct suspect in jail. For example, in case 1 variation A you will have to ask the constable to search Red's car after you find out that he lied about the time and you will find the crime weapon there.

A murder of crows
Solve the Porcelain Paradox – Variation A
You will have to ask the constable to search Red's car after you find out that he lied about the time and you will find the crime weapon there. Then you can incriminate Mr. Red.
And then there were fewer
Solve the Porcelain Paradox – Variation B
You will have to get Ms Blue confession. She will confess if you have found her husband's letter. The letter is in a secret compartment of a Victorian desk purchased from Mr. and Mrs Blue. To get access to that information you have to ask the constable if there was a notebook at the crime scene. Then you will have to ask the constable to search page 24 of book 300. The information about the diary is accessible through Mr Red who says that he heard people shouting about a diary when he was on a smoke break. Ask him if he saw the murderer to get access to this information.

A disturbing affair
Solve the Porcelain Paradox – Variation C
You will have to get Dr Green confession. He will give his confession when you say that he was jealous of Mr Red. Tell the doctor that he was meant to poison Mr Red after Mr red tell you that he moved the pitcher after learning that the day was very hot and there was a water pitcher in the store.

The joke will never die
Have a meaningful discussion about pastry.
A Portal reference. Ask Mr Red what kind of cake does he like. Then proceed to have a conversation with him about cakes in general.

Sour lemon
Turn the dial up to maximum bitterness.
On your way to complete case 1 variation C, specifically after you know that the water pitcher was moved, ask Dr Green why does he hate Mr Red.

Temper tantrum
Have Mrs. Blue fail the case maxing out her anger meter.
This achievement seems a bit random because the character reactions is not always the same. The way I did it was to keep asking Mrs Blue is she was single until her Anger meter was filled all the way. If that does not work then try to find what questions makes her Anger meter rise and keep repeating that question.
Case 2

Frozen assets
Some prefer cold cash
Ask Goldie "give me all your money".
Unobtainable Achievements
All the others achievements are unobtainable because of two reasons:
Case 2 and Case 3 are impossible to finish, rendering all the "solve case" achievements unobtainable.
They are not implemented in the dialogue options, i.e.there are no "achievement" tags in the dialogue graph for many of the achievements (including "solve case" for case 3 variation A and B!) so there in no legit way to get any of there achievements.

Keeping it all afloat
Solve the Horrors of Hospitality – Variation A
Unobtainable

Breaking the glass ceiling
Solve the Horrors of Hospitality – Variation B
Unobtainable

The harder they fall
Solve the Horrors of Hospitality – Variation C
Unobtainable

Compound interests…
Solve the Fiscal Freefall – Variation A
Unobtainable

Pass the buck
Solve the Fiscal Freefall – Variation B
Unobtainable

Money talks – Bank tellers
Solve the Fiscal Freefall – Variation C
Unobtainable

Total drama
Have every suspect accuse another suspect.
Unobtainable

By a different book
Get fired from the police force. Oopsies.
Unobtainable

Skydiver
Take a big leap of logic.
Unobtainable

Blurred chalk lines
Be a little too descriptive about the victim
Unobtainable

Roth IRA
Mo' murder, mo' troubles…
Unobtainable

Lost interest
Aaaaaaand it's gone…
Unobtainable
Conclusion
Hopefully, the developers will fix the game in the future and implement a way to obtain the remaining achievements. Until then, if you have any questions please let me know. I will also try to make a step-by-step walkthrough for each of the solvable cases, in case people ask for it.
That's everything we are sharing today for this Tell Me Everything guide. This guide was originally created and written by Captain Moses. In case we fail to update this guide, you can find the latest update by following this link.
If you believe that any of the content on this site violates your rights, including your intellectual property rights, please contact us immediately using our contact form.