Title: Tales From The Arcade: Starship Murder
Release Date: September 12, 2023
Developer: My Next Games
Publisher: My Next Games
In Tales From The Arcade: Starship Murder, there are a total of five achievements to unlock. This guide will provide you with the steps to obtain all of these achievements in the game.
Gameplay Basics
In this game, you are faced with a challenging scenario. The captain is dead, and suspicion looms over every crew member as a potential murderer. Your objective is to identify the killer and save the spaceship from imminent disaster. To achieve this, you must address ship errors by clicking on them, with a cooldown period between clicks. If the error count reaches zero, it will result in damage to your ship. Additionally, you must pay close attention to the dialogues among the crew members to uncover clues about the identity of the killer. The killer may drop hints in various ways, typically occurring between jumps 3 to 5. On jump 5, you will have the option to take action against a suspected killer after fixing errors.
Jump One (Tutorial):
Begin by listening to the crew members, if you choose to do so.
Fix one error and then await the 1st Jump.
Jump 2:
Continue fixing several errors and wait for the 2nd jump.
Jump 3:
Fix more errors while paying attention to the conversations among the crew members. This is when someone may confess to the murder.
Jump 4:
Similar to jump 3, focus on fixing errors, but be prepared for errors to occur more frequently.
Jump 5:
Errors will now occur at an even higher frequency. Keep a keen eye on flashing error icons and prioritize fixing errors with less than 10 seconds left.
After addressing these errors, you will have the option to confront and potentially kill someone. You can choose a room and proceed with the action or decide to wait until the final jump without taking any drastic measures.
Please note that the killer may have different lines and behaviors in the game, providing you with various possible scenarios to explore. Good luck in your quest to uncover the truth and achieve all the game's achievements!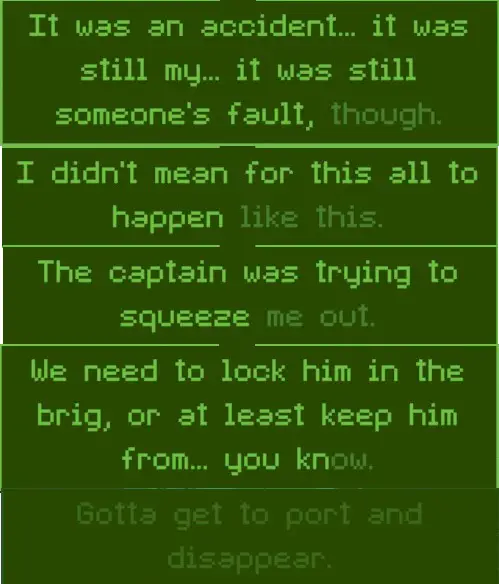 Achievements

Disaster In Space
The astro hauler the the SS Persephone never made it to Starbase
Fail repairing the ship (better to do it in jumps 3-4). When spaceship health reaches 0 you will get this achievement.
Truth In The Darkness
The captain was murdered… only for a seemingly malfunctioning AI to then end the life of the captain's killer
Find out who is the killer (random each playthrough) by listening to his dialogues. Then kill him before final jump.

All Quiet In The Void
Investigation into the disasters on board SS Persephone suggested foul play but no evidence has been found… The ship's AI had been wiped shortly before docking
Find out who is killer but don't kill anyone and just do all 5 jumps.

Digital Murder
The captain perished in an unfortunate accident. It is thought this event caused the cargo liner's AI to go rampant, leading to the death of yet another crewmember.
Kill innocent crew member while you don't know who is killer.
A Passing Shadow
An investigation into the events on board SS Persephone turned up no signs of foul play. The captain perished in an unfortunate accident.
Fail investigation and do all 5 jumps.
That's everything we are sharing today for this Tales From The Arcade: Starship Murder guide. This guide was originally created and written by Easy Target. In case we fail to update this guide, you can find the latest update by following this link.
If you believe that any of the content on this site violates your rights, including your intellectual property rights, please contact us immediately using our contact form.