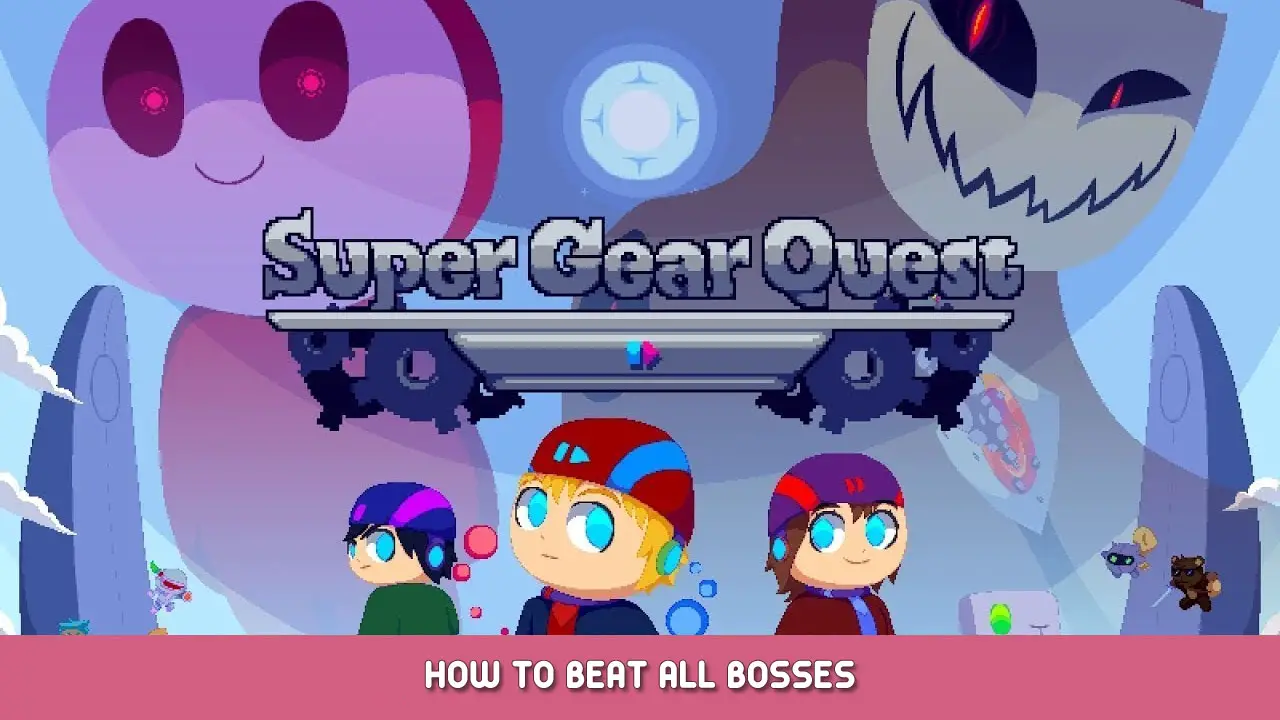 Some tips and tricks for those struggling on any boss in Boss Rush, or if you're not a fan of finding the optimal strategies yourself, I won't judge.
General Overview
NOTICE: This guide is designed with access to every weapon and most ammo upgrades, some strategies may not work without them. Also, there WILL be spoilers to the main game.
This guide will recommend what weapons to use and how to dodge specific attacks for each boss, but most likely won't work in a regular run of the game due to not having the same gear in both scenarios, such as only having the regular quality weapons at the start of the game.
The amount of health and missile refill possible to reach before any given boss will be listed at the top, and will include some able to be backtracked to if the path was not blocked.
Crazed Robot
Health Available: As much as you entered with
Ammo Available: As much as you entered with
The strategy for this boss is very simple, his missiles can either be jumped over or crouched under, just make sure to jump over him if you're being pressed to the wall. Any weapon should work, but just using your Blaster should work fine. Keep in mind that his missiles can deal explosion damage upon hitting a wall, so don't get too close to the wall.
Mega Slime
Health Available: 0
Ammo Available: 0
The Mega Slime is able to be killed extremely fast by spamming rockets on it first thing. Don't worry about how many are being used, you'll have a refill by the time they'll matter again. His main attacks are occasionally tossing out 2 green bouncy balls that will bounce and explode on impact, but as his health drops he will spawn 2 blue slimes next to him at a consistent rate, but the missiles deal with these with ease.
Brutal Bloodsquid
Health Available: 0
Ammo Available: 0
Using the Blaster, most attacks are easily countered due to it's ability to break projectiles and its high pierce. The Squid has a couple attacks. He will occasionally turn red and fire a single pellet at you, breakable by the Blaster. He can turn red and charge up a burst of bullets, once again all breakable by the Blaster. He will occasionally turn yellow and jump towards you, slamming down afterwards, but this attack is very easily to dodge as he hangs in the air for a decent chunk of time. He can also turn purple and spawn a regular Bloodsquid somewhere in the arena, but these are usually easy to get rid of because your Blaster can pierce both the boss and his summons.
Corrupted Bit
Health Available: As much as you entered with
Ammo Available: Avatar Duo does not use Ammo.
The first fight using Avatar Duo, you have more limited options to fight this boss. Just fire at it while using your Spin to airstall and reflect it's projectiles. I think it goes without saying that the Hammers will not be effective against this enemy, but if he gets low enough it might be possible to hit, though don't rely on it. It's primary attack will be to fire an amount of projectiles at you proportionate to how much health it has left. The less health, the more projectiles.
Rooted Entity
Health Available: 0
Ammo Available: 0
The Rooted Entity is one of the fastest bosses in the entire rush, beatable without even moving. Just immediately spam Flare Bomb into it and it will break both his projectiles and his health bar in record time. The attacks don't matter too much, but it's just projectiles that fly up and drop down in a consistent pattern, so as long as you can find where to stand for each kind of volley the attacks are easily to dodge.
Knight Duo
Health Available: Full Refill
Ammo Available: Full Refill
This boss is only fought in the True Boss Rush and is not fought in the regular rush. If playing the regular Boss Rush, skip this section.
This boss' attacks are told to you even in the game's pause menu, The Crimson Knight will fire directly at Starter, but will fire more depending on how low his health is. The Azure Knight will fire a ton of bullets in random directions around him, and will fire more depending on how low his health is. Either can be taken out first, but the recommended weapon to do so is the Burst Bubble due to it being able to break any projectiles they throw your way while killing them, but keep in mind they do not share a health bar and have to be killed separately.
Phantooris
Health Available: Full Refill
Ammo Available: Full Refill
For phase 1, immediately jump into the top left corner on the platform, aim to the left, crouch, and start firing your Blaster. You'll deal considerable damage to Phantooris while breaking every single projectile being fired at you. For the next phase, it is recommended to charge the charge shot while he's spawning initially, and then spam missiles until he goes down. There is only one downside to this strategy: you do not get to hear his signature theme.
Pit Demon
Health Available: 0
Ammo Available: 0
The Pit Demon is very easily countered by staying on the full right or left of the arena and chasing him vertically. You can just fire your Blaster at him to break all of his projectiles capable of hitting you while taking down his health bar. It is possible to just ignore any drops from either his projectiles or the bats spawned in at the start, but if you absolutely need them it is recommended to go under/over the pit demon depending on his height and use the Charge Shot to magnet the drops towards you as to avoid getting within the range of Pit Demon or staying in a vulnerable position too long. Keep in mind you are able to airdash in any direction infinitely during this fight.
Streal
Health Available: 4
Ammo Available: 0
This boss will use the Wave to reflect projectiles back at you, so your safest bet is a weapon that is tough to reflect back at yourself, so I recommend Burst Bubble and Flash Bomb, for if it is above or below you respectively. They're also easily able to get to his core after the armor is broken, but if he's being particularly troublesome it is also viable to use Railgun in phase 2 as it cannot be reflected, goes across the entire screen through walls, and does high damage. Keep in mind that in phase 2 he will fire breakable projectiles in an X occasionally and will sometimes spawn in Mini-Slimes from the Rainhalls, which can be killed for drops.
Robot Guard
Health Available: 4 + back to Streal
Ammo Available: 1
This boss has 2 attacks. If it glows yellow, it will fire a ton of projectiles directly in front of it in a straight line. If it glows green, it will fire a couple projectiles towards you slowly. Both have their shot count determined by his remaining health. All of his bullets are breakable and it is recommended to use Burst Bubble to do so, as it does high damage and can follow his height while still breaking all the projectiles.
Block Team
Health Available: 4 + back to Streal
Ammo Available: 1 + back to Robot Guard
This fight consists of 4 individual blocks, and then all 4 at once, getting up one by one. For the first phase, use the Blaster to fire at the blocks from as far away as possible. Keep in mind if you crouch and DO NOT SLIDE they will jump straight over you. A good note is that each block will jump at you twice, and then fire, and this pattern will continue from where it left off on phase 2, and each block will repeat it's pattern independently. For phase 1, Block 1 will spawn a bit to the left of your spawn point and will fire fast, straight shots in front of him. Block 2 will spawn fully on the right and will fire a couple breakable projectiles straight in front of him. Block 3 will spawn more towards the left and fire a couple slow projectiles aimed directly at Starter. Block 4 will spawn more towards the right and prefers to fire homing projectiles that may linger after he is defeated or the fight ends. Keep in mind in phase 2 all blocks act the exact same and will get up in the same order they spawned, but since your Blaster has pierce it can hit all of them at the same time, and if done optimally, only 2 will be up at a time.
Soul of the Jungle
Health Available: 10 + back to Streal
Ammo Available: 0 + back to Robot Guard
This boss is relatively simple. It will slam with his two hands made of solid cubes of stone and then fire projectiles at you proportionate to his remaining health. When it is below half health, the rate at which every attack comes out and is executed is drastically increased. The main recommendation for this fight is to use Burst Bubble on one of his eyes while he is blue, as they will all hit him immediately as he turns vulnerable (red). At any other time, the Blaster is preferable.
Corrupted Star
Health Available: 12
Ammo Available: Avatar Duo does not use Ammo.
When starting the fight, make sure that F01 is on the platform slightly to the left of where the star starts off. You should mash Hammer while firing up to deal maximum damage to 2 of the 5 points, then transition to just firing from any distance, as there is no contact damage for this boss.. The less points that the star has, the more it will fire an independent projectile after flashing it's eye purple. These projectiles can be reflected. If the star still has any points, it may start spinning while firing lasers out of 3 of the 5 points. It will not fire projectiles during a spin.
Ancient Weapon
Health Available: 16
Ammo Available: 6
The recommended strategy for this boss is to stand on the tile in the center of the room and fire Blaster at the boss. If he starts charging his blue shots, swap to wave and reflect it. If he uses his arrow rain attack, fall back to the block on the left wall, but watch out for his homing bullets from here as you are able to be hit by them while standing on this block, and the only damage possible out of your Blaster from here is pitiful explosion damage. If he does his big energy ball attack, just reflect it for free damage and watch out for it likely being followed up by a blue charge shot. Repeat until dead.
Azure Guardian
Health Available: Full Refill
Ammo Available: 0 + back to Ancient Weapon
This boss will only take damage after the crystals are taken out, but all challenge from dodging the lasers is taken out by standing on the most top left block. The only threat left is the homing projectiles while crystals are down, so spam Flare Bomb and Comet Blaster until the boss is down.
Dimula
Health Available: Full Refill
Ammo Available: Full Refill
This boss is only fought in the True Boss Rush and is not fought in the regular rush. If playing the regular Boss Rush, skip this section.
This boss has a perfectly consistent attack pattern. The order is 2 burst of 3 direct purple shots that can be dodged by going over all 3 at once using your Airdash, 2 spreads of 4 homing bullets that can also be dodged by going over all of them at once with the Airdash, but make sure that you go up after both spreads have spawned in, and then finally grenade spam that can be dodged by Airdashing upwards and stalling by dashing into a wall repeatedly OR you may also jump into the upper door frame on the right. You should be firing your Blaster at the boss at any opening.
D.D.U.
Health Available: Full Refill from before Dimula
Ammo Available: Full Refill from before Dimula
This boss' AI is easily exploited by standing on top of it's indestructible shield, where it will repeatedly try and hit you with an attack that lacks the range to hit you, so try and take out the 2 breakable shields and turrets as fast as possible and then the fight is literally free. Just don't panic when he shoves you into the roof, you'll come back down fine.
D.D.U. Rematch
Health Available: Full Refill from before Dimula
Ammo Available: Full Refill from before Dimula
The D.D.U. is not as exploitable this time but is still easy to kill. Grab your Blaster and follow him from beneath while firing up. You'll break every purple projectile and dodge most yellow lasers, but if one is about to hit you dodge at your own discresion.
Mokula Titan
Health Available: Full Refill
Ammo Available: Full Refill
As the first multi-phase boss in the game, this one will require step-by-step instructions and each phase will be in a list.
In this phase, your target is the 2 arms that are firing out homing projectiles that are breakable. You should be easily able to take out both arms while taking out the projectiles using your Blaster. For this phase and the next 3, the eyes will also fire yellow unbreakable projectiles your way every once in a while.
Your new target is now the feet, which will occasionally flash purple and fire out some directly aimed purple breakable projectiles. I recommend using the Plasma Fist as it does the highest DPS out of any weapon other than the missiles when at point blank, and all projectiles from the titan can be broken with the fist, but watch out for the other foot's projectiles, as they can still hit you if you don't specifically aim for them.
Every single previous target is now switched back on, in addition to the core. The phase ends when the core is taken down, but you can take out the limbs with the previous strategies quite easily, in addition to taking out the core and one of the arms at the same time using Blaster pierce, but after the arms are down it is optimal to use Plasma Fist from directly below the core.
The elevator should now be going up as the arms and legs turn back on. Use the same previous strategies but make sure to avoid the feet's projectiles instead of breaking them now, as the speed of going up and the projectile itself is enough speed to hit you. If enough health from breaking the limbs is there, it is viable to tank the damage and just brute force this section.
Now, in the final phase, the Mokula Titan exchanges the yellow blasts for 2 yellow lasers. The feet and arms are back on but the core will now occasionally shoot a large laser directly forward. The phase ends when the core is taken out.
Crazed Behemoth
Health Available: Full Refill
Ammo Available: Full Refill
This boss has 3 attacks. It will fire rockets 1-3 depending on the amount of health left, it will fire red blasts also depending on the amount of health left, and will slam you into the wall, dealing heavy damage. The main thing to keep in mind is that while the Rocket Launcher is best for this, you will need to swap to any other weapon to finish it off, as even 21 rockets will not kill this boss.
Dune Rex
Health Available: Full Refill
Ammo Available: Full Refill
This boss consists of 2 phases. In the first phase, jaws from the ground will try to bite Starter, but if you stand on the middle platform they cannot hit you. There are also parts on the side that will fire breakable red projectiles at you for the entire fight, so watch out for those. Phase 1 is easily taken care of by using your Charge Shot to fire down at the jaws, and at half health, 2 will spawn at once. This does the exact opposite of help and instead makes it die twice as fast, as the Charge Shot pierces them and does double damage. In phase 2, you should be on the topmost platform and fire your Blaster into Dune Rex's eye. There are 3 attacks that it can do to try and hit you in this phase. The first attack is a yellow marker will appear on Starter before 3 breakable yellow projectiles are fired directly at his position, ignoring where the marker stated. The second attack is the laser, which will look the same as the previous attack but WITHOUT a yellow marker, and should be dodged by going up and airdash stalling. The third attack is that it will slam on the ground with a very audible noise and blocks will rain from the sky for a bit, and it is recommended to get under the platform you are on until the storm clears up.
Zealot
Health Available: Full Refill back to Dune Rex
Ammo Available: Full Refill back to Dune Rex
This is another 2 stage boss, the first phase being that Zealot will stay in front of you and fire projectiles at you, before charging you down. This phase it is recommended to use your Blaster until he goes on to the next phase, where you should use your Charge Shot while he is outside of your reach, and at any other point while he is onscreen, use your Blaster. All damage to his full body does count, there just isn't any visual flash on the boss, but for confirmation cross reference his health bar. Keep in mind that every projectile is breakable. Also, during phase 2, Zealot only does contact damage with his head and will fire red projectiles in the opposite direction of himself while leaving, and when on the X axis will also spit out a blue bursting projectile, though he will always drop blocks each time.
Wing Demon
Health Available: Full Refill back to Dune Rex
Ammo Available: Full Refill back to Dune Rex
The final of the triplets of 2 stage boss fights, the first phase can be dealt with by using Burst Bubble or Flare Bomb if he is above or below you respectively. Make sure that you dodge his purple projectiles, which will hang in the air for a second before going directly towards you. Before second phase but after first phase you will have to fall down the tower while dodging blocks with red spikes on them, since Boss Rush takes away your minimap use the background tiles as an indication as to where the blocks are. When you get down, the fight is very simple. Wing Demon can be hit anywhere on his body and still count, and has 2 types of projectile to fire in the same pattern. the orange projectiles will fly straight in their angles, and will block bullets. The purple projectiles do the same thing, but will linger in the air for a second before quickly going directly at Starter. These are to be hit with the Wave to ensure your safety. After a couple shots, Wing Demon will fire 2 orange bursts, a purple burst, and 2 more orange bursts before moving to a different location. Make sure you are as far from Wing Demon while being in front of him as possible, to ensure that the gap between orange bullets is big enough to dodge through and that you have good time to react to the purple bullets.
Mecha Pit Demon
Health Available: 30
Ammo Available: 8
This boss will only have 1 phase, and 3 attacks. Green means he will fire direct projectiles at you, an exact mirror of the red projectiles from last time. His blue attack was upgraded to be fired in doubles now, and it is no longer recommended to attempt to break them. For the red attack, get as close as possible and cram as many wave shots into his face as possible to reflect all of them back in on himself, doing massive damage and saving you the trouble of those bullet grids.
Nanyar and Komo
Health Available: Full Refill
Ammo Available: Full Refill
Part 1 of the Miniboss rematches, you now have to deal with both thieves at the same time. Komo provides heavy ground control while Nanyar provides heavy air control, leading to an overall challenging experience. For those with masterful aim you can use the Rocket Launcher to try and take out one of them as fast as possible, leaving the other one heavily vulnerable, but if you do not trust your aim it is recommended to use Flash Bomb if Komo is alive and Burst Bubble if he isn't, as these will cover large amounts of area and deal considerable damage. Keep in mind that by default, without the speed ramp up from lowering their health, both Komo's dash and Nanyar's exploding kunai will happen at the same time, desyncing as they take damage. Keep in mind either of their downed bodies will still count as an enemy and explode your projectiles on hit.
Bravio
Health Available: Full Refill back to Nanyar and Komo
Ammo Available: Full Refill back to Nanyar and Komo
This boss uses a consistent pattern, 3 jumps and then a spindash into the opposite wall, bouncing him up into a slam. Whenever he slams onto the ground there will be groundsparks in either direction, and the recommended weapon is the Rocket Launcher and if that runs out, Flare Bomb is good for not aiming and Comet Blaster is good at aiming. Keep in mind that his spindahes can sometimes end before hitting the wall, despite how rare it is you should keep it in mind.
Oreen
Health Available: Full Refill back to Nanyar and Komo
Ammo Available: Full Refill back to Nanyar and Komo
This fight has a consistent pattern, but the attacks increase in quantity as her health drops. The pattern is a couple small jumps, a big jump, straight blasts, 2 directed bursting blasts, a straight laser, and 2 more directed burst blasts. All but the laser can be reflected, and the danger of these attacks increases as her health goes down, and past a certain point she will start firing straight blasts during her jumps. During the stationary phase it is recommended to use Wave to deflect it all for some damage, but during the jumping phase most any weapon should do fine.
Proto Weapon 2.0
Health Available: Full Refill
Ammo Available: Full Refill
This boss has 3 attacks. The laser must be jumped over, or else it will hit you for big damage. The frontal blasts can be ducked under and you lose out on absolutely no damage. The double blasts must be dodged by a well timed airdash or two to fit between them. The Rocket Launcher is good for opening DPS since the Missile monitor is still available after the fight is done. After you run out of Missiles, swap to plasma fist and get as close as you can. This does the highest DPS other than your Rocket Launcher and can deal with him quickly. If you find yourself being too close to reliably dodge any specific attacks, the Blaster does comparable damage and will work from any distance.
X01
Health Available: Full Refill
Ammo Available: Avatar Duo does not use Ammo.
This is either a 2 phase or 3 phase boss fight, depending on which rush you are doing. 1 and 2 are in both rushes but 3 is only available in the true boss rush. Anyways, we're using another list.
X01 will jump around and fire blasts directly at you, and occasionally teleport. Make sure you take out Corrupted Admo here, as he will continue to directly fire at you as long as the fight is going on.
X01 will now use bursts of 3 shots and large lasers to try and hit you, and the pattern is the same each time. Any vertical lasers will be on your location and any sideways will be at the exact same heights each time.
(TRUE RUSH ONLY) X01's laser volley is now heavily upgraded, being higher in quantity and firerate. After the lasers, he'll send spirals of bullets all across the screen that only the purple of can be reflected with your Spin. After this, he'll spawn 4 enemies to fire straight left or right, which can be killed for health pickups. The pattern will then repeat. He will not deal contact damage, so feel free to use the Hammer or Spin at any opening to do so. NOTICE: Summoned enemies will NOT despawn on X01's death.
Alvis
Health Available: Full Refill
Ammo Available: Full Refill
Friends: Yes
There are 3 phases to this fight, each with slightly altered attacks, though it is always recommended to use the Blaster.
Firstly, the red boomerang projectiles can be reflected and will come out in large bursts. If you're lucky, they can be reflected by Pauline's Wave for free. Any reflected projectile cannot hit you, even if it reaches your location a second time.
Alvis will now add his explosive snap to his arsenal this phase, and can also summon shadow clones that will occasionally throw out a volley of red bullets, but can be killed and will not persist into phase 3, where they will stop being spawned altogether.
His explosive snap will now occur 3 times consecutively, and instead of spawning clones he can now spawn a portal that will spew bullets, and shortly afterwards, directly aimed lasers. He is also able to summon waves of vertical lasers to sweep the screen that can either be dodged between, or you can stay at the edge of the arena, as an alternative to getting up close and personal, which would allow your friends to deal damage.
True Ancient Weapon
Health Available: Full Refill
Ammo Available: Full Refill
Friends: Yes
This fight will start IMMEDIATELY after Alvis is defeated, along with being granted your full restore of both Health and Missiles.
This boss' phases will be kept in a list as to keep clarity, and as certain moves repeat, they will only be referenced by name if they are a repeat.
The Ancient Weapon will stomp side to side, sending reflectable shockwaves across the floor in both directions, and can also jump and slam down to send out a fast, regular, and slow shockwave. If his eye starts glowing blue, he will be charging for a brief period and then fire Blue Missiles directly at Starter's position. These should be dodged by good use of your airdash's speed to dodge them, as the Missiles move quite fast.
Phase 2 brings in a new addition, the Ultimate Laser. The Ancient Weapon will attempt to charge for a long amount of time, but if damaged enough he will error and be forced back into the fight. If the attack is allowed to fully charge, you will immediately lose, no matter what difficulty you picked. He also adds Red Missile to his arsenal, where he will fire large red shots and small red shots, both homing, directly at the player. With in a certain distance of the Ancient Weapon, these projectiles are unable to hit you, so when it fires them, stay in the deadzone. All previous attacks will return in this phase.
Phase 3 the Ancient Weapon will decide that it hates having walls and will smash through the floor by repeatedly using the Jump Slam until you are fully outside, in which case all previous attacks become reenabled. After getting outside, he will also add Missile Rain to his arsenal, which will cover the screen in heavy ordinance, but can be avoided by being at either edge of the arena until the storm clears. He also adds Wave Waves where it will go a bit upwards and fire out bursts of waves in all 8 cardinal directions for a brief period.
All previous attacks still stay for one last health bar.
Reduced to just it's core, the Ancient Weapon now only has access to 3 of his attacks, those being Blue Missile, Red Missile, and Wave Waves. Keep in mind going behind the Ancient Weapon is impossible and doing so will only be met with rubberbanding. This is the true finale of the regular boss rush.
The Celestial Anomaly
Health Available: Full Refill
Ammo Available: Full Refill
This boss is only fought in the True Boss Rush and is not fought in the regular rush. If playing the regular Boss Rush, skip this section.
SECTION 1: ASTRAL COMET
The Astral Comet will fire 3 lasers directly down and then Slam down, creating shockwaves while resting on the floor for a small amount of time. The pattern will then repeat.
The Comet has now pulled out it's 6 shards, which will take turns going above Starter, firing a skinny laser, and after all 6 have fired, they will all repeat a fire on the same location as the first time, but bigger before doing 2 set location blasts of the same size, and then the comet spits out a Laser Cross which will explode into a large laser that aims both horizontally and vertically from where it detonated. The pattern will then repeat.
The Astral Comet will take the shards close to itself and will slam on the ground where Starter is 3 times, taking a short rest, and repeating until next phase.
The Astral Comet will now fire out waves of Laser Crosses and Laser Stars, the ladder of which being like the Laser Cross, but in 8 directions as opposed to 4. After all the patterns are exhausted, the shards around the Astral Comet will all fire a laser downwards. This all repeats until the end of the phase.
The floor is now gone and you should retreat to the platform to the middle right of the Astral Comet, as most of it's attacks cannot hit you on that platform. Every 3rd blue bullet will be on a collision course with your feet but you can jump between it and a nearby purple bullet for a clean dodge. When the yellow spread of 4 homing bullets comes out, freestyle around them and go straight back to your platform, as none of the Laster Crosses can hit that position if you are crouched.
SECTION 2: ASTRALIS
The bullet patters from before will repeat, but from a different position. This time, the source of the bullets will be moving after each volley, so no consistent platform will work. The floor is a good place to be if you are struggling to dodge. After the bullets, more Laser Crosses, but in different formations this time. Then there will be bullet-breaking Exploding Fields before some Astral Worms spawn in to try and kill you. The pattern then repeats.
The next phase will take place in the air, where the attacks are slightly altered. There will be 2 bursts of bullets, the returning spread of 4 homing yellow bullets, 2 more bursts followed by Exploding Fields again. Then 1 burst, homing yellow, 2 bursts, and then more Laser Crosses, some Exploding Fields, a final set of Laser Crosses, and then some Laser Stars. This pattern will repeat.
SECTION 3: OMBRYOSIS
The Astral Embryo's health bar is now inverted and you need to fill it up with your shots now, it will occasionally fire bullets but it's nothing to be afraid of.
Now it's time to undo all that hard work and unfill the health bar. It's movement is unrestricted but other than the fact that it also sometimes spawns Laser Crosses and Exploding Fields it's the same as the other phase.
The End
That was every single boss featured in both variants of the Boss Rush, and you should've won if you're reading this part. If you just beat the first Boss Rush, good on you! You should have unlocked True Boss Rush, which includes all the skippable bosses and someone you might've missed at the end should now be there.
Anyways, I hope that this guide helped you, and have a good day!
That's everything we are sharing today for this Super Gear Quest guide. This guide was originally created and written by Robotie773. In case we fail to update this guide, you can find the latest update by following this link.
If you believe that any of the content on this site violates your rights, including your intellectual property rights, please contact us immediately using our contact form.