Title: Super Destronaut DX
Release Date:
Developer:
Publisher:
A quick and short guide to 100% Super Destronaut DX.
Overview
Estimated difficutly to 100%: 2/10 (Personal Oppinion)
Offline Achievements: 13
Online trophies: 0
Approximate amount of time to 100%: 20-30 min
Minimum number of playthroughs: 1 of each game mode except multiplayer and 12 Challenges.
Number of missable trophies: 0
Walkthrough
Step 1: Classic mode
In this Mode you have to reach a score of 100,000. This should easily be doable without any detailed explanation. While trying to reach 100k Points kill one big orange enemy and hit a grey enemy as show in the image below. Once you reached 100K points just let the enemies kill you. The Achievements will unlock after you died.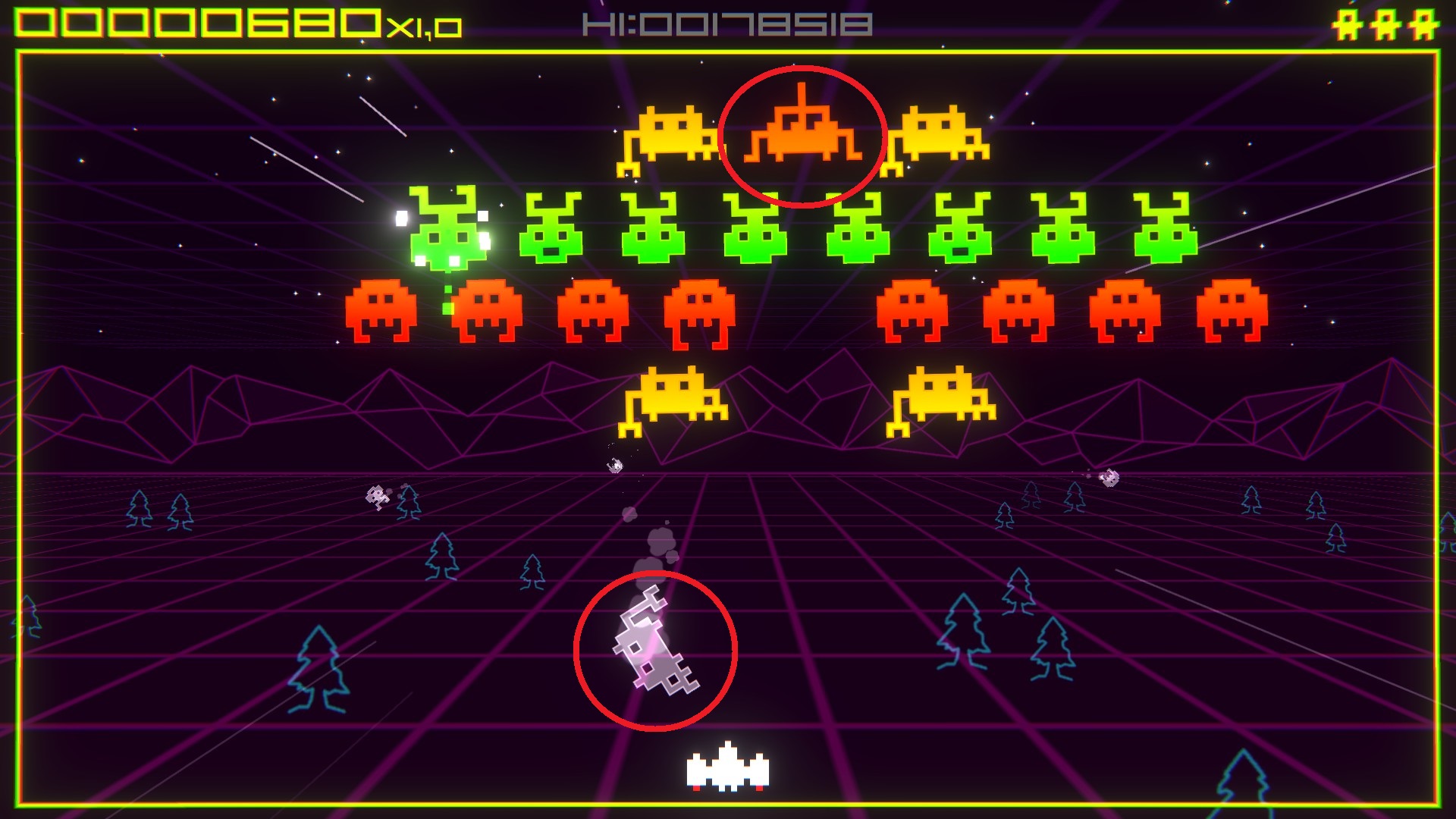 Tip: Kill the big orange enemy first. This will give you a stronger weapon and makes it faster and easier to reach the 100k Points
Achievements earned during this step:
Starter
The whole crew was lost
Well done
Working hard
Excellent
Persistent
Changing weapons
Step 2: Time attack
Start the game mode "Time Attack" and reach 10k Points. You will have more enough time to reach 10k. Once u reached 10k simply let the enemies kill you and the achievement will unlock.
Achievements earned during this step:
Step 3: Hardcore Mode
Reach a 1,000 score in hardcore mode. Self-explanatory. Just die after you reached 1000 points and the achievement will unlock.
Achievements earned during this step:
Step 4: Challenges
Choose mode "Challenges" and clear 12 out of 30 Challenges. I recommend doing the first 12 to make it much easier.
Achievements earned during this step:
Up for a challenge
I like challenges
Mastering challenges
Challenge me
Congratulations you completed the game to 100%.
That's everything we are sharing today for this Super Destronaut DX guide. This guide was originally created and written by Flashy. In case we fail to update this guide, you can find the latest update by following this link.
If you believe that any of the content on this site violates your rights, including your intellectual property rights, please contact us immediately using our contact form.