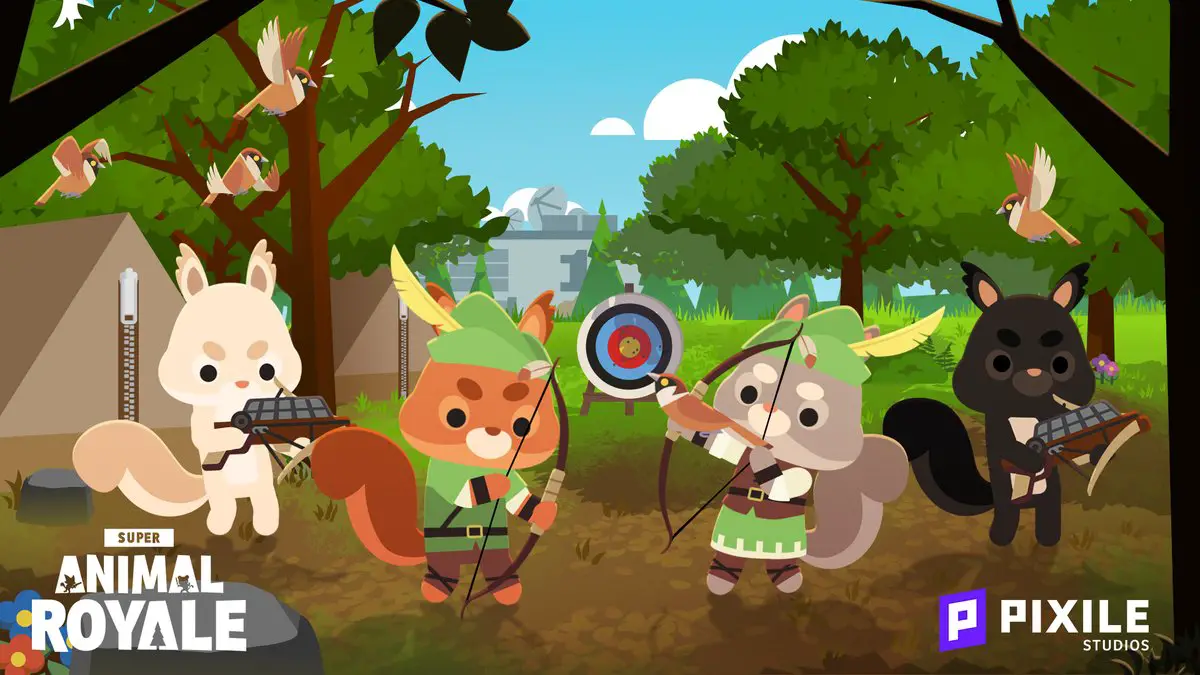 So you've managed to find yourself a gun eh? Well from my experience I will say this: Shoot smarter, not harder. Go with whatever arsenal you prefer out here, as long as it can kill. Accuracy is quite the big deal when it comes to getting kills more effectively.
Focus on your target and the direction they're moving. Try to calculate when the bullet is going to fly and aim in the direction they're heading. Also try moving in random directions while also chasing your opponent, to dodge any incoming bullets, never stand still unless you know what you are doing.
Here I will list the weapons currently in the game, for a better understanding.
Melee
Standard Melee Weapon
Any survivor out there is gonna need a decent melee weapon for both utility and a desperate way to attack if necessary. Melee attacks can penetrate right through armor dealing some decent damage to the target's body. Plus, any melee is lightweight to carry, granting you a better amount of movement speed than any other weapon if equipped. Use it as an advantage to escape, or combine it with your guns to whiz past bullets and keep shooting while switching.
Pistols
The Pistol
A standard M1911 handgun, capable of close to mid-range combat. Standard 10 round 9mm magazine. Fast selective rate of semi-fire, and good for quick movement while fighting. Can be paired with another pistol of a different or same rarity for duel wielding, enhancing combat with 10 more rounds and a higher rarity to EPIC if you find an EPIC pistol to combine with.
The Magnum
An effective heavy Taurus Revolver, capable of heavy damage and long-range effectiveness. Standard magazine size of 6 9mm Lugar rounds. A slightly slower rate of semi-fire, perfect for mid-range heavy damage and armor penetration. Easy to find, and my personal favorite along my many journeys out in the field."
The Silenced Pistol
A flashy remake of the standard M1911, complete with a suppressor and extra 2+ round magazine. Do more damage and a definite need-to-have if you are pairing with a fast-firing secondary firearm. Sadly, you cannot dual wield these together."
The Deagle
A comical iconic weapon, and a better upgrade of the magnum. 8 round magazine of .50 heavy caliber bullets. Does a fair bit more damage than the usual magnum, but come with a catch? The beak attached to the barrel emits loud screeches upon unholstering, reloading, and firing this weapon. Be cautious with its sound if you are attempting a stealth run.
Submachine Guns
The SMG
A fast full-auto firing HK UMP 45 machine gun, with short-range and magazine size of 25 .45 ACP rounds. Versatile in close-range combat scenarios, and lightweight enough for a good amount of movement speed.
The Thomas Gun (Drum Gun)
An impressive Thompson submachine gun was engineered by my good mate Thomas Sleddison. Same fire rate as the SMG, with a magazine size of 40 .45-caliber rounds. A perfect weapon for all types of supers.
Archery
The Bow
Above all other strange things I've seen in my life, this is one of them. Thomas has, weaponized birds? A question for another time. The bow is well, a bow. It can be armed with a Sparrow, a combination of a sparrow and an.. arrow.. huh. Drawing back the bowstring will slow you down, so be sure to keep jumping along to move quicker. Best used when aiming in the direction the target is moving. Also, being pesky birds, Sparrows are able to distinctly mark the hit target for a period of time, interesting.
The Crossbow (Sparrow Launcher)
One of my recent favorite weapons, also made by Thomas. It is a crossbow with an ammo capacity of 4. Sparrow bolts? Guess Thomas now made crossbow bolts connected to the sparrows I guess. Heh, talk about 'Live Ammunition'. Anyways, the Crossbow is great for repeating Sparrow shots without being slowed down. Functions just like the dart gun. Plus adds a bigger amount more damage than the standard bow.
Assault Rifles
The AK-47
A well-rounded automatic assault rifle. Capable of any situation referring to both mid or long-range combat. Has a magazine size of 30 7.62x39mm rounds. I recommend this one for any newcomer on the island as a starter weapon. Trust me, it helps.
The M16
My favorite assault rifle is available. Basically a heavier, buffed version of the AK-47. Standard issue combat rifle of S.A.W. Security Forces. Does decently more damage than the AK. Magazine size of 30 5.56mm caliber rounds. Good for decent to long-range combat.
Shotguns
The Shotgun
A Franchi SPAS-12 with the stock removed. Perfect for close-quarters combat, with a good mid-range bullet spread. Magazine size of 5 12 gauge buckshot rounds. Effective for camping strategies.
The Jag-7
A lovely MAG-7 shotgun with a colorful design pattern. Lighter than the SPAS, so perfect for charging against the enemy at increased speeds. Unlike the SPAS-12, it adds a +2 magazine size for a total of 7 12 gauge buckshot shells.
Sniper Rifles
The Hunting Rifle
An effective Winchester breaks action rifle. Deals great damage and long-range. Magazine size of only 1 .32 Winchester cartridge. Only suffers from a delay when reloading and heaviness. Best paired with grenades. And, being a sniper rifle, crouching zooms out as you look into the scope, for an extra boost of visibility, as well as breaking 3 ticks of armor in a single shot.
The Sniper Rifle
A promising M110 SASS with a magazine size of 5 7.62x51mm cartridges. Good for a frontal assault, as long as your accuracy is up to date since Snipers are a bit less accurate after 1 shot. Best used to weaken opponents, both armor and health.
Other Weapons
The Minigun
As a sandwich-loving Russian heavy weapons specialist once said: 'It costs 400,000 dollars to fire this weapon, for twelve seconds.' The Minigun is a lethal M134 Rotary Machine Gun, capable of dealing large amounts of damage with a very fast fire rate. It has a magazine size of 100 7.62mm cartridges. It is recommended to have strong muscles when using the weapon for better lifting. The Minigun suffers from its weight-degrading movement speed and a large amount of ammo required to reload it to full.
Dogna's Dart Gun
My colleague has recently re-engineered the Dart Gun to have a healing effect if shot at a teammate. The Dart Gun seems to be a hunting weapon from the past of Super Animal Island, able to shoot poisonous darts and inflict damage on the target for a short amount of time. If one were to make three darts hit their mark on the target, the target is surely marked for death without proper healing treatments.
Please note that the names of ammo were written to give a realistic point of view. The actual ammo types are:
PISTOLS: Small Bullets
MAGNUM AND DEAGLE: Big Bullets
SMGS: Small Bullets
ASSAULT RIFLES: Big Bullets
ARCHERY: Sparrows
SNIPERS: Sniper Bullets
MINIGUN: Small Bullets
DART GUN: Darts
That's everything we are sharing today for this Super Animal Royale guide. This guide was originally created and written by Captain John Gilder. In case we fail to update this guide, you can find the latest update by following this link.
If you believe that any of the content on this site violates your rights, including your intellectual property rights, please contact us immediately using our contact form.