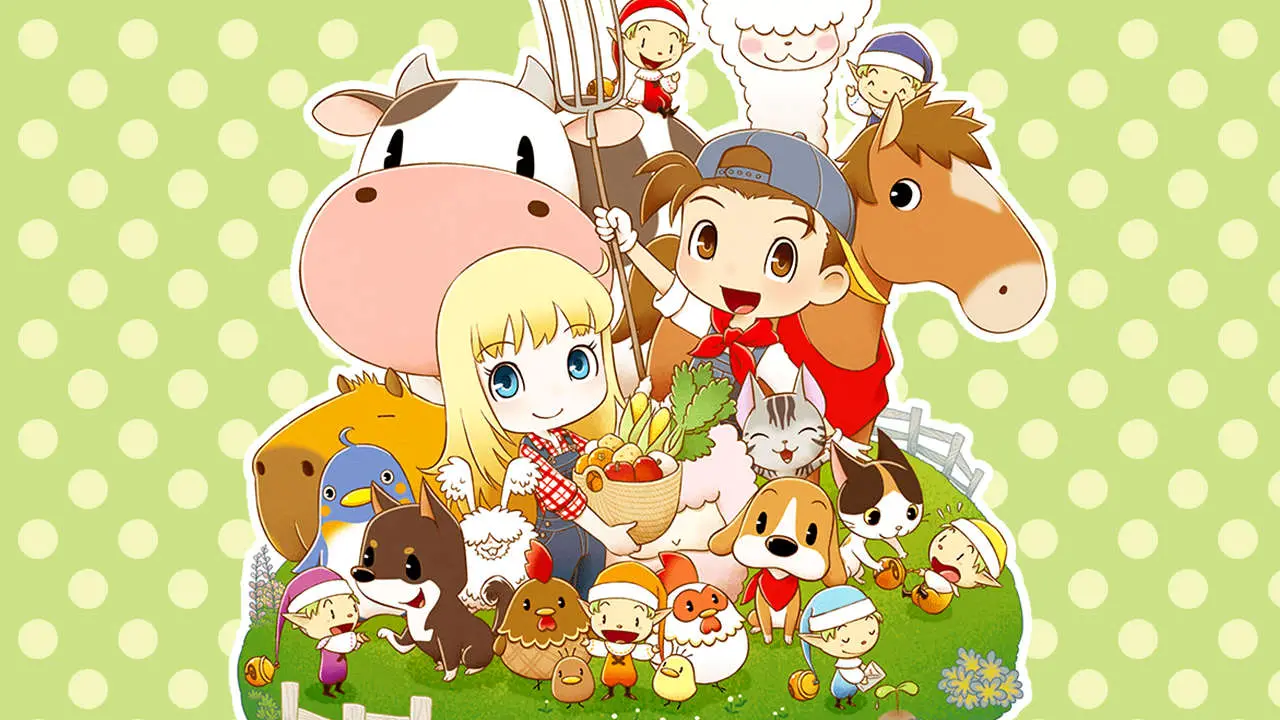 This guide will give you advice based on my experience for getting this I Choose You! achievement in Story of Seasons: Friends of Mineral Town.
Requirement
First thing first, here is the requirement to get the achievement:
This achievement will unlock once you get married, not as soon as you make the last confession.
The special bachelors and bachelorette (Gourmet/Bon Vivant, Huang, Kappa, Harvest Goddess) are not required to romance.
There are no repercussions to dating multiple people at once.
Confessing means you have to offer a Preserved Flower to the bachelor/bachelorette in question. In order for them to accept to be your boyfriend/girlfriend, you must have a green heart (30,000+ LP) or higher with them and you have to have triggered their heart events up to that point (Intro – 0+ LP/Black – 5,000+ LP/Purple – 10,000+ LP/Blue – 20,000+ LP).
You receive one free Preserved Flower from Jeff after you have already triggered at least one Blue heart event. You can buy more for 1,000G each at the General Store afterward.
If the person you're showing the flower to merely comments on it but nothing else happens, you haven't hit the requirements with them yet. You'll know you've succeeded if they react and you teleport to your house to have a conversation about your new relationship status.
Available bachelors are Brandon, Cliff*, Doctor, Gray, Kai*, and Rick.
Available bachelorettes are Elly, Jennifer, Karen, Marie, Popuri, and Ran.
You can gift a special gift to all candidates just normally is fine. HOWEVER, there are 2 special candidates that need your attention from the first Spring of the game.
How I did it
I finished my confession to all candidates in the first week of Winter's 1st year. It was a truly care day to day planned so we can trigger Heart Events of each candidate to proceed to green/orange/red heart. It is important to note that if we already give enough gifts, we also need to SEE/Trigger the heart event to be able to proceed to the next heart. Some of the Heart events are happening at the same time and day so you must choose one and trigger an event for another candidate next week.
I remember when I need to trigger Popuri event at Church, Gray at the Saibara shop, and Mary at the Library. I decide to postpone Mary's heart event for near 3 weeks. Gratefully I am able to finish all the heart events on the first week of Winter and decide to propose my Elli on 18 of Winter. AND at the same time, I BLESSED all of the Cursed Tools, so I water my Spring year 2 crops with a Mithril watering can.
Cliff
One is Cliff… You must accept Duke's offer of a part-time job at his winery on August 14. He will mention that you should ask "that guy who always goes to the church", which is Cliff. This is required to keep Cliff in the game and thus be able to see his Black/Purple/Blue heart events. If you don't do this, Cliff will leave Mineral Town on Winter 29 of Year 1, and he won't show up again until Spring 29 in Year 2.
Kai
Two is Kai, here is the problem. Only available in Summer (you only have about less than 28 days). If you can't confess to him on the 1st of Spring.., you will need to wait until the Summer of Year 2.
So.. YOU MUST plant PINEAPPLE since the 1st of SUMMER so on 21 of Summer you can give him pineapples! especially his birthday on the 22 of Summer. AND remember! to proceed Kai Heart Events!.
Black, Purple, and blue event normally can be triggered easily before we harvest pineapples, but yellow and orange heart events require some attention.. because, after 20 Summer, you only have 1 week (from 21-29 of summer) to get at least yellow heart and trigger the heart events.
I did not get to Red Heart, which I think is nearly impossible to get Kai Red Heart in the 1st year (because I did give him a pineapple every day since the first day of harvest). But I triggered all of his heart events to the final orange heart event. But since to get him to accept our confession you only need to have at least Greenheart, it is fine and you can get 'I Choose You' Achievement.
The yellow heart event of Kai only can be triggered if you confess to him. And it requires you to trigger the event on 11 am – 1 pm or 5 pm – 7 pm, not Sunday, it is sunny weather, and have a yellow heart which is supreme easy if you give him a pineapple every day since your first time harvest your pineapples.
Orange heart event requires not Sunday or Tuesday, sunny weather, on 11 am – 1 pm. that's it. And it is hard to be done with you being also a gift to another candidate so plan carefully each hour to an hour of the game and save frequently.
Take-Home Message
With all days we have in 1st year, we need to wait to trigger the heart event and gathering money to upgrade houses and buildings as the requirement to get married, the hardest part is to confess to Kai. After that, if we strictly give gifts almost everyday to all candidates, it will be fine and you will be able to confess and get accepted before you propose your special candidate.
That's everything we are sharing today for this Random guide. This guide was originally created and written by Near. In case we fail to update this guide, you can find the latest update by following this link.
If you believe that any of the content on this site violates your rights, including your intellectual property rights, please contact us immediately using our contact form.