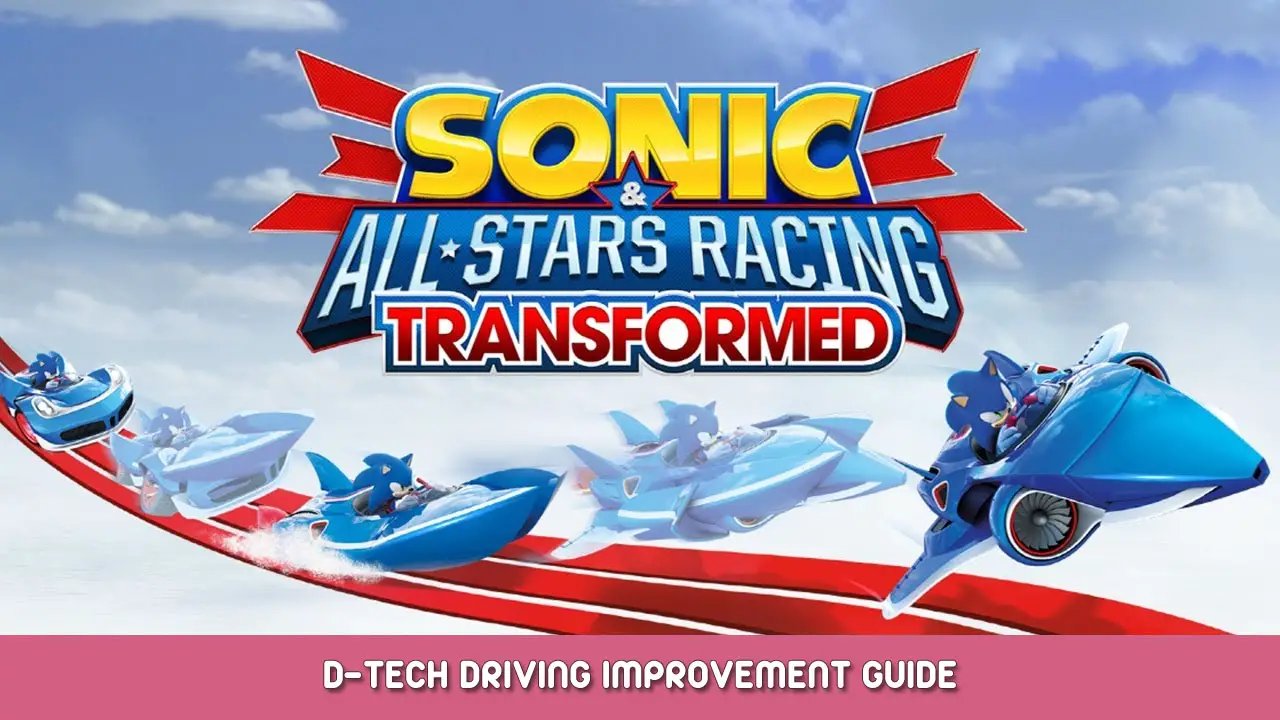 A guide on learning and applying D-Tech, or Deceleration Tech, in Sonic & All-Stars Racing Transformed.
Introduction
This guide aims to cover and document the widely used technique of slowing down around tight corners while drifting. I will start by noting I am not the person who "discovered" D-Tech. This technique has been known essentially since the game's release and even the staff ghosts use this technique. That being said, I have looked across the internet for much information on this game and found very little, with most of it stemming from defunct or simple GameFAQs questions, hence I have decided to coin the name for this technique as I believe it has never been named.
What is D-Tech?
D-Tech, or Deceleration Tech, is a technique used on console-mod characters with low handling and/or characters with a poor speed to handling ratio on tracks with tough turns (i.e. Sonic's Speed mod which gives him 6 speed at the cost of 3 handling, or Vyse's Dreamcast mod which gives him 5 speed at the cost of 1 handling). No matter how tight you turn on some tracks, or how early you enter the drift, you're going to get an awful line coming out of the drift or hit a wall. This is because you mostly retain your speed while drifting, as most people hold down on the accelerator while drifting. It is a racing game after all, would be kind of weird to stop accelerating in the middle of a race.
Believe it or not, this is the problem. Tracks like Graveyard Gig or Egg Hangar aren't designed with turns that you can take at full speed. Hence, D-Tech.
Usage and Applications
Performing D-Tech is absurdly simple, yet not many people seem to know much about it. While drifting, simply let go of (or feather, by lightly tapping) the accelerator. Granted you did it correctly and, you most likely did, you'll notice you continue your drift while slowing down. Congratulations! You performed one simple strategy that's going to make you infinitely better at this game. While performing D-Tech, make note of the following:
Since you're still drifting but not accelerating, you still need to ensure you took the corner properly. Otherwise, your lack of momentum will cause you to take the corner too tight and hit the inside wall.
Don't let go of the accelerator for too long, or else you might lose your drift/speed and end up accidentally braking. In saying this, don't slow down too late into the turn, otherwise, you'll still have a wide line while moving slowly. Let go of the accelerator while entering the turn, then speed up after establishing a proper line.
Where can I use D-Tech?
Just because you think you can take every corner tight, doesn't mean you should use it everywhere. Many tracks still benefit from going top speed or taking wide lines, like Ocean View's first ramp or Burning Depths' many watery corridors. That being said, many tracks gain huge time saves and/or absolutely require the use of D-Tech. Carrier Zone's crate shortcut requires it, however the shortcut is ultimately optional. On the other hand, Roulette Road's descending spirals cannot be driven cleanly without D-Tech, nor can the laboratory or Bouncy Castle on Graveyard Gig. Below is a video example of some ways of using D-Tech.
SART D-Tech Tutorial
Notice how much of an impact D-Tech makes on simple parts of races? Using this technique in unique ways such as dodging obstacles or correcting lines saves more time than you think.
Required D-Tech Staff Ghosts
Below is a list of tracks that may require D-Tech to beat the Expert Ghost, depending on how you race it:
Carrier Zone, boxes
Season Shrines, some tight corners
Chilly Castle, absolutely required for at least two turns and some optimisations
Sanctuary Falls, absolutely required for ALL indoor suspended roads
Graveyard Gig, incredibly tight track that requires at least 4 uses of D-Tech
Adder's Lair, difficult track requiring at least two uses of D-Tech, with an optional third at the U-Turn before the finish line
Burning Depths, difficult track that requires at least 2 uses of D-Tech, once at the large spiral around the tank near the end and one at the last bend before the finish line
Sunshine Tour, may require very little usage of D-Tech around the large spirals around the track, and perhaps at the start on the city street depending on how the turn is taken and character used.
Roulette Road, D-Tech is mandatory for taking the spirals, time trial or not, unless using 4+ handling characters (who, in all honesty, are slow anyways)
Egg Hangar, D-Tech is required twice at the large downward spiral turn near the beginning, and the exit out of it with the branching paths that lead to either a massive drop or an alternate route.
As you can see, D-Tech is used on, at minimum, 10 tracks. That's half of all tracks in the game! Be sure to practice this technique until you have confident control over using it.
Conclusion + Bonus: Triple Star License
That's alI have to write about D-Tech. Of course, most if not all skilled players know about this trick, but if you didn't, or if you're new to the game, there you are, a comprehensive guide to improving your driving. If you did know about this, at least I can say there's a place on the internet where someone actually documented this trick, unless you, the person reading this, already did. In that case, I suppose this guide holds no purpose; That is, not without including my bonus mini-tutorial: How to unlock a Triple-Star License.
I looked up how to do this several times on many sites and found no concrete explanation. Most sites said you had to achieve 100% completion on the game, but after checking some triple star licenses, I found some hadn't even completed World Tour! That's when I realised something; Nobody on the internet actually knew what qualifies as 100% completion. Everyone had their own version of what "completion" was. After testing this myself, I found a sort of guideline on how the game checks for "100% completion".
I will say now that, by achieving every single possible task in the game (120 stickers, 168 ghosts, 232 stars, etc) you will have 110% completion on your license. This is not tied to any achievements. You only need 100%. Completion is gathered by:
Collecting Stars
Collecting Stickers
Levelling up characters/unlocking Vehicle Mods
Beating staff Ghosts (Note: Mirror Ghosts/Outrun Bay ghosts are not required for the Yokozuna badge, however they do add to completion. Every roughly 10-12 ghosts you beat adds 1% completion to your license and every track holds 4 ghosts, so if you're stuck in the mid-90s try beating some easy mirror ghosts as well as standard track ghosts)
With that I have absolutely run out of things to say. If you're reading this, thank you for having a long attention span! It means a lot to me when people read whatever jargon I spout on the internet. Go and show those Staff Ghosts who's boss, and good luck both improving your driving and earning your Triple Star License!
That's everything we are sharing today for this Sonic & All-Stars Racing Transformed Collection guide. This guide was originally created and written by Kobu-Ki. In case we fail to update this guide, you can find the latest update by following this link.
If you believe that any of the content on this site violates your rights, including your intellectual property rights, please contact us immediately using our contact form.