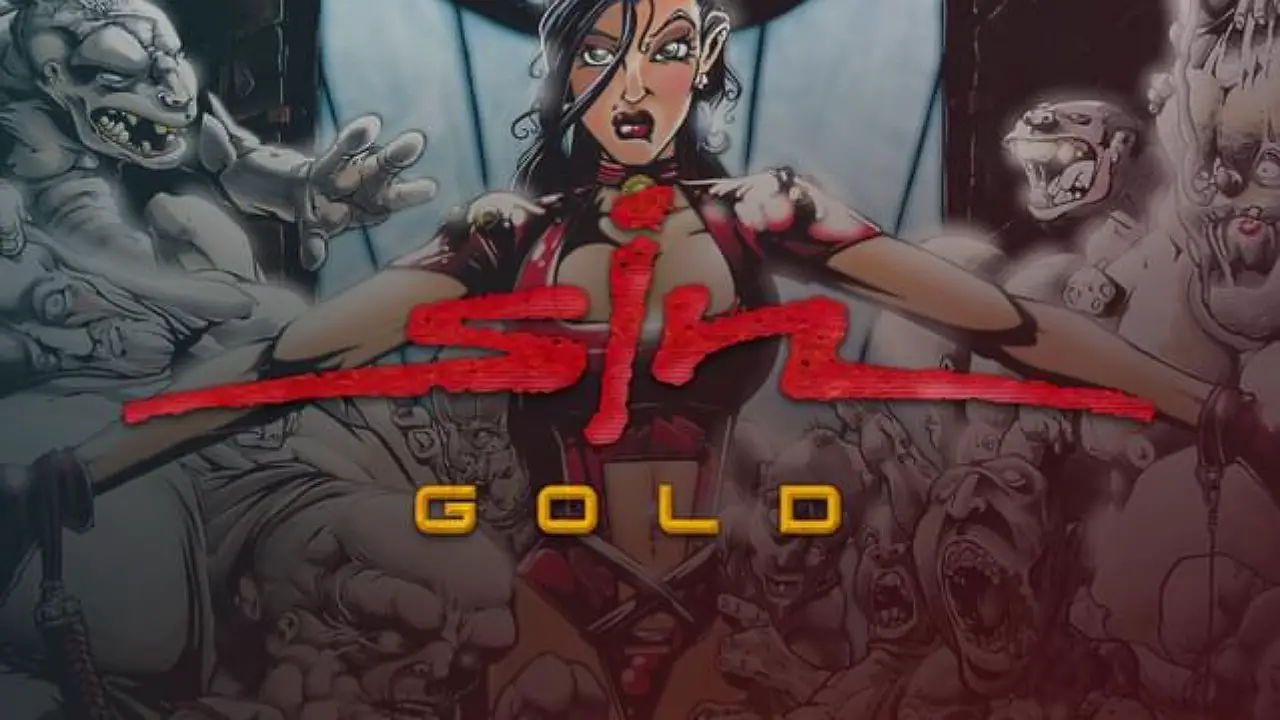 Why am I making this walkthrough? Well I beat the original sin game recentely and started on wages of sin. It looks cool so far the enemies are a lot better imo than sin1. I will be making this guide as I go along and it will be a straightforward how to beat it guide. Its not gonna be one that obsesses over every little path or secret however. Its simply a guide to beat it as fast as possible without getting stuck like I did constantly in the original sin. Special shoutout to the original sin guides on gamefaqs that helped me out a lot.
I also kind of enjoyed sin1 altho it was full of bugs and glitches and odd gameplay choices but was still pretty cool. Fun gib shooter with lots of levels. Its actually a very long game and while it wasn't the best shooter of that era (i prefer quake, turok, doom, duke, and many others to sin) it was still amusing and I quite liked the sick politically incorrect humor, and adult themes that are so over the top its laughable. The game has some major negatives however which make it awkward and frustrating at times, such as very dark lighting, glitches, and enemies with way to high damage output, all issues I hope are fixed in sin reloaded which I will probably buy just cause I enjoyed this game. Despite its issues. It could really be a great shooter if all the issues were ironed out and I hope nightdive does.
So lets get this started.
I will reference irritating segments as these will probably be the parts that frustrate people the most as I found with Sin1. Really if you are stuck in a particular area then its probably one of these so use this reference if not read the walkthrough cause its probably not something I had issues with.
Mission 2 Pipe platforming
Mission 3 Finding the Exit
Mission 6 Passcodes
Mission 6 Cryptic Exit
Mission 7 Impossible Stealth Spot
Mission 12 Swimming Pool
Mission 12 Door that Wont Open
Stage 1 Freeport Underground
After the cutscene you will be in a construction yard, follow the ramp path on your right down. The first building you see has some ammo in it but nothing else that I found. Cept a skimpy poster. Don't even bother opening the cabinets or desk nothing in them either. Exit and in the center of the area is a rope, you can practice the new rope climbing feature. It wasn't in sin 1 that I know of. When you're done getting use to the rope climbing which imo feels a lot like farcry climbing (kind of ahead of its time really) move on to the far right and you'll hear blade commenting. Keep going and turn to your left to find a flashlight and some other items. Proceed on past the dismembered arm and down into the sewer, it will be quite dark so use the inventory switch to turn on the flashlight. Or simply turn up the brightness in the options menu (the darkness in sin is my major complaint on the game, I really hope nightdive fixes this issue in sin reloaded).
You will be in a sewer, in some gross green and brown water. Be careful of the rats as they will actually attack you (doesn't make much sense but oh well, maybe their chemically induced rabid rats). Round the dark corner on your left, taking out any rats in your way and you will come to a short ladder up to a higher position. Climb up and go forward, ignore the ladders leading up the manholes are locked. Continue down the railing and you will meet your first enemies. Weird little creepy spider mutants. Their not to hard tho just cap em then move down the board ramp into the darkness. If you can't see you can use your flashlight, or just keep moving till you ascend upwards. You will be greeted by a mutant with a shotgun. Take him out, and you will get a really cool scene right out of a classic movie thats a favorite of mine. Take out the new badguy and collect the shotgun from the dead guy. Move on down the hallway. You will get attacked by some more mutants, and you should see a bathtub. From here there were 2 paths but I took the left one which leads down to some flames and a dark area with spider freaks.
It is very dark in here so use your flashlight. From where you dropped you can go back up with a rope. Press E and push SPACE to climb it and then land on a ledge above it. Or go through the new area killing mutants as you go and come out to another sewer ledge. It actually leads back to where you got the shotgun from the dude so this area is a bit of a circle. This game has multiple paths and is actually fairly open ended. In the area you should see a dark tunnel on the right, go down it and you will see another shirtless dude. Blast him. After he and several mutants are dealt with you can follow the plank on the right to move up to a platform for an item. After that go back down and turn left, continue down the dark hallways. You will come out to a larger area with more mutants and a shotgun guy. Take them out and to the left from the entrance is some items on a shelf. Take them then move forward and grab the ammo from the dead shotgun dude. You should see a blue run down subway car on the left, inside is a bit of dark humor. continue on and you will encounter more mutants and a ladder on a ledge. Jump up to the ladder and climb it after disposing of the mutants and grab the ammo and items. I really like the enemies more in this one than 1, way more creepy. Continue on and you'll see another run down subway cart, and to the right a hole leading down into the sewers.
Once you land in the water dont even bother moving yet just let the current carry you along to the exit.
End of stage 1
Stage 2 Further underground
From the start you will see a ladder leaning up to a ledge. Climb it cause shortly after the water will slowly rise and can drown you. You can swim up where the manhole is to get a breath. Swim back down and on the ledge is a switch that will lower the water so activate it with E.
The yellow gate should open up, follow the ledge and go through the opened gate. Continue following the ledge and to the left you will see a strogg, er mutant, take a cheapshot at you. Kill it and move into that area collecting its precious shotgun ammo. Turn right from there and proceed down that hall. You will come into a control room with a switch in the right hand corner. Hit that switch then exit through the lower right corner and turn left. The water will rise so be quick about it. On the left down the sewer tunnel you should see two exits leading up. I took the right one which proceeds forward not sure whats on the left.
Proceed up and through the septic nightmare until you see some mines placed there as a trap. Simply move towards them but go back a little if you wanna avoid damage. Or you can just move through them they didn't do much damage to me but I play most shooters on easy first. As you keep going you will come out of the water and bee in a pipe, continue down the pipe and you will see a hole in the pipe on your left leading down to a new area.
You will find some crates with items in them and a mutant perched up on the ceiling lobbing goo on you. Take it out before it causes to much damage. After its dead proceed through the door. These doors actually take a moment to open and you have to press E right on the door handle just letting you know. Proceed down the ladder and kill the nightmare pit. After its dead proceed down the hallway. You'll come to a pain in the ass area, first one in the game really. Don't fall below i mean you can explore if you want but there's nothing really worthwhile besides some enemies and maybe some items you don't really need. on the platform right in front of you is a bomb placed right on a metal pipe. If you detonate it and take damage you'll hear some funny commentary. Anyway I suggest saving here as it can be annoying with the forced platforming. I never said this game was perfect but its still pretty amusing.
Now comes the irritating platforming section. I will mark challenging or annoying segments in this walkthrough for reference purposes.
Annoying segment number 1. Pipe Platforming
Ok move over to the pipe with the bomb that just detonated. Jump up on the pipe so you are lined up perfectly with it. Now press CTRL and crouch down. Moving up the pipe. Turn right, and drop down to the steel platform below. You will see a health powerup to your left.
From the powerup you will also see a Hole in the wall. Time your jump carefully and leap into the hole. Another funny quote should confirm your success.
End of irritating segment 1
From here you will see a rope, press E to drop it down so you can climb back up, for whatever reason. Move forward and you will see a cool shrine to the first games villain Elexis. On the table in front of her is a second pistol, for duel wielding. Which is really cool but then this was 99, shortly after goldeneye. After you take the pistols you'll get attacked by 2 monsters. Kill them with your new duel wielding powers (you can switch back to 1 pistol with a right click if you wanna conserve ammo) and when they are dead continue to the right and down a passage. You will come to a set of stairs and more mutants. Don't bother going down the stairs just proceed up, nothing down there but a locked door.
Upstairs you will see a green door, go through it to a new area. Continue down the stairs and you will find the last worker.
Go into the mens bathroom and you will see a boarded up hole in the wall. A mutant should bust through it, kill it and proceed forward. You will find a rope. Don't climb up it yet, look up the rope and you will see a red light, shoot it, its a mine. After clearing that climb up the rope with E and SPACE. You should come out to a room, leading to another larger room with 2 more mutants. Kill em and proceed forward.
The door on the right leads to the exit, you can follow the long hallway ahead for some ammo or just exit the level if you don't really care.
End of stage 2
Stage 3 The Secret Druglab
Proceed forward and up the ladder. Move down the hallway and to the right. On the first right is a room with pipes and chemicals, proceed right from there and you'll be in a room with switches. Hit the switches and the room will rise with chemicals. Don't stick around the chemicals hurt a lot, and 2 mutants will attack. Simply climb the ladder back up quickly and let them die in the chemicals. On the platform continue across a metal bridge and down a hallway, eventually emerging into a room with 2 familiar enemies from sin1. Kill them both. You will get a new weapon the flame thrower, wasn't in sin1 I don't think. Anyway turn around and behind you should be a door. Open it and you'll see an npc running around, just ignore him and move past into the room.
In this room be careful and do not go down the pit area. You won't be able to get out and you might as well reload your save. Anyway just avoid the pit.
Continue on, to a door opposite of the one you entered. You will see a crane arm much like one of those old toy arcade machines. A guy will try to crush you with it. Its easy to avoid however just jump across the gap and enter the room on your left for some items. Exit the room, and you should see a thug posted in the top right corner. Use your pistols to take him out. From here climb the ladder in the main crane room and if you want you can use the controls to crush thugs entering the room. Or just shoot them it dont matter. From there turn left and enter the door in the crane control room.
You will enter a room with a dirty magazine starin elexis and stairs leading up. Go up the stairs and you will come to an open ended room with doors. You can look around and explore or you can go right to the objective. Go forward past the main room and to the right through a door. You should see an elexis themed mousepad and a scientist who will trigger a cutscene if you speak with him, with E. He will inform you of his daughter who is being held hostage.
New objective, anyway from there leave the room and turn right, you'll see a thug and some more rooms. Proceed down the hall after taking out the thug. Now loop around and proceed back to the main room. In the main office room with the windows you should see a safe door. Open it and go into a room with the drugs in a vile on a counter. Grab em. Now all you have to do is exit the building.
Annoying segment number 2. Finding the exit
Some may think this is a no duh, well I wandered around for about a half hour before I figured it out so just gonna list this in case someone gets stuck and needs the reference. From where you got the drug head back out to the main lobby. One of the doors, probably on your right if you just left the drug room, leads to a computer console. You will see a joke about reefer and bill clinton, so navigate the computer past all that to the gate controls. Use the computer to open the gates. Then simply go down the pit in the same room and you should see gate 1 open. End of level.
End of irritating segment 2
End of stage 3
Stage 4 One thumbs club
Hand over your weapons to the lady, move on into the club and go up the stairs on the right. Find a room called private access and you find a large heavy set guy. Talk to him with E and watch a cutscene. After that go back to where the lady was who took your gun, she won't be there but your gun will be laying on the counter. Now go back up the stairs and proceed down the long hallway opposite of the private access. Keep going and you will emerge onto the roof and see a ladder. Climb it and you will see a small gap between the nightclub and another building. Jump to it. A cutscene should kick in, then you just proceed to the obvious exit, end of this very short level.
End of Stage 4
Stage 5 The Vacant Building
Enter the door to the next room and proceed on, you should see a sign saying 3rd floor and a door next to it. Proceed on through and you'll be in a larger room with men talking. The men here are armed with flame throwers which is an odd weapon to have in an apartment building. But anyway in the center of the large room you should find a table with health packs and a small key laying on it. Grab the key and any health packs you need. Anyway I found this whole floor to be a bit confusing and also bland, not this games best example of level design. Anyway from the center of the room where you got the health packs and key head left, you should see a metal door with a sign saying floor 3. Go through it and a thug will attack you from a flight of stairs, take him out. Head up to the 4th floor and the stairs will blow up from some triggered explosion, blocking your path upwards. On the 4th floor you will immediately be attacked by a mutant dog, odd place for mutants, anyway kill it.
From here proceed right, towards the stacked tables and chairs, and you should trigger an explosive sound. Turn around and go through the twin doors. You should see a large hole in the floor. Don't jump down it look around the floor for an elevator with a chair blocking the doors. Destroy the chair then use the elevator to get to the 6th floor. As soon as you exit the elevator big fight happens and you gotta kill a load of guys, after that head right from the elevator and you should see a door next to a table with some ammo and a box of pizza. Go through this door and a cutscene triggers. End of level.
End of level 5
Stage 6 Daeneer Shipping
From the truck move around to its other side and take out the lone thug. Now move forward into the shipping offices. Head in killing another thug and turn left into a room with a communication device on the table and a computer. Grab the device and listen to a funny exchange between blade and jc about a classic cartoon series. After the exchange you can head east or west, down a hallway and out an exit, either route will get you greated by a missile launching thug, so prepair for a fight. You will also see some large gate doors defended by sentry guns. JC informs you you need to power them down somewhere. Go around the gate and you'll get attacked by more thugs. After you take them out, turn left and head into the sliding gate door. Kill the tank top dude, and proceed towards the large rock and past it into a room with a keycard on a table, grab it. There's also a tiny lil quarter on the computer desk, grab that too, altho I don't see how a common quarter comes in handy like blade says..
Now do not head out the backway door because there's a nasty sniper out there who takes off loads of health. Instead go back to the main room where the tank top guy was. From where the large rock is go straight ahead, through the sliding gate and kill the shotgun thug.
Keep going past all the large drums and you will be in a room with a computer.
It wants a passcode, well since I see no guides online and have no knowledge of this game at all, I guess we'll have to look for it. So proceed past the computer and outside. You will see a thug, take him out, proceed past and into the large construction building. You should find a health cabinet here in case you need it. Also at the top of the room is a crate you can destroy for an odd missile launching backpack that fire multiple missiles at once. Pretty nice. Nothing else here so go back to the computer room. Head back to the room where you killed the tank top guy. Head through the gate on your right, then take another right. You should see a door and a building with a label saying personnel on it.
Kill the thug then descend down the stairs. Keep going killing the thugs and you will end up in a room with some computers and another health cabinet.
Move past those into a very well stocked armory so arm up, on a computer desk you'll find the infrared goggles (we really coulda used these in the first sin guys). You will also find a computer terminal with a list of passwords.
Since I don't know any, leave the way you came in (you dont have the key for the door), and emerge back to the hub area with all the buildings. Move to the far right and continue to hug the right border of the level. You should come to a sliding gate door, go in and move to the right past the fence, and down a narrow hallway. You'll emerge into an open area with a frickin helicopter and a thug dropped down from it.
After taking out the guy, move to the left and down the side to a narrow passage and a gate door. Looks like we need a key, so head back, yes this level is very complicated but its a nice level. Anyway you should come back out to the area where that pesky sniper was. Ya know the infrared goggles we found? Use them to locate and take out that sniper.
Annoying Segment number 3 passcodes
Now go back to the armory room where you got the infareds and type in the passcode 45883 in special records for some JC/Blade dialogue and a new mission objective. Also go back to the computer room with the Daeneer shipping network computer, opposite of the rock in the center building near the ladder. Enter the code 91175 for information and objective updates. Also since I didn't know if the guy was a civilian or not kill that van damme dude behind the warehouses where the sniper was, he's irritating anyway, and collect his key, head back to the infared room (again) and enter the once locked door to proceed..
End of Irritating segment 3
Now go through the door and blast the wall away revealing a bunker like area. Its where the power generators are, proceed forward until you come to 3 switches. Turn them all off with E. Now switch to the flashlight and retrace your steps back to the sentry gates, you can go through them now.
Annoying segment number 4 Cryptic Exit
Just when you thought this exhausting level was over, well its not quite yet. As soon as you enter through the sentry doors, turn to your left, you should see a box thats different. Shoot it to create a platform, allowing you to jump up on top of it, turn the other way straight ahead and platform your way up. Jumping over the gate. Yea…
End of Irritating segment 4
End of level 6
Stage 7 Crane Shipyards
From where you start you'll be in a open area with 2 guards. These two guards are kind of refreshing since they are skinny and normal looking. I don't really understand why most of sintecs soldiers look like steroid cases, its unrealistic. But I guess this was the quake engine. Anyway nice to see some actual realistic enemies. Take them both out silently as that's part of the mission to save jessica the damsel in distress. Anyway try and go in and you'll see a camera, I suggest saving inch by inch to avoid detection. Anyway move to the left once the camera turns all the way to the right and quickly hit the door switch on the right. As soon as the door opens you'll be greeted by yet another security camera, if its aiming right quickly move past and to the left. Its tricky but there's nowhere to really hide from this one so try to be fast or reload save. Once you're on the left you should see a man on a computer on the left behind a fence door. Open it and pop him, then use the computer to disable security cameras. Anyway I think this only disables the cameras in certain sections of the level so you'll probably have to deactivate more, look out for computers and again save often.
Anyway from there move out and head right, through the gate straight ahead and a loading screen. You will emerge into a new area. Down the hall and to the left is a camera, and straight ahead is another camera. This is a tight spot, but the computer and dude are right ahead. Get directly behind the camera when its not looking. Look over to where the guy on the computer is. Carefully shoot him in the head, don't miss or he'll activate the alarms. Once he's dead only move forward to the computer when both cameras are turned away from the spot, its tricky but I managed it. Once you turn off the cameras grab the weapons and ammo from the lockers. Now exit the room and continue back down the hallways, when you turn left you'll see another camera. You can tell which ones are working because the ones that are working have a red vision field. Keep to the right and pass under its field of vision, past it is another poor soul on a pc, take him out with a headshot so he doesn't trip the alarm. Deactivate the camera just like the others.
Keep heading down the hallway and you'll come to a security terminal. It wants a passcode so… You'll have to head back all the way to the loading screen. Hey other than watching ytube videos which I don't like doing I couldn't find any answers online so if you want the password now skip ahead or keep on reading.
Annoying Segment Number 5 Impossible Stealth Spot
Ok so this next part was truly impossible imo, back past the loading screen and a little ways past the deactivated cameras is another camera, and about 3 or 4 guards who will notify a pc guard who activates the alarm. If you want the stealth objective, just type in the code WALLFLOWER in the pc console, sorry but I don't see any other way past this.. Anyway the guards will walk by you. But you still need to avoid the camera as WALLFLOWER only makes you invisible to enemies not cameras. Anyway pop the pc guy in the head and deactivate the camera. As before. This particular guy also has a keycard you need. Anyway there should not of been respawning patrols here another thing nightdive should fix especially if they want people to play through it legit.
End of Irritating Segment Number 6
Anyway outside the computer room is a door saying harbor master area, use your keycard to get in, and enjoy some of the funny commercial humor inside. Move through this area and you'll find an elevator, ride it up to a new area. Inside are many personel and alarms and this is frickin ridiculous so I suggest just keeping wallflower on. Don't even shoot them cause even tho you can sneak attack them there's way to many. Just keep wallflower on, if anyone beat this game legit congrats you are a master at cheating impossible shooters.
Anyway move through the area and you'll eventually find a computer in a control room with some options. It will show a password list, the passwords are..
Dock 328 – Password is – 2112
Main Terminal – Password is – Phook
Now head all the way to the far right side of the facility where that password terminal was (this levels terrible). I suggest just keep WALLFLOWER on. Enter 2112 and you're in.
End of Level 7
Stage 8 On the Water Front
Head left and down a ways and you will see a lone door. Ignore the area near the truck the door doesn't open. Go through the far left door. You will be in a huge warehouse with large shipping crates everywhere. Kind of impressive for the time actually and I've worked in places like this before. Anyway no enemies or nothing just a big ass warehouse, just keep moving till you see a ladder and climb up it. You will be on a platform, move down it to greet a sniper with death and take his sniper rifle. Continue on and you will come out to an open area and you will be on a ledge. JC informs you to watch out for snipers. You know what that means, time to equip the infared. You may not need it however, anyway turn left and drop down into the boat. Turn and enter the door near where you dropped and you'll see a familiar enemy from quake2, er, sin1.
Take it out. Explore the ship (major goldeneye vibes) and eventually you will find some stairs leading up, as well as more thugs.
In the top control area you'll get a dialogue segment, once that's over move back down to where the strogg, er, mutant was and descend down the stairs into the bowels of the ship. Continue on for a locked vault door, but wait, a story segment opens it. On a side not I really love the thermal in this game, I'm not sure if this is better than sin1 but so far the weapons and gear are…
Anyway move in and take out the mutants. Continue straight ahead and you will find our damsel bound to a chair on a large box. Jump down and fight a breakdancing mutant and some thugs, who are very easy.. Then move on into the box and climb the ladder up to the damsel and level is over.
End of easy level 8
Stage 9 Something of a Paradox
You'll start this level with a plasma crossbow and its actually pretty cool. If you played turok2 you should be familiar with how it controls. Hold it down for more power, its best to charge it as firing it like a gun lobs weak shots. Move forward and up into the museum. If you played sin1 then this level may remind you of the very first level. Some officers are already fighting some mutants so back them up. Continue through the level, there's not really much to explain this is a breezy level and if you played a shooter you won't need much help here. Just assist the museum security and take out the strogg rip offs. Take your time and look at all the cool art pics. This level seems like a reward for all the crap in the stealth mission. Once you've cleared out all the enemies on the first floor proceed to the center of the building. You should see twin stairs leading up. So go up them. Once you get up the stairs the lights will go off, the badguys shut off the power. Go back downstairs and you'll have to fight more enemies but this time in the dark. And for some dumb reason blade threw away the infared. I can just imagine JC playing around with them like a kid. Luckily you do have a flashlight so use that. Continue down until you see some doors and some bullet proof glass. On one side is a security officer who triggers a cutscene. He tells you to go outside where you started and to go around the backway, to turn the power on. So lets backtrack to the start. Not like this is really that huge a level. Outside you'll encounter some mutants who oddly use Blades personal handgun. Take them out, and move down the side of the museum opposite of your starting position.
You will see 2 sliding metal doors. Open the first one and take out 2 mutants. Hit the lever for the main power, but it blows up, you'll have to activate the backup so go in the other sliding door. Hit the switch and turn the power on. Leave the area and take out any new enemies that spawn. Head back up the center stairs and more enemies, take them out. This really is the best level in wages so far simply cause its just straight up action and shooting. No confusing bs.
Anyway eliminate the enemies on the top floor, and move through the twin doors on the left side. A thug will run off with the item they were stealing. Give chase and eventually you will fall down into a bottom level and some loading but the paradox level isn't over yet. You will be in a darkened room. Go forward and you will see a panel on the wall. Activate it and go through, a manhole is open, go down into it. You will be in an industrial like tunnel. Im not sure if there's multiple paths here but I saw a dark hole on the right. So i ducked down and went in. Down the hole you'll encounter a group of creepy mutants in the dark. Keep moving and you'll get a cutscene staring the grim reaper. Anyway after the cutscene more in the dark mutant fighting. Dont forget to use the flashlight. After the battle go forward until you find a hole leading down. End of level.
End of level 9
Stage 10 Manero's Tower
Starting the level try and open the door for a funny self dig. Anyway turn around and follow the path crouching down to fit. You'll come out to a room with some wall mutants above you, take them out. From this room head up the ladder and do as JC says. Shoot everything behind the gate. It will blow up and open a path for you. Enter the room and click E on the poster for another inside dig. Head through the mesh door into the hallway. Turn a corner and you'll be in a parking lot, and you will be attacked by a large horde of enemies. After beating them go up the incline ramp to another level, and more enemies. And a 4 wheeler which you can actually drive. Altho there's not much reason to other than to quickly move to the front of the building. Once there a mutant with the missile launcher pack you had earlier will attack. Once you kill it, its yours now. Continue through the large M doors and kill the thugs waiting. Grab the health packs after off the counter.
Behind the counter is a door that leads to an awesome heavy metal poster. You can go in the lounge, there's one thug/bouncer inside.. He'll attack you, but other than him not much reason to go in the lounge unless you just wanna live some sick spree killing fantasy. Instead go up the stairs in the center room. You'll go through some red doors and see a loading screen.
End of level 10
Stage 11 Manero's Casino
You emerge into a casino. Continue forward or look around if you want. JC says not to kill civilians but I dunno if it matters or not. Not that I care to kill them or not so I don't know I just take out the thugs. Anyway look around if you want, or go forward until you see the farthest door on your right. You will enter and see some women dancing on stage. If you go backstage there's some thugs to kill. And a door to the left that leads further in. You can check the rooms down the hallway for items, and in one safe there's even a shiny little elexis doll.
Now go back to the hallway and the 2nd room from the right, where the construction dude came out. You should see a ladder leading up into the building. Climb up it. Go down the vent and you'll see a metal gate, its to strong for shotgun blasts, so instead use an explosive of some kind. Except the backpack weapon that will just hurt. Go right and turn and you'll be attacked by a new enemy, some kind of floating drone, pretty cool but take the lil guy out. I love floating drone enemies. You'll come to another metal gate window. If you don't have any explosives go back through the casino and look around. Or you could just use the console cheat WUSS to get an ammo refill. I had to cheat earlier on that stealth mission. Really no shame in doing it imo, I just wanted to see the story and game and that stealth cross section with the camera and respawning guards was impossible imo.
Once you blast the obstacle down, turn to your right and hit a switch. Continue on straight ahead. Another metal gate, take it down and you'll be in a cross section. Two red doors on each side and a green lit one in front. Go down the right red one. On your right as you go in is a path that leads to some more bad guys. And some security consoles, activate the one that says main vault lock. Now head back to the first switch you saw up here near the first drone. Activate it and look for the nearby drop. Drop down and run into the open safe, their will be some security bots destroy em. You should see a keycard as well as money (not sure what the money does). After you get the keycard head back to the cross section, and go through the the green door.
Take out the badguys and you can leave the level, good cause the casino music was wearing real thin, but was a cool level overall.
End of level 11
Stage 12 Manero's Penthouse
Go through the twin doors and you'll be attacked by 2 floating drones. Take them out then move around the the head of the fancy table. You should see some switches, activate them and the room will transform revealing ammo and weapons. Nice. But don't hit the yellow one its an alarm. When you're done loading up, go through the twin doors straight ahead. Go right and head through the small corner door. In this room is an aquarium and a drone. Be careful if you shoot the fish tank and the tv you can get an electric shock that does tons of damage. Funny this kind of realism in a game yet you can shoot firearms under water…
Anyway after that head up the stairs and through the twin doors into a balcony with glass everywhere. And an indoor swimming pool, guys got it going on. Anyway turn right after you kill the drone and head into the next room. There will be some enemies and a desk that wants a passcard. But you don't have it. So move past it and around the room to a branching path. Go through the first twin doors the ones behind where the fish tank is lead back to the armory room.
Be ready through the next set is a thug on an elevation shooting missiles at you. After he's dead look around the room, wow thats a huge diamond. Follow the red carpet out and into a new room, that looks like a bar. Once you take out the drone here JC will contact you informing you he needs a terminal to hack.
Annoying Segment Number 6 Swimming Pool
Jump in the swimming pool and in the deep section all the way in the corner is a key. I'm listing this cause its very small and I don't want anyone wandering around this place for hours looking for a stupid key.
End of Irritating Segment Number 6
Annoying Segment Number 7 Door that Wont Open
Ok now I wandered around for a half hour at this point in circles before I figured it out. I think, game doesn't give any indication of what you do here. I did 2 things, I hit the alarm in the main meeting room, and I hit one of the light switches in the desk room next to the diamond room. I also blasted the aquarium in the big fish tank room. After all these triggers the door finally opened in the fish tank room. Go through it.
End of Irritating Segment Number 7
Once inside grab the items and move on into a room with some thugs and some babes in a hot tub, kill the thugs. As for the babes I don't think it matters if you kill them or not. Go back outside and on one of the counters near the bed is the keycard you need for the terminal next to the diamond room. Go back to it. Insert the keycard into the terminal with E and then activate the keyboard that appears with E. You will see a cutscene. After the scene a futuristic elevator will emerge. Go in and down and you'll be in a room right out of the game redfaction. You'll have to fight some jumping mutants. Then a train right out of redfaction pulls up. Inside are some drones so destroy them. Enter the train, activate the orange switch, and end of level.
End of level 12
Stage 13 Mutation Facility
You'll start the level in some docking room. Destroy the crates to reveal a vent, with a workers uniform inside. Blade will put it on automatically no need in switching. Continue in and don't start a fight theres turrets everywhere. Just pass the checkpoint and continue. In the left room you can check out the giant baby mutant in the tube. Continue on, if you blast that munitions crate in the next room a drone emerges and attacks you. Just make sure and take it out before you get anyones attention. They can't seem to hear buckshot, eh maybe the rooms are soundproof. Continue on through another checkpoint. Cutscene.
Go past the paroling strogg, mutant, whatever and continue. Don't start a fight. You can free the innocent people in cells, one sentry will try and fight but strangely no one else cares, just lets em run off into the facility (lol). Ok if you freed the people then next checkpoint won't be so friendly. Quickly take out the guard and the guns. Runnin directly under the guns and shooting them works well. Use the checkpoint console to open the locked elevator. Continue down through another angry checkpoint. After that conflicts over continue on. Continue on into some red light rooms. A scientist will run off, kill the enemies that come through and do as JC says and go after the scientist. Cept both doors are locked so you'll have to go through the one on the right. You'll see some familiar creepy scientists from sin1, as well as more enemies. Continue through the creepy rooms killing enemies. You'll get to a room with the scientist who starts assaulting you. Kill him and get the keycard. Continue on through another angry checkpoint. Use the console to turn the doors on. Continue on through the rooms and JC and blade have a segment about a large industrial door. Turn around from the door and into the opposite door, past the creepy scientists and into a room with a lone engineer. Activate the console and the large industrial door should open. When you go back to the area DO NOT stand on the circular platform. You will be smashed like a pancake. Go past and into the room to find the exit.
End of level 13
Stage 14 Breeding Facility
As soon as you enter you'll be attacked by drones. Beat them then go left into the fenced in room. Some ammo to collect in here. Now follow the stairs up and hit the green panel to open the door. Continue down the halls and you'll come to a room with thugs, and some lockers with goodies. There is a green panel switch in this room, hit it to time open the door to exit. Be quick it wont stay open for long. Keep going through the next room where you'll see an army of the hulks arch nemesis abomination. Anyway hit the green panel on the opposite side and go through the door. Continue up the winding stairs for a cutscene.
After the cutscene you'll have to fight a boss, the abomination.
Once you beat that one you'll have to deal with 2 at once, not really that tough, just circle strafe and spend all your ammo they are nowhere near as strong as the thrall in sin 1. The backpack missiles work nice here if you still have them.
Once they are dead you'll have to get out of there quickly as it will detonate in 2 mins. Look in the room where the 2nd abomination thing busted out. There should be a vent. Blast it and go through. I suggest the shotgun or minigun, or even the duel pistols as there's drones inside and heavy weapons will cause you to much damage. Just continue downwards through the vents until you reach a cutscene.
End of level 14
Stage 15 Final Showdown
After the cutscene Manero will attack in a helicopter. Use the nuclear gun on the helicopter if you have it to take it down in 2 hits. After that Manero activates a photon shield. Switch to your plasma arrows and it'll take down his shield in a few shots. After that he turns stealth, use your infareds to locate him. The last phase is odd, he has a nuclear gun and can cause heavy AF damage, and can take heavy AF damage. WHY? He sponges it up like one of those abominations except with high damage and range. So this last form, honestly is a little deadlier than the thrall in sin1. Just keep blasting and trying to avoid damage. If you find it hard you can always use the console cheat HEALTH 999. After you shoot him for a good long time the bastard eventually dies.
End of level 15 and end of wages of sin.
That's everything we are sharing today for this SiN Gold guide. This guide was originally created and written by Unseen. In case we fail to update this guide, you can find the latest update by following this link.
If you believe that any of the content on this site violates your rights, including your intellectual property rights, please contact us immediately using our contact form.