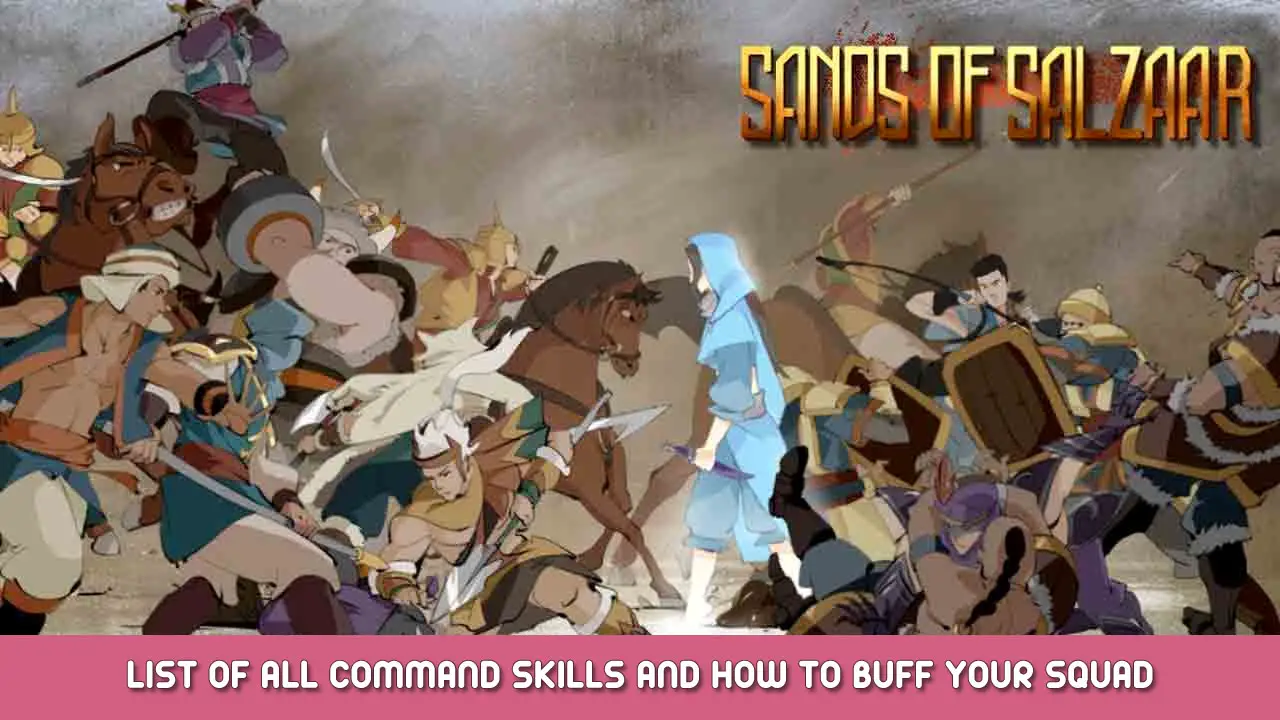 Some buffs are better than others–clearly–but the most important thing is knowing that the buff functions with your units!
If you know what kind of army you want at the end-game, this list will help you look for the best characters to aid your army via their Command Skill.
For example, if you are trying to build a Thur Warmonger army, then you are looking for Melee and Heavy Armor buffs. Dhib Swordsmen: Light Armor, Slashing, Melee. Et cetera.
Once you know who you want, you can open the Map ("M") then hit "World Map" then you can hover over every town looking for the NPCs that work for you.
Disclaimer:
I compiled this by hand from various saved games. The list of Characters will be incomplete, and some may be wrong. Please feel free to add additions and corrections in the comments.
This list is about delineating the Unit CATEGORIES, not providing a detailed list of Unit buffs.
You will NOT be able to recruit all of these characters.

There is a mod in the workshop which lets you recruit faction leaders
There is a talent "Political Animal" that allows you to recruit hostiles
P.S. I don't think Command Skills apply to Characters, only the Squad. So don't waste time tinkering with your character's Armor and Weapon to try to gain the benefits of Command.
Command Skills by Unit Type
ALL ALLIES
Husnu – HP
Zafeera – Low HP = Damage
Tiqin – Poison Resist
ARCANA
Miaya – Magic Attack
Najima – Magic Attack
Threnody – Freeze
Wakata – HP regen
BEAST
Lone Eagle – Physical Attack
Sur – Damage Reduction
Ursula – HP & Damage
FORTIFIED ARMOR
Galo Zahra – Knockdown = boost
Ruha (I think)* – Damage vs Light and Medium
HEAVY ARMOR
Alaf Jahim – Damage reduction
Galo Zahra – Knockdown = boost
Makan – HP Regen
Shirim – Magic Defense
Fayiz – Damage reduction
Mousa – Crit
Mhan Hassan – Damage v Akhal
HEAVY WEAPON
KNIGHT ARMOR
Alaf Jahim – Damage reduction
Galo Zahra – Knockdown = boost
Ruha (I think)* – Damage vs Light and Medium
LIGHT ARMOR
Batu – HP
Khaza – Bleed
Kanaya – Evade = damage
Mileena – Damage vs Heavy
Nabiha – Damage to burned
Nura – Knockdown = damage
Raheel – Decrease Bleed
Rebiyah – Light Armor
LIGHT ARMOR MELEE
Mucadin – Physical Attack
Ruha – Damage vs Light and Medium
Saqie – Chance to ambush
LIGHT ARMOR RANGED
Umara – Shield
Zelisa – Evade
Sharida – Knockdown = summon
MACHINA
Isa – Damage Reflection
Makan – HP Regen
Infan – Movement Speed
MEDIUM ARMOR
Behrouz – Defense
Fayiz – Damage reduction
Batu – HP
Kanaya – Evade = damage
Ruha – Damage vs Light and Medium
Mhan Hassan – Damage v Akhal
Raheel – Decrease Bleed
MEDIUM ARMOR RANGED
MELEE
Amira Zahra – Magic defense
Astrid – HP and Damage Reduction
Bataru – HP and Damage
Emin – Chance to summon Bahar
Goldie Kabir – Confusion
Lut Jahim – Damage to stunned
Omar – Increase damage when status effect
Rabih Lukman – Magic Attack
Talat Hassan – Ironstone
Tua – Damage
Yusuf – Cooldowns
Janub – Damage vs Cavalry
Esfir – Knockdown = Utar
MONSTER
Basit – Damage vs Light
Sanjay – Leech
Yaya – Damage reduction
MOUNTED
Bahat – Physical Damage
Blackmane – Movement Speed
Rabia – Physical Damage
Vicuna – HP
Amira Zahra – Magic defense
Goldie Kabir – Confusion
Rabih Lukman – Magic Attack
PIERCE
RANGED
Hartum – Mana Regen
Ishtar – Magic Defense
Mumtali Giddah – Slow
Petra – Crit
Yasmin Giddah – Damage vs Light & Cavalry
Amira Zahra – Magic defense
Goldie Kabir – Confusion
Rabih Lukman – Magic Attack
Fire Eye – Burn
SLASH
Princess Bellen – Attack Speed
Rwal – Bewitch
Toya – Damage vs Bleed
Yousef – HP and Mana Regen
SPECIAL
Gizeh – Damage reduction
Misod – Increase disables
Riq – Mana
Shoaib Hassan – HP
Yousef – HP and Mana Regen
SUMMON
Aganazzar – Chance to debuff
Hu'ud – Cooldown
Takiya – Knockdown = boost
Najima – Magic Attack
WIZARD
Assel – Crit
Hina – Freeze
Kunju – HP
Lotus Kabir – Magic defense
Muta'aliq – Max Health
Hartum – Mana Regen
Mumtali Giddah – Slow
Yasmin Giddah – Damage vs Light & Cavalry
Ruha's Command skill applies to "non-Heavy Armor" and I don't know if Knight and Fortified are separate and distinct from "Heavy" or not.
Even if I thought I knew, of course, I have no idea whether it's coded the way they wrote it.
General Advice
To recruit an NPC you need a relationship status of [20] Friendly, or better.
This gives you Command Skill Level 1.
[50] Dutiful gives you Command 2.
[100] Reverent gives Command 3.
Start your game by adding the most convenient NPCs to your party, without respect to their abilities or Command buffs.
When you enter a town, ask "What can I do for you" of the NPC's in the Tavern.
You can save before doing so and reload until you get a quest you like. ("Save scumming.")
The quest may be enough to make them friendly; if not, give a Gift.
Recruit them once they are Friendly.
Tell them to leave when you find someone better
Take their equipment before expelling them! (Unless you are leading a faction and they are one of your leaders.)
Then, play the game as normal using your random NPC's
Accumulate Gifts in your inventory
You can occasionally buy Gifts (Fleur sells flower bouquets, for example)
Take Charisma talents
Of course, you should upgrade your NPCs for ones with better abilities/utility whenever possible, but with respect to the NPCs with Command Skills:
When you see one of the NPC's you really want (an end-game Character) in a Tavern, give them a Gift and ask if they have a quest for you.
This allows you to increase their friendliness rating as high as possible before recruiting them. Getting to 50 can be quite hard if you start at 20 but getting to 100 can be impossible due to time constraints.
The Charisma talents really only help you if the character is NOT in your party ("In the wild").
Once the character is in your party you will always get 2 points for (standard) Gifts and you can only give a gift every few days.
Thus, to raise your relationship 50 points would take 25 gifts and 100+ days!
I believe Charisma does boost gains from random Party events, but you have no control over those.
Once you have the NPC you want at [50] (or higher) (or 46 or 48, lol), Recruit them.
Immediately go into their dialogue menu and choose "Command Skill", they will raise it to 2 for you.
NOTES
Once you have the Command Skill at 2 [50] or 3 [100] it will not be lost if the relationship status falls.
If you have NPC's that you are recruiting because of their Skill Trees (rather than their Command), hire them as soon as possible!
You want full control over their Skill Points and skill trees. (Or else you will be wishing for more Wisdom crystals, which you get by going to the Libraries once a month.)
When the "Party Event" pops up on the bottom right, be sure to save before opening it. This gives you the option to save scum to achieve the best results.
If all results are bad, you can just hit X and close/skip the event, it will go away with no effect.
–Typically, being honest achieves the best result; blame the person who is at fault or you will lose the respect of everyone else. (Not always, of course, this is just a general rule.)
If you REALLY want to cheat during a Party Event, you can go to a town, save carefully, view the results, reload the save, then kick out everyone in the party who has a negative response.
After resolving the event, go to the Tavern and Recruit them again!
You can ignore the happiness of anyone already at Command 3.
Not Everyone is Created Equally
The list is very incomplete*, but it should give you an idea about what you are looking for in a good Character with respect to their Skill Trees (as opposed to Command).
* And is very wrong that Threnody doesn't have enough active abilities!
I might also mention that "Heal an ally" is mostly useless (regardless of whether they earned a (*) rating or not) — don't bother with Healing unless it's AoE.
The most character heals and self-heals are inconsequential, such as 150 + 1.5x Physical Attack for ONE CHARACTER. Better to let a character die and revive while spamming attacks than waste time healing 5% of their HP.
In general, avoid minor or modest Skill Tree buffs and heals that are not passive and take time (and Mana!) in battle. In general.
With respect to unit healing:
White Rose healing (AoE) = great
Nasir healing (targeted) = waste of a squad slot
The one situation in which you benefit from Nasir-style targeted healing is if your Squad is composed of armies with few units, such as Rams and Ballistas and Special creatures.
That's everything we are sharing today for this Sands of Salzaar guide. This guide was originally created and written by JCalton. In case we fail to update this guide, you can find the latest update by following this link.
If you believe that any of the content on this site violates your rights, including your intellectual property rights, please contact us immediately using our contact form.