Title: Salamander County Public Television
Release Date:
Developer:
Publisher:
Stuck? Don't want to skip that day? Then you've come to… a place.
This guide aims to outline basic strategies that should help you tick off at least the bronze medal for each day!
July 1: Orange you glad I didn't throw banana?
All you'll need is a quick tap right, then hard press right, ideally the moment the orange appears on screen.
For the quick and easy bronze, you want to be tapping the orange around here.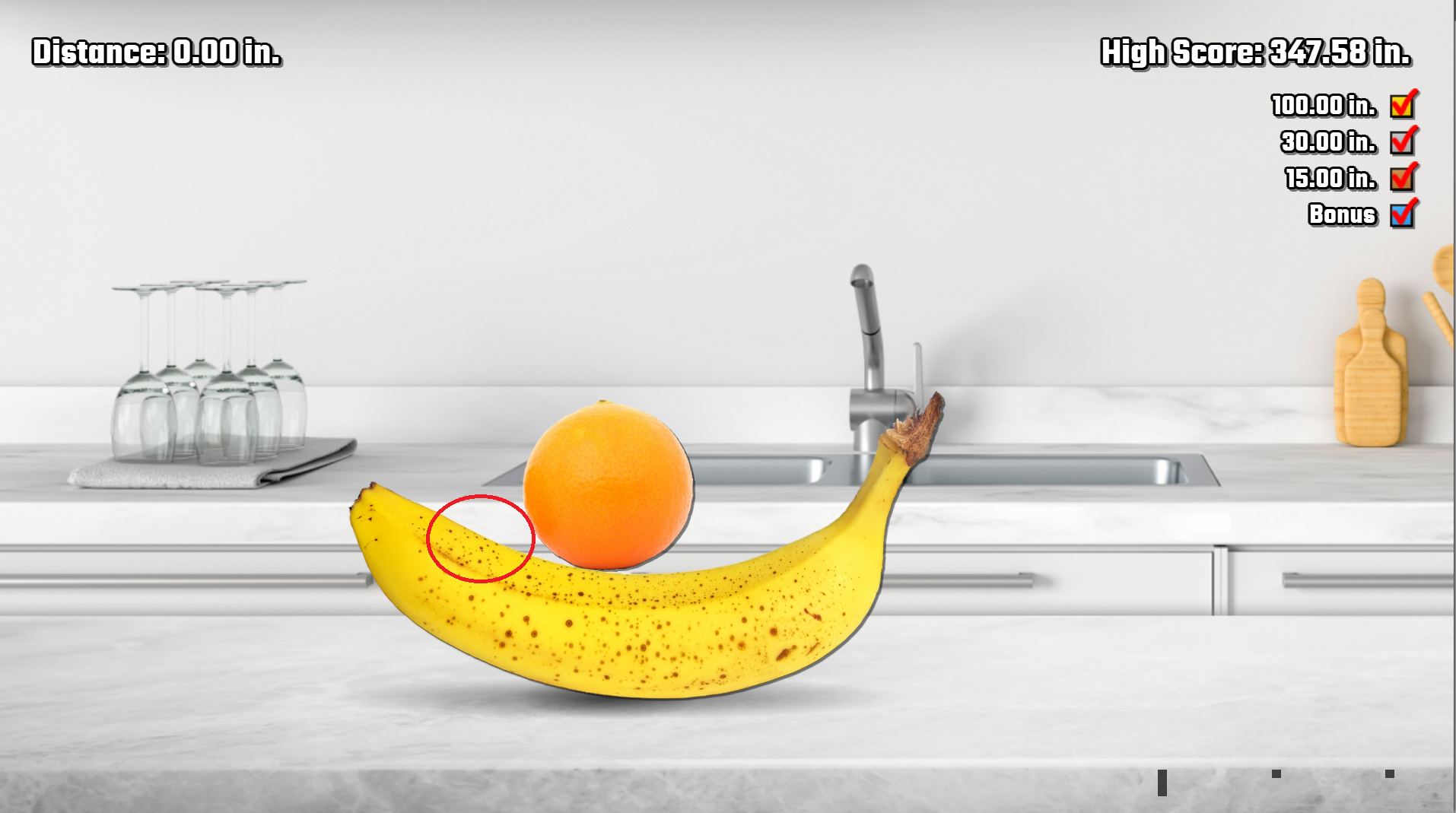 July 2: The Dog with the Strongest Tongue
One of the trickier ones to control. Slam "down" as soon as you can and the dog's tongue should embed itself deep within the peanuts. Don't be afraid to do a quick reset if the ball spawns too far down.
If you have a fairly high-up ball but no luck getting the tongue beneath it, don't try to dig it out directly. "Wipe" some peanuts away from the side first and unearth it a little first.
July 3: Introducing the Anti-Eraser
Tricky to get the gold, but easy enough to get the bronze.
Take a little time to familiarize yourself with the controls, and remember – small, gentle taps. Don't be afraid to wait for your eraser to find its position before continuing. Slow and steady will do here.
July 4: Cheese Eater
You've got clockwise and counterclockwise and not much else here. The mouse speeds up significantly as you proceed, but it's not timed, so hold down L or R and get a feel for the speed if you need to before releasing. Short taps are often more than enough later game.
July 5: Shooting Hoops
For the easiest start, consider just trying to get your shot using the default setting. The following image shows
roughlythe path of the net with no settings changed.
If you fail, try tweaking the speed
very slightly. If the ball is too close to the net or too close to the ground, just reset for a better start.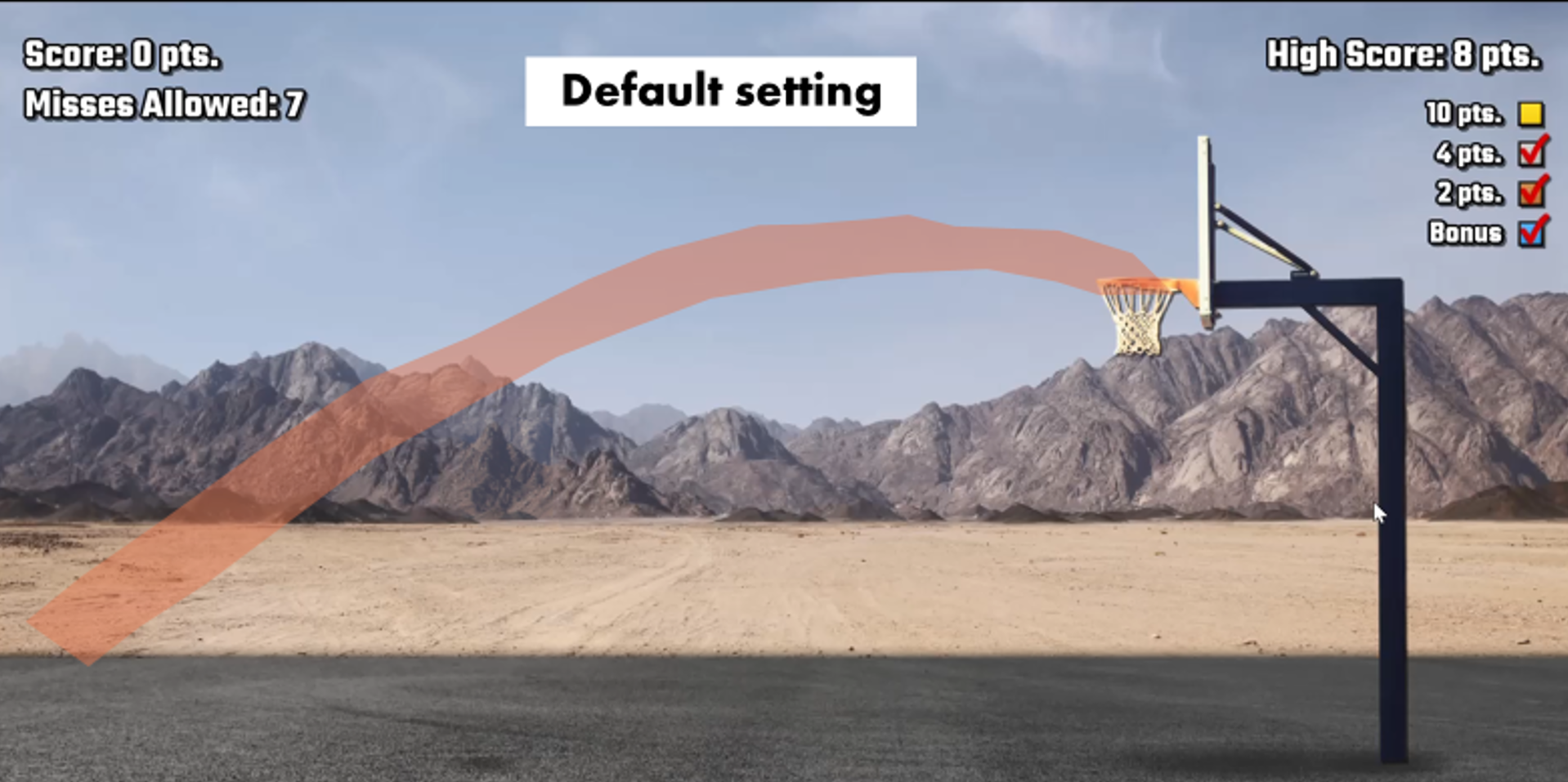 Keep in mind that this is not the limit of your net's range – many nearby balls may be caught by backboard bounces, bounces off the ground, etc.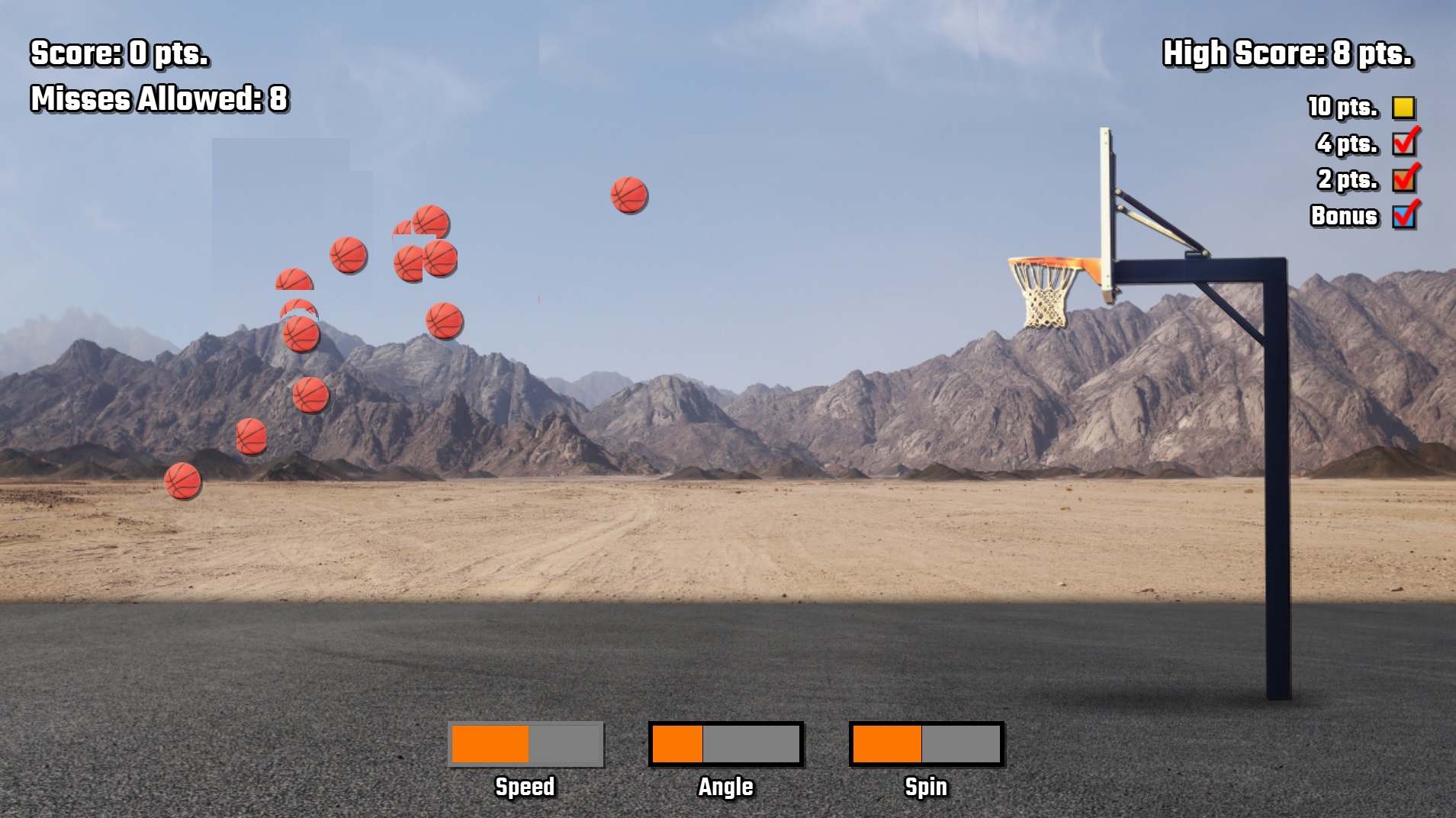 This image shows some ball locations that will actually score a basket on the first try with default settings.
July 8: Properly Inflating Animal Balloons 101
General strategy: look at the size you need to hit, then let go at a number roughly half that amount.
For example, if you are aiming to make a ballon that is 8 inches long, try to let go at about 4 inches.
July 9: Christmas in July
Lean the candy cane all the way back to the left to catch an ornament. Wait a moment for it to settle. Tilt the cane full right, then full left again to fling the ornament toward the tree. Your speed and timing will determine the arc of the ornament.
A release nearer to the end of the candy cane will generally get you a nice soft arc that lands an ornament around the center of the tree.
If you let 1-2 ornaments break, you're often still OK to get bronze. 3 or more may mean a reset is required.
July 10: The Joy of Plugging It In
Starting all the way to the left, hover over the plug and lower it directly into Slot 1.
As you move right to Slot 2, notice the "drag".
If you use just a bit more cord than the bare minimum required, these are about the spots where you want to stop your paws.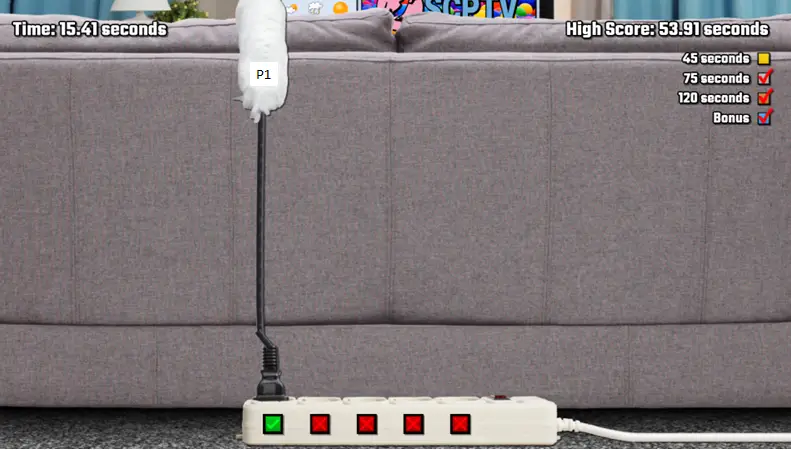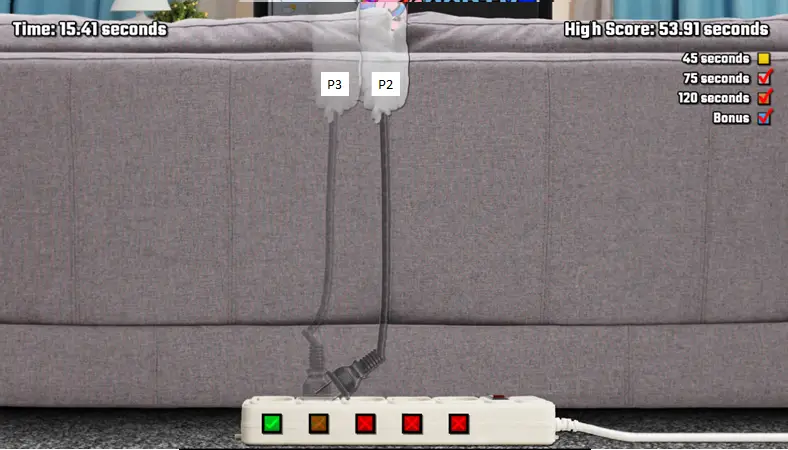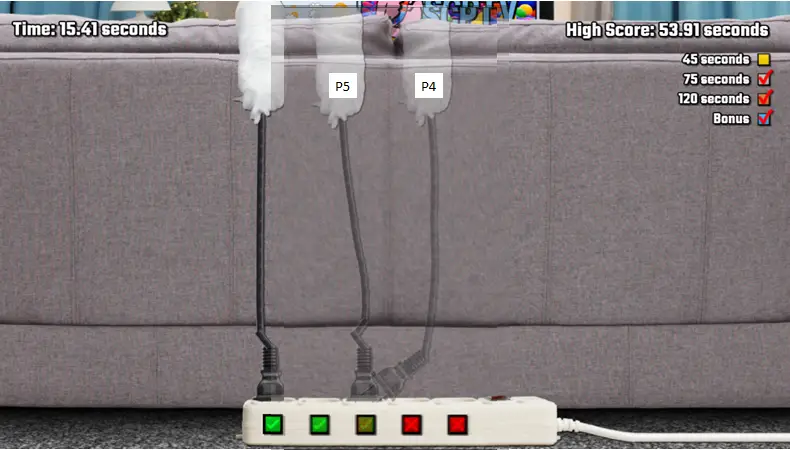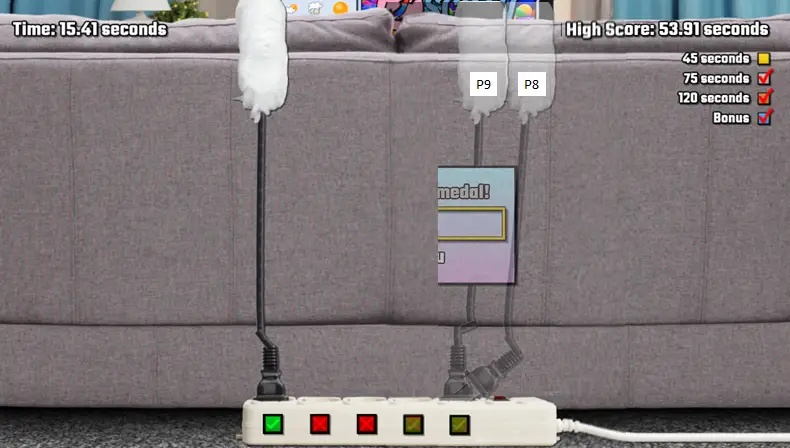 July 11: Brevoortia Water Balloon
The game that inspired this guide.
Though it may be frustrating at first, the key to reducing the RNG is to reduce the RNG that you introduce to the situation.
To get bronze easily, simply do this:
1. Allow your fish to fall flat.
2. Wait for your opponent to push the balloon over to your side.
3. The balloon will probably be balanced on your head.
4. Tap left gently to lift your head, then forward to remain under the balloon. Repeat until the balloon is resting gently in the curve of your caudal peduncle.
5. Smash right to spike the ballon satisfyingly over the head of your foe.
6. Remain flat. If your opponent returns successfully, try again.
Please forgive the terrible frame rate of this video.
July 12: Mitosis Bowling
Hit the pins with the ball.
More seriously, consider trying not to use full ball power for the first 5 throws, focusing instead on trying to multiply pins. Use fuller power on later throws, allowing more pin chaos to cause more pins to hit each other, racking up points.
July 15: Burger Building Bonanza
You can stack ingredients further left and right than you might expect. If you're having trouble, try to gently stagger ingredients in a zig-zag pattern. If all else fails, you'll eventually get RNG that includes a lot of that flat-leaf parsley, and that stacks wonderfully.
July 16: Donut Production Line
As of the February 25, 2023 update, this game is a lot easier.
Hit the button when your matching donuts are right in the center of the box.
You do NOT have to keep your button pressed down. Tap it and let the game do the rest.
July 17: Pineapples Suck
The penalty for sucking up incorrect toppings is not terribly severe. Avoid them but don't be overly cautious.
July 18: The World's Largest Waffle
Surprisingly challenging at times. In my own experience, if I've failed, it's because I couldn't see a white airplane against the gray city background, so I like to stash my cup on top of the waffle itself as kind of a visible home base.
It is better to survive than it is to risk it to reach a new spot. Play it safe and you'll get it.
July 19: Perfect Popcorn Bowl
My personal worst game. I find I have the best luck if I hover near – but not right up against – the left edge of the screen. Popped corn will ricochet off the sides of the screen.
July 22: Handstanding
Though I do not yet fully understand the gravity mechanism, I find that more jumping is usually wise. You can't fall if you're airborne.
Use the center circle as a "home base" as much as possible.
July 23: That's Beans
Take a deep breath. Clear your mind.
That's beans.
July 24: Nagakubi the Penguin
Remember that the lightning power is infinite and slows you down considerably. Abuse this power if you need to.
July 25: Are Mushrooms Wheels?
Some RNG here. Slow and steady will get you there.
July 26: Skate Shuttle Starcatcher
This is known to be one of the most difficult games, but a few things that help:
-Tap "up", don't hold it down.
-Gentle, tiny movements left and right only.
-Seriously, keep mashing that up key.
July 29: Avant-Garde Applesauce Simulator
The timer is pretty generous on this one. Work your way from left to right, focusing on smashing the apples. The goal will be close soon enough.
July 30: Synchronized Lawnmowers on Ice
It's worth going more slowly if you can stay in sync. If you desync, spend some time in one-mower mode learning how the "reverse" physics work, as the L/R controls for backing up are chaotically bizarre, even for this game.
August 1: Defeat the Boss
Phase 1: Once your code is punched in, head directly to "volume up" and mash with both spacebar and enter. Sometimes this will allow you to go so quickly that you only have to enter a single code.
Phase 2: Remember that the remote is moving slowly upwards and compensate for this. Try to remember 3-4 numbers at a time if you can.
Phase 3: Position your finger over the "s:" in "status:", erring on the side of the colon. Mash space and enter until you turn the remote off.
That's everything we are sharing today for this Salamander County Public Television guide. This guide was originally created and written by Konker the Edwarder. In case we fail to update this guide, you can find the latest update by following this link.
If you believe that any of the content on this site violates your rights, including your intellectual property rights, please contact us immediately using our contact form.