This guide covers the basics and some of the nitty gritty of creating effective builds.
Basic Foundation
When creating a build, increasing your weapon damage is almost mandatory in order for it to be viable. A build that has no gun damage can be detrimental and sometimes game losing due to the only way to damage structures being weapons and spells not being enough on their own (besides certain cheese spells that are always subject to change).
Every build requires 3 things: role focus, crowd control, and mobility.
1. Role Focus
In REVN, the 3 main roles are DPS, Tanking, and Support. DPS revolves around being the damage source of your team and the main driver behind killing enemies, objectives, and minions. Tanking involves soaking damage and abilities for the team, and with reflective armor, reversing the enemy team's DPS onto them. Support is a semi-focus, usually best picked up by tanks and/or casters. Supporting involves using team or CC centric abilities your other teammates wouldn't normally pick up due to limited build space, but still ultimately swinging battles into your side's favor.
2. Crowd Control
While some loadouts are more focused on putting out CC, having it on your own loadout is nearly mandatory in order to eek out or sometimes singlehandedly win duels and keep the enemy from escaping death. CC abilities can also be used to buy time to escape death or recharge other core abilities.
3. Mobility
Mobility abilities in REVN are mandatory due to the 3d nature of the map's design and how other players will try to take advantage of it. Mobility abilities can either give you the option to reach far range and hard to reach points (eg. the top of tall buildings and the tents over the central catwalks) and/or traverse the map faster than the rest of the lobby. Both of these factors can be utilized to outright end fights if the enemy isn't able to CC or keep up with you.
What to Buy, When to Upgrade
One of the most unique features of REVN from a MOBA standpoint is having a flat upgrade system instead of a crafting system and also buying your abilities instead of earning them through a level system.
Start of the Match
When deciding on your first items, it's best to focus on what will help you farm the best. Damage or heal-centric ability and an early game/jungle-centric item are best to buy first. Items like Reaper Clip, Vanguard Plating, Scout Protocol, and Energy Scavenger can give your build stats and minion clearing passives that will give you the upper hand when the time comes to start building your core items.
This early in the game, everyone is relatively around the same ichor levels so building for PVP over PVE is less ichor efficient. In REVN, PVP only results in ichor gain if the person you kill has a killstreak, meaning that it won't improve your build to go for early ganks or hamper the enemy with the extremely short spawn times this early on.
Upgrading your Loadout
When you have the ichor to buy or upgrade items, it's usually better to buy a single item and focus on increasing it to over halfway or maximum will give the most benefit and keep your impact on the game relevant. While there are a few items that grant a serious power boost by just existing, the majority of them will only become noticeable around their halfway point.
Investing in abilities can be a completely different case. While some abilities like Micro Rockets greatly benefit and almost rely on being upgraded to stay powerful, a much more proportionate number of abilities differ from this. Mobility abilities can even be left to upgrade last and provide their utility the entire game.
Physical DPS
Physical DPS revolves around boosting weapon damage, stacking crits, and armor penetration. Lifesteal can be added for supplemental healing but shouldn't be relied on for tanking mid-combat as player DPS is much more bursty than minion DPS. With a maxed-out lifesteal setup though, bosses like the hunter and angel can be solo'd almost comfortably.
Staple Items:
Lightweight Ammo: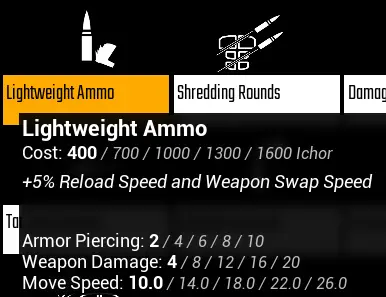 As of current, there's no way to increase fire rate, but this item can increase effective DPS in a similar way. Less time reloading means more time shooting, on top of the QoL for PVP combat that could be enough to give you the winning edge.
Sure Fire: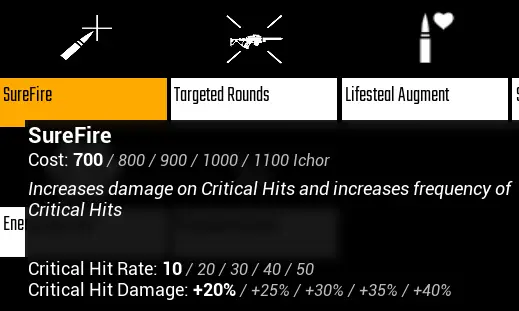 This item gives the most effective amount of crit stats, making it a staple for anyone needing a quick damage boost. For loadouts seeking to deal the most damage, Sure Fire can be combined with other crit stat items like Targeted Rounds and Targeted Lifesteal.
Damage Coils: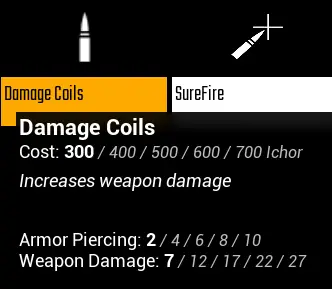 Damage coils are the item with the highest physical weapon damage and some token armor penetration for some of the lowest cost. Usable for basically every physical damage build.
Energy DPS
Energy DPS is similar to physical DPS in boosting ability power and energy pierce, but stacking crits is replaced with stacking cooldown reduction. Energy focus also requires items to manage energy and energy regeneration, but pure energy/regen shouldn't be bought as many useful items also come with it.
Staple Items:
Ultra Reactor: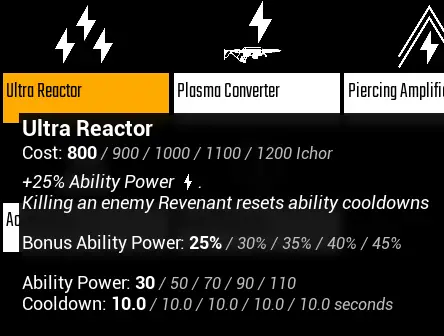 The key to reaching viable levels of pure ability power, increasing the effectiveness of nearly all your abilities. The percentage increase means it stacks with other sources seamlessly.
Accelerator:
A flat 50% cooldown reduction for only 600 ichor is a steal. Even for low cooldown abilities, this can double your gross ability output in battles.
Plasma Converter: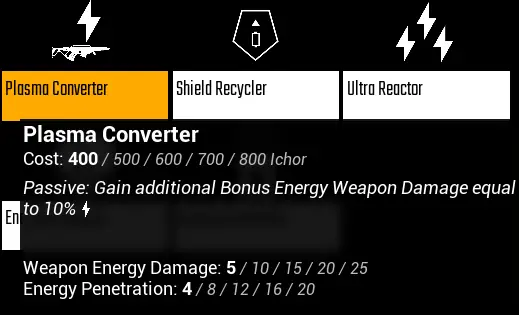 This will convert all the ability power you've been building previously into weapon damage, making up for a lack of DPS building you'd otherwise have and only consuming 1 item slot to do so.
Physical/Energy Tanking
Tanking physical and energy requires building up their respective protection stats, along with control resistance for when the enemy team brings stuns and slows. The formula for them both is: incoming damage x (100 / (100 + armor or energy protection)). This results in only a percentage of the damage getting through. Piercing will do a flat subtract from protection before the formula is calculated. Building health items is also advised, but protection shouldn't be skimped on under any case.
Staple Items:
Reflective Armor: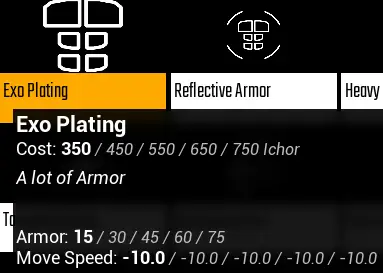 Reflective Armor allows a non-shield tank to serve both as a damage sponge and damage dealer. While the damage (both physical and energy) reflects it comes with only works against other revenants (players), this damage can easily be enough to make up for a lack of building for DPS items in duels and team fights. The percentage health increase also enables for health stacking, giving a similar effect to Ultra Reactor.
Exo Plating: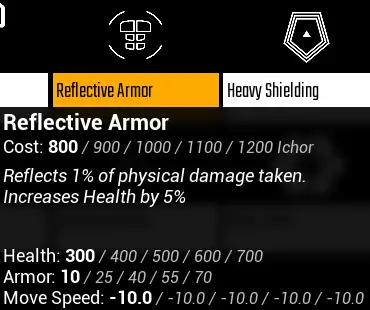 A very boring item, but it gives all the armor you need at the cheapest price. Can easily fit into any armor stacking build and be bought early game.
Shield Tanking
Shield tanking relies on the method of stacking shield items and using the Shield Recharge ability to restore them to full. Since this build relies on an ability to be viable, it also benefits from ability power, cooldown, and plasma converter.
Staple Items:
Heavy Shield and Shield Recycler: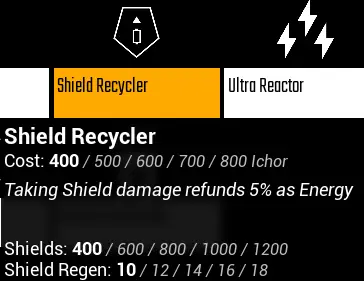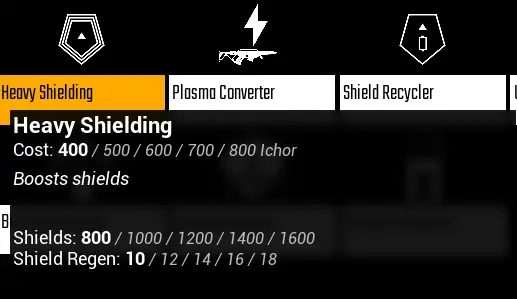 These items are the core to building up your total shields and supplying your energy for the combo. Together, they effectively give a 2nd health bar that can be refunded instantly.
Plasma Converter: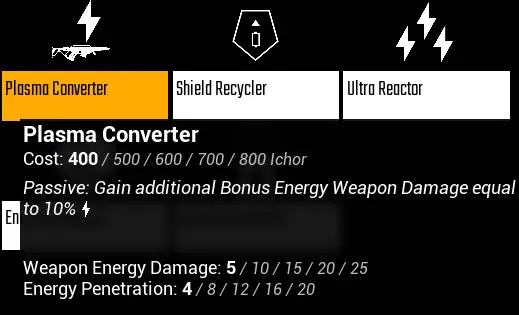 Since you'll be building AP anyways, this will give your weapon free damage scaling for direct gun combat.
And that concludes this Revn guide. Help us improve this guide by leaving your suggestions in the comment section below.
If you believe that any of the content on this site violates your rights, including your intellectual property rights, please contact us immediately using our contact form.