Title: Redtape
Release Date:
Developer:
Publisher:
This guide will go over how to get 100% achievements in Redtape.
Introduction
Estimated difficulty: 1/10
Estimated 100% time: 1-2 hours
Offline/online achievements: 14 offline / 0 online
Number of playthroughs: 1.
Glitched achievements: None
Missable Achievements: 4
Missable Achievements
These are all the achievements you can miss across the game.
Found Me!
This achievement is gotten on the 7th floor. You will get it when you interact with the books behind the lawyer in the lawyers office.
To Steal from a Thief!
You get this achievement from never giving back cupids bow on the second floor. This achievement pops at the end of the game when you exit with the box still in your inventory.
YEEEOOWCH!!
This is gotten if you give Manaus his coffee without ice in it. Just give him the coffee right after you get it from the machine in the kitchen.
Word of Mouth
To get this achievement you will need to talk to everyone and get them to follow the companies social media after you get the phone on the 6th floor. You will need to get 1004 followers on the phone for the achievement to pop if you are struggling to find the last one don't forget to talk to the vault keeper.
Story Achievements
The rest of the achievements are all story related and can be completed by just finishing the game.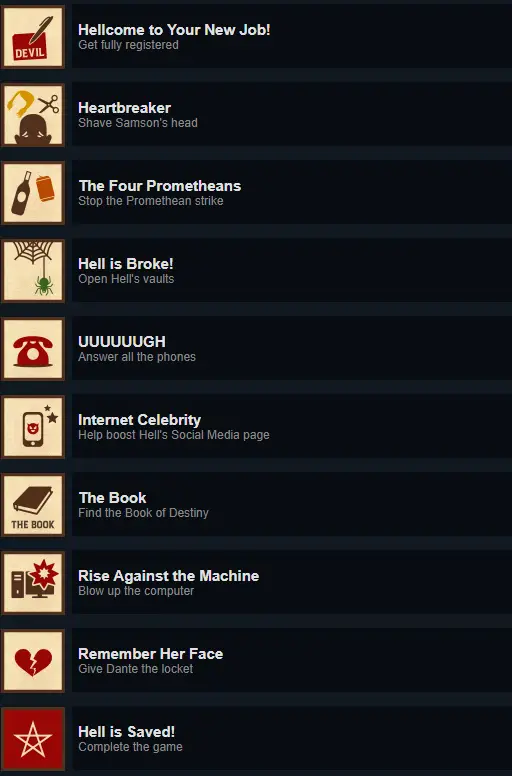 That's everything we are sharing today for this Redtape guide. This guide was originally created and written by Kitsune. In case we fail to update this guide, you can find the latest update by following this link.
If you believe that any of the content on this site violates your rights, including your intellectual property rights, please contact us immediately using our contact form.