Title: Rain World
Release Date: March 28, 2017
Developer: Videocult
Publisher: Akupara Games
Want to explore with farm arrays without relying on deer? Do you simply despise deer and wish to flex on them? This is the manual for you! Pre and post-downpour tactics are included.
DEER are unpredictable but necessary. You can't afford to be lucky in a game with a strict time constraint. Proper use of spore puffs (which you'll run out of quickly) can ensure a deer sits near you, but you can't guarantee it stands up in time or sits down in a way that permits you to comfortably ride it. You can't even assure the deer moves in the appropriate direction if you don't have the DLC!
Too much is beyond your control. To make matters worse, flinging spore puffs around implies your hands and tummy are likely to be full. This is a significantly modified version of the Farm Arrays map from the Wiki.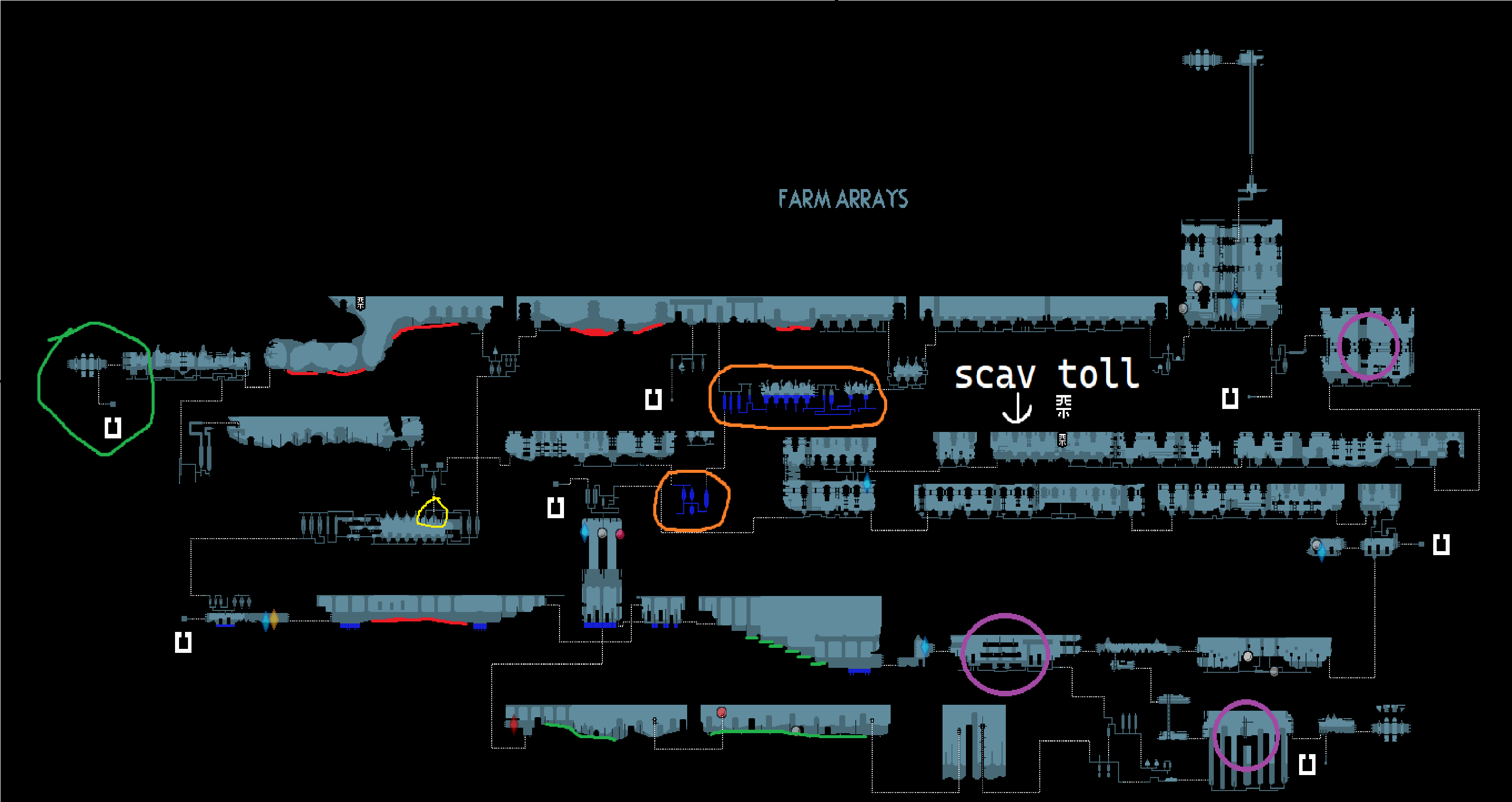 You're aiming to get to the green circle, which is why you're in farm arrays. The red lines are all MANDATORY DEER ENCOUNTERS- you must deal with at least two of them if you wish to get past agricultural arrays. The green lines indicate possible deer encounters. The orange circles are merely a component of the wet process, while the purple circles contain squidcada.
There are numerous methods for skipping deer with minimal equipment, the majority of them allow you to keep your stomach free, including one that simply requires a single hand to accomplish. They can all be as dependable as the wretched rabbit walkers. In terms of which is best for you:
Choose the squidcada method if you don't have the DLC or if no other methods are applicable.
Choose the gooieduck method if you find a gooieduck.
Choose the wet method if you're Rivulet or want something new as Gourmand.
Choose the gorm method if you're Gourmand and just want an easy way through.
Choose the Arti method if you're Artificer and you want a challenge.
Choose the scale method if you're Artificer, Spearmaster, or Saint, and your interest is only in reaching the green circle by any means.
The squidcada method
The Squidcada method is easiest to utilize when coming from the fringes because it just involves starving yourself (by holding your down key in a shelter with a partially-filled stomach) and then grabbing a WHITE squidcada. When starved, non-gourmand slugcats are so light that backflipping with a white squidcada allows endless flight- just hold down jump while holding the squiddo to rise, release to drop. Then, take the squidcada along the pink route depicted on the map below. The light-blue way is faster if you have the DLC, but it is inaccessible without it.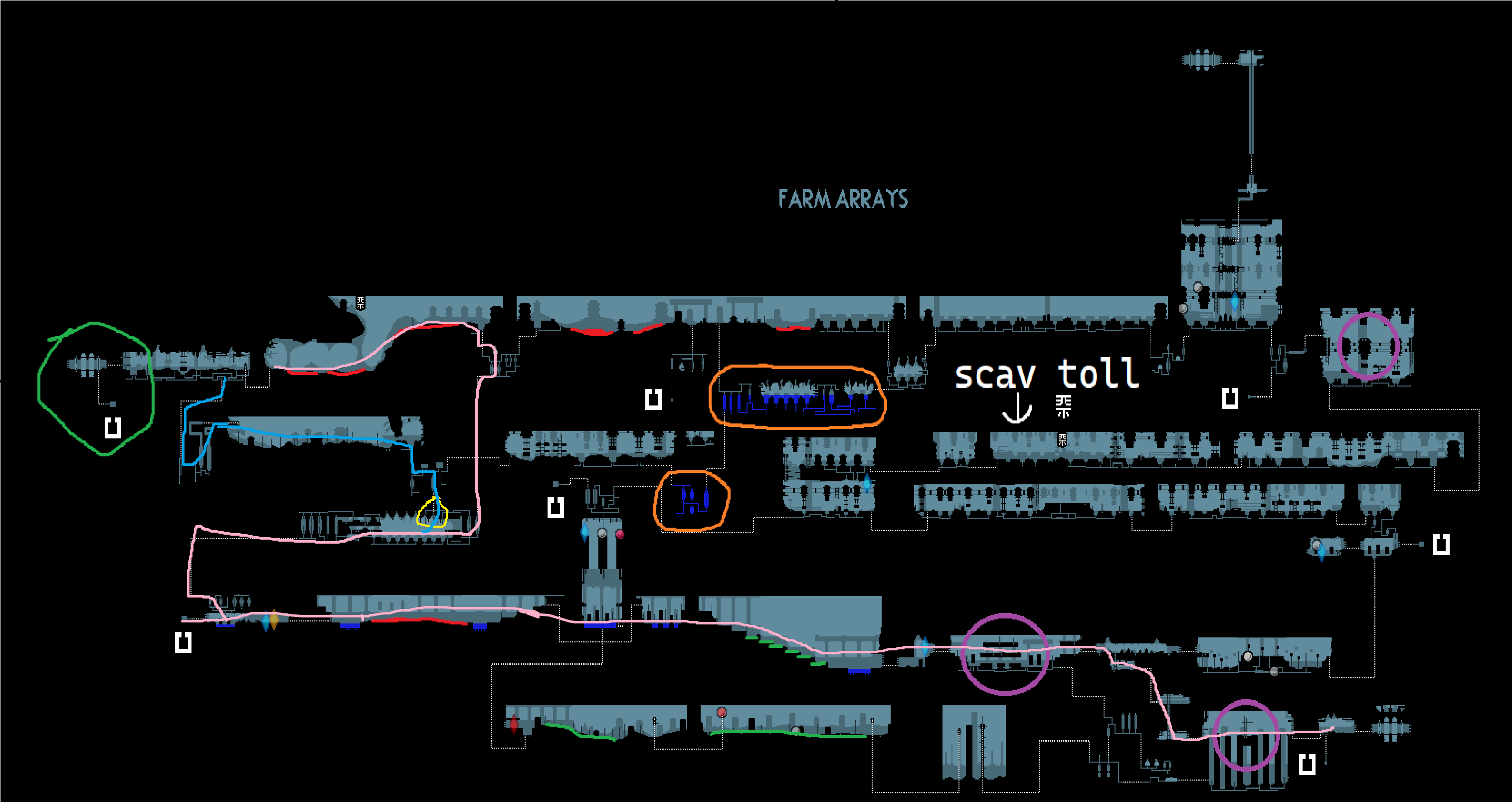 The most difficult aspect will be bringing the squidcada through tight tunnels- sleep in shelters if possible, and attempt releasing and re-catching the squidcada if it is caught in a tunnel. Unfortunately, the higher way is effectively impossible because it is nearly impossible to get a squidcada to travel DOWN in a tunnel. Only the pink path is a valid option.
Overall, the Squidcada approach is fairly reliable and allows you to maintain your stomach, but working with animals, especially if they aren't deer, is still unpleasant.
The gooieduck method

Gooieducks are light-blue fruits that resemble similar to berries and are rarely found near farm arrays… Scavengers, on the other hand, have them on occasion. Trade, murder, or do whatever it takes to obtain this precious egg. A single one is significantly more dependable than a herd of deer. Unfortunately, they cannot provide you the ability to fly, thus unless you have a large number of spears, these two pink roads are the only ones available to gooieducks: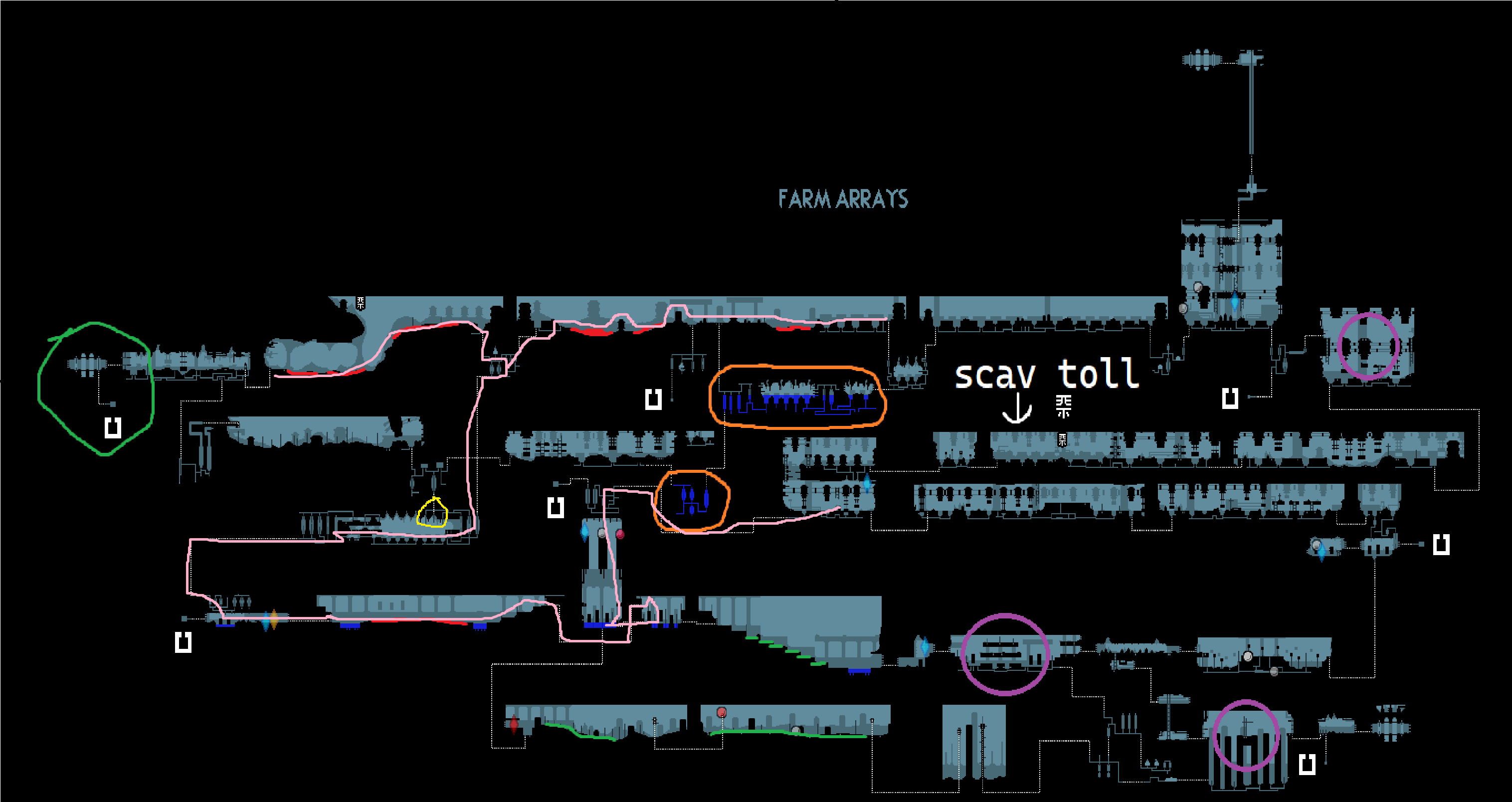 To use a gooieduck properly, simply creep SLOWLY through the worm grass. Tap your forward key repeatedly–as long as you're not holding it–you should be fine. If you move too quickly, the grass will catch you. If you move too slowly, the grass will gradually cling to you, and you won't be able to escape. You can get past any area of worm grass if you balance it correctly.
The wet method
The wet method is only available to Rivulet and any sluggo with at least two bubble fruits, preferably more: This effectively implies Rivulet and Gourmand are the only ones who can use it. I wouldn't recommend it as Gourmand; it's a nuisance, and Gourmand offers better options. However, as Rivulet points out, this is a simple matter of following the pink line; no explanation is required.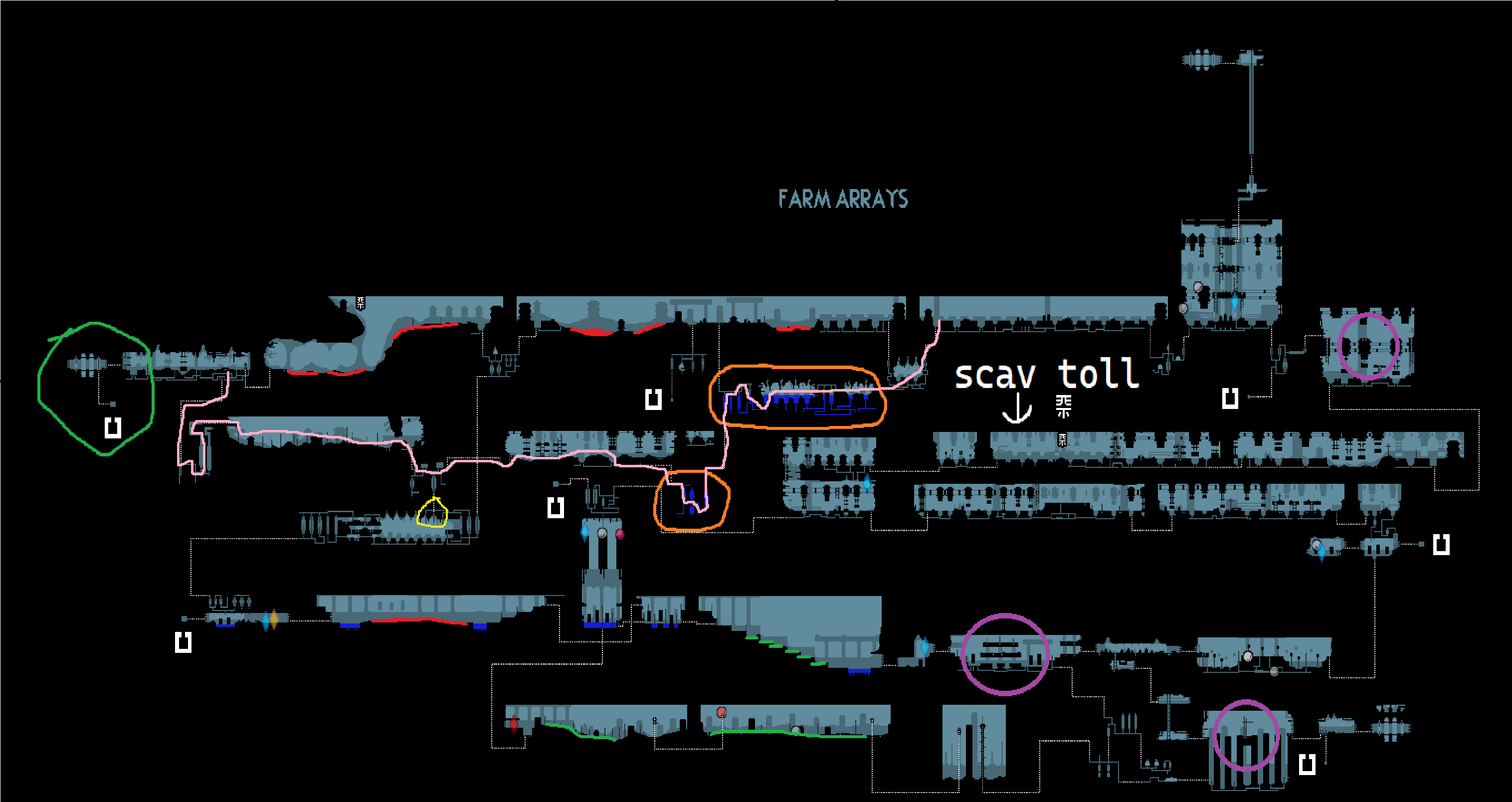 The Gorm method
Need a dependable path through farm arrays, but you're a Gourmand, so Cicada isn't an option? Simply make a gooieduck. That's all there is to it. Two related rooms are circled here, one with a mushroom and one with sporepuff. Make a gooieduck out of them. That speaks for itself.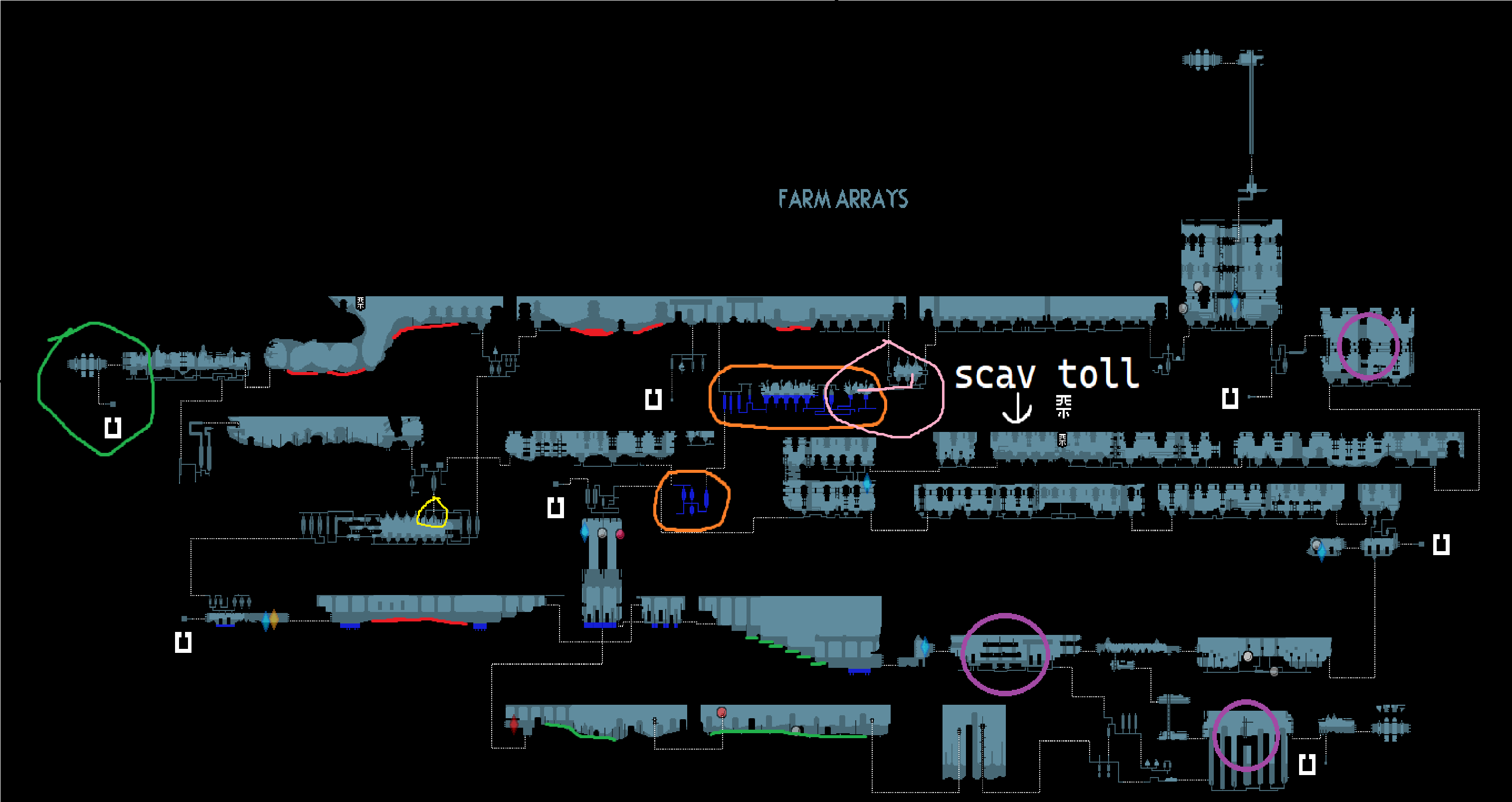 The Arti method
Artificer can jump over all of the worm grass in the lower section, but the needed hops are so tight that it may not be worth it. You'll almost certainly need to throw at least one object as well.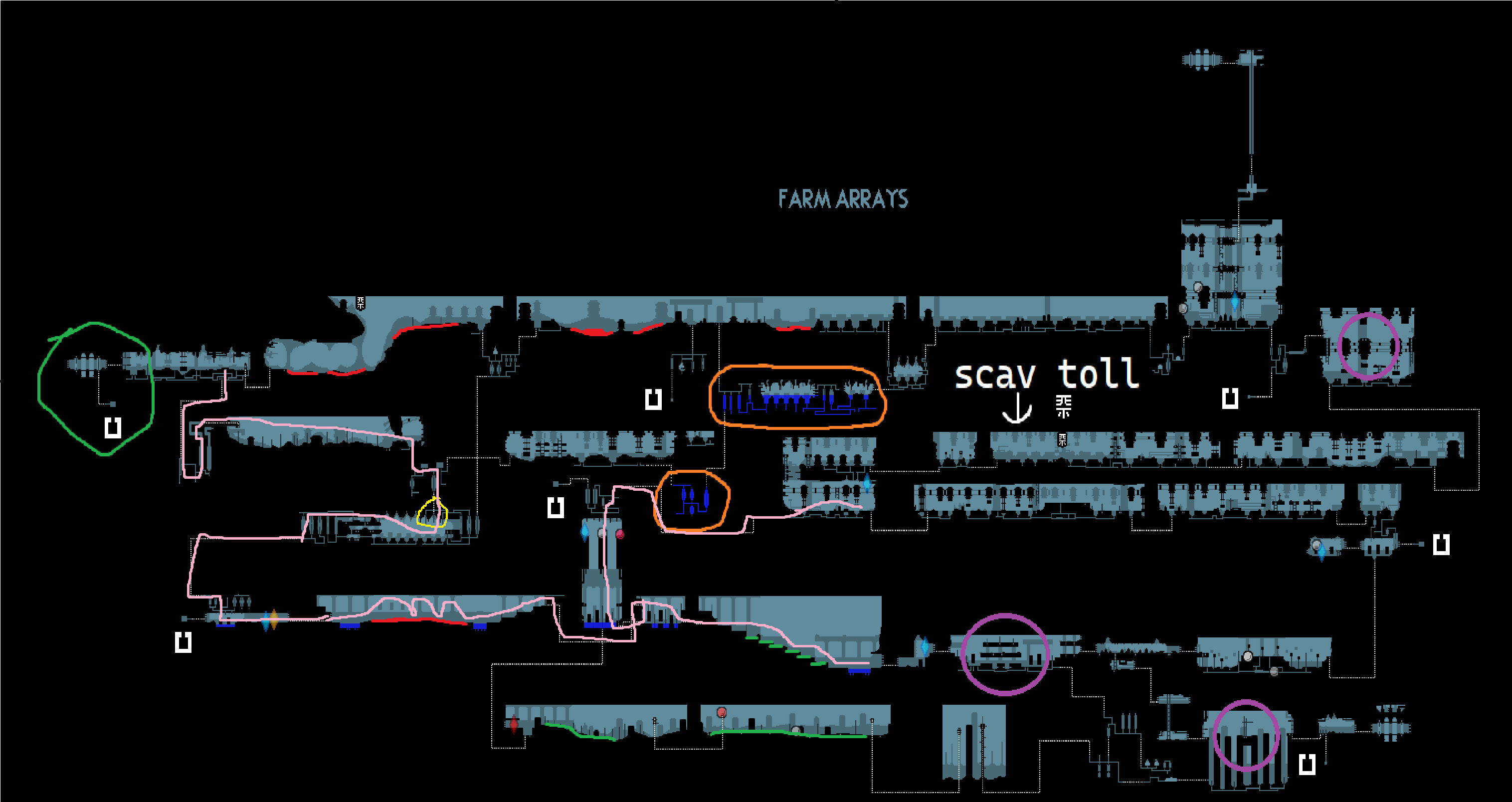 Simply follow the pink line. The yellow piece is a little hard because it involves a hidden pipe in the ceiling. Tight spear throws can get you there as any scug, but they're quite difficult. Arti, on the other hand, is no trouble.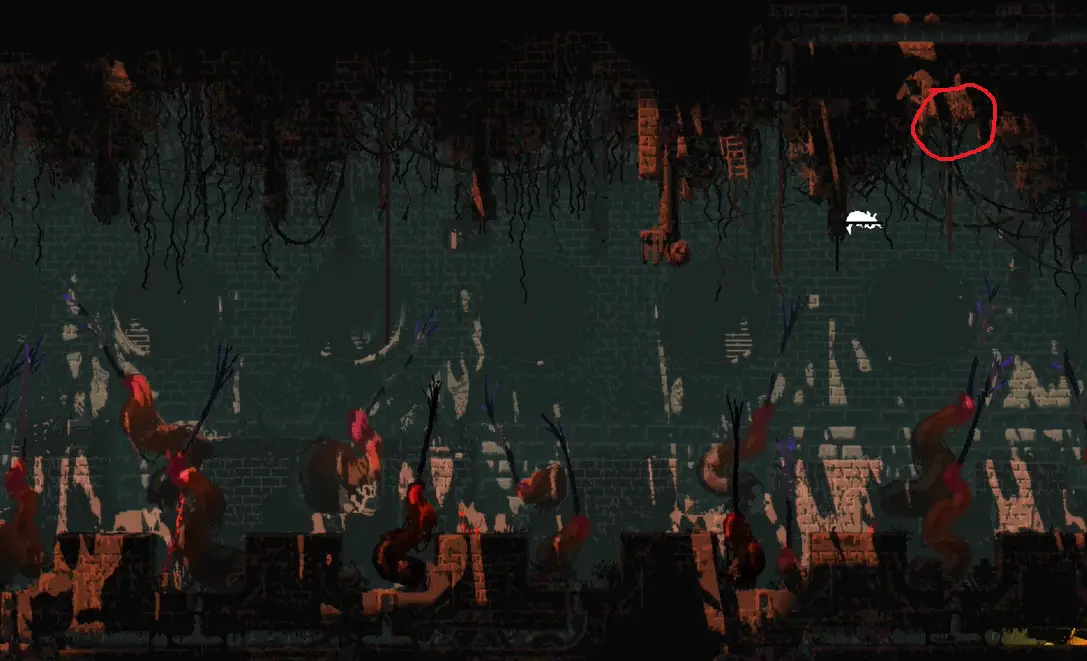 The Scale method
Need to visit the top left side of farm arrays, but you despise Farm arrays so much that you don't want to go there? It's just ALMOST difficult to get there from the other end. It's simple for Saint. It is doable but difficult as a spearmaster or artificer. the same as any other Scug? It'd most likely take all day. As a spearmaster, check out the video below.
That's everything we are sharing today for this Rain World guide. This guide was originally created and written by Confused Rock. In case we fail to update this guide, you can find the latest update by following this link.
If you believe that any of the content on this site violates your rights, including your intellectual property rights, please contact us immediately using our contact form.