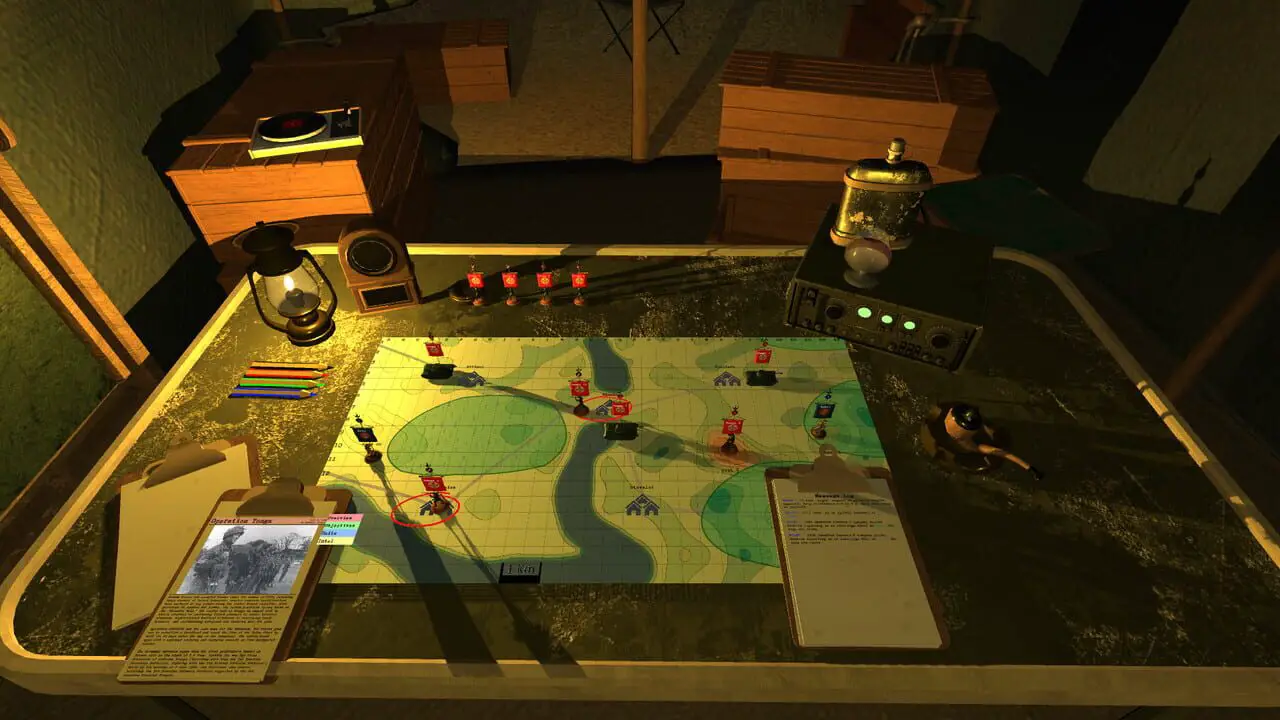 Lists all available voice commands. Most of this information can be found in the in-game officer manual.
General Information
Hold down "SPACEBAR" to activate the in-game mid-speech feedback panel. Each column will show available commands in real-time. Ex: Column 1 will show all available unit names. Speak a unit name out loud, and the unit name should become highlighted. The second column will then display commands available to that unit (move to a position, report status, dig in, etc.).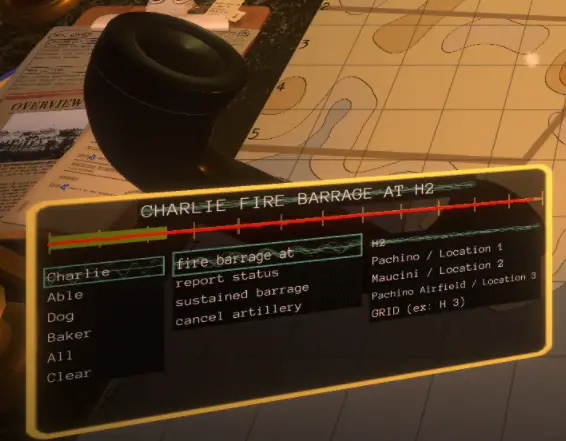 Speak your command normally (not too fast, not too slowly) and clearly. The elements making up the command will become highlighted. If satisfied with the highlighted command, release the spacebar key.
If a mistake is made, say "CLEAR" to clear all queued words and try again.
Commands can be given to MULTIPLE units simultaneously. Ex: ABLE, BAKER, DOG move to Delta 5
Commands can be given to ALL units. Ex: ALL dig in
Voice Command List
CLEAR
"clear"
MOVE TO POSITION
<UNIT(S)> "move to", "head to", "attack" <COORDINATE>
REPORT STATUS
<UNIT(S)> "report status", "status", "report in", "status report"
REPORT LOCATION
<UNIT(S)> "report location", "where", "where are you", "location report"
HOLD POSITION
<UNIT(S)> "hold position", "stop", "halt"
RETREAT
<UNIT(S)> "retreat", "fall back", "get ouf of there"
RELATIVE MOVE
<UNIT(S)> "head", "move" <DIRECTION>
LAY MINEFIELD
<UNIT(S)> "minefield", "lay mines", "lay minefield", "plant mines", "plant minefield"
FIRE BARRAGE
<UNIT(S)> "fire barrage at", "artillery", "fire barrage", "fire mission at", "artillery fire at", "artillery barrage", "barrage", "fire at", "fire artillery" <COORDINATE>
SUSTAINED BARRAGE
<UNIT(S)> "sustained", "sustained barrage", "sustained bombardment", "fire sustained barrage", "fire sustained bombardment" <COORDINATE>
CANCEL BARRAGE
<UNIT(S)> "cancel artillery", "cancel", "cancel barrage", "hold barrage", "hold fire"
DIG IN
<UNIT(S)> "dig in", "build fortifications"
DEPLOY RESERVE
"deploy reserve", "deploy", "reserve" <UNIT_TYPE>
Terms
UNIT names
Able, Baker Charlie, Dog, Easy, Fox, George, How, Item, Jig, King, Love, Mike, Nan, Oboe, Peter, Queen, Roger, Sugar, Tare, Uncle, Victor, William, Xray, Yoke, Zebra
COORDINATE names
Coordinates can be seen along the left and top sides of the in-mission map.
<ROW NUMBER> <COLUMN NUMBER>
ROW NUMBERS
COLUMN NUMBERS
Alfa, Bravo, Charlie, Delta, Echo, foxtrot, golf, hotel, india, juliett, kilo, lima, mike, november, oscar, papa, quebec, romeo, sierra, tango, uniform, victor, whiskey, x-ray, yankee, zulu
UNIT types
Infantry, Anti-tank guns, Tanks, Scouts, Snipers, Engineers, Artillery
That's everything we are sharing today for this Radio General guide. This guide was originally created and written by Foolish Mortals. In case we fail to update this guide, you can find the latest update by following this link.
If you believe that any of the content on this site violates your rights, including your intellectual property rights, please contact us immediately using our contact form.