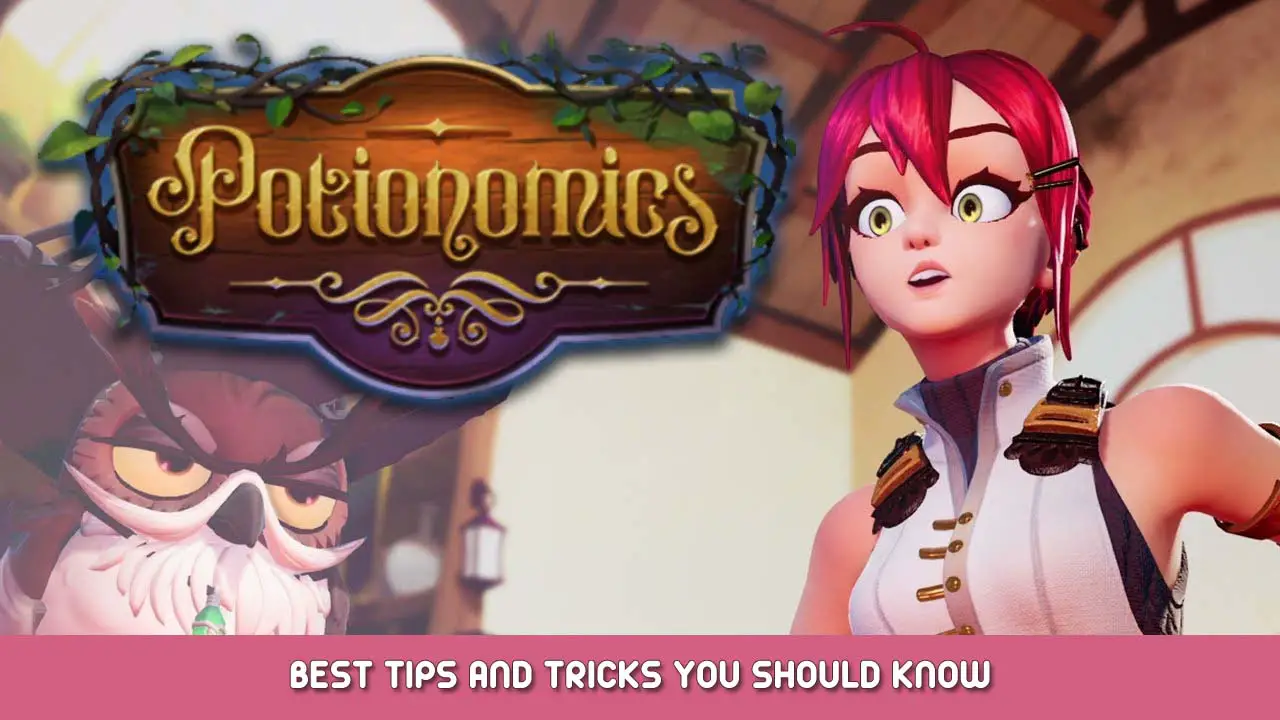 Got all achievements in my very first run, and had 150k+ gold on day 35 which let me stop selling and focus on maxing out friendships with NPCs and hunting achievements. Here's what I learned, hopefully, it will help some people do better!
No spoilers! Just pure tips about the mechanics of the game. The bosses will be easy when you are making good money and know how to craft good potions, so no need to spoil anything for you to beat them.
PART 1
Having a hard time?
This is where most people have trouble I think :
– Seems obvious but a lot of people get stuck because they don't buy better cauldrons. Every time you beat the competition, new and better cauldrons unlock with MukTuk, make sure your first priority after every tournament is going to MukTuk and getting the best cauldron you can get. Even better if you can save some money from before the competition so you can make sure you can buy the best cauldrons on day 1 and start making bigger and more profitable potions immediately.
– Your best source of ingredients is the guild. Not only for good ones but also to unlock new ones so you can feed them to Quinn and have a consistent source of them. Make sure you buy 4 of each ingredient at least every day for a chance to unlock rare ingredients, and if something is good like a pure high number of one color, then stock up… depending on your gold you might want to buy 20-100 or even more. In all cases, never miss a guild expedition!
– What's a good ingredient? All the 4 or 5 color ingredients are bad since potions can only support 3 colors max. So forget about those except for feeding them to slimes later on (except for mana which is useful as gifts and as a late game ingredient and best good for slimes too). So you want the biggest number of pure colors, 2 colors of the same value, or 3 colors of the same value. Everything else can be useful, but harder to mix up and require some math on your part.
– Another detail that a lot of people miss. You get a +1 copy of each potion for every 2 ingredients you put in. So if your cauldrons support 6 ingredients, even if you can make what you want with only 4, add a couple of weak ingredients just to get one more potion… it's a lot of money left on the table if you don't do that.
– Don't feel the need to finish expeditions with adventurers. It is ok to send Mint for free (no added potions) so we can get you some basic ingredients from killing 2-3-4 monsters even if she doesn't finish the expedition, in fact, I highly recommend you send her before you "upgrade" any npc, since that takes 1-time unit and she can do the base expedition in 1-time unit without potions, always bringing something back and sometimes fuel which is always useful. Those basic ingredients even at weeks 3-4-5 can add a+1 ingredient to a recipe to unlock an additional +1 quantity on potions, so it's never a waste to send her. The same thing with the other heroes, send them a couple of times per day to the easy areas without any potions instead of just not sending them at all, always worth bringing something instead of having them idle. I don't like sending them with potions too often because it's a big drain on your ingredients, economy, and sanity… without sorting I'd rather do as little crafting as possible rather than more, and expedition can burn through a lot of valuable potions if you're not strategic about it.
NPCs: Relations, friendships, etc
– There is a relationship meter that goes from 1 to 10 visible from the deck builder. But there is also another meter that is hidden and you can never see (called friendship), which is basically how much they like you. When you offer a gift or spend time with an NPC his "like" goes up, but you won't see the relationship meter go up until you spend one time unit "ranking up" the npc, once you rank up and go back to the deck builder, you will see that the npc has 1 more "heart", and it is those hearts that unlock things like cards and coupons.
– Friendship (explained above) keeps accumulating even if you already can upgrade the NPC. So keep gifting them, you can always upgrade multiple times later
– When you gift, interact, or do a custom order for an NPC, don't trust the 1 star 2 star outcomes, as these are not representative of how many "like" points you are gaining. For example a level 1 bone for Mint shows 2 stars, but it gives a lot less (probably at least 4 or 5 times less like) than a mana gift. Both show 2 stars, so again don't trust that.
– No time to max out relations through spending time, it's a big trap you have to avoid because if you do it this way there is no way to max out everyone in one run. You only have 50 days to the end of the game, and 5 of those days are competition so you can't use, mathematically you will need more than 150+ days to max out relationships with everyone if you rely on "hanging out", so again be aware that it is a trap. Instead you have to use the right type gifts, and know that rarer ones give more relations bonus, mana gifts seem a universal liked gift by everyone and the fastest (if expensive, but there are slimes) way to get everyone to maximum.
– You are limited to 1 romance per run, so if you want to experience them all, don't pick a romance until late in the game, so you can have everybody maxed and be able to reload and experience all the dialogues without spending hundred of hours on extra boring runs, unless that's your jam. The other idea would be to speed run the other runs, which is probably doable in 2-3 hours max if you know what you are doing, but obviously it's a waste of time as the game doesn't have much replay value save for the romance and that's not enough for most people.
Slimes
– Putting a blue ingredient in a blue slime cuts down wait time by about half, rounded up. If the ingredient has multiples, same bonus applies as long as it has an element matching the color of the slime.
– You want to duplicate your highest mana (as much magics as possible) until you have plenty, then use those mana as food to duplicate your best ingredients depending on which potion you need to craft at the moment
Deck building
– Understand the difference between transaction and haggle session. A transaction is one customer. A haggle session means the whole "sale" period spanning multiple customers. Some cards like ferocity of the squirrel last the whole haggle session and are extraordinarily powerful.
– getting high interest from customers is not hard, maximizing is harder, so focus on cards that have really high value like DOTs and doubling down cards. Otherwise focus on interest per patience ratio
– If you max out interest at the same time the customer run out of patience (one card causing both) he will actually purchase the potion, since when you hit maximum interest it's an auto purchase and the patience reaching 0 will not have time to process. Occasionally very handy and good to know!
– Earlier on almost any card will work fine, just consider the interest per patience and you will do good enough (the potions are too low of value to need big boosts to interest). After the first competition, stress becomes a bit more of an issue. The reason is customers will stress you more, and you will increase your shelve count and sell more potions at the same time which adds up fast. Check the stress section for specific tips on managing stress. As for deck building, there are different approaches depending on who you are befriending and what cards you are unlocking, but generally you want to focus on debuffs (getting more interest from client) and getting the biggest amount of interest possible so you can win in 2 turns, maybe 3. Even if you don't maximize the selling price, ending the haggling in 2-3 turns will help keep your stress in check and let you do 2 selling sessions per day on those profitable days where you have bonuses to selling prices. A card tier list is coming that will explain this more in details, for now just don't care about patience cost since you plan on ending fights in 2 turns ideally and focus on the biggest interest chunks you can get.
– Some examples of good decks :
– A lot of draw + a lot of 0 and 1 cost cards
– A lot of + patience with a good way to keep stress down (you can literally build up hundreds of patience if you wanna meme)
– Big buffs to your influence gain like chapstick or salt or paper or elevat
PART 2
General tips
– Before using a resist potion on an expedition (fire, ice, lightning, etc.) do the math and see if using a health potion instead would not be cheaper. Often the health potion ends up being better, and cheaper to produce because it uses more common ingredients.
– For every group of 10 days between competition, start by focusing on money so you can buy the better cauldrons first, then other upgrades like better shelves and showcases. Once you have those, focus on buying ingredients to make the potions for the competition. Once you have those, you can relax and build your relationships until the tournament, unlocking new cards for haggling. It would also be good to save some money so you can immediately buy new cauldrons after the competition, and be able to always afford the guild and some ingredient buying from quinn. Some ingredients are rare and only have 1-4 copies per day, so it's nice to have a little reserve.
– Expeditions are kind of a trap and not much needed with a few exceptions. You often lose more money than you make from them when you calculate the cost of potions and doing more trips to the NPCS. But they are useful for either 1) early on when you do them without potions since forest is so easy and quick and can give you fuel and 2) unlocking new ingredients, so consider doing a couple of expeditions in every zone when you finish a competition because that unlocks new areas and ingredients, then just relax on the expeditions for the rest of the 10 days time period. Doing expeditions for leveling up heroes is not useful either because later game potions are so strong that a few more hp points are completely negligible. What's a +1 hp from level up when late game potions give you 80hp each?
– Rarity explained : You can tell rarity by the color behind the type of ingredient it is. For example Feyberry is a fruit, and the background behind the word fruit is brown, meaning it is tier 1. There are 4 tiers in the game : Bronze, silver, gold, and diamond. These correspond to the colors : brown, grey, yellow, and light blue. You can also tell the rarity by checking quinn's shop. Quantity will tell you what rarity it is, 10 available per day if it's bronze, the 4, 2, 1 respectively.
– the main multiplier is a higher tier potion as that is a big jump in selling price, so above all you want bigger cauldrons for holding more magic and ingredients, ingredients with more magics, and perfect recipes for the added 2-3 stars which is basically half a tier by itself
– hero adventuring is not always worth the gold compared to simply buying the exact ingredients you want every time and crafting the best potions and focusing on selling them
– selling price is fine, but don't over focus on that, often getting cheap but good ingredients is a lot more profitable. for this reason focusing on the guild and then making something profitable with whatever the guild brough is better than any other source of ingredients, the other upside is that guild ingredients are unlimited, you can get as many as you want if you can afford it
– The pots with bigger even number (6, 8, etc) are much better than the odd ones (5, 7, etc) because you get an extra potion for every 2 ingredient, and having an extra potion is always more profitable than having less of them even if they are of a higher quality
– The best ingredients are the ones with more magimins, you can focus on ingredients having a bit amount of a single type to simplify your life, but the best recipes are often a mixed bag and will require you to do some basic math to find the ideal combinations for the perfect recipe… this math requirement is further pushed by the fact that ingredient prices vary widely, so you want ingredients that give a lot of magimins while also being the cheapest magimins/gold available at the time. That being said you don't need to optimize that much to win the game, you can do fine with less min maxed recipes
-C2: The vending machine? seems useless at first because you want to negotiate better prices, but if you want to build relationships with NPCs, you will want to only sell once per day, and when you get a lot more pots, you will be making a lot more than what you can sell in one session, so the vending machine is good at unloading the extra potions, yes it's less money, but it's more time for friendship! (and unlocking new cards) Now excuse me i need to see what Saffron is doing today.
– Custom orders are a trap, rarely worth the money and energy and time they require. Focus on crafting the regular most profitable potions. And even the NPC reputation custom orders are not worth it, it is cheaper and most efficient to gift them the right type of gifts. The only custom order you care about are the ones that unlock level 10 relationship with NPCs.
– Ideally? never sell something unless you have some kind of buff, either from event or from marketing. Hold on to your potions if you can, but of course that's not always possible, but if you keep a good selection of ingredients, you can always make the right potion for the day, sell it, go get more ingredients, and sell some more to maximise your day. If you sell twice on those big boost days (like when you have 2 different buffs to tonics), you can skip selling in entire days and focus on something else, just using the vending machines
– Which cauldron is the best? In the first few weeks, pick the one with more space for ingredients. And never upgrade any cauldrons as it is a waste of money. In the last 2-3 weeks (day 30 and up) you might consider upgrading. If you're upgrading, then the best cauldron is not the one with more ingredient capacity or magics capacity, but the one with the least capacity for ingredient and the least capacity for magics. Why? because once you upgrade it twice it will be stronger than the upgraded version of the other 2 models. It will get both magica and ingredients capacity upgrade and ends up being the best, almost as good as the cauldrons you will unlock on the following week. That being said upgrading is never necessary and you can win all the competitions and finish the game just by buying whatever cauldron gets unlocked every week.
PART 3
General workflow & management aspect
The game can be overwhelming and there is a lot to remember (ingredients, recipes, etc) and a lot of that is constantly changing, like unlocking new ingredients changes your ideal recipes, for this reason I want to help you manage all that a bit more efficiently
– You can either take screenshots or draw on a piece of paper your favorite ingredient or the one that is most efficient for the time. Have a column for each magics, A B C D E, and under it scribble down a rough drawing of whatever ingredient is the most efficient for that category. This makes spotting it in the shop and in the ingredient list a lot more easier. Once you unlock a better ingredient, just scribble a drawing of that under the last one and keep on going. Seems simple, but oh man try and you will see how much time and sanity it will save you.
– You don't need to pullute your inventory with a bit of everything, it just makes browsing things more time consuming. Get rid of everything except the best 2-3 best ingredient in a magics type. Then you can keep some TINY ingredients just to add to the potion number, and those that have flavors or effects so you can easily add those when needed. Everything else can be gifted or combined in the slimes to free up space and sanity. (Until the devs add a sorting feature, this is our only way to keep our sanity with the very lacking interface Potionomics has.)
– Have a build order, like crafting and selling every morning then spending the rest of the day on relationships, or something similar. It doesn't matter what the build is, as long as you have a default one. You can always have special days where you do something different, like focus on selling, or full focus on relations, but have a default day build. Personally i recommend crafting twice per day and selling once in the morning which lets you upgrade NPCs 3 times per day, but others work just fine like going to roxanne first thing in the morning for the boost, buying ingredients, then going back to shop crafting three times and selling twice after that. The one thing to remember is to avoid going to the NPCs twice, since that wastes 1 time unit on double trip. Try to either NPC first or sell first in one block of time for maximum efficiency. If it's an especially profitable day like having double buff on tonics, nothing wrong with staying in the shop and crafting and selling 2 times (never sell 3 times else you miss the guild expedition and it's your best source of ingredients), assuming you have the ingredients to do that. Here are some suggested build orders for organizing your days :
– sell once then npc (all the while crafting, in fact all these build orders assume you're crafting non stop)
– npc then sell sell and sleep early by 1 time unit for an extra 10 stress loss since when you sell twice you will likely need the extra sleep for an added -10 stress
– sell sell sell (only when a category is doubly or triply buffed, but almost never worth skipping guild so don't do that ideally)
– full npc, if you are comfortable on money (happens more in week 4 and 5, i had 150k+ gold on day 35 and i stopped selling entirely, which let me focus on NPCs and max them all in one run. I got all the achievements in my very first run through the game this way.)
Stress management :
– Sleeping reduces stress by 10. If you sleep early, you get an additional 10 stress reduction for each time unit still available. In this way spending time sleeping is more de-stressing compared to spending the same amount of time with companions.
– If you do activities with companions to remove stress, these are the values : spend 1 time remove 5% stress, spend 2 time remove 15% stress, spend 3 time remove 30% stress (only here it becomes on par with sleeping), spend 4 time and remove 50% stress (sounds great but you should never let stress go that high). It is never worth doing activities with companions for stress reduction, and in terms of increasing relationship giving gifts is both cheaper and more efficient. Just figure out the right gift for the right companion or check the part of this guide that covers it.
– Stress is exponential, the more you get stressed, the more you draw really bad stress cards that will pile up even more stress very quickly. So keep in mind, even 10% stress is pretty high and you want to stay under that most times. 20% is definitely way too much and you should stop what you are doing and deal with that ASAP (most likely by sleeping more). If you have the vending machine, always stop haggling and just use the vending machine while you recover your stress.
– Worth repeating. Stress is no joke, it makes your draw so much worse and since you only draw 3-4+ cards per turn you absolutely want to stay under 10% stress in most situations.
– Don't feel obliged to max out the interest or play all your cards or spend all patience or wait for a closer card, sometimes it's better to close the deal and avoid a big stress hit, either from the customer doing a big stress attack or from having a lot of stress cards in hand.
– The best decks to deal with stress are those that try to win in 2 turns only, meaning either massive draws, or big interest numbers. This means patience adding cards are rarely the way to go unless combined with big stress removing cards. Luna's first card is always great since it is guaranteed to be in your hand on turn 1 for a big interest buff. Otherwise decks can varry widely depending on who you're befriending in the game since that dictates which cards you unlock and thus the deck build. It would take forever to cover the most combination but i'll do a tier list of cards and some deck builds in this guide. Suffice to say that Saffron is very good for dealing with stress.
– Worst case scenario? if you get overwhelmed by stress to a high number like 50% or more, you can always pass turns and let the customer stress you the max out 100, if this happens you will immediately go to sleep, skip the rest of the day, and reset stress to zero. Not often useful, but can save you if you get stressed too far beyond any de-stressing ability to bring you back. If you do this, negotiate the customers, and leave the very last customer vs who you don't play any cards and let him stress you to maximum.
That's everything we are sharing today for this Potionomics guide. This guide was originally created and written by DrakenKin. In case we fail to update this guide, you can find the latest update by following this link.
If you believe that any of the content on this site violates your rights, including your intellectual property rights, please contact us immediately using our contact form.