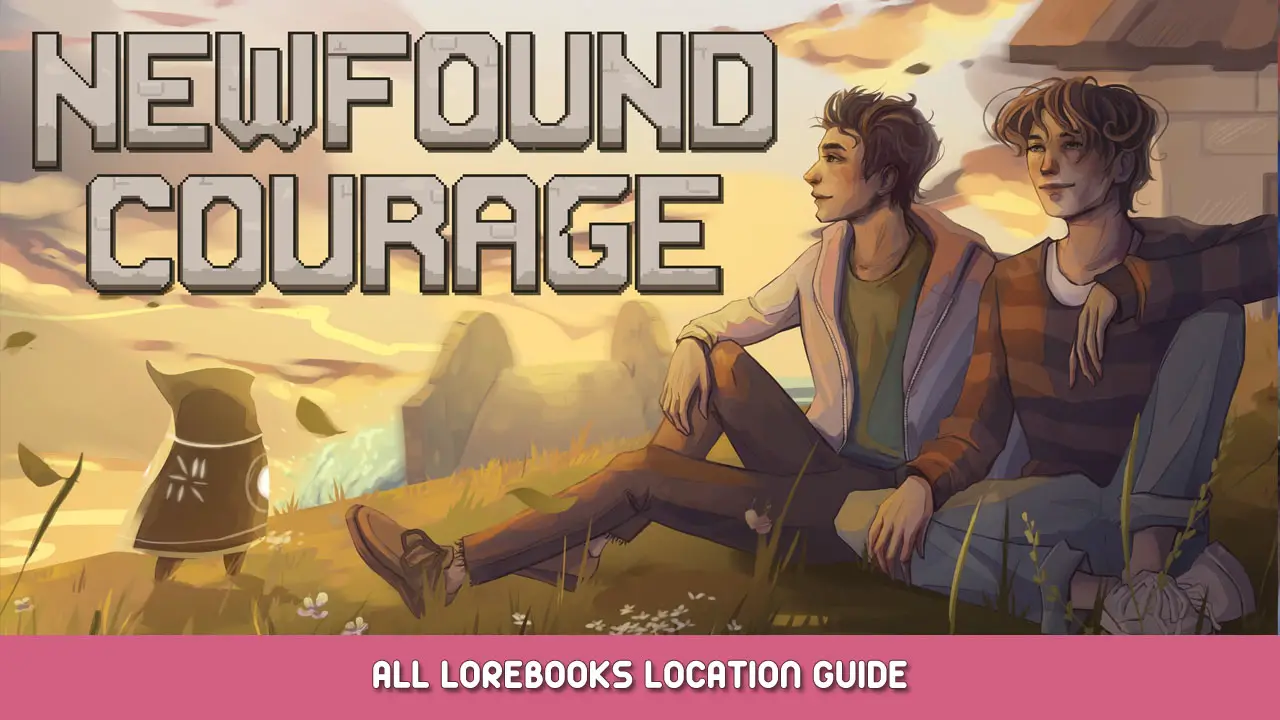 A guide to get all Lorebooks in Chapter I of Newfound courage.
Spoilers ahead (but you knew that).
Chapter 0: Description
As far as I know, all Lorebooks can be found during the epilogue,
before you meet Jake at the top of the summit, but some cannot be found before the epilogue. I ordered them in the way I found most convenient during my playthrough.
Chapter I:
Lorebook 1:

Go to the garden area in front of the vault and search for a white hatch.

Enter it to get to the roof. Follow the blinking light until you reach the lectern where your first Lorebook lays.

Lorebook 3:

Bring the stolen wine to Jakes mum. You can find the wine near the lost book on the beach south of Noras house.
Chapter II:
Chapter III:
No Lorebooks can be found during the third chapter (as far as I'm aware at least).
Chapter IV (Epiloge):
Lorebook 5:

Get the order for the statues infront of the vault right. This can only be done in the epilogue.

The order is 1 – 2 – 4 – 7 – 3 – 6 – 8 -5 .

Lorebook 6:

Go to the vault and empty the return box one final time. Afterwards, you will recieve the Lorebook.
(I have found that I recieved the Lorebook while still needing to replace the book in the room with the black obelisk. This may have been a bug or simply a different book that is not mandatory for the Lorebook.)

Lorebook 7:

Play Coin flips with Marge in the Pub and win three times. I have found sticking to one motiv for the first two and switching on the last one to work the most consistent, but this may have been luck.

Lorebook 8:

Deliver the letter between Julien and Egg on the market until Julien stops you. He apologises and gives you the book. I don't know if you recieve the book when you decline to deliver after a few times.

Lorebook 9:

Talk to Siena next to Kays house. Sneak past the sendlings and get the key. Afterwards, you will recieve the book.

Lorebook 10:

After collecting all nine books, return to Kays office in the vault. Talk to her after giving her feedback and get your last Lorebook entry. (I'm unsure if you need to read her notes before talking to her).
That's everything we are sharing today for this Newfound Courage guide. This guide was originally created and written by Tappy. In case we fail to update this guide, you can find the latest update by following this link.
If you believe that any of the content on this site violates your rights, including your intellectual property rights, please contact us immediately using our contact form.