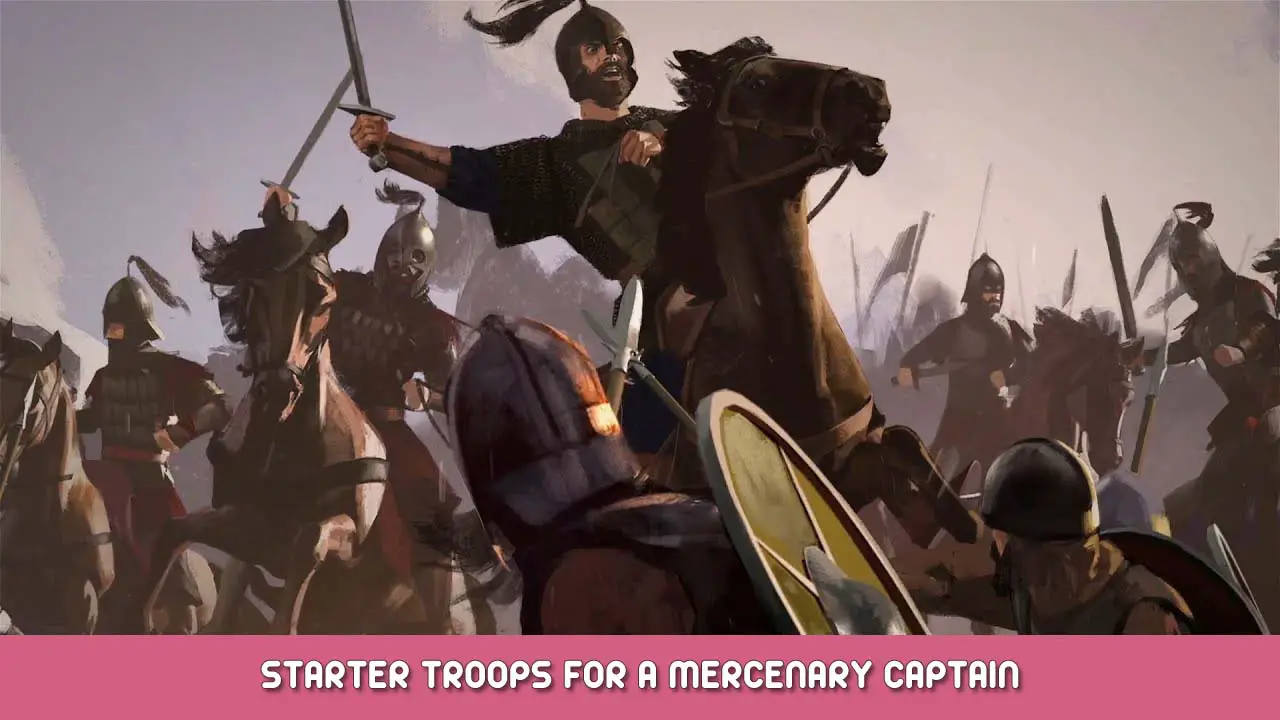 "My Lord the Khuzait are at the City gates, we are all doomed!!!"
"Do not worry men, for I have seen this day and hired the best mercenary captain and his crack force to save us and the Empire!"
Mercenary Captain and his Ragged Companion and their equally rag tag 18 man "strong" crack force arrives!
*Intense music plays*
Mercenary Captain: My Lords, I see you have brought the full wrath of the Khuzait upon you, for there is over 3000 of them outside the City Gates.
Lords: Yes, please save us, saaave us, we beg you, please good Sire.
Mercenary Captain: Yes.. you see there is the matter of the details of our contract. 100 Denar kind of seems low for this job.
Lords: We double it, nay we triple it!
Mercenary Captain: Alright then, triple it is.. and we take your horses and women.
Lords: But.. but that is why the Khuzait are here for?
Mercenary Captain: Ah but they take your heads too /shrugs
So you want to be a mercenary Captain?
Then look at these fine troops!
They are the best money can buy early on.
Mercenary Troop Roster
Troops that are so good already at lower tier, they need not be upgraded for the longest time. Not to be confused with the best fighters from the elite tier, but troops that can work for half the pay and work close or equally to one tier above.
Saving money in one army can buy another army, and two armies can make baby armies 🙂
Good starter troops.
Battania
Noble Line Archers already at tier 2 and can be found in the villages as tier 3 and tier 4
Sturgia
Warrior with metal helmet at tier 2 and round shield.
Aserai
Mameluke Soldier at tier 2 metal helmet, some body armor and big shield.
Mameluke 2H Axe at tier 3, only shock troop at its tier.
Vlandia
Gallant Cavalry tier 3, don't buy the tier 2 Squire. Gallant comes for 350 Denar with WAR MOUNT.
You will not need to buy a horse for upgrading to knight.
Khuzait
Nothing to see here, moving on.
Of course already at tier 2 they get horse archers and even tier 4 can be found in the Castle villages, that upgrade into the Khans Guard. Again try buy them after they got their War Mount.
Empire
"You here for playing Empire?"
"yes..?"
"Boo this man!"
Just kidding, Will write something here one day for you. Just waiting for TalesWorld to make a good low tier troop.
The why and the what for
At the start of the game, I can only have 20 troops in my party, so having a good enough troop composition for scaring away bandits is one thing, but I want troops good enough for robbing them. I mean make the road safe for fellow travelers 🙂
I like to pick up the Battanian noble archers and a few skirmisher, ONE of the skirmisher hopefully will be a Falxmen "the Falxmen", and then I pick up some Sturgian Warrior or Aserai Mameluke, depending on my travels. I only upgrade one trooper to tier 4, the Falxmen, keeping the rest of the troops at tier 2 for the longest time, saving Denar. I don't need the tier 4 Falxmen, its just because I like to see him run around chopping. I hire the Vlandian tier 3 Gallant Cavalry as needed. If I go with horse archers, I like to make it pure horse archers. The low tiers are very fragile but the horse archers show their true strength, when mix maxed on battle fields. And I often use them in field armies, so its better to just have one troop type.
I get the needed exp for the future upgrade against looters and the odd hideouts I come upon.
Battanian Castle Villages got the noble line archers, that already at tier 3 become Supermen. Good bow and a 2 handed sword, that can chop down a rider and his horse.
Sturgian Warriors are famous for their large round shields and the Shieldwall. Another thing they should be famous for, is that they got helmets. At tier 2 they got the metal helmet with 18 armor.
Aserai got the Mameluke soldier at tier 2, sporting a pointy metal helmet with 22 armor.
The Aserai got better overall armor and can upgrade into a 2 handed axe shock troop at tier 3. Its the only tier 3 shock troop and shock troops are the best for killing horses and camels.
Sturgia, Battania, Vlandia and Empire all get their 2 handed at tier 4 and they are all really good.
The Sturgian and Aserai tier 2 infantry troops always spawn with a metal helmet. Unlike other factions, where you can get a lucky helmet or a handkerchief or nothing.
Vlandian Gallant gets his war mount at tier 3 and can be found easily in the villages as tier 3 for only 350 Denar. A War Mount often cost over 500 Denar.
When I get some mercenary work and find a large battle, I can choose to upgrade the tier 2 for tier 3.
Its an army that I can replace from scratch at anytime, so casualties don't mean much. Saves me lots of money in daily wages. I often switch sides in war, sometimes right on the spot. There are no limits or penalties for renegotiating mercenary contracts.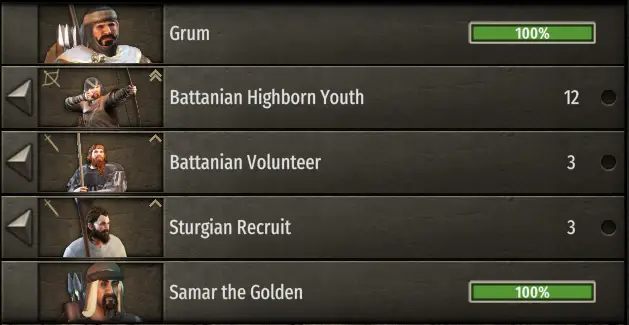 Wages
18 troops 48 Denar
Golden 40 Denar
(just a random companion to show what it could look like. He is not worth the money in the party, but I can send him out as Caravan Captain)
Diary of Mercenary Captain Grum
Day 9 level 4
Saved the Northern Empire Town of Amprela from the Khuzait Horde.
Got 20.000 Denar and a Wife.
Life is good.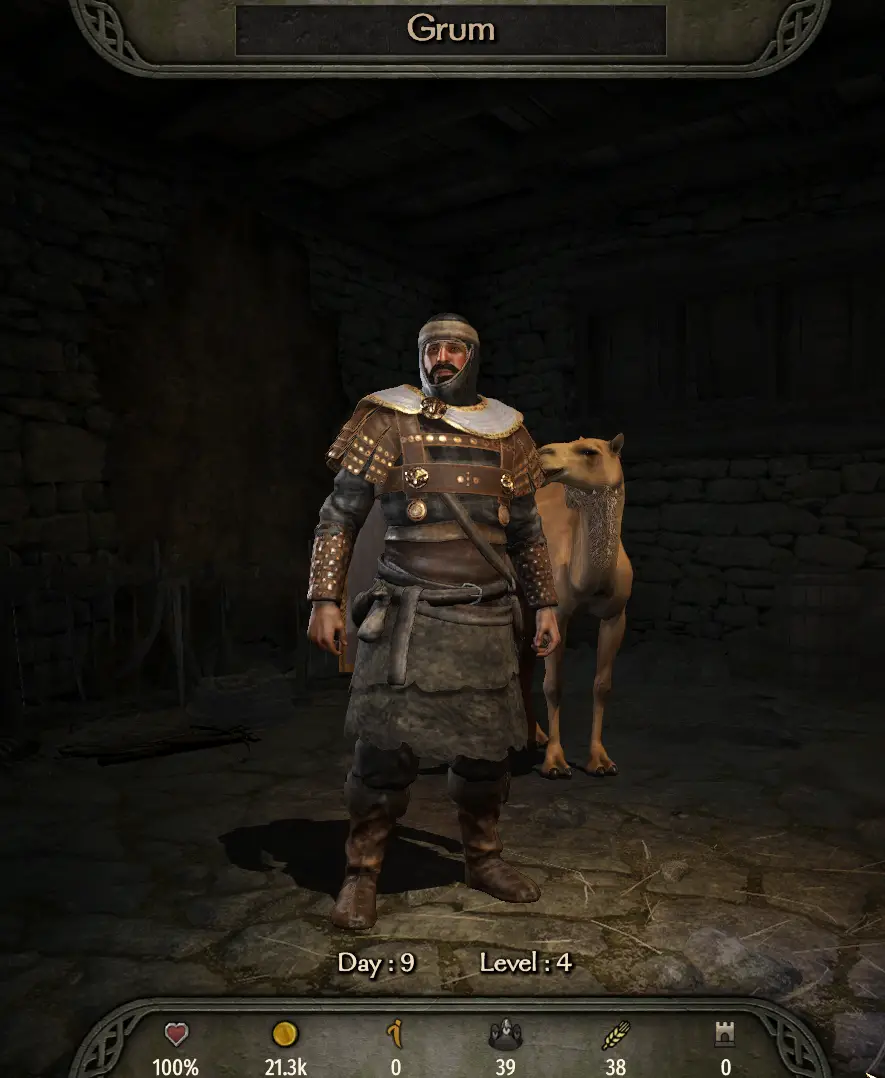 That's everything we are sharing today for this Mount & Blade II: Bannerlord guide. This guide was originally created and written by Agroplode. In case we fail to update this guide, you can find the latest update by following this link.
If you believe that any of the content on this site violates your rights, including your intellectual property rights, please contact us immediately using our contact form.