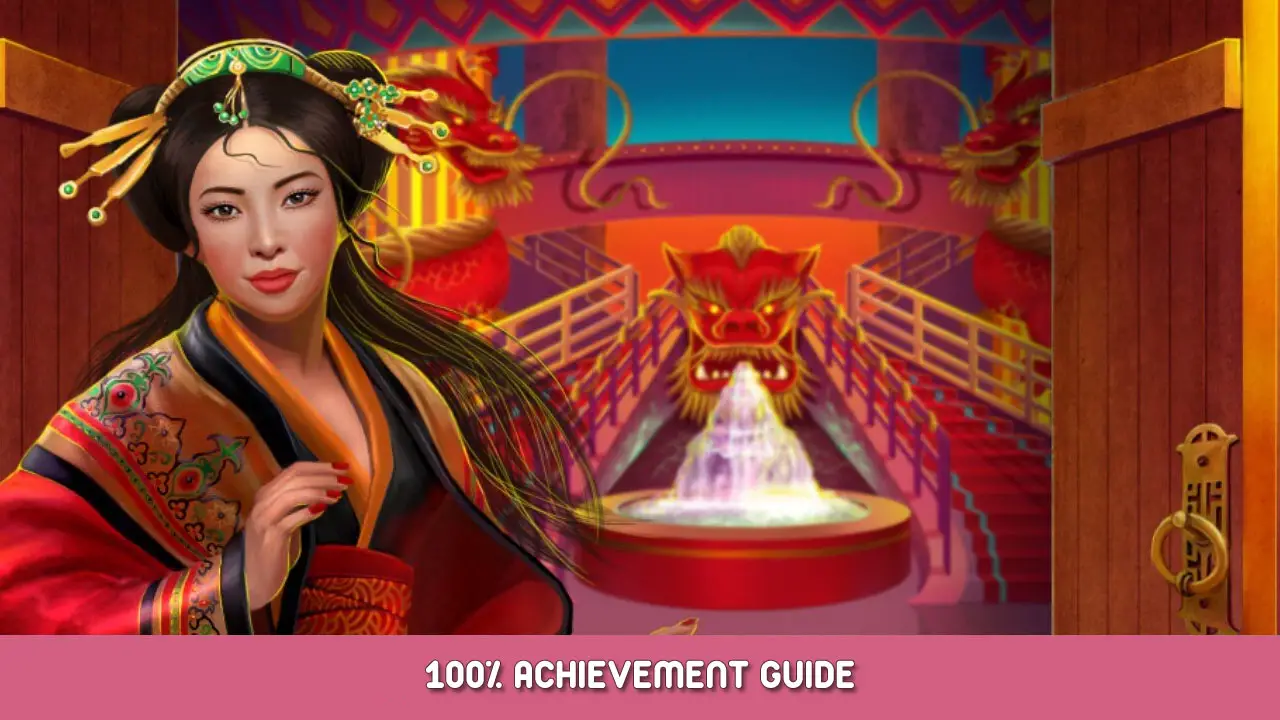 A comprehensible guide covering all 26 achievements in Mahjong World Contest.
Introduction
Total Number of Achievements: 26
Online Achievements: 0
Offline Achievements: 26
Broken Achievements: 0
DLC Required: N/a
Time: 10-15 hoursOverview:

Achieve 3 stars in all levels
Use the shuffle bonus 250 times
Achieve a x15 multiplier index
Earn 1 million points in total
Remove 10000 pairs of tiles
Disclaimer:

This guide does not cover gameplay basics and mechanics.
Game Progression Achievements

Lotus Cup
Complete the blooming lotus hall

Crane Cup
Complete the golden crane hall
Bamboo Cup
Complete the bamboo grove hall

Sakura Cup
Complete the sakura branch hall

Phoenix Cup
Complete the red phoenix hall

Dragon Cup
Complete the azure dragon hall
Those achievements are unlocked upon completing the final level of each hall, respectively, regardless of how many stars are achieved.
Casino Chip Achievements

Casino Chip (bronze)
Use bonus 50 times

Casino Chip (silver)
Use bonus 100 times

Casino Chip (gold)
Use bonus 250 times
"Bonus" here refers to your shuffle ability.
Use your shuffle ability a total of 250 times.Depending on how often you use it, you might need to do some farming/grinding at some point.
Keep in mind that, for farming, you start every level with your shuffle ability charged, so load any level, use the ability, then either restart the level and repeat or remove pairs of pieces until you're able to shuffle again.
Champion Cup and "Certificate" Achievements

Student's Certificate
Earn 30 stars

Specialist's Certificate
Earn 60 stars

Master's Certificate
Earn 120 stars
Professional's Certificate
Earn 180 stars

Champion's Certificate
Earn 240 stars
There are a total of 360 stars to be achieved in the game (120 levels), this naturally means you'll get all of the above achievements while trying to get the Champion Cup (gold) achievement

Champion Cup (bronze)
Complete 30 levels with the highest score
Champion Cup (silver)
Complete 60 levels with the highest score

Champion Cup (gold)
Complete all levels with the highest score
Each star in a level is tied to the completion of a specific challenge. Those involve:
Removing all golden pieces (main objective)
Beating the level within a specific amount of moves
Achieving a specific score
Beating the level within a specific time limit
The current challenges will be listed upon starting the level.
Some general tips I can provide:

Use shuffles if you forget where the golden pieces are.
If you know a specific piece will need to be removed eventually, either because it's golden or because a golden piece is blocked by it, always try to get rid of it before shuffling.
Clearing all golden pieces will as few regular pieces removed as possible tends to yield more points than the score multiplier/index.
Shuffling is overall a great tool that ends up being useful more often than not, so don't hesitate to use it.
NOTE: if the Champion Cup (gold) achievement doesn't unlock right after achieving 3 stars on your final level, start the very first level and complete it.

Sprinter Cup Achievements

Sprinter Cup (bronze)
Achieve x5 index

Sprinter Cup (silver)
Achieve x10 index

Sprinter Cup (gold)
Achieve x15 index
Reach a 15x points multiplier index.The bronze and silver instances will likely be achieved somewhere before the final hall. The 15x multiplier can be easily, and almost exclusively, reached on the
11th level of the Azure Dragon hall.
Here's a step by step guide:

1 – Clear the top layer of tiles in both rings.
2 – Start removing the tiles in one of the rings in a counterclockwise motion, until the pattern stops.
3 – Repeat the previous step, but on the other ring.
4 – Match the remaining tiles on each of the rings with each other to unlock the second set of adjacent matches on each ring, then proceed to clear them.
5 – Shuffle the board whenever you feel like you're stuck.
V.I.P. Chip Achievements

V.I.P. Chip (bronze)
Earn 100.000 points
V.I.P. Chip (silver)
Earn 500.000 points

V.I.P. Chip (gold)
Earn 1.000.000 points
Reach a grand total of 1 million points earned.Points are awarded like so:
5 points for every regular tile removed
25 points for every golden tile removed
70 points for every tile remaining on the board after removing all golden tiles
Because of this, planning your route and removing as few tiles as possible while clearing all golden tiles almost always yields more points than going for a high multiplier index.
Those achievements will be unlocked naturally while going for the 100%. For comparison, I had a little over 1.500.000 points when the final achievement was unlocked.
NOTE: in case you reach any of those milestones and the respective achievement doesn't unlock, enter any level and remove a pair of tiles.

Mahjong Tiles Achievements

Mahjong Tile (bronze)
Remove 1000 pairs of tiles

Mahjong Tile (silver)
Remove 5000 pairs of tiles

Mahjong Tile (gold)
Remove 10000 pairs of tiles
Cummulativelyremove a total of 10000 pairs of Mahjong pieces from the board.
The bronze and silver instances will be unlocked naturally while playing through all the levels. Depending on how many times you attempt each level,
you might need to do a bit of farming/grindingat some point.
The best level I found for grinding those achievements is the 11th level of the Azure Dragon hall (the first on the second page), since you can get through all the pieces relatively quickly.
That's everything we are sharing today for this Mahjong World Contest guide. This guide was originally created and written by Brigglyo, The Brig. In case we fail to update this guide, you can find the latest update by following this link.
If you believe that any of the content on this site violates your rights, including your intellectual property rights, please contact us immediately using our contact form.