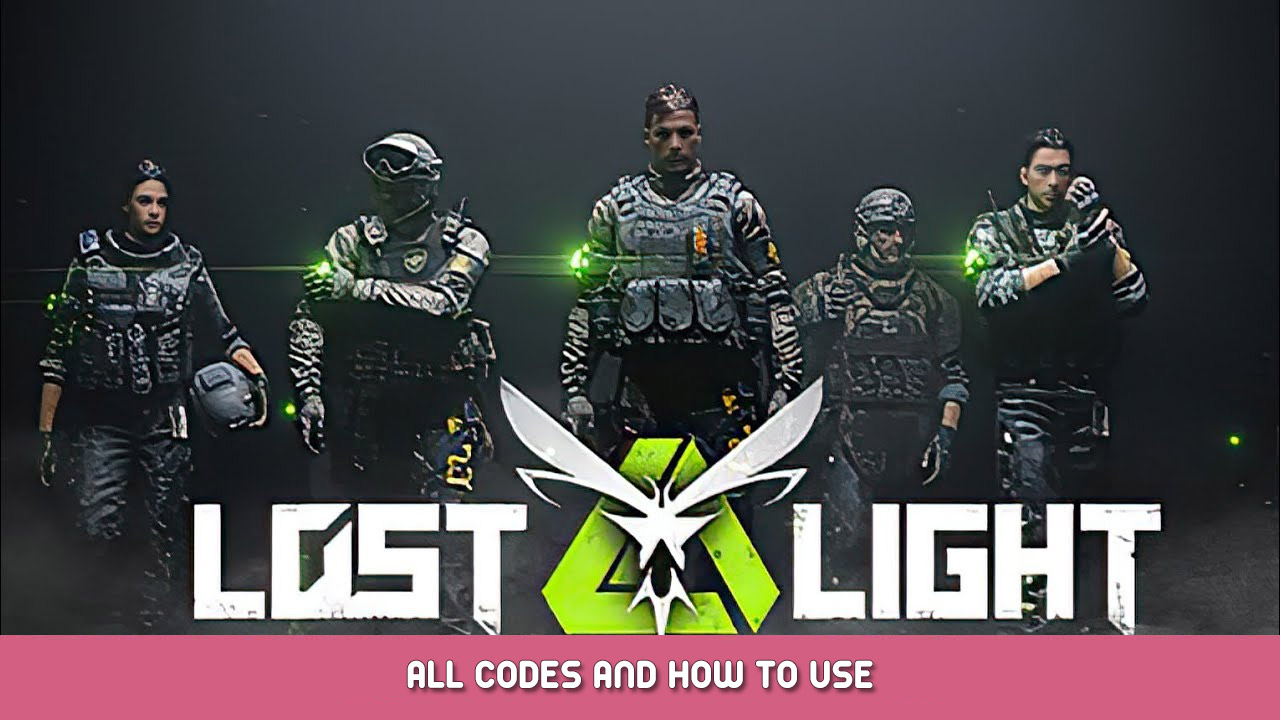 Title: Lost Light
Release Date:
Developer:
Publisher:
Information about Lost Light is still incomplete. Please help us fill the details of the game using this contact form.
Learn how to generate and use Reference Codes and Get a code for yourself here!
What is a reference code?
A reference code, simply putting, is a code generated from another player that you can input in your account to get some very helpful loot for your account while giving the person that gave you the code some loot too!
The first time the game will ask for this code is while you create your character. If you just want a code to get a better start, don't have a friend's code or already know all about the reference code system, you can skip further down to the code list.
You don't need to worry if you don't want to input a code right now or skipped this step already, you can redeem a code later and I'll show you how in this guide!
How to generate a code
First of all, whenever you want to generate a new reference code you will need a special item called "Armband Core". It's a legendary item that can be looted anywhere on any map. It tends to drop more frequently on ranked mode but can be found in normal mode no matter what faction you playing as.
This is an Armband Core:
This is the Armband Core in-game item description: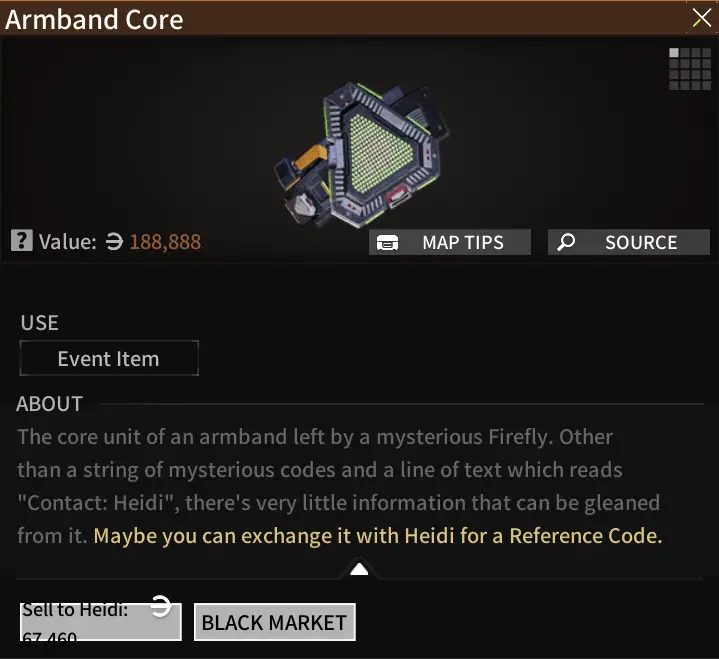 After looting and extracting (or having one in the secure box while failing to extract), you will need to go to the Pass the Light event to trade in your Armband Core for an usuable Reference Code.
Follow the images bellow if you can't find the event.
In the main menu, click the event icon to go to the events page: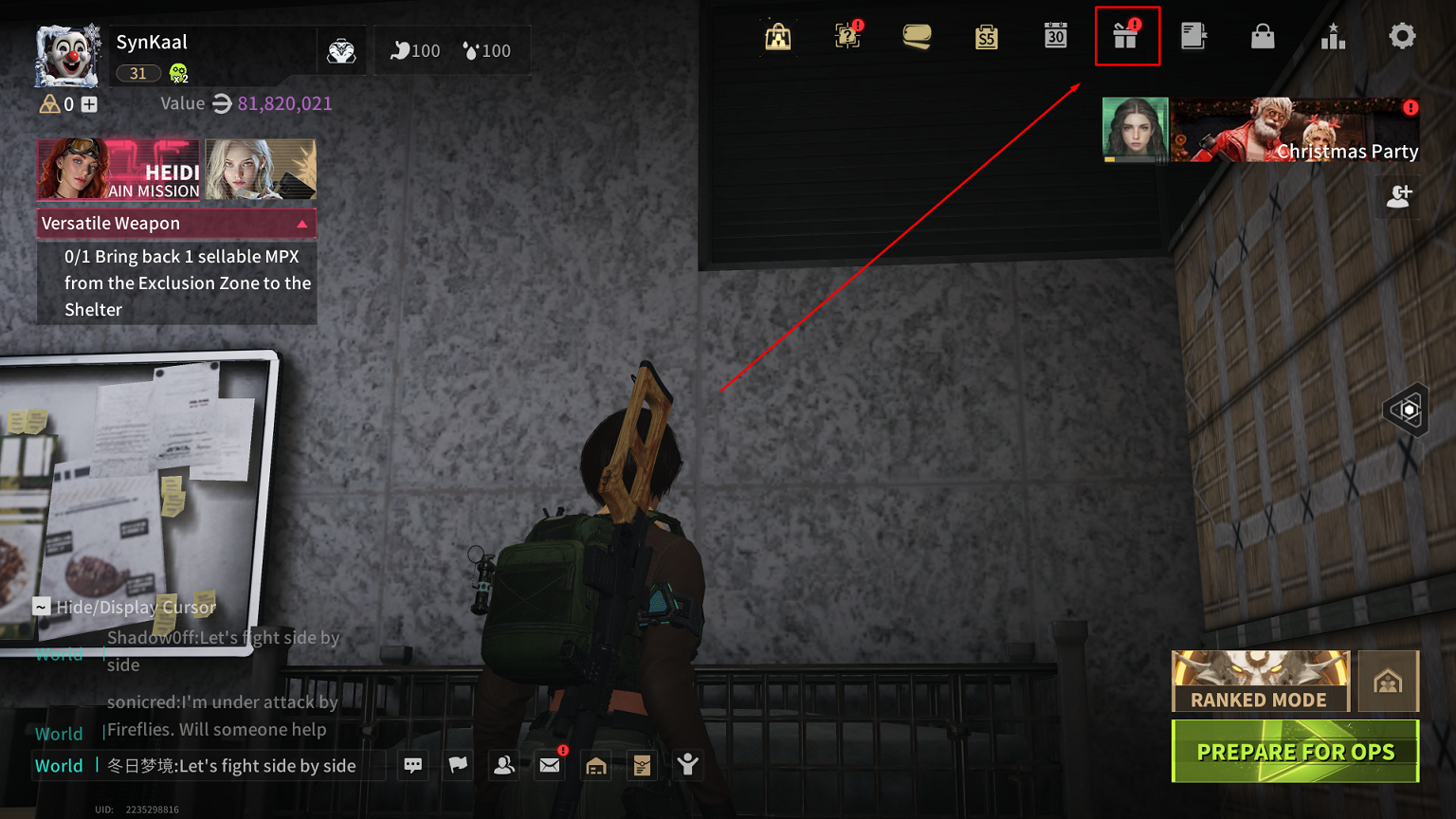 Then select the second event tab: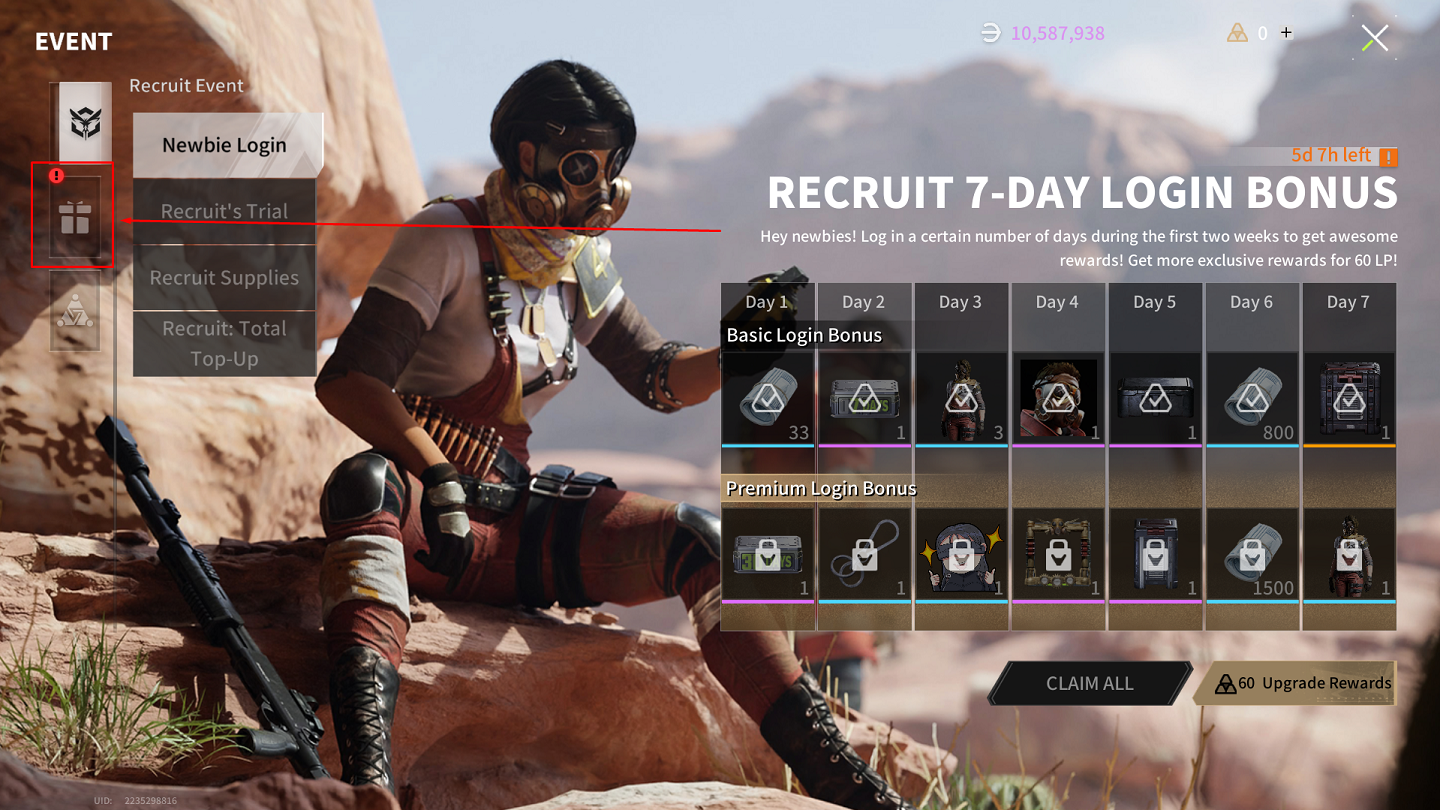 Select the "Pass the Light" event button: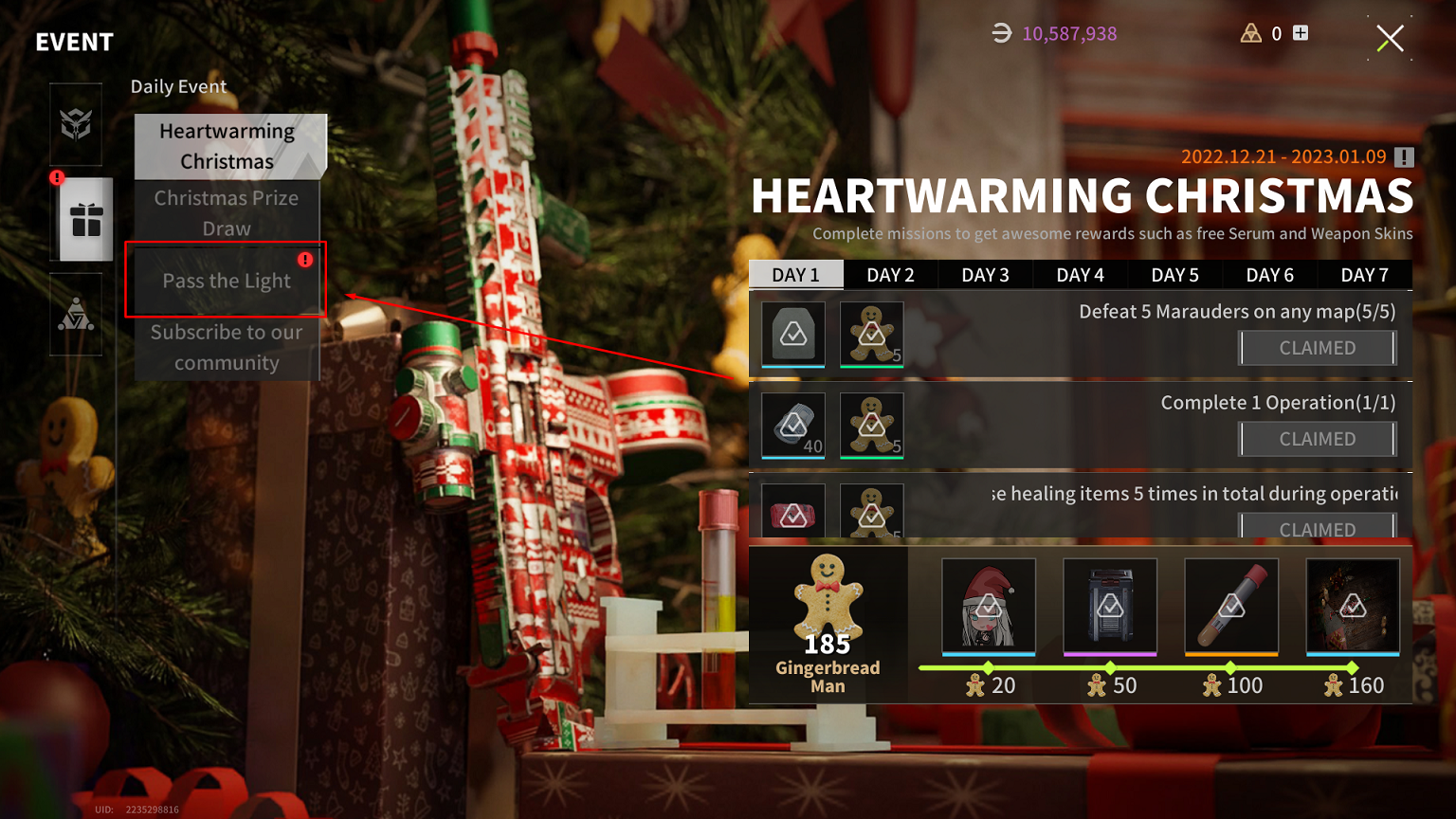 This is the main Reference Code and Pass the Light event page where you can get Reference Codes, redeem the prizes for referencing or using a code and use a reference code in your account.
To get a Reference Code, click on the Exchange button:
(Note: as stated on the page, you can only generate 2 Reference codes daily, even if you have Armband Cores to generate more codes. To generate more codes, wait for the next day.)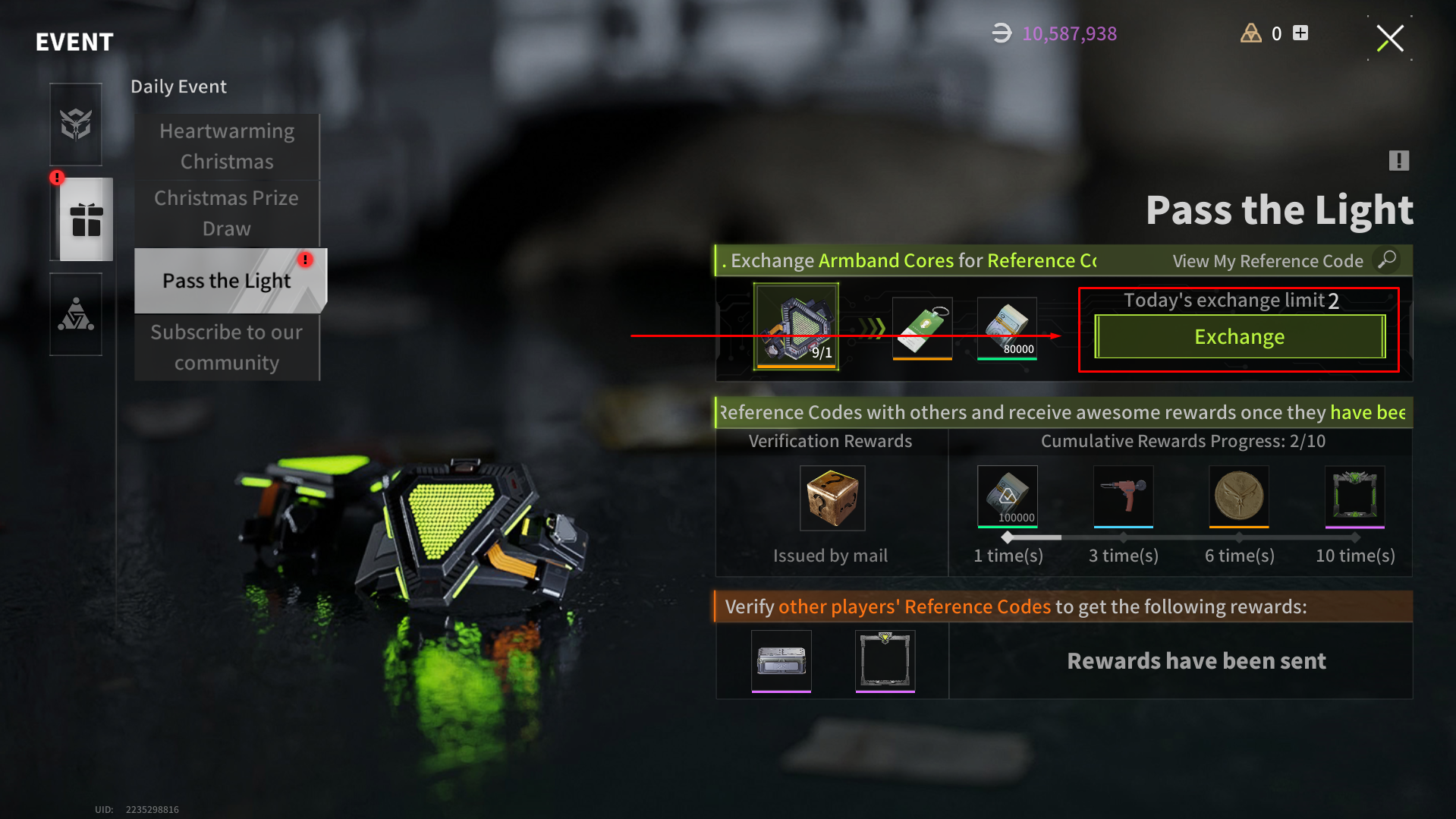 A code will be generated just like this: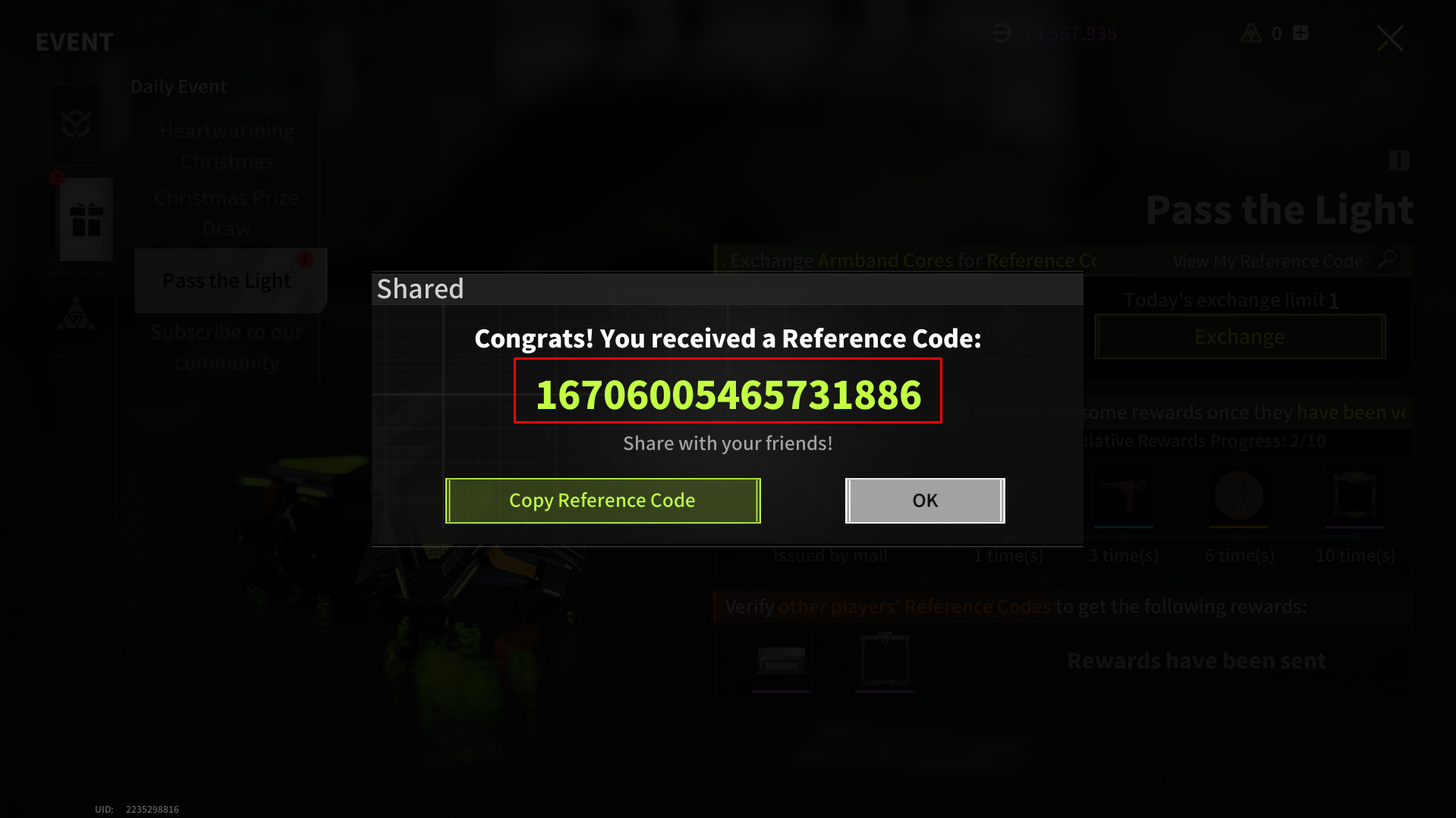 You can copy and send it to a friend or someone to get activated and get the prizes for, well, passing the light.
If you ever need to see your codes again or consult which codes are still in need of activation, you can click on the magnifying glass icon: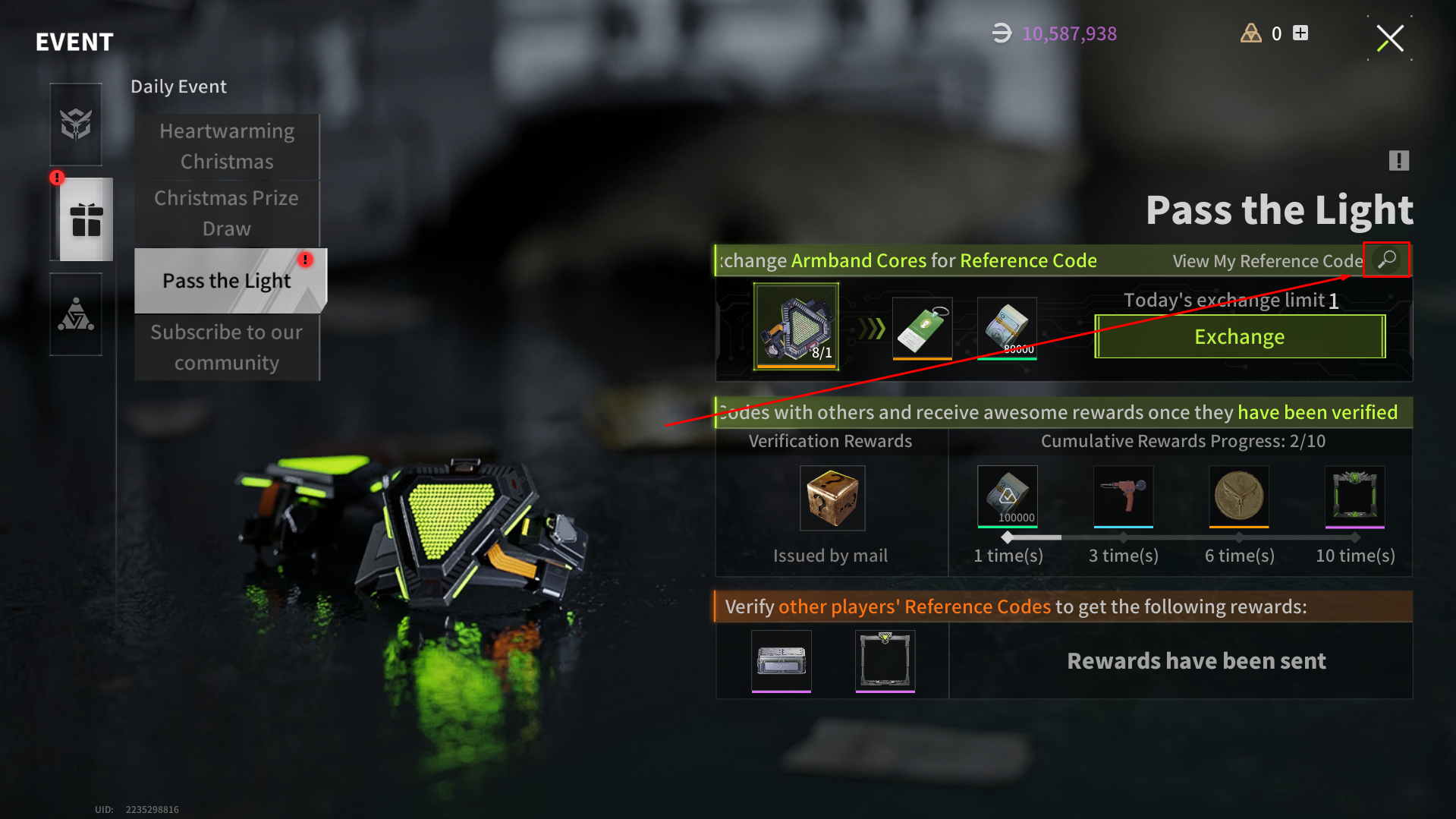 All code, used or not, will be shown and you can copy again your codes, if necessary: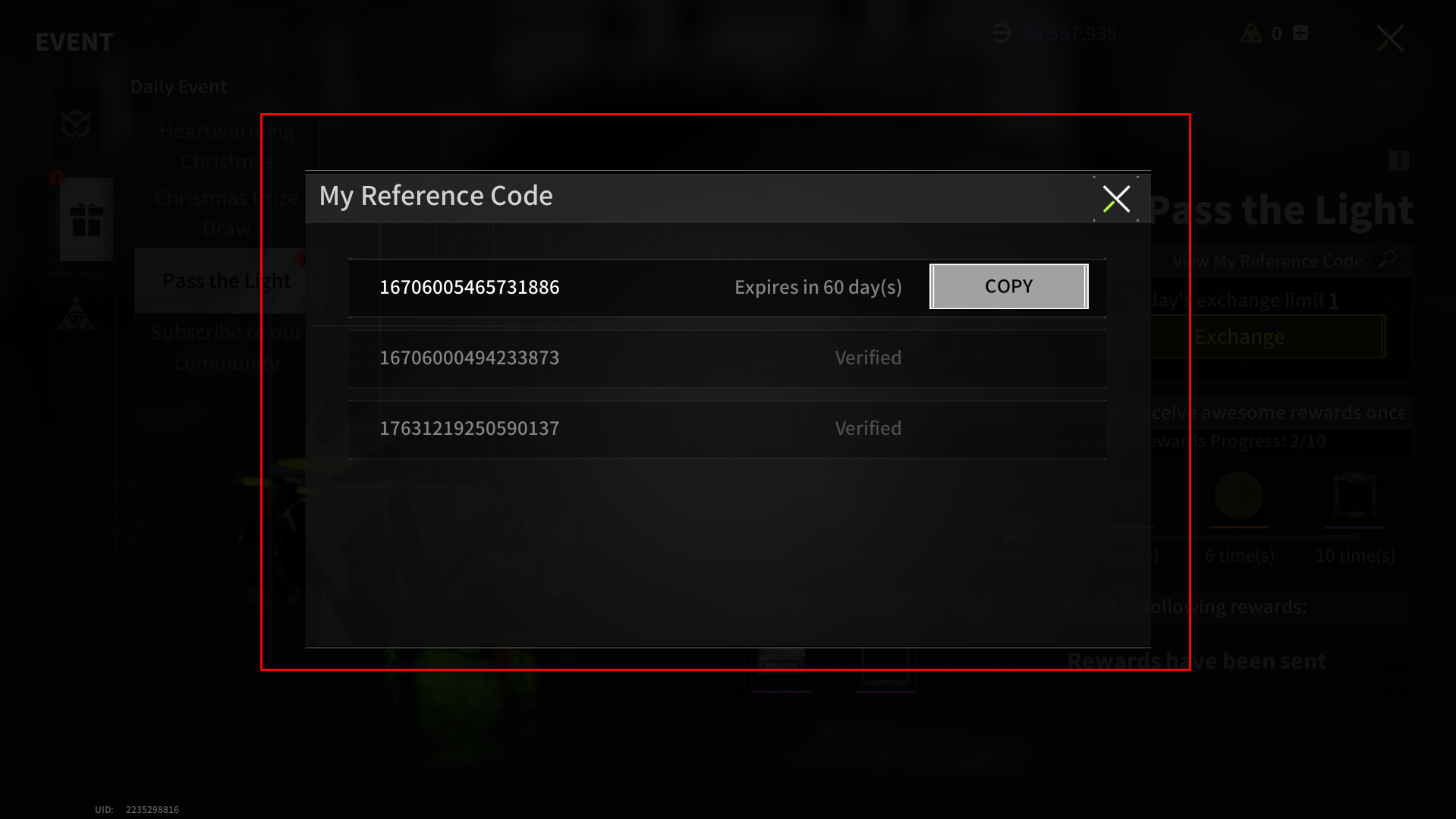 How to use a Reference Code
If you are still creating your character, the Reference code will be asked when you are choosing your Nickname and you can put it at this moment to get all the benefits already even before your first match!
But if you will skip this part or never activated a code, you can activate a code in the "Pass the Light" event page (see images above to see how to get there) or you can redeem the codes on your settings.
To do so, click on the gear icon on the main menu: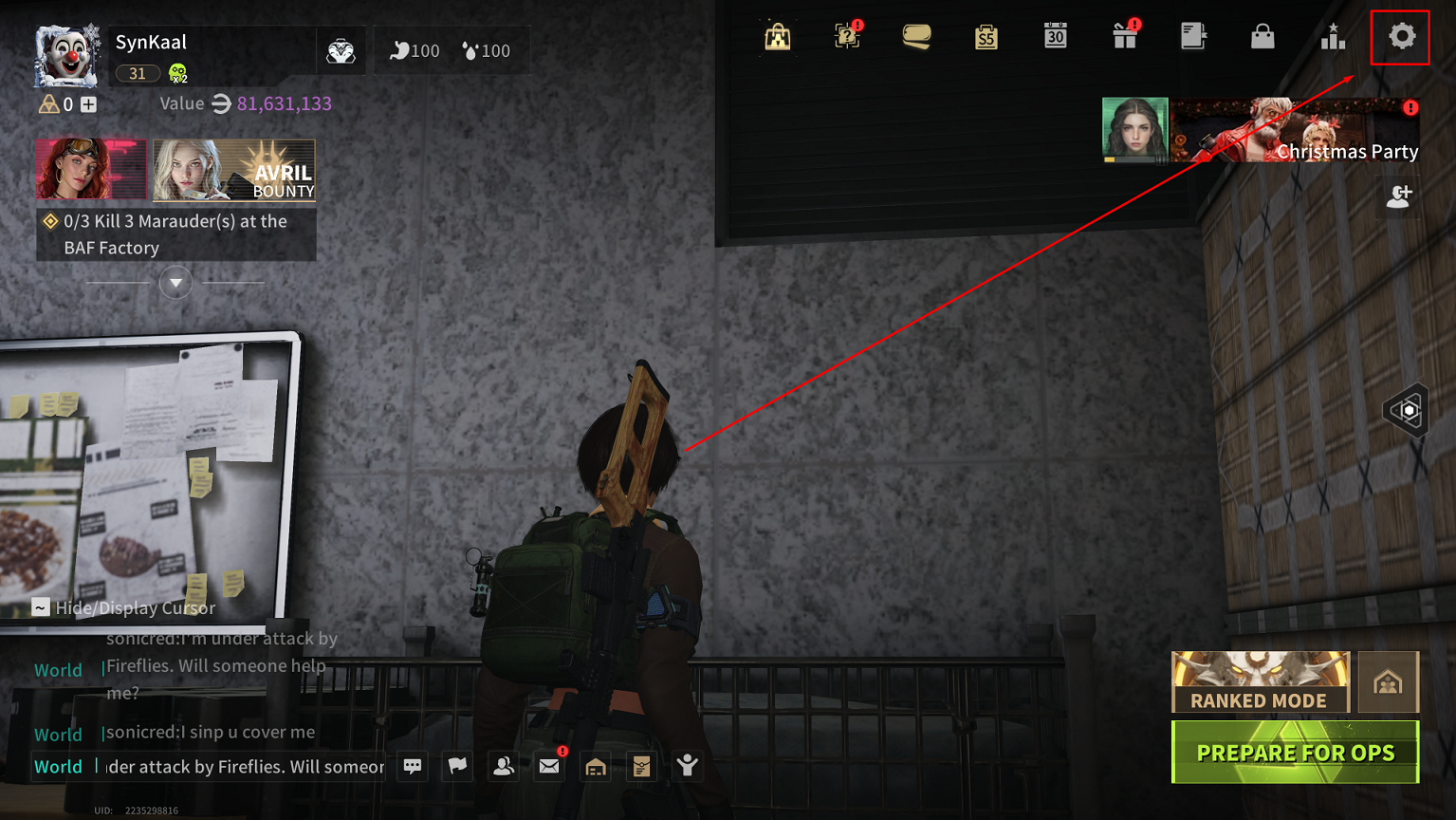 The click on "Redemption center":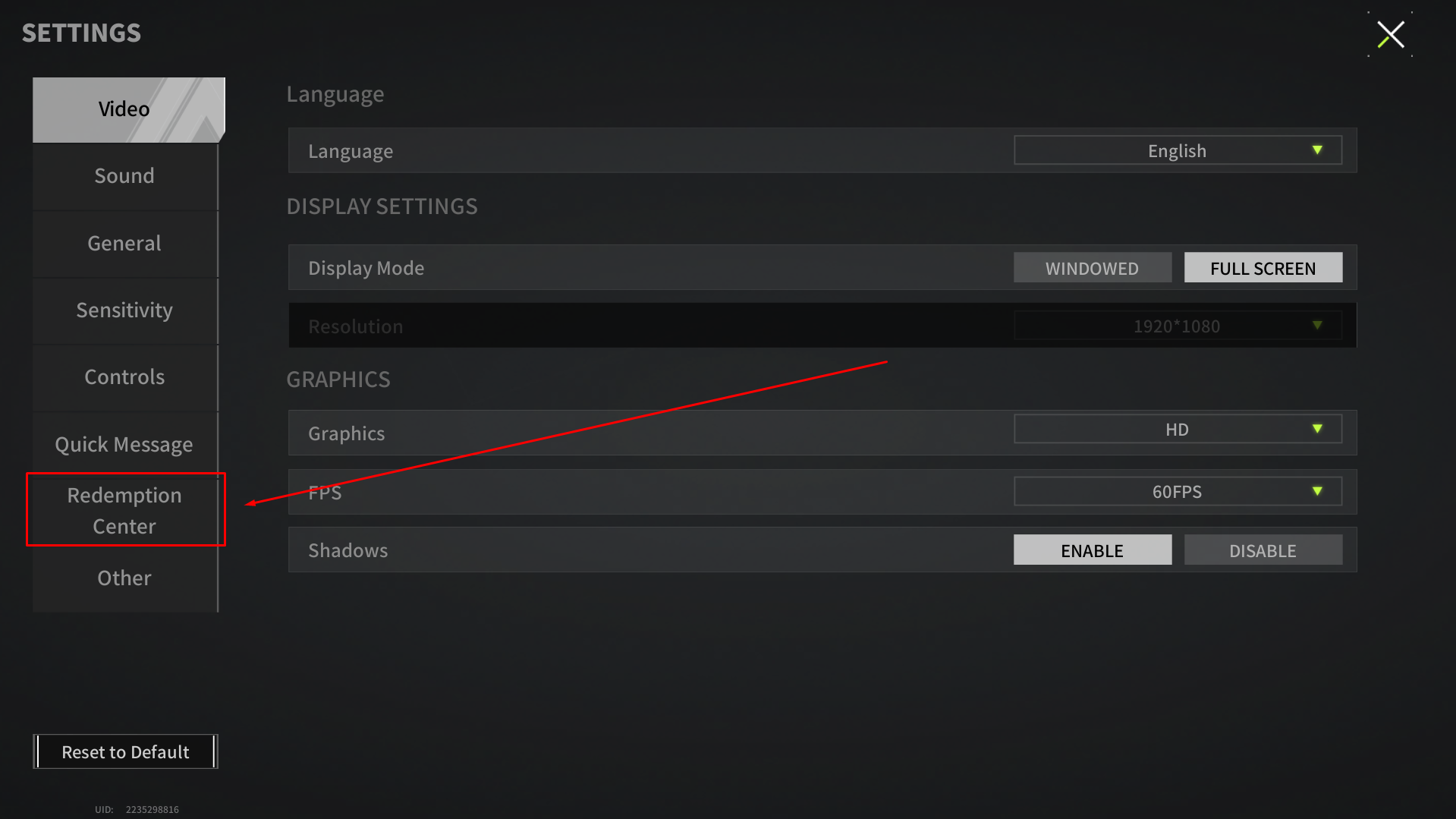 Now your just need to type down or paste the code it was given to you!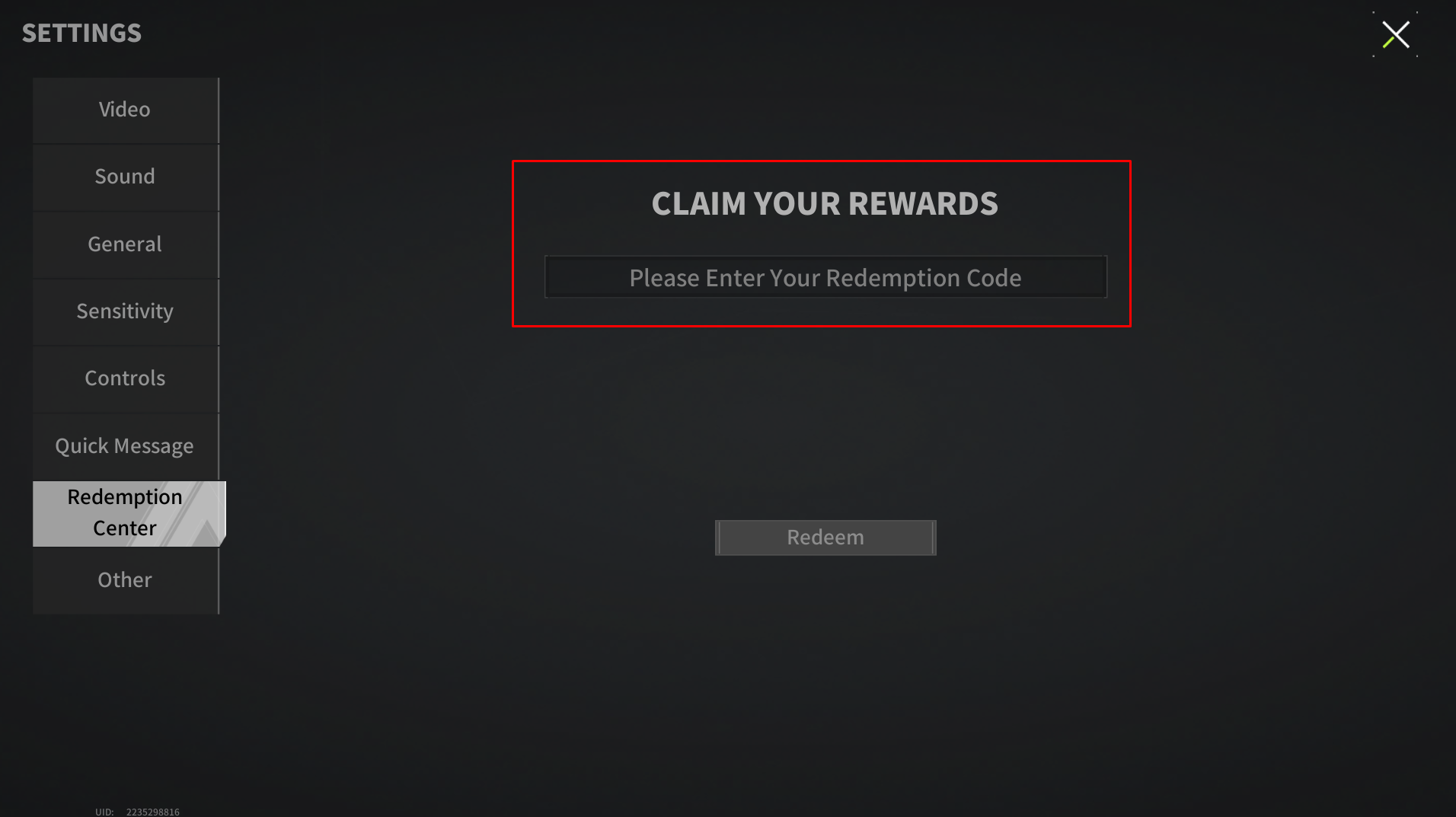 To get your prizes, go back to the "Pass the Light" event page and redeem your loot!
Get your codes on the list
If you want your codes to be added on the list, simply put them down in the comments and I'll try to add then as soon as possible! If some of your codes have been activated, please, let me know! Don't forget to say the region the code is from!
I'll be copying all codes from all regions into this guide for easier usage! Test the codes on the list until you can find one usable for you!
Note: Codes are 1 use only and region locked. Expirations dates are estimatives and can be off by a day or two.
South America (SA)
16706005465731886 (Expires on 01/Mar/2023)
17631223259062626 (Expires on 01/Mar/2023)
16706005419983604 (Expires on 01/Mar/2023)
16724681585170163 (Expires on 02/Mar/2023)
17116669361096216 (Expires on 02/Mar/2023)
North America (NA)
16705990418462527 (Expires on 14/Feb/2023)
Europe (EU)
17115512312171655 (Expires on 27/Feb/2023)
16724042594725275 (Expires on 25/Feb/2023)
16345721670314836 (Expires on 25/Feb/2023)
17115507307797648 (Expires on 25/Feb/2023)
16345719622794956 (Expires on 22/Feb/2023)
16724035528307616 (Expires on 18/Feb/2023)
16724029569163346 (Expires on 11/Jan/2023)
16345607661392991 (Expires on 05/Jan/2023)
16705997460330940 (Expires on 04/Feb/2023)
17115455314032642 (Expires on 04/Feb/2023)
16705995437325830 (Expires on 01/Feb/2023)
2319246616 (Expires on 25/Jan/2023)
2385231469 (Expires on 24/Jan/2023)
16723949588919102 (Expires on 23/Jan/2023)
17115355328854902 (Expires on 23/Jan/2023)
16705965446738538 (Expires on 03/Jan/2023)
Asia (AS)
17115501335236178 (Expires on 09/Jan/2023)
16345705605071695 (Expires on 09/Jan/2023)
16705966495046897 (Expires on 26/Jan/2023)
17631111216578459 (Expires on 26/Jan/2023)
17115507300756155 (Expires on 22/Feb/2023)
17631228272746316 (Expires on 20/Feb/2023)
2191459477 (Expires on 01/Feb/2023)
16705953487237536 (Expires on 06/Jan/2023)
That's everything we are sharing today for this Lost Light guide. This guide was originally created and written by SynKaal. In case we fail to update this guide, you can find the latest update by following this link.
If you believe that any of the content on this site violates your rights, including your intellectual property rights, please contact us immediately using our contact form.