Title: Land Above Sea Below
Release Date: September 14, 2023
Developer: Glasscannon Studio
Publisher: Skystone Games
Here are some valuable pointers and strategies to help you accumulate numerous points and create a beautiful, expansive island in the game:
Introduction
This guide isn't a step-by-step walkthrough; instead, it's a compilation of practical tips and tricks that my friends and I have discovered while enjoying this game. Due to the game's inherent randomness (RNG), there isn't a definitive path to constructing your island flawlessly or a guaranteed method to amass an extensive point total and expand your island substantially. Initially, it might not appear apparent, but all the game's components synergize harmoniously to create an enjoyable experience!
Synergy Recap
Let's delve into the concept of synergies in the game Land Above Sea Below. Synergies play a pivotal role in your gameplay, as you have a limited number of moves each season, making it crucial to maximize the impact of every action. The number of matching adjacent tiles next to the one you place holds significant importance. Here's a concise breakdown of the point values associated with these synergies (while I don't possess the complete mathematical formula behind the 3+ synergies, it's evident that the more matching tiles involved, the higher the points you'll receive):
5 points
10 points
Raises the height of connected tiles of the same kind and grants points based on their quantity.
Raises the height of connected tiles of the same kind, awards points based on their quantity, and provides you with 1 bonus day.
Raises the height of connected tiles of the same kind, yields more points based on their quantity, and grants you 2 bonus days.
Raises the height of connected tiles of the same kind, generates even more points based on their quantity, and bestows you with 2 bonus days.
Hence, it's essential to keep in mind that aiming for 4 or more matching tiles will not only increase your point total but also extend the duration of your season, enhancing your overall gameplay experience.
General Tips
Here are some general tips for Land Above Sea Below, organized based on the priority of dealing with them:
Placement around Tree of Fall: Remember that you can only place regular land around the Tree of Fall tiles. Avoid directing rivers, lakes, walls, or special buildings toward the Tree, as this will render the adjacent space permanently unusable.
Score Milestones: Keep an eye on the score milestones on the right side of the screen. Knowing how close you are to reaching a milestone is crucial. It can help you acquire cards that will aid you sooner rather than later and possibly grant you an extra day when needed.
Last Tile Placement: The last tile you place in a season will never sink. Consider this in conjunction with synergies and score milestones. Placing a 5 synergy tile on the last day can grant you two extra days, which is vital if you aim to achieve the "Higher and Higher" achievements.
Special Buildings: Special buildings aren't just for decoration. They function like walls and rivers, preventing neighboring tiles from sinking. When you obtain one, strategically place it to support your expansion and set up opportunities for big combos.
Mini Objectives: There are two types of mini objectives: Height and Colors. Focus on raising tiles to the required height above sea level for height objectives. For color objectives, try to work them into your strategy without losing sight of creating significant tile synergies, which should be your primary source of points and extra days.
Rivers and Walls: Rivers and walls can significantly impact your plans. Longer rivers and walls yield more points and protect adjacent tiles from sinking. Try to create them in straight lines around your island to facilitate your layout instead of trying to fit them inside your island.
Card Colors: Pay attention to the colors of cards you receive. For example, a Brown Sprout Card will give you a Brown Tree of Fall, regardless of the tile color you're holding. Only use these cards when you have suitable tiles to support them. The Purple Special card provides any kind of special building, but only from the colors you've unlocked so far. Be mindful of when to use it to minimize risks.
New Islands: As seasons progress, new islands will appear around your main island. Dark islands are reefs, merely blocking your progress. White islands can be connected to and offer additional land tiles, along with special buildings or Trees of Fall.
Double Tiles: Half green, half orange, or any mixed-color tiles are incredibly potent. Placed strategically between corresponding land masses, they can greatly increase your land height and score. They contribute to both connected land colors when you place a 3+ synergistic tile on either side. Keep gaps between different-colored land masses to capitalize on this bonus, as double tiles are rare and valuable.
These tips should help you navigate Land Above Sea Below more effectively and build a thriving island.
Event Cards and When to Use Them
There's currently 7 different Event Cards in the game. Here's how they work and tips on when to use them:
New Dawn
What it does: Provides you with an additional day before the season ends.
When to use: While the temptation to use this card right away may be strong, consider saving it for critical moments. If you're on your last move and placing the final tile won't save your other tiles from sinking, using New Dawn might be a lifeline. It can also be used when you see an opportunity for a 5+ Synergy placement but lack a single tile to complete it safely. New Dawn can help you secure that missing piece or explore an alternative approach for the season.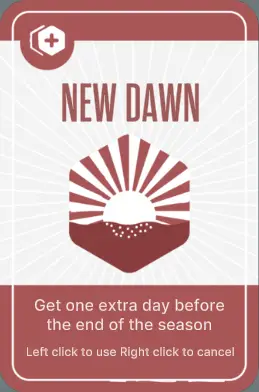 Drought
What it does: Decreases the sea level by one unit.
When to use: Keep Drought in your hand for high-risk, high-reward plays. It's handy for setting up 5-tile synergies without worrying about them sinking in the next season. However, be mindful that the next season might not provide the ideal tiles for a perfect play, so assess the risk carefully. It's also valuable in later seasons when dealing with new-colored tiles that might sink if not managed properly.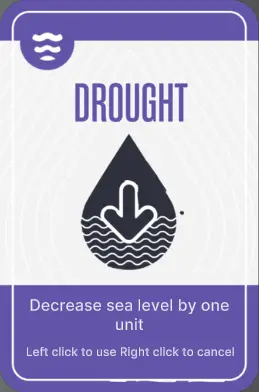 Skip
What it does: Skips the current tile in hand, providing an extra day at the end as compensation.
When to use: Use Skip whenever you face a situation where placing your current tile would disrupt your planning. For instance, if you receive a 4-way river tile, and adding it to your existing river would disrupt your strategy, use Skip to discard it. This is especially useful when you know the next tile is something safer, like regular land, that can be strategically placed.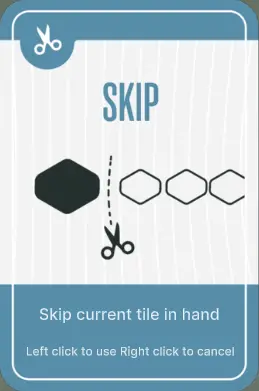 Sprout
What it does: Replaces your current tile with a specific Tree of Fall (matching the card's color).
When to use: The Tree of Fall is a valuable tile that awards many points but is challenging to place. It can only be adjacent to regular land tiles, not rivers, walls, or special buildings. Keep the Sprout card in your hand until you have the ideal situation, such as a 5+ synergy move, to place the Tree of Fall effectively.
Special
What it does: Replaces your current tile with a random special tile of a random color you already have in play.
When to use: Treat the Special card as an alternative to the Skip card. It grants a special tile that won't sink and supports nearby tiles above sea level. If your current tile disrupts your planned synergies and you lack Skip cards, use this. It might lead to an even better play or open up a new path on your island.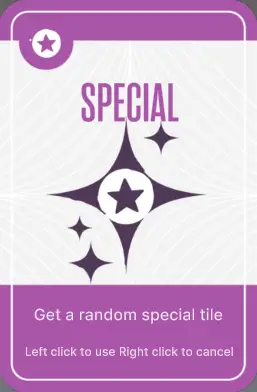 Full Sun
What it does: Raises all Tree of Fall tiles by one unit.
When to use: Full Sun has limited usefulness as it only affects Tree of Fall tiles and nothing else. Consider using it if you have a second Tree of Fall that's at risk of sinking, as this card can extend its survival for another season.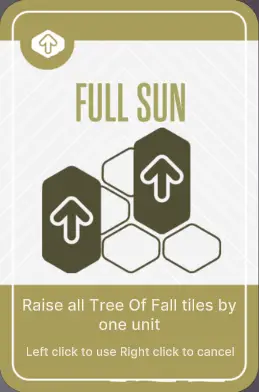 Undo
What it does: Allows you to undo the previous tile placement without deducting the score or days earned.
When to use: The Undo card is unique in that it functions as a regular undo move without penalizing your score or days earned on the last move. This means you can place a tile on a 5-tile synergy, gain 2 days, undo the move, and place it again to gain another 2 days. While it may seem like a cheat or exploit, the developers are aware of this and are monitoring its impact on the game.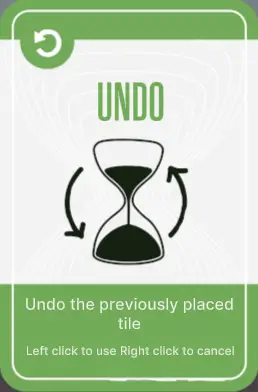 Easy Start: The Line
Here's a brief guide on initiating a straightforward beginning on an amusingly shaped island, which significantly enhances your initial season by providing you with several cards, thus equipping you with additional resources for the seasons ahead.
On the first day, here's how you commence. Just execute a handful of actions to form a "C" shape.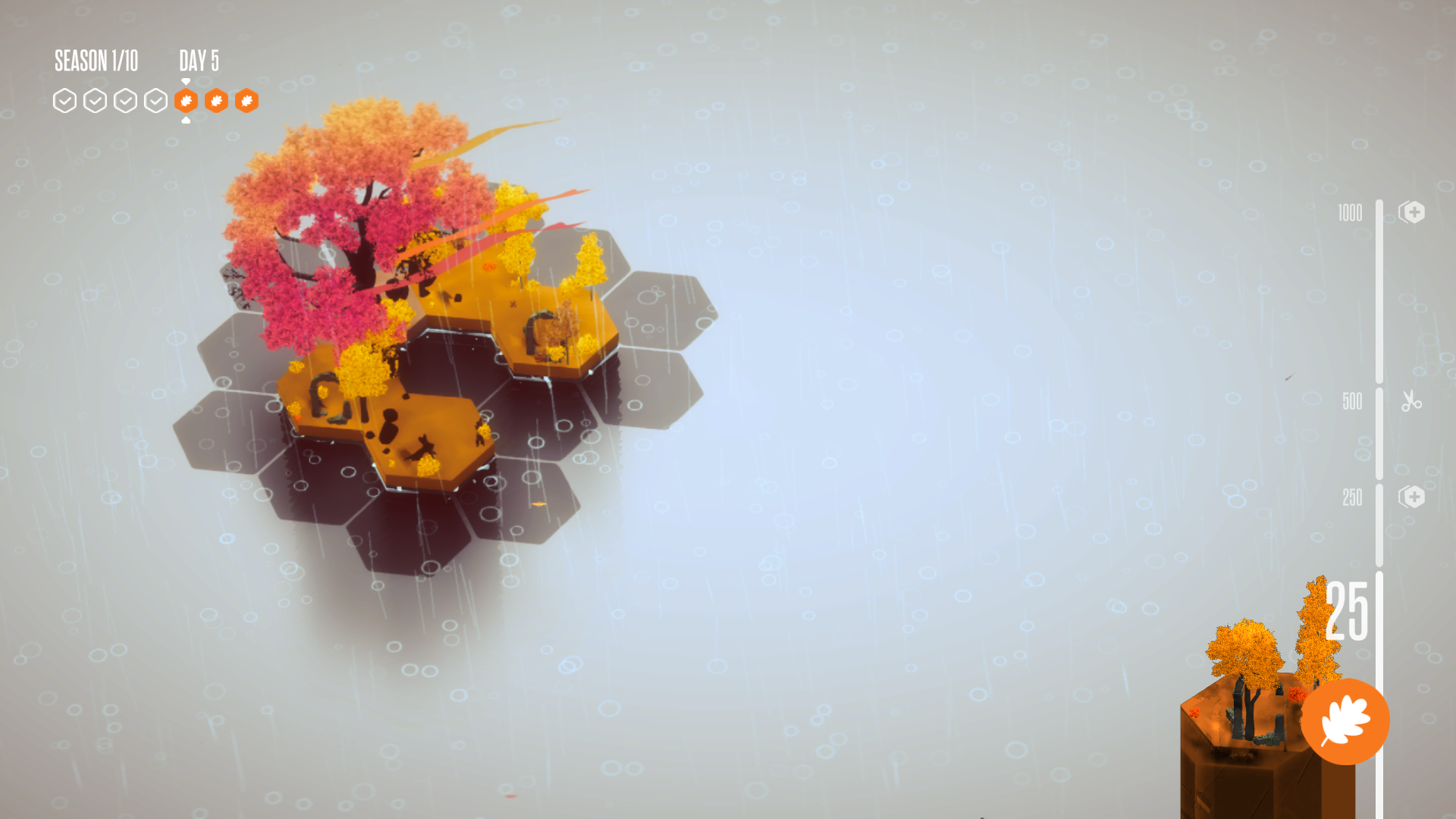 Excellent, it's now the fifth day. By inserting a tile directly into the shape you've crafted, you'll create a 5-tile synergy, granting you an additional two days and a valuable boost in points!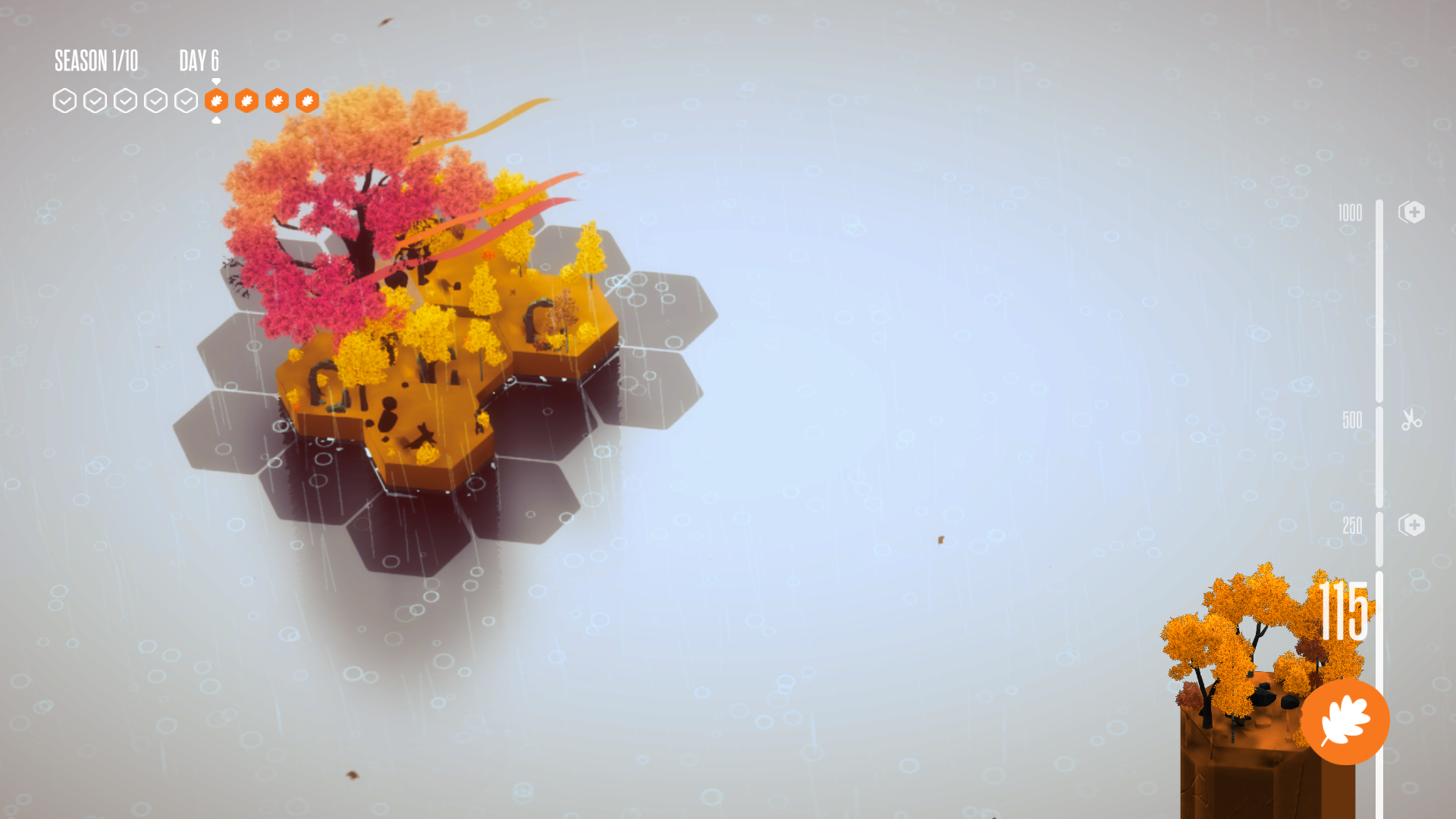 At this point, your next step is to add two more tiles to the sides, thus expanding the shape, which will enable you to trigger another 5-tile synergy!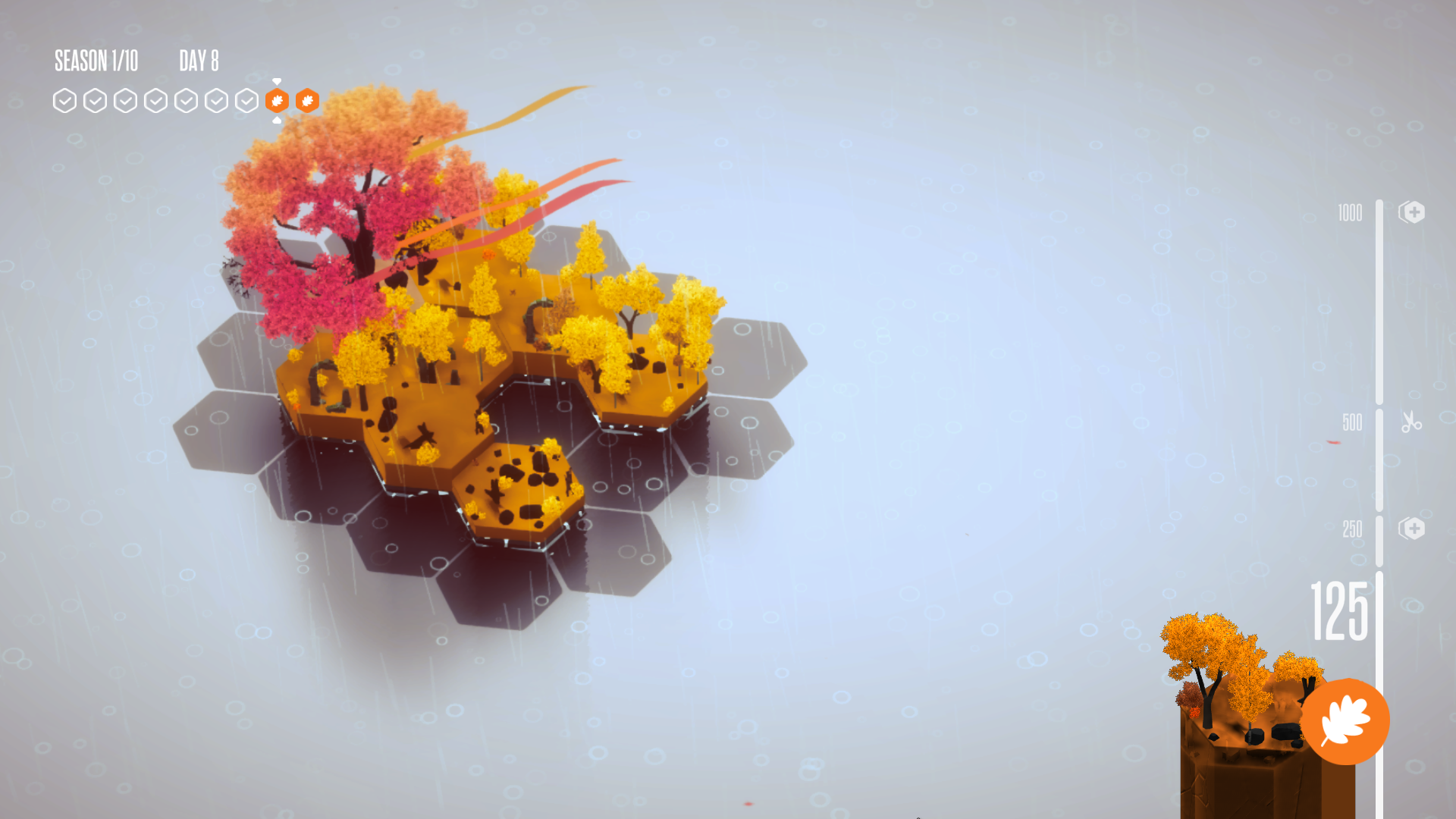 You can continue this process as much as you'd like. The initial season provides an ample supply of the same type of tile for approximately 25 days. Additionally, you have the option to utilize New Dawn cards to extend the line a bit further if needed.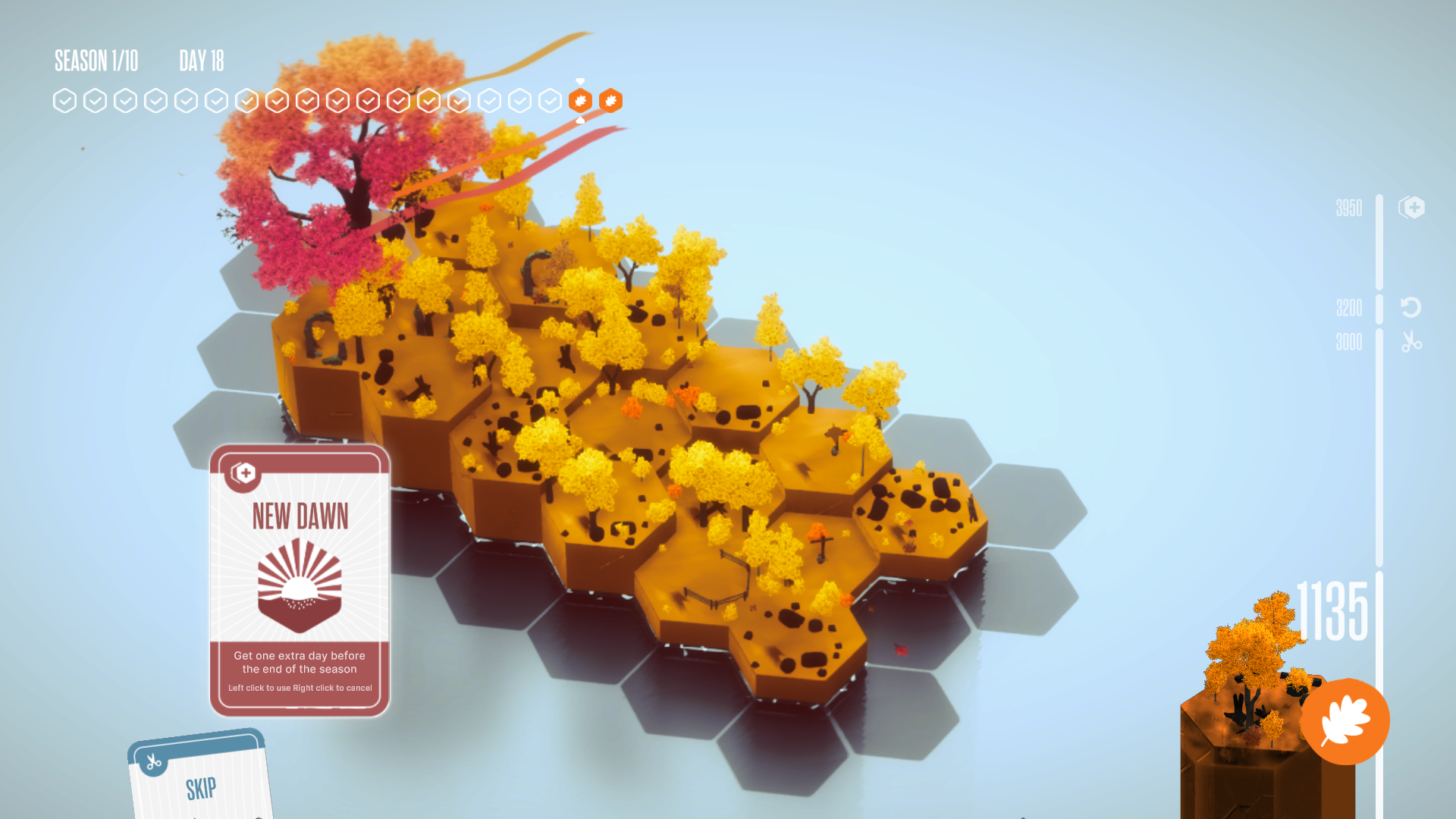 You might notice that you acquire some additional days seemingly out of nowhere. This occurs because certain tiles come with a Height Mini Objective, granting you extra days and points. Given your proactive approach in elevating the land every 3 moves, you're likely to place and accomplish 2-3 of these objectives effortlessly.
To aid your progress in the upcoming seasons, it's beneficial to conclude the first season with 1-2 Drought or Skip cards in your inventory!
That's everything we are sharing today for this Land Above Sea Below guide. This guide was originally created and written by Liquid Fear. In case we fail to update this guide, you can find the latest update by following this link.
If you believe that any of the content on this site violates your rights, including your intellectual property rights, please contact us immediately using our contact form.