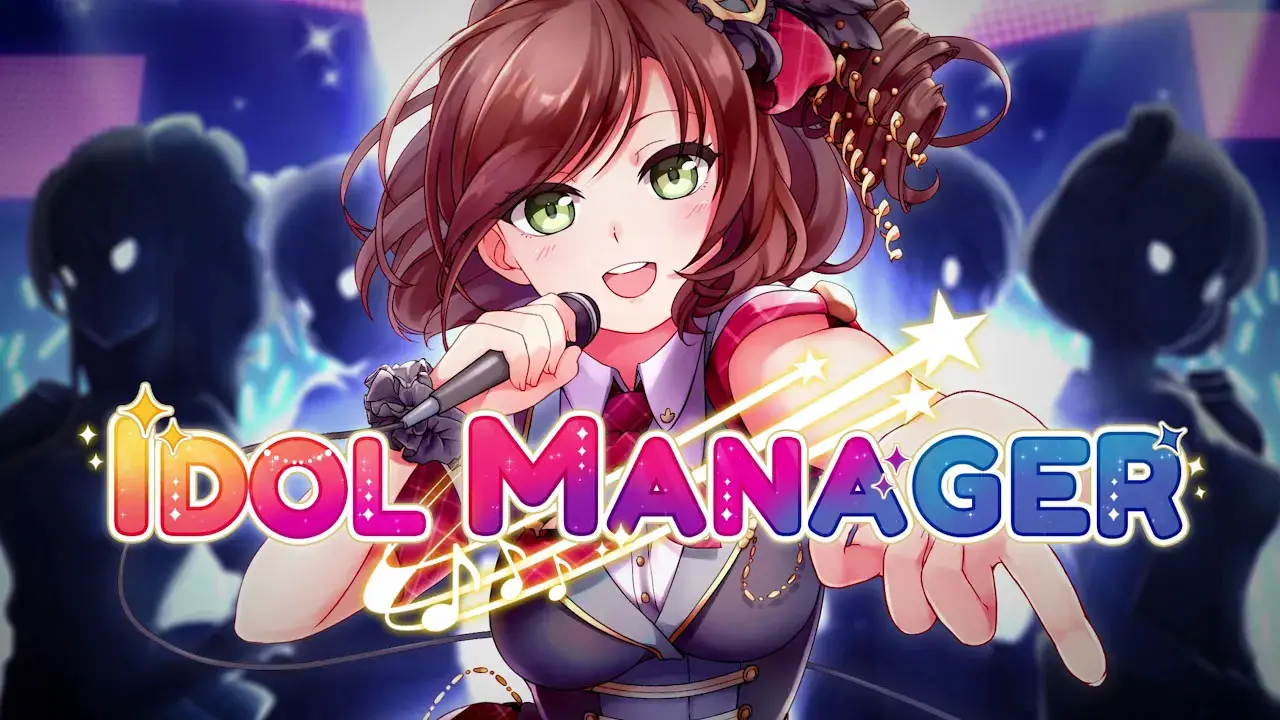 Is your 14-year-old idol seemingly incapable of becoming more "Cool?" Are you flummoxed by idols constantly losing massive amounts of Cuteness every time they get older? Here's a full explanation of how idol stats actually work and how they're affected by age!
Overview
As you're probably aware, every time an idol celebrates her birthday, her stats change, which you can see indicated on a screen that looks something like this: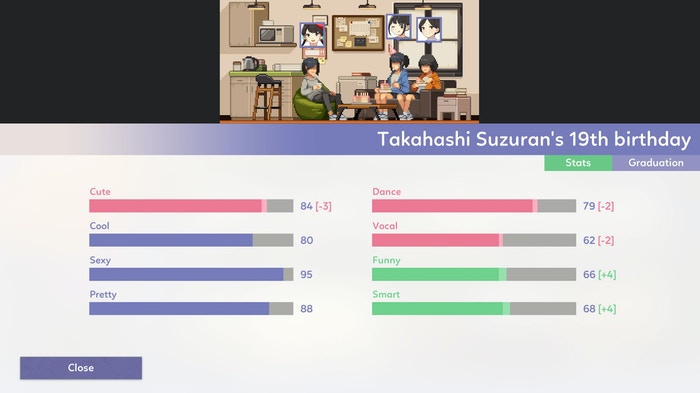 These stat changes might seem random, but they're not! There are a number of factors that can cause an idol's stats to change as she gets old:
From ages 12 to 18, there are invisible "stat caps" (both upper and lower bounds) that affect what her stat shows as
Additionally, each idol has a different "peak age" which affects when certain stats can go down.
The "stat caps" related to age also affect how much an idol's stats can change through styling, so if you're wondering why your 14-year-old seems incapable of becoming more "cool" than she currently is, read on!
Age-Based Stats Caps
The following information was announced in a developer post back when Idol Manager was in beta, but a full explanation doesn't appear in the actual game.
"Cool" and "Sexy" attributes now have an age-based cap that serves as an upper limit for those attributes. Essentially, each idol has a "true" value for each of these stats, but the stat that you actually see on their profile may be lower (or higher) based on age-related caps.
An idol's "Cool" or "Sexy" cannot go above a certain level based on their current age, here are the maximum values for each age:
12 years: 10
13 years: 20
14 years: 40
15 years: 60
16 years: 80
17 years: 90
18+ years: 100
This is why these stats can seem to grow wildly with age. Suppose an idol has a "true" Cool value of 55. When she is 13 years old, the maximum "Cool" value she can have is 20, so that will show up on her profile. When she turns 14 years old, her displayed "Cool" will change to 40. If her "true" cool value is 55, it's not until she turns 15 years old (and the cap raises to 60) that her Cool value will show as 55. (At that point, she can also undergo styling to raise her Cool value further.) In that situation, it will appear as though she is gaining massive amounts of "Cool" every birthday until she turns 15, at which point the Cool growth will stop.
Additionally, the game has a similar mechanic for "Cute," but in reverse: an idol's "Cute" cannot go below a certain value based on her current age. Here is the minimum cute value for each age:
12 years: 90
13 years: 80
14 years: 60
15 years: 40
16 years: 20
17 years: 10
18+ years: 0
The result of this is that an idol's "Cute" stat will appear to decrease as she ages, until she reaches her "true" Cute, at which point it will stay at that level. For example, suppose a idol has a "true" cute value of 53. At age 13, her profile will show 80 Cute. At age 14, her profile will show 60 cute. After hitting age 15, her profile will finally display her "true" cute value of 53.
This is important to consider during recruitment when evaluating younger idols. A 13-year-old with 80 cute might seem impressive, but she's not, because ALL 13-year old idols have at least 80 cute! Her "true" cute value is probably much lower, which will be quickly revealed as she ages.
Other Age-Related Stats Changes
Besides the age-related stat caps, idol's stats can change in the following ways as they age:
Each idol has a randomly generated hidden stat for "peak age," which can range from 16 to 25. After an idol hits her "peak age," the following stats decrease as she gets older: Vocal, Dance, and Pretty
"Funny" and "Smart" attributes always increase when an idol gets older.
Note:
The information from this guide is taken from the developer notes that were posted with beta update #8. To my knowledge, all of this information should still be accurate, but if anything has changed, please comment below with any corrections!
That's everything we are sharing today for this Idol Manager guide. This guide was originally created and written by trace. In case we fail to update this guide, you can find the latest update by following this link.
If you believe that any of the content on this site violates your rights, including your intellectual property rights, please contact us immediately using our contact form.