Title: Hollow Knight
Release Date:
Developer:
Publisher:
This guide provides comprehensive insights into overcoming the formidable boss, Nightmare King Grimm, while sharing my personal strategies and observations to the best of my ability. I will delve into the boss's various attacks, offering guidance on how to effectively evade them, pinpoint opportunities to strike back at Nightmare King Grimm, and identify moments for potential healing.
Additionally, I'll outline my own strategy and loadout for confronting this challenging adversary, elucidating the rationale behind my choices. It's worth noting that I may not be well-versed in other existing strategies or setups, and there might be superior alternatives or individuals who can optimize my approach. Constructive feedback on both the setup and the overall quality of this guide is welcome, and if you have any questions regarding its content, please don't hesitate to reach out—I'm here to assist. Also, I apologize for any suboptimal quality in the screenshots I captured during my own battles with the boss; some of them may not be ideal due to a delay issue.
Nightmare King Grimm Attack Patterns
When facing Nightmare King Grimm, you'll encounter six distinct attack patterns, each more challenging to dodge than those of the regular Grimm due to increased speed or unique mechanics. To keep this guide concise and assume familiarity with the regular Grimm fight, I won't draw direct comparisons. However, it's essential to note that all of Nightmare King Grimm's attacks inflict 2 masks of damage, unlike the regular Grimm encounter.
Please understand that the names I've assigned to these attacks are my own, and they might differ from any official designations. If you're unsure which attack I'm describing, please refer to the provided image references.
For convenience, I'll simply refer to Nightmare King Grimm as "Grimm" throughout this guide, as our focus is solely on this iteration.
Dash Attack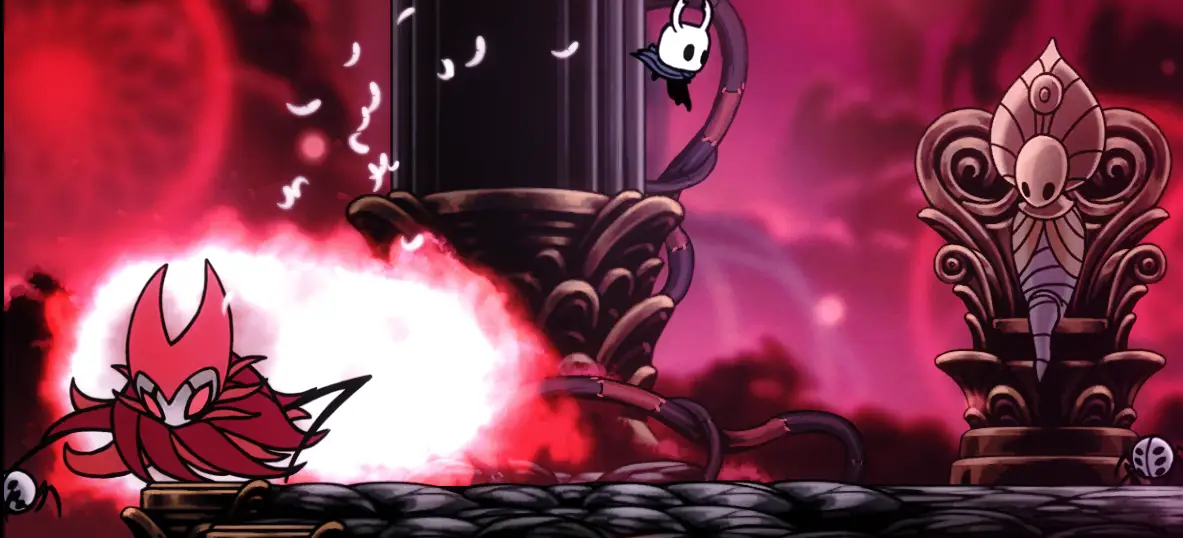 Grimm starts this attack by hovering at the top of the screen, then rapidly descends (often towards you) before dashing forward directly at you. The dashes leave behind flame trails that can harm you upon contact. After the second dash, Grimm promptly teleports away.
Uppercut Jump Attack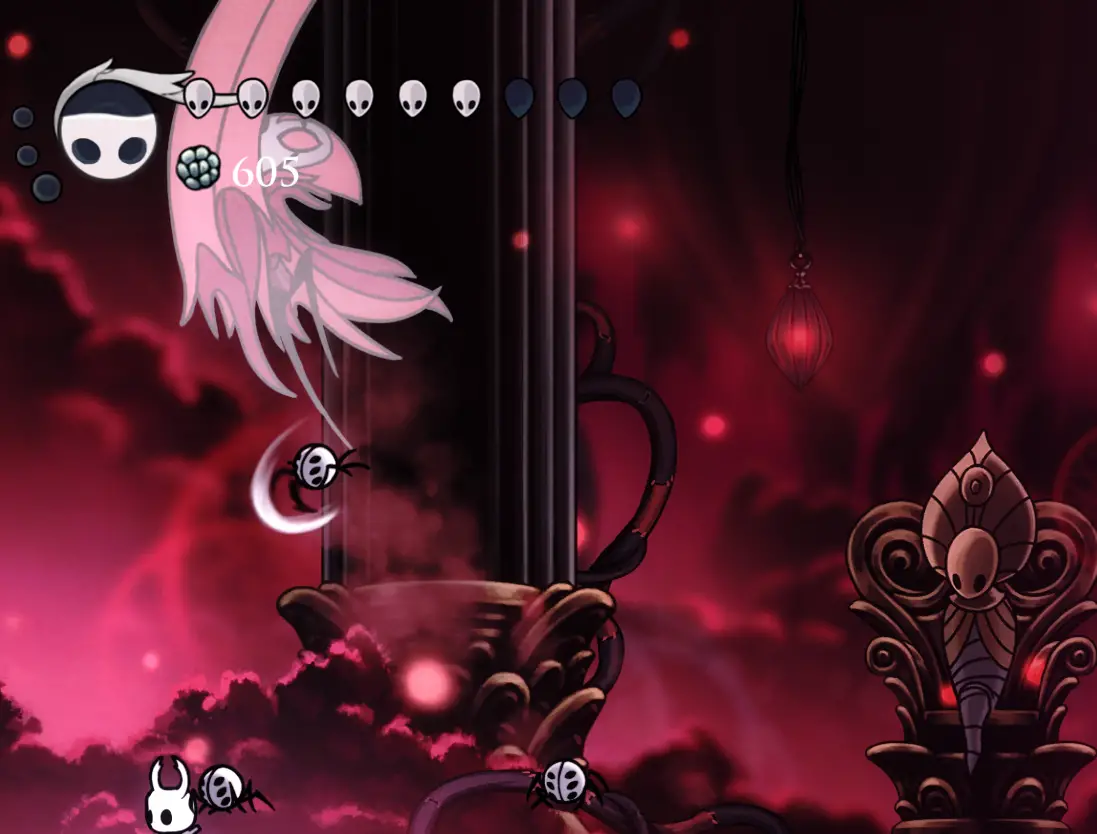 This attack commences with Grimm teleporting to the ground, usually in close proximity to you. He quickly swipes at you with his hand, moving directly towards you but not as far as in the dash attack. Then, he swings his arm forward and upward, executing a swift jump to the top of the screen while moving slightly forward. As his hand begins to leave the screen, Grimm teleports away, dispersing approximately six large flame balls across the arena at specific distances from his teleportation point.
Ranged Projectile Attack

Grimm begins this attack by teleporting to the floor, often at a distance from you. He extends an arm outward, clutching his cape, and immediately fires four fast-moving projectiles in a specific pattern: the 1st and 3rd projectiles are in the air, while the 2nd and 4th projectiles stay close to the ground. Grimm teleports away approximately 1-3 seconds after launching all four projectiles.
Spikes Attack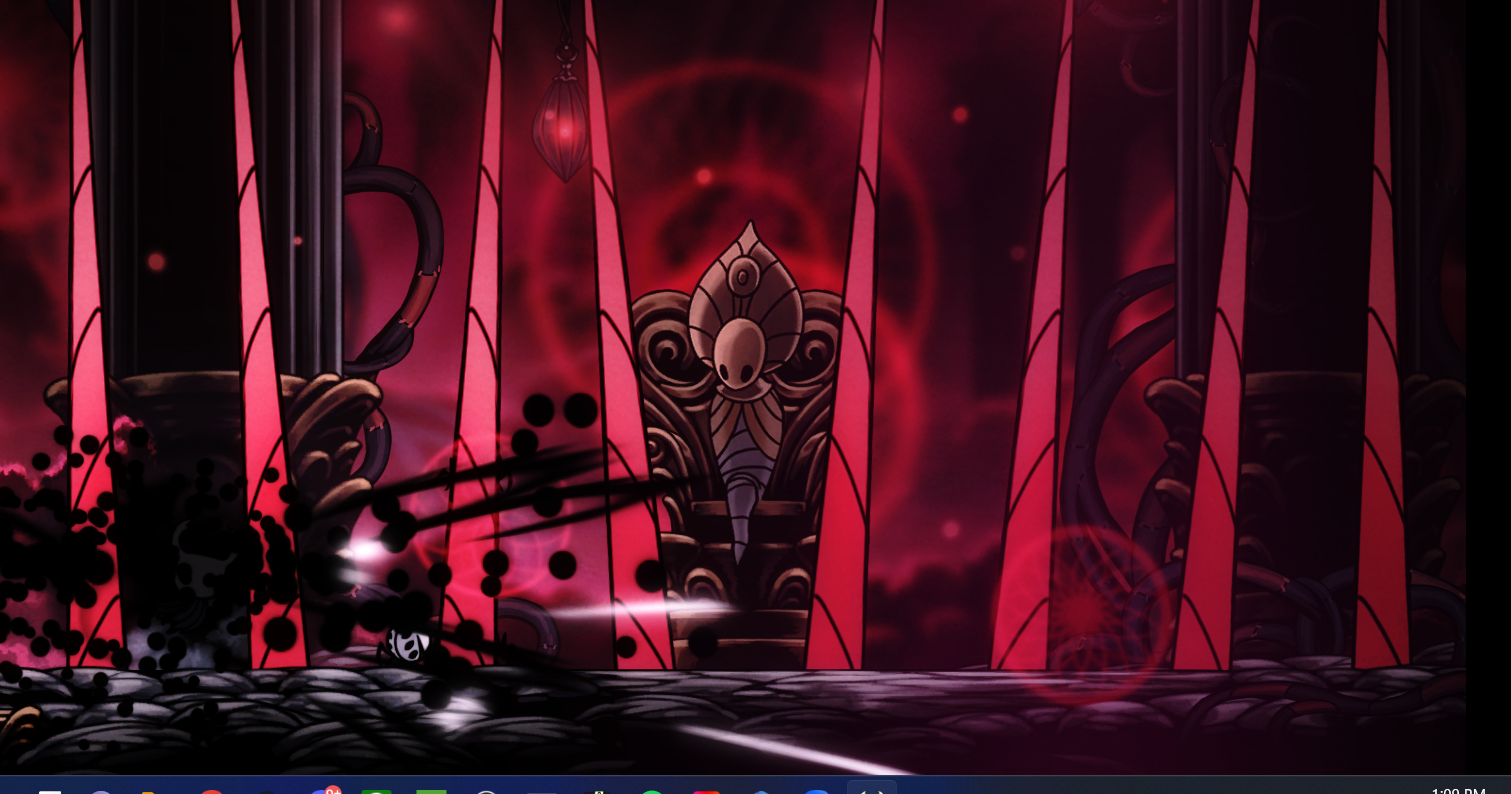 In this attack, spikes gradually emerge from the ground, swiftly shooting up to the top of the screen. These spikes only inflict damage once they reach the top of the screen; everything prior serves as indicators to give you time to prepare. Grimm remains off-screen throughout this attack, unique to this particular attack pattern.
Flame Pillar Attack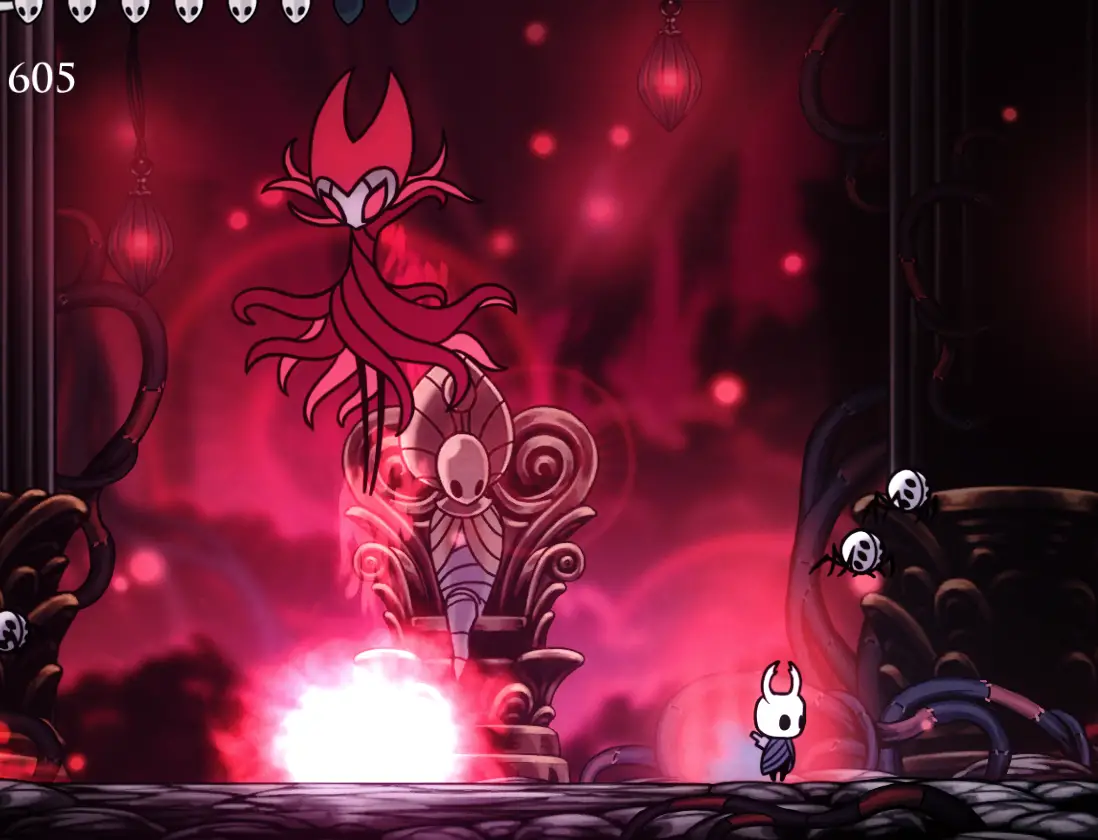 Similar to the dash attack's start, Grimm initiates this attack by teleporting to a location in the air. However, during this attack, Grimm remains stationary in the air. Over the course of the attack, four flame pillars consecutively erupt from the ground at your location, ascending from the bottom to the top of the screen. They then reduce to scorched areas on the ground that can still harm you. Grimm teleports away shortly after the fourth pillar emerges.
Pufferfish Attack
This attack begins with Grimm teleporting to the center of the arena in the air and transforming into a prickly circle resembling a pufferfish. While in this state, it's impervious to nail attacks but vulnerable to magic attacks, although this approach carries some risk. It releases flames in various directions, often following a pattern as they move towards the right or left sides of the screen. These flames move rapidly, testing your ability to execute quick jumps and short hops to avoid them. After the attack concludes, Grimm teleports away and uses this attack when his health reaches 75%, 50%, and 25%, serving as a progress marker in the boss fight.
Charm Setup

The image displayed above showcases my chosen charm setup for combatting Nightmare King Grimm. I'd like to provide a detailed explanation for the rationale behind this setup, with the exception of the Void Heart charm, which is self-explanatory for those who have reached this stage in the game's progression.
Sharp Shadow Charm: This charm serves a dual purpose in my setup. Firstly, it enhances my damage output when I need to dash through Nightmare King Grimm, providing a valuable offensive boost. Secondly, and perhaps more importantly, it grants a 40% increase in dash length when combined with the Shadow Dash ability. This extended dash length is instrumental in various situations, enabling me to more effectively close the gap between myself and Nightmare King Grimm or create distance when necessary.
Nailmaster's Glory: This charm is an integral part of my setup due to its remarkable acceleration of nail art charging speed. Given that I primarily rely on nail arts for my offensive approach, the increased speed in charging these techniques is invaluable, allowing for swift and powerful strikes against the boss.
Grubsong: While Grubsong does provide soul upon taking damage, its primary purpose in my setup lies in its synergy with the Weaversong charm. The weavers summoned by Weaversong gain the ability to gather soul from dealing damage to enemies when combined with Grubsong. This combination not only enhances my damage output through the weavers but also contributes to my soul resource, enabling me to utilize spells and abilities more effectively.
Quick Slash Charm: In situations where executing nail arts is not the preferred option or time is limited for charging them, the Quick Slash charm becomes indispensable. It allows for a rapid succession of melee attacks, enabling me to land numerous hits in quick succession, effectively dealing damage to Nightmare King Grimm.
Longnail Charm: The extended range offered by the Longnail charm provides a crucial advantage in my strategy. It enables me to attack Nightmare King Grimm from a safer distance, reducing the risk of taking damage while maintaining consistent pressure on the boss.
Weaversong Charm: This charm plays a pivotal role in my setup. The weavers summoned by this charm not only deal additional damage on my behalf but also, as mentioned earlier, benefit from the Grubsong charm's synergy by gathering soul from their attacks. This combination enhances my overall damage output and soul generation, contributing significantly to the effectiveness of my strategy against Nightmare King Grimm.
Nightmare King Grimm Fight Strategy
Here's a breakdown of my battle strategy against Nightmare King Grimm. It assumes that you consistently have a nail art attack charged and ready, except during the pufferfish form attack. I typically begin charging the next nail arts attack immediately after executing the previous one, unless I need to heal or during the pufferfish form attack.
Dash Attack:
For the dash attack, I usually leap over the initial dash.
Then, I have two options: either dash through the flame trail using the shadow dash to create distance or perform a great slash on Grimm from slightly above him, just high enough to evade the flame trail. (Note: Great slash has more vertical range than one might expect.)
Uppercut Jump Attack:
If Grimm is at a distance, I unleash a great slash just before he jumps upward.
If he's too close for this to be safe, I opt to dash through him to avoid the attack.
Spikes Attack:
The strategy for this attack is straightforward: I simply move away from the spikes.
During this attack, there's not much else one can do unless healing is necessary.
Flame Pillar Attack:
My approach during this attack is to minimize movement while avoiding the flame pillars as they emerge.
I gradually close the distance to Grimm with each pillar, and after the final one appears, I deliver a great slash.
Pufferfish Attack:
For the pufferfish attack, my primary focus is on evading the flames; I usually refrain from attempting to attack Grimm during this phase as it involves a higher level of risk.
Ranged Projectile Attack:
As the attack initiates, I advance towards Grimm.
I leap over the second projectile and, while still in the air, dash over the fourth projectile.
Immediately after, I strike Grimm with a charged great slash or dash slash, followed by regular nail attacks until he teleports away.
In summary, my strategy centers on caution and maximizing the use of the great slash nail art whenever an opening presents itself. This approach allows for a balanced offensive and defensive playstyle when facing Nightmare King Grimm.
Potential Openings to Heal During the Fight
While healing in the Nightmare King Grimm boss fight is challenging, there are several potential opportunities to restore your health, albeit with varying degrees of risk. Here are the main moments when you can attempt to heal:
Stagger or Stun Phase: When you stagger or stun Nightmare King Grimm (though the terminology might not be entirely accurate, it conveys the idea), you have a window to heal approximately three times consecutively. To maximize healing, refrain from attacking and focus solely on replenishing your health. This is the safest time to heal since there is no immediate risk.
Spikes Attack: During the spikes attack, there is an opportunity to heal once, possibly more if you're already positioned safely when the attack begins. This moment provides a relatively safe window for healing.
Uppercut Jump Attack: In some cases, during Nightmare King Grimm's uppercut jump attack, you may be able to heal once or even twice if you're already positioned outside the path of the descending flames when he starts jumping upward. However, this is a risky maneuver that requires practice and skill in dodging the attack.
Flame Pillar Attack: There is a brief window of opportunity to heal immediately as the fourth flame pillar erupts. This is likely the shortest and riskiest time to attempt healing and may be even more challenging without the Quick Heal charm. Further testing might be required to determine its feasibility.
In summary, healing in this boss fight is challenging and often risky, but it can be strategically timed during specific phases of the battle to help sustain your health. It's essential to practice these opportunities and assess the risk versus reward during the fight. If possible, refer to a visual guide or video for a more comprehensive understanding of the timing and execution of these healing moments
That's everything we are sharing today for this Hollow Knight guide. This guide was originally created and written by Nates games1111. In case we fail to update this guide, you can find the latest update by following this link.
If you believe that any of the content on this site violates your rights, including your intellectual property rights, please contact us immediately using our contact form.