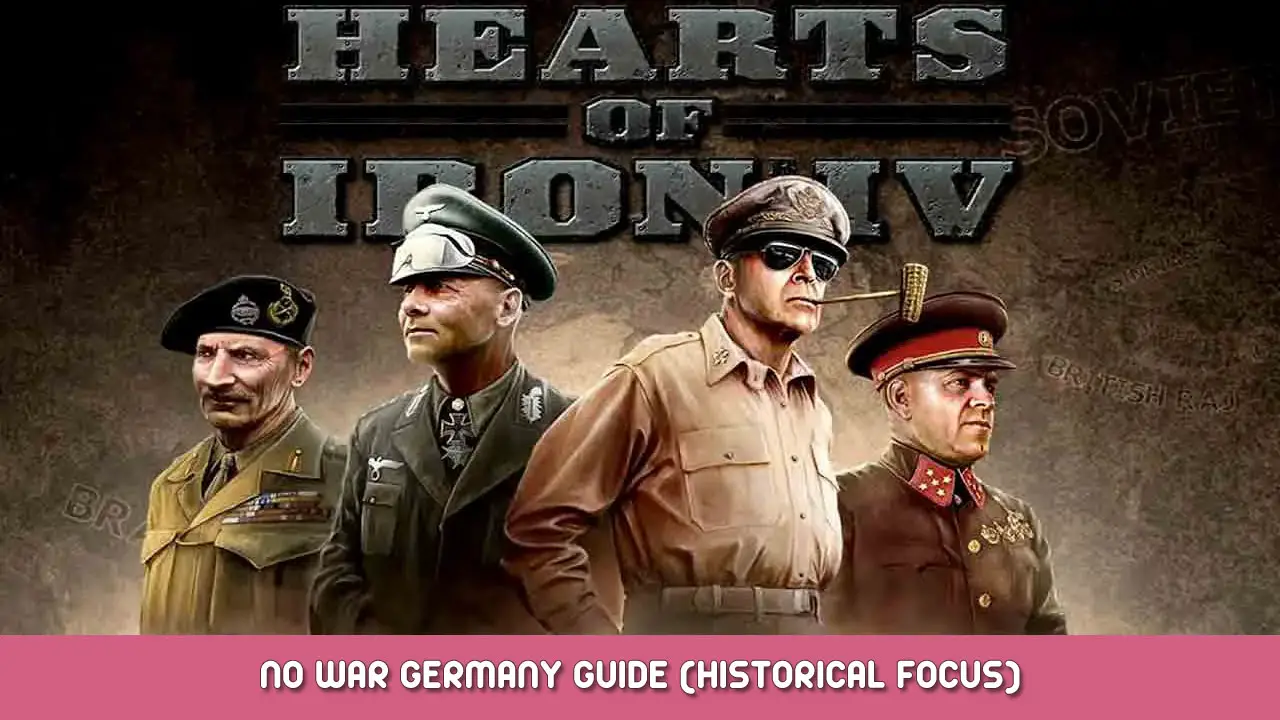 This is a guide describing how to get max territorial acquisitions as Germany without ever going to war, meaning no declaring wars and no joining defensive wars. I've noticed a few Youtube videos describing "peaceful Germany" runs, but they always just flip some other nation to Fascist and fight defensive wars, this is a purely peaceful Germany, no going to war at all. That being said, to get the maximum territorial gains requires a lot of effort and a little event RNG. There are no mods enabled for this playthrough.
On Historical Focus, your maximum territorial gains compared to the 1936 map is; All of Czechoslovakia, Hungary, Romania, Greece and Austria and about 75% of Poland, Yugoslavia and Turkey
Introduction
This guide will show you how to conquer the maximum amount of territory without ever going to war as Germany while on Historical Focus.
Game setup, 1936 start, Historical Focus, Regular, no mods
You can play on higher difficulties, the production efficiency and resaerch modifiers aren't huge, but the Political Power one can be a problem, as you require a lot of PP to annex the puppets youll be getting. Just be aware that youll have to save up PP at certain times.
Theres a lot of code that drives the events I am going to be listing, a bunch of technical stuff and multiple ways of doing certain events. The guide will start with just a basic guide of telling you what you need to do, followed by a more difficult challenge you can do and finally, an explanation of how all these things work and also alternatives if you want to test them out.
Make sure to follow the focus order specifically, theres a lot of reasons for the timings being the way they are and if you don't follow the order, a lot of these focuses will either become unavailable or fail.
I will not be going into much detail about how to build up Germany's industry, how to build templates or research builds, there are plenty of other guides to teach you these basics, this guide is for specifically how to manipulate the National Focus tree and the AI in order to get maximum territorial gains without going to war.
Theres actually a way to get even more territory through Turkey, but it requires a very very long playthrough, I have added the strategy for that at the end of the guide. Basically you can annex anything that Turkey annexes, so you want to get to join Japan's alliance and win the war for them. The "normal" challenge only runs to about 42-43.
Focus 1; Rhineland, January 1936
Government Setup
Start with Rhineland as your National Focus. With Political Power I usually start with Free Trade, then Rudolf Hess. Keep MEFO Bills, dont bother with any other Decisions.
Construction and Production
Youre going to go with a heavy macro build. The ultimate goal is to have about 6 strong medium tank divisions by around April 1940 to send as volunteers, 8 would be better, so right now you need to focus on building up Civilian Factories and Infrastructure. As I mentioned in my introduction, I am not going into detail about macro builds, just build up your industry as fast as possible.
As for your military factories, since you only need those 6 medium tank divisions, most of your production right now does not matter and I would hold off from building any medium tanks until you get the army XP and some more research done. Just make sure you plan out your production to be up and running for those 6 tank divisions to be deployed by April 1940. I would suggest only to produce equipment that requires Steel and Aluminum, so that you dont have to trade away Civs for resources.
The important things to note about your resource allocation are;
1. On Free Trade, you will only have 1 Tungsten, I put that on 1 Artillery
2. You have 0 Rubber, I trade for 8 Rubber, I put that on 2 Motorized, 2 CAS, 4 Fighters
3. The rest of your Mils can be put on pretty much anything as long as youre not trading away any Civs
For Dockyards, ideally, you want to cancel all of your ship production and just put them all on Convoys, theyll be important for annexing your puppets.
Army
Just lump your divisions into 1 Army, they dont need to do anything, but
do notdisband them, you need them for volunteer limits.
Youll also need to deploy divisions to get your manpower up to 850k for certain focus, I usually go to 1M to up the volunteer limits slightly, but you can go higher if you want as long as you don't have 0 MP remaining.
In order to save enormously on equipment for deploying manpower and also deploy them really fast, you can make "Dummy" divisions. Take the motorized division template that Germany starts with, make a copy of it and remove all new equipment it can receive. To do this, in the Division Designer, click "Division Equipment" button at the top of the window and uncheck all boxes in the window. Then, start training 10 of the Cavalry divisions (the smallest divisions you have). When they hit 20% trained, deploy them immediately. When theyre deployed, switch their templates to the Dummy template. The Dummy divisions that are now deployed will not receive any new equipment, but will be reinforced with more manpower. Obviously, these divisions aren't any good for anything but standing around, so do not use them for anything else.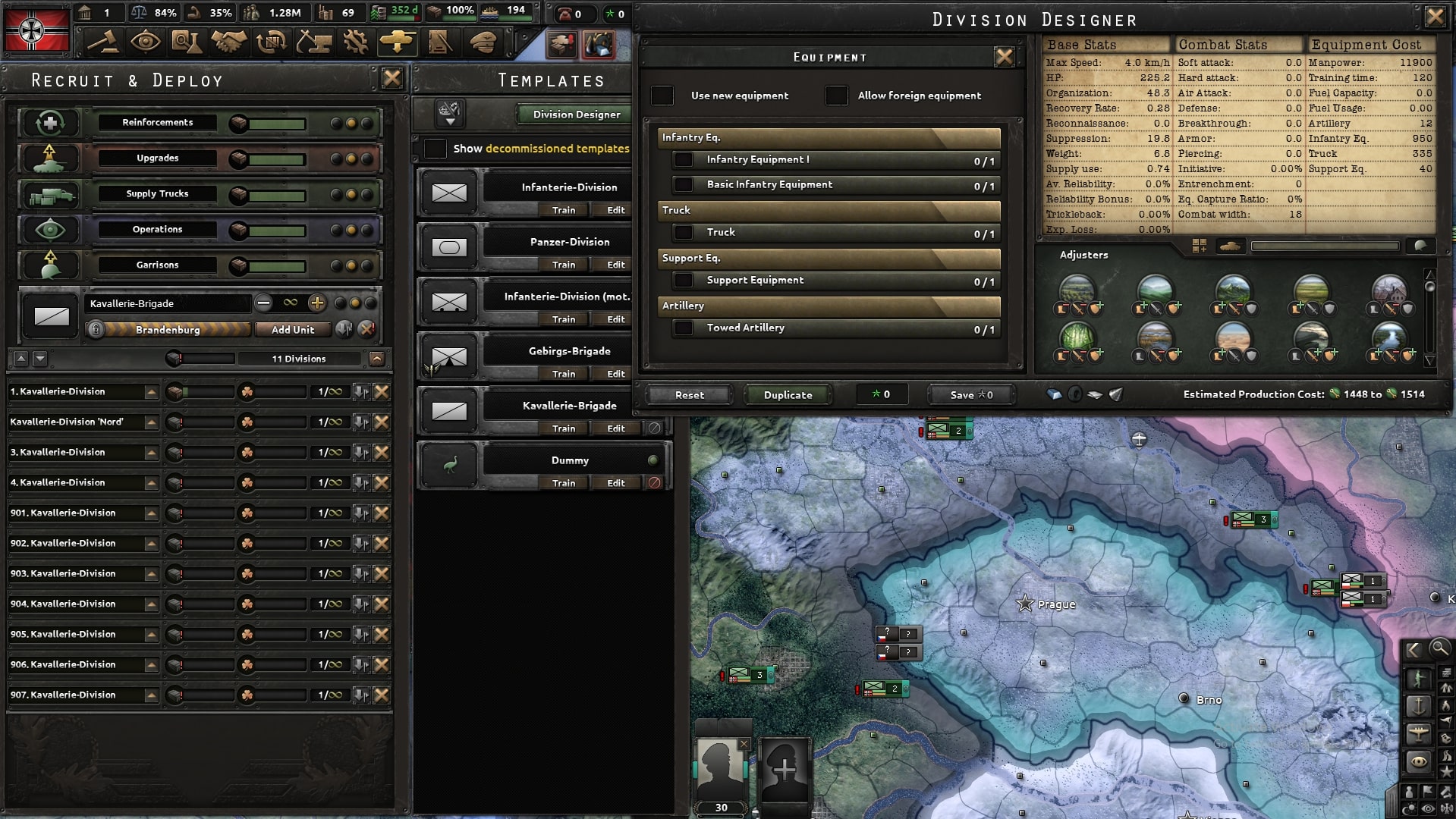 Air Force and Navy
Ill start with the navy, you literally can't do anything with your navy except scout coasts. You can keep them around in port if you really want, but you can also just disband them to get a little bit more manpower. Do not train them or send them out early, as it's just a waste of fuel and you don't want to waste Civs to trade for more.
For the Air Force, youll want about 600 Fighters and 200 CAS trained to Regular by April 1940. The rest you can just leave in Stockpile. For now, I would try to train 100 Fighters and 100 CAS, as youll want them for the Spanish Civil War.
Research
Basic macro build, start with Industrial and research techs and move onto techs that let you build strong tank divisions.
Focus 2-9, Spanish Civil War
Focus Order
2. Four Year Plan
3. Autarky
4. Hermann Goering-Werke
5. Kdf-Wagen
6. Grossraumwirtschaft
7. Anschluss
8. Demand Slovenia
–
NOTEThis has a 1/10 chance of being denied, if it does you need to reload or start a new save if on Ironman
9. First Ljubljiana Award
The idea here is that you have to take The First Ljublijana Award as your 9th focus, this is to get it done before Italy does Claims on Yugoslavia. If you do it later, Italy will take the Dalmatian coast when you do this focus. The other focuses are obviously to build your economy. Unfortunately, you cannot get Extra Research Slot, there is not enough time. Focus 3-6 are really the only "unnecessary" focuses in terms of conquering territory, but they are the best ones to get early.
NOTEThe AI has a 10% chance to deny Demand Slovenia, unfortunately, theres nothing you can do about this, if it fails, reload a save, or restart if on Ironman.
Government
Once Four Year plan is done, you want to get Hjalmar Schact, then Martin Borman. Afterwards, fill your remaining slots as you see fit.
Spanish Civil War
Send 4-5 of the Infantry divisions you start with and all the planes you can and grind XP in Spain. You need this for your division templates and to make your tank templates as well as your doctrines.
Focus 10-19 Fate of Yugoslavia
Focus Order
10. Fate of Yugoslavia
Before you complete Fate of Yugoslavia, you must disband the Axis. If you do not, Yugoslavia will immediately coup the government after you puppet them.
– This focus has 3 options; annex all, puppet Croatia and annex Serbia, and Puppet both.
– Select Puppet Both
NOTEPuppetting both has a 1/6 chance of failing, it is your best odds at completing this focus. The other 2 options have worse odds of succeeding.
11. Reassert Eastern Claims
12. Align Hungary
13. Align Romania
14. Demand Sudetenland
15. Army Innovations
16. Treaty with the USSR
17. Molotov-Ribbentrop Pact
18. First Vienna Award
19. Fate of Czechoslovakia
Events
Bulgaria will start asking you to recognize their territorial claims or to award them territories, always deny them. Hungary might ask for some things as well, but that doesn't really matter, since you'll annex them later anyway.
Intelligence
Around the time you complete Reassert Eastern Claims, form your Intelligence Agency. Get Psychological Warfare, Suicide Pills and 3 Cryptology upgrades to get your second spy. Pick the Turkish spy as your first agent. Send your agents to Turkey to build an Intelligence network and once its big enough, boost ideology.
Government
Make sure you're saving a little bit of PP going into Demand Sudetenland. When it completes, Hjalmar Schact will be removed from government, replace him with Walther Funk, this is the latest you really want to start making military factories. I usually stop building military factories at around 115, once most of them are complete, switch from Funk to Wilhelm Canaris for an extra spy.
Sino-Japanese War
You will still want more Army and probably Air experience, so send 6 Infantry divisions to China and some Fighters. Its best to send them to China as Japan will just grind into your divisions to get you XP. You can send volunteers to Japan, if you do, just do not capitulate China until after the Soviet's declare war on Finland so you do not spike World Tension too high.
Annexing Yugoslavia
The next focus after this, you will need to create a new faction, but since Yugoslavia is your puppet, they will immediately join your faction and coup the government if you do this. Thus, you need to donate them materials and/or build stuff in them in order to lower their autonomy and annex them. You actually have very little material if you make military factories as late as I do, so only do this around the time you're doing Fate of Czechoslovakia.
Focus 20-23 Alliance with the USSR
National Focus
20. Integrate War Economies
You must have Romania and Hungary in the faction before you complete this.
However, you must also annex Yugoslavia before you form a faction with Romania, as Yugoslavia will still coup the government if they are in a faction with Germany. Ensure that this is done before
21. Alliance with the USSR
22. Second Ljubljana Award
-Deny Bulgaria territory
23. Fate of Greece
NOTEFate of Greece has 1/21 chance of failing.
World War Two
Alliance with the USSR will complete in January 1940, This will cause
ALLdemocratic nations in Europe
ANDthe USA to join the Allies. Italy will immediately be available to join your faction,
do notinvite them, your puppets will already be in the faction. At some point after this, Bulgaria will become available to join the faction, once again, do not yet invite the.
At this point the Soviets will be about 30 days from completing Secure Leningrad. Occasionally, Finland will fold and give up the territory, if so, great. Most often however, they will go to war with the Soviets and join the Allies.
When the Soviets do declare war, you want to kick them from the faction, but you will not be able to until 3 months after the faction formed. Therefore, you just need to wait until you can kick them. Once they are out of the faction, you must invite Italy to your faction to prevent them from trying to go to war with Greece. At some point Bulgaria will also want to join, invite them as well.
The war will most likely start against Finland, you do not need to immediately send your tanks as volunteers to Soviets, the Soviets will fight the Allies for a while, you just need to ensure the Soviets don't lose too badly. Sometimes the Soviets can fight off the Allies in Finland on their own, this is why i said to make your timings on your tanks for April, as the Soviets will do fine until then at least.
Bulgarian Alliance
At some point during this, Bulgaria will want to join your faction. You should make sure that the Soviets and Italians are kicked from the faction before inviting them, or else the Bulgarians will go to war with the Allies and likely lose. You will need Bulgaria in your faction for later. To do this, you have 2 options. Either let them go to war with the
Next, the Soviets will be manually justifying on Poland and declare war on them in around June 1940. Poland will be guaranteed by the Allies at this point because of high World Tension.
This is the most important part of the game in terms of combatIf you do not do this properly, you will end up losing a good portion of Poland
When the Soviets declare war on Poland, you need to have all your volunteer tank divisions in the Soviet Union lined up on Poland. You need to thin out a bunch of front line units and secure supply hubs. When youre about halfway to Warsaw, you should do a full out Blitz towards Danzig and Gdynia. Try not to capitulate them until you have those 2 cities. About 2 weeks after Poland capitulates, the Soviets will transfer you Western Poland as agreed upon in the Molotov-Ribbentrop Pact. If youre having trouble pushing, it can help if you manually justify war against France. This will screw up the AI and they will start transferring troops back to France to put on the border with Germany, just make sure you cancel the justification before it finishes.
NOTEThe reason you really need to try and blitz Danzig and Gdynia is because only territory the Soviets control will be transferred to you when the Molotov-Ribbentrop Pact event fires. This means any territory that the Allies control when the event fires will never transfer to you. Allies will tend to be flooding in through those ports and its also the farthest point West to capture, so you need to push hard and fast as after you push your way through, the Soviets will be capturing the remaining VPs in Southern Poland and capitulate them.
At this point, you're pretty much done with WW2, you can help the Soviets push out the Allies and help them conquer the Scandanavian countries if you want, or you can just send your tank divisions back to the Urals and wait, or disband them if you want.
Focus 24 and onward, Turkish Civil War
This section is pretty much just about annexing your puppets and puppetting Turkey and its the most RNG heavy part of the run.
Turkish Civil War
Most likely you will have to orchestrate a coup in Turkey. I find this is pretty safe once you have about 40%+ Fascist popularity. When the coup fires, send as many tank divisions as you can and air volunteers. Usually you can only send 3 tank divisions, thats fine, the Turkish divisions are all very weak.
Once the civil war is over however, for some reason the new Fascist Turkey loves Japan and will immediately join their faction and go to war with the Allies. So you need to send your volunteers straight back to Turkey and make sure they do all right for the time being.
Focus Order
At this point take whichever focuses you want until Turkey flips to Fascist, when they do, pick the Puppet Turkey focus
NOTEThe Puppet Turkey focus has a 3/10 chance of failing if Bulgaria is in the faction AND Tureky has a Fascist government. If you don't manage to flip them Fascist, your odds drastically fall to a failure chance of 11/18.
Annexing your puppets
NOTEDo not annex Greece until Puppet Turkey is complete, as having Greece in your faction is required for the focus.
In order to be efficient, make sure to lower your puppets autonomy one at a time as you will get back all of your equipment once you annex them and you can then use that equipment to annex the next one.
I would also cancel MEFO bills around the time Poland is annexed in order to increase your Political Power.
Once all your puppets are annexed, you've done it! You've peacefully united most of Eastern Europe under the German flag.
Conquering Even MORE, manipulating Turkey
It turns out, the Puppet Turkey focus' restrictions are not based on anything like guarantees or faction they are currently in, thus its possible to get them to conquer a great deal of territory, then puppet them later.
The sky is kind of the limit here and theres no predetermined amount of land that they can conquer, on the one game I did this, they annexed all of Great Britain and Ireland, so i scored that as well. AI Turkey doesnt seem to have any preference for annexing nearby territory, they dont even seem to be interested in annexing neighbouring Syria. Keep in mind though, this took me until 1949. Personally, I have never done this with Turkey joining the Allies.
Theoreticallyyou could just not flip Turkey Fascist until they join the Allies, then after the war is over flip them Fascist, but it might be extremely difficult to do if you have to fight all the Allies with just volunteers.
At any rate, this challenge involves Turkey joining the Co-Prosperity Sphere, then using your German volunteers to give Turkey as much war score as possible so that they annex as much territory as they can.
For this portion, I will assume you have just followed my guide earlier and I will only be mentioning things that specifically change for this challenge.
Economy
I still time my mils around the same time, but once your tank production is set, you need to crank out loads and loads of CAS, Fighters and to a lesser extent Naval Bombers. Your air volunteer limit is dependent on your total number of aircraft, so you're going to need to make tons, as the Allies will absolutely dominate the nations going to war with them.
Sino-Japanese War
Send your volunteers to Japan. You want to push China and capitulate them around the time you're doing Fate of Czechoslavakia at earliest and mid-1941 at the latest.
World War Two (Advanced)
When you create the Alliance with the USSR, you should invite Italy and Bulgaria. When the Soviets declare war on the Allies, Bulgaria and Italy will join them. You basically want to bide your time until Japan joins the war. It is
possibleto just sit by and wait, but most likely by this point all 3 of those nations will be in a really bad state and if Bulgaria capitulates youve pretty much failed because you need them to be alive in order for the Puppet Turkey focus to be likely to succeed.
Because you will be kicking Italy from the faction, after you do Fate of Greece, you should immediately start lend leasing them in order to annex them, as Italy will shortly after try to take War with Greece and you do not want that focus to complete. You can release them later in order to do the Puppet Turkey focus.
The Co-Prosperity Sphere
Due to the way AI chooses to create and join factions, you don't want the Soviets, Italians and Bulgarians to be factionless simultaneously, as they might create a faction together instead of joining Japan. Ideally, you want all of them to join Japan. However, you pretty much have to kick at least the Soviets or the Italians, because you cannot send volunteers to your faction members. Kicking the Soviets can result in them creating their own faction with one of the Baltic States instead of annexing them, this can mess you up as Italy may join them later. You mostly want Italy, Bulgaria and Turkey to end up joining Japan so you can join with them later. The reason you want as many nations joining Japan as possible is to make it easier for your Turkish volunteers to fight across the world, as you will not be able to move them through nations in other factions.
Japan unfortunately only joins the war in May 1941. Thus, the Soviets, Italians and Bulgarians need to survive until then. If you were to do nothing until then, Bulgaria might already be capitulated and the Soviets will be getting pushed through Belarus
What works best I find is NOT inviting Bulgaria to the faction (yet), but do invite the Italians. In order to prevent the Soviets creating their own faction, leave them in the faction until they have annexed all the Baltic states, then immediately kick them and send volunteers. You will need to fight your best in order to do succeed, as the Soviets will be well on the defensive at this point. You will want to fight as hard as you can and reduce the Allied armies as much as possible and like always, make sure Poland is completely occupied for the Molotov-Ribbentrop event. Send your fighters anywhere theres Allied planes as you really need to keep them under control.
Once the Japanese finally join the war, if youve been putting enough pressure on the Allies with your Soviet volunteers, Italy should still be alive. Now, you need to invite Bulgaria to the faction, once theyre at war with the Allies, wait until the Soviets join the Co-Prosperity Sphere if they havent already, then kick Italy from the Faction. Bulgaria will have to hold for about 3 months while you wait until you can kick them from the faction (since you just invited them). Albania is probably already occupied, so send air volunteers to Italy in order to give Bulgaria air coverage for the time being. In fact, really send air volunteers everywhere you can to fight the Allied air force. Once you're able to, kick Bulgaria from the faction, they will join the Co-Prosperity Sphere.
At this point the Bulgarians are probably in bad shape, but since theyre in a faction at war, they can be liberated later, if you want, you can now sail some of your Soviet divisions across the Black Sea to push the Allies out.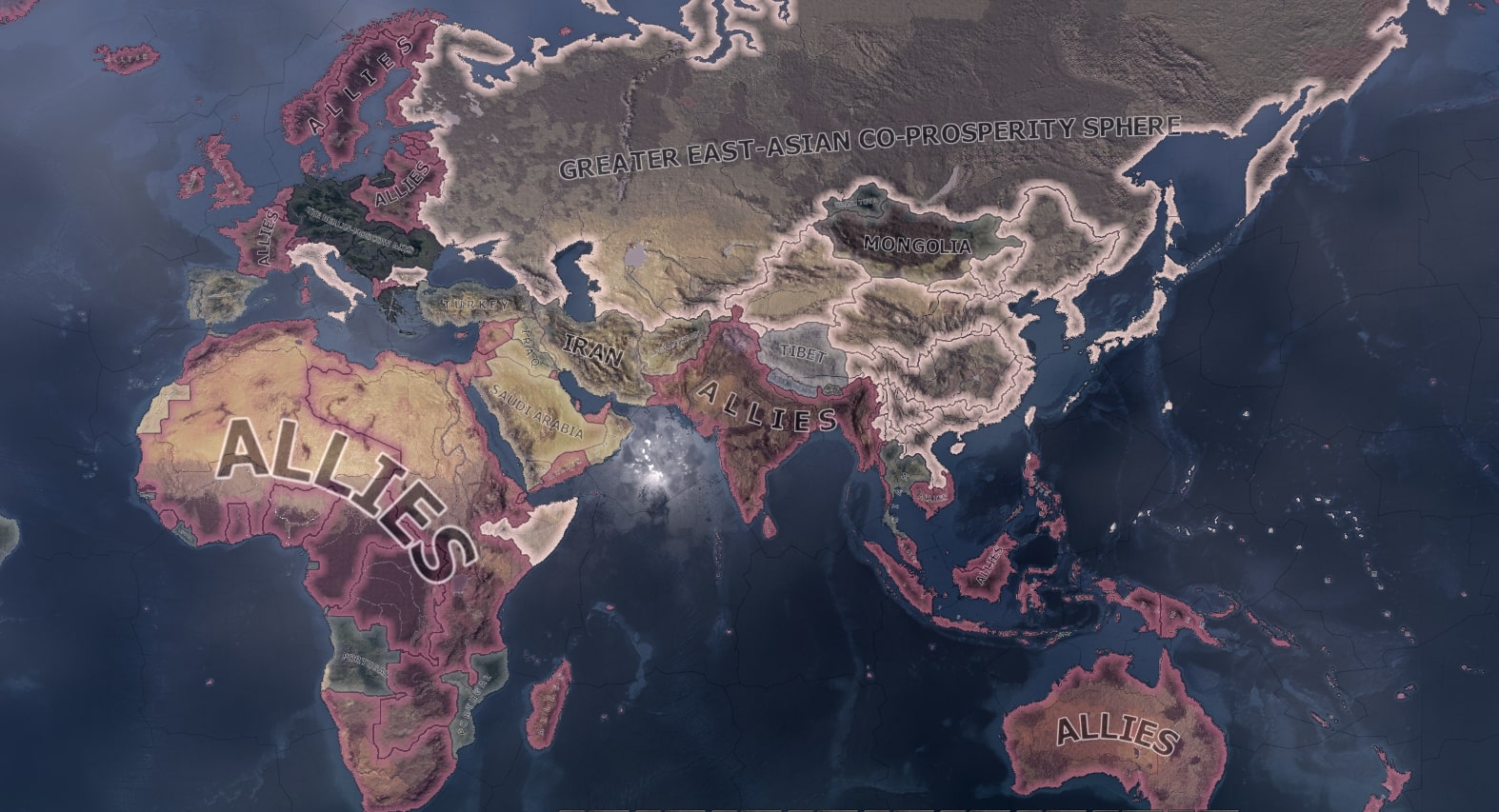 Getting Turkey involved
You should start staging your coup around the time Japan declares war so that you can deal with the civil war shortly after youre finished dealing with Bulgaria. Once youve won the civil war for them, they might not join Japan yet, if they dont, you can spike World Tension by justifying on France or the UK, which should spike it enough for Turkey to join. Once they do, cancel your justifications.
Manipulating Turkey pt.2
Fighting with your volunteers
So you have 4 priorities here;
1. Get Turkey the max amount of war score possible
2. Try and have Turkey as the controller of as much land as possible
3. Destroy the Allied air force
4. Destroy the Allied Navy
Warscore depends on which of your volunteers are fighting, so ideally for ground troops, only fight with your Turkish volunteers and use your other volunteers for things like holding the line and garrison duties. Try to use Turkish airports as much as possible, but you will need to use any and all airports you can to fight the Allied air force and navy, so dont worry about which airport theyre in too much.
To get Turkey as much land as possible, you should be pushing with them out of Turkey to down to South Africa. They should occupy everything to the Sudan. When launching naval invasions
ALWAYSuse Turkish volunteers, that way they get the land when they land.
As I have said before, you will need to engage the Allied airforce in every air zone they are in in order to whittle them down to something manageable, so you should be sending every single Co-Prosperity country air volunteers to do this.
Destroying the Allied Navy requires you have Naval Bombers over every sea area the Allies use that you can reach. This is so the Co-Prosperity navies can launch naval invasions.
Bulgarian Diplomacy
Bulgaria tends to drift back to democratic after a very long time, which will result in them leaving the faction once the war is over. So basically, you want to send your spies to Bulgaria the entire time to boost Fascism to keep it high.
Winning the War
This will take a long time, your biggest problem is that you're at the mercy of the Japanese AI the control naval zones. With good volunteer divisions and micro, you should be to conquer most of the world except the Americas and West Africa with minimal frustration, but you will still be stuck waiting on naval invasions for random naval units to patrol the zone. After youve conquered most of the world, its really just a lot of waiting for Japan to try and invade the USA. Theres not much you can do and this part is really boring and frustrating.
Once the last North American major capitulates, you want to ask Japan to join the faction. As soon as you do, release Greece and start your Puppet Turkey focus. There shouldnt really be much to do or worry about at this point. When it fires, theres still a 30% chance it fails unfortunately, so if you've been playing on Ironman and it fails, well, youre out of luck. If they do accept, all of Turkey, except 3 regions that are transferred to the Soviets, will become your puppet. Now just Lend Lease them until you can Annex them.
Hope you managed Germany's grand dreams of world domination without ever going to war with another country, that's all for the walkthrough!
Event order and RNG explanations
This section is just listing how the event probabilities work and why certain things are timed the way they are. You can check out most of this stuff in the hoi4 events folder.
Rhineland
You take Rhineland first because you're manipulating World Tension. You want to take this first so that world tension will decay over time while you take other focuses. This is mainly to keep world tension low until Fate of Yugoslavia, because if tension is too high the UK can guarantee them and then Yugoslavia will have 100% chance to deny you.
Focuses 2-6
This is just to beef up your economy, but Four-Year Plan also opens up Align Romania and Align Hungary for later.
Anscluss will always succeed on historical focus.
Demand Slovenia
This has a 1/10 chance at being denied and there's no influencing factors.
First Ljubljana Award
You need to take this as the 9th focus (or earlier). Italy does Claims on Yugoslavia as its 10th focus,which changes how the Award works. If Italy has their claim, they will be given the Dalamatian coast permanently when you do the Award focus. If you do the Award focus before then, then Italy does not get Dalmatia when they do their focus. Unfortunately, theres nothing you can do about Bulgaria getting Macedonia.
Fate of Yugoslavia
This needs to be done early while world tension is relatively low so that they don't end up with a guarantee from a major, which causes this focus to automatically be denied.
As I stated earlier in the guide, selecting Annex all has a 1/3 chance of being denied, puppet Croatia has a 1/2 chance of being denied and puppet Yugoslavia has a 1/6 chance of being denied.

However, if Yugoslavia has Anti-German Military and joins Germany's faction, they will coup the government after 1 day. There is no way of getting rid of Anti-German Military from Yugoslavia, so the only way to avoid this is to dismantle the Axis before puppetting them. Strangely yes, they can be your puppet but not coup the government as long as you do not have a faction, but as soon as you join or create a faction with Yugoslavia as your puppet, they will automatically join the faction and the event will fire.

Demand Sudetenland and Fate of Czechoslovakia will never fail on Historical focus unless they are already in a faction, thus this needs to be done before Alliance with the USSR, as the Czechs will join the Allies when you do.
Integrate War Economies
Romania will sometimes reduce its Fascist popularity repeatedly and you will not be able to invite them to the faction until very late into 1939, this is why I put this as the last focus before Alliance with the USSR.
Alliance with the USSR
This must be done as your 21st focus as it requires the USSR to be at peace and they shortly go to war with Finland after your 21st focus completes. The Allies will guarantee Finland and go to war with the Soviets, thus locking you out of Puppet Turkey if you do not take it now.
Fate of Greece
As stated, this only has a 1/21 chance of being denied, but will always be denied if they have a guarantee from any other country. Romania starts the game with guarantee on Greece, but they lose it once Romania turns Fascist, which they will be by the time you take this as your 23rd focus.
War with Greece (Italian Focus)
The only time Italy will declare a war on another country in Historical focus is through this focus. However this Focus is prevented if either Greece is in the same faction with them or Greece does not exist as a country. Therefore, you have to make sure that Greece is either annexed or Italy is in your faction in order to prevent war with Italy. This is why you need Italy in your faction most of the time after mid-1940, as you need Greece to be alive in order to do the Puppet Turkey focus.
Claims on Bessarabia (Soviet Focus)
The Soviets will normally try to do this focus in mid 1940. However, if Romania is in the same faction as them, they will actually choose to bypass the focus, meaning they will never be able to actual start doing the focus at all once its been bypassed. This is why you need Romania to be your puppet before joining the Berlin-Moscow Axis.
Puppet Turkey
This focus has the most factors that effect it and the maximum chance you can get is 7/10 chance of success.
The options they can pick are based on weighted odds whose dependencies I will list here;
Option 1. Turkey accepts being puppetted
– Factor if Bulgaria is not in Germany's faction = 35
– Factor if Bulgaria is in Germany's faction = 70

Option 2. Turkey joins the Allies and denies you.
– Factor if Turkey is Democratic = 50
– Factor if Germany is +25% towards surrender = 50
– Factor if both the above are true = 250
– Factor if none of the 3 above are true = 10

Option 3. Turkey denies you, does not join Allies.
– Factor if Turkey is not Fascist = 100
– Factor if Germany is at war with the USA, Soviets and UK simultaneously and none of them have capitulated = 100
– Factor if both the above are true = 500
– Factor if Turkey is Fascist = 20
– Factor if Turkey is Fascist and Germany is at war with the USA, Soviets and UK simultaneously and none of them have capitulated = 100

So what you're trying to do is reduce the odds that the AI picks options 2 and 3 and increase the odds that it picks option 1.

As you can see theres a lot of factors influencing the other 2 options. What this essentially means is that if Bulgaria is in your faction and Turkey is Fascist, Option 1 has a weight of 70, Option 2 has a weight of 10 and Option 3 has a weight of 20.

Since youre never going to war, realistically the ones related to war will never happen. Turkey will remain Non-Aligned without outside interference, so the Democratic factor is not going to be an issue either.

So if you try to do the Puppet Turkey focus without Bulgaria in the faction and Turkey is still Non-Aligned, Option 1 will be given a weight of 35, Option 2, 10 and Option 3, 100. Thus you would have only a 35/145 chance to actually get the focus to accept.

Even if you have Bulgaria in your faction, your odds only increase to 70/180, so you really need to both have Bulgaria in the faction as well as flipping Turkey Fascist in order for this focus to have good odds of being successful.
Conclusion
So there you have it, all the territory you could want without ever going to war unlike the warmongering Allies and Co-Prosperity powers.
I've been looking at doing this with other nations, so far I've only looked at the UK, but its really just doing the Imperial Federation for the cores, then going down the tree that lets you puppet Iran and Afghanistan. This guide though actually took me long time figuring out all the checks that I had to avoid and such, so I probably won't be doing another for a while.
Hope you all enjoyed the guide!
That's everything we are sharing today for this Hearts of Iron IV guide. This guide was originally created and written by Reinforcements. In case we fail to update this guide, you can find the latest update by following this link.
If you believe that any of the content on this site violates your rights, including your intellectual property rights, please contact us immediately using our contact form.