Title: Foundation
Release Date:
Developer:
Publisher:
100% Achievements and how I unlocked them all!!
Along with tips for things i encountered along the way and weren't explained very well in any of the information panels. Hopefully this information can help someone, please let me know if there is something you would like me to add to the guide. Will be adding photos of things soon.
Achievements
Your First Church

If you play through the first guide when playing a new map you will obtain this achievement pretty easily, you start with a rustic church all you need is a room, bell tower and a door and you will meet the requirements once it has built.
Bad Weather Survivour

This one you just have to build up lots of food so you don't run out while the rain event is on, it's a month long and you simply just have to wait it out to obtain the achievement.
Expansion

You start with a free territory, when you buy your second piece of territory (flag tab) you will receive this achievement.
Bathing in Gold
This one takes a bit longer and more of an end game achievement, depending on your play style you may want to put little treasuries all around your map making it look nice or you can opt to build one or two ugly massive buildings like below and just wait for profits. Once treasuries are unlocked (First; Manor House – unlocked at the start, Second; Military Base – you can choose to unlock when you reach 10 prosperity, in the kingdom tree it comes with the military fort, Third; Clergy – you can choose to unlock when you reach 30 prosperity and 5 rating/splendour in the clergy tree) you can start choosing them as a sub-function when building those buildings either stand alone or by editing them.
As you are building/editing you can drag the building to make it taller, this will also increase the treasury limit highlighted in green. ZKE3PER TIP: As you can see below my lazy effort was to use a monastery building as it has the highest limit to begin with and then drag it up to increase the limit. Depending on how much stone and polished stone you have you can choose two different buildings, one uses only stone but the limit is smaller and the other polished stone and has the highest limit. Using the larger building you will only need 3-4 to increase your treasury to 10,000 to then allow profits to fill it.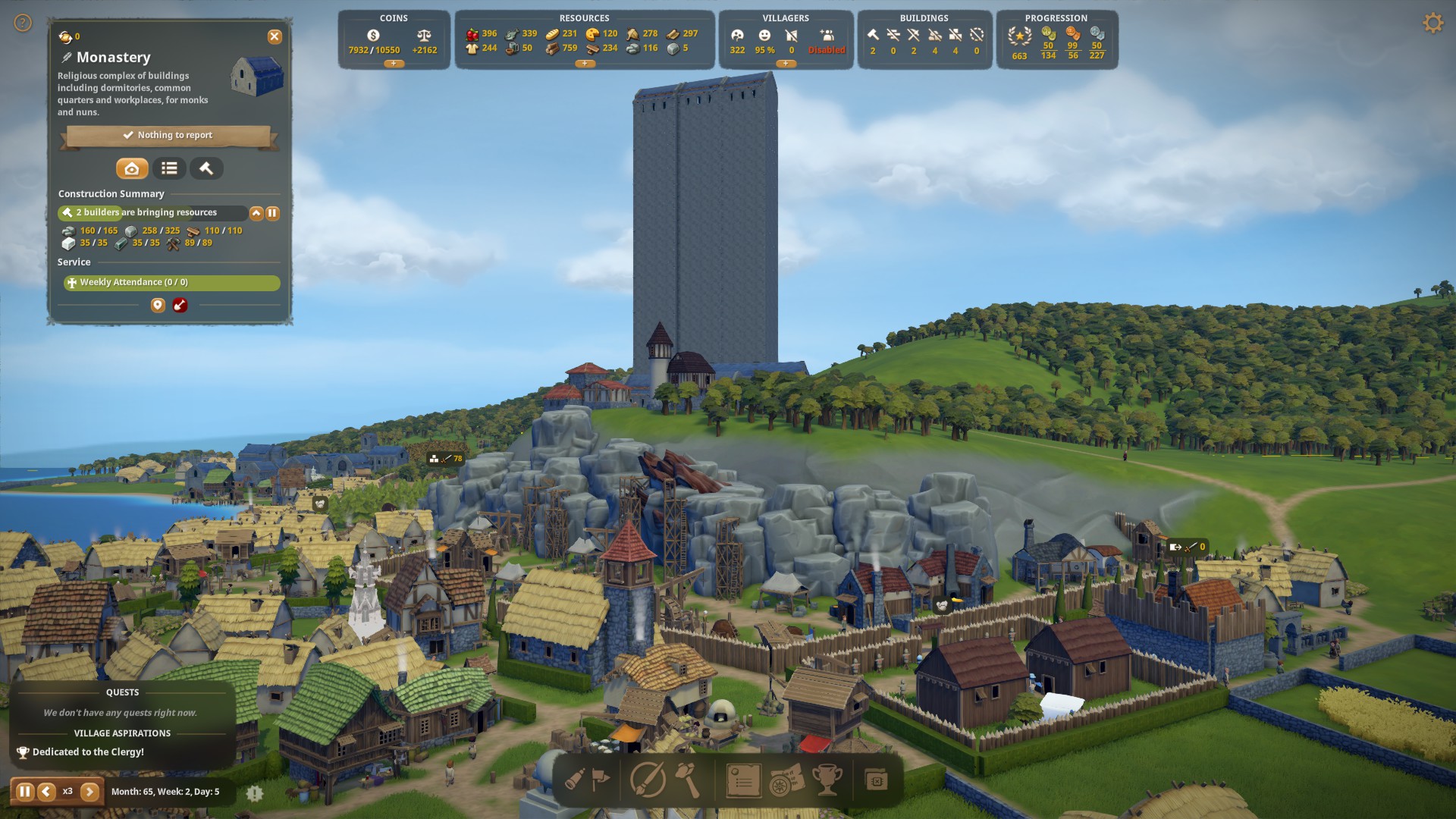 Once you reach 10,000 gold you will obtain the achievement.
A growing village!

This one isn't hard to do, just time consuming. If you simply play the game you will eventually get it with all the buildings you will need and plebs it takes to fill those jobs.
A thriving city!

This one is a little harder to do, and I recommend doing it late game when you don't really care about it anymore or planning to start again (Yes, starting again is very addictive in this game). Most maps I've played only need 250 – 300 plebs to function so that last 200 is tedious, again depending on your play style you can just keep making your lands larger and larger or you can opt for my lazy method below.
ZKE3PER TIP: Build a separate military fort that is barracks only, a church nearby, a market with 1 food type and a well for water to keep them happy. Then just keep making all the newcomers militians until you reach 500 population and you'll end up with something like this: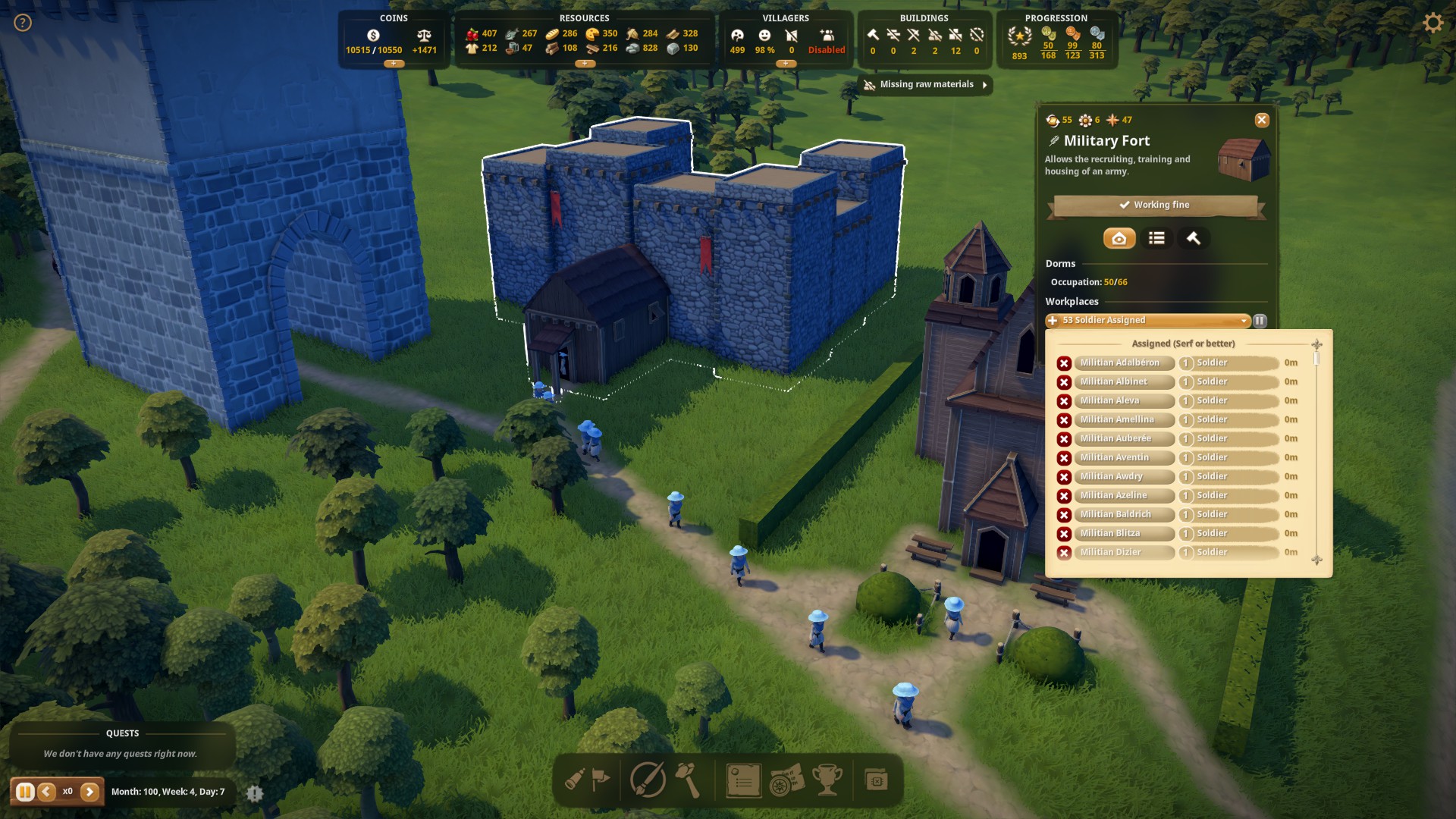 OMG, a black sheep. Impossible!!

Just keep spawning sheep until you get a black one. More specifically 60 sheep. There is a cute little script on the tab you click to spawn sheep as well for a laugh. Spawning sheep does not affect the desirability more but you can also de-spawn the sheep once you are done if you want.
Sound the trumpets!

Once you build a military fort and assign some militians you can start sending them on missions in the mission tab of the progression book. The kingdom once you build the fort will come along and give you some free swords, good idea to give your soldiers weapons (but I mean you play however you want) you can do this on the soliders tab under the missions tab. As soon as you get your swords if you are quick you can send them on a little training battle called "Proving Ground" with the kingdom for experience. As soon as they come back successful from their first mission you will get this achievement. More tips and tricks under the military section of my guide.
We band of Brothers

I achieved this back when the set up was different, now after full release it has changed. I am currently working out the new way of obtaining this achievement and will update this accordingly. My theory at this time is completing (successfully) every named campaign.
Second round of testing: We tried this on a new steam account and did the first "proving ground" mission the kingdom gives you once your first military building is built. Upon completion of that first and only mission we got both 'Sound the trumpets!' and 'We band of Brothers' *Insert Confused Face* So either its bugged or if you do that mission you cant get it quickly. Time to test it on a third account …lol.
Third edit: Another steam account we played the game and ignored the proving ground mission and did an easy mission and still got the achievement so I'd dare say they are giving you the achievement due to the game being different now in how you do missions. orrrrr it's bugged!
A Legend is born

Promote a soldier to a Knight. This will require you to have promoted (Promotions via the mandate tab) 6 militians (need to be level 4 to promote) to soldiers, then when at least one of your soldiers is at level 10 you can promote them to a Knight. For every Knight you need 5 soldiers (rank Solider not Militian). So I would suggest levelling 6 troops at a time together for the 'A Knight to Remember' achievement/masterpiece.
The beginning of knowledge

Study a blueprint. How do you get a blueprint you ask? military campaigns.
When choosing a military campaign on the right it will show you a list of possible rewards ("Possible") look for the one with a 10% chance for a unique reward, yes you heard that correctly 10% chance!? meaning you're going to be doing a lot of missions, unless you get lucky like my partner or perhaps my game/map was a little buggy as I did not seem to get them until I had gotten the Knight to Remember masterpiece then I got all four in a row.
Now, when you finally get your blueprint (they count as a resource so you can look there too, to see how many you have) you can get your bailiff to study it on the mandate tab. Once they study it (Like prospecting a mine site) you will obtain the achievement.
Knowledge is all!

Don't be fooled! the picture shows three blueprints. There are in fact four to obtain via missions and study with your bailiff. Spoilers they are; one statue, one administration building, two different churches.
Achievements – Masterpieces
The next lot of achievements require you to build the masterpieces and fill their effect conditions. In this section I'll tell you how to unlock the masterpiece, a section on filling the effect conditions and some other hopefully handy dandy tips.
For Whom the Bell Tolls

Unlocking: Sell between 1,500 – 2,000* worth of goods via trade within two weeks. *The tip I used said to sell 2,000 and when I got the masterpiece I had sold 1,600 so it's roughly between these amounts.
Reward from the monument when condition is met: Significantly increased desirability (The area is quite large turned all my production red area bright green)
ZKE3PER TIP: I stopped trading and stocked goods for around one month, then started trade again at the start of the month so I could see how much I was selling, I got the masterpiece just before two weeks when I had sold 1,600 worth. I could see this via the budget tab.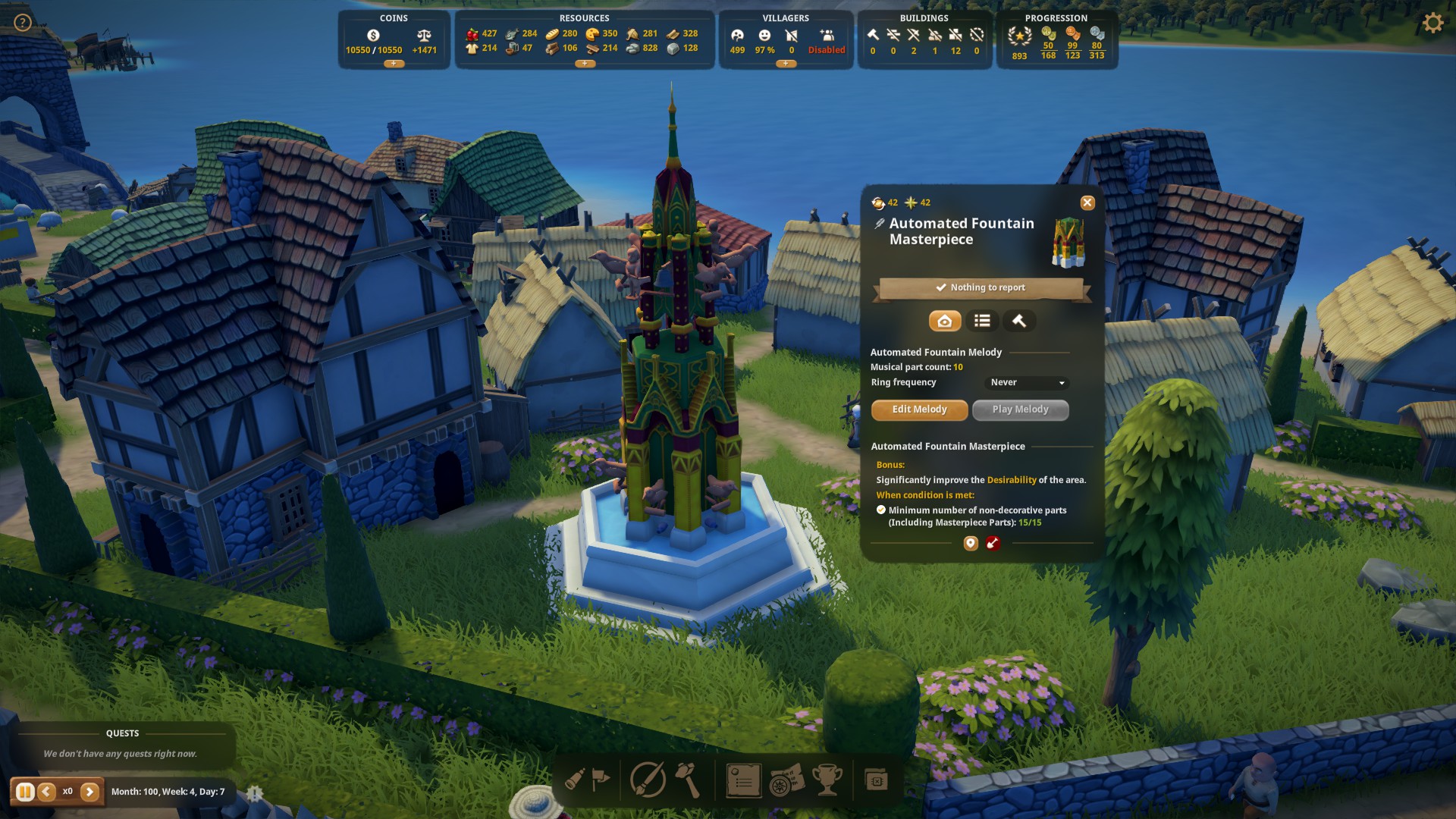 Once built filling the effect conditions, the achievement was unlocked.
A Modest Symbol

Unlocking: Obtain 50 splendour with a monument, easiest with the monastery. Splendour/rating is the little stars when building/editing. So if a building piece has no star is does not add to the splendour rating so if you are trying to gain splendour quickly choose the parts with the higher star rating. The star is at the very top of the extended tab when hovering over parts to build.
Reward from the monument when condition is met: +1.0 Clergy Influence per week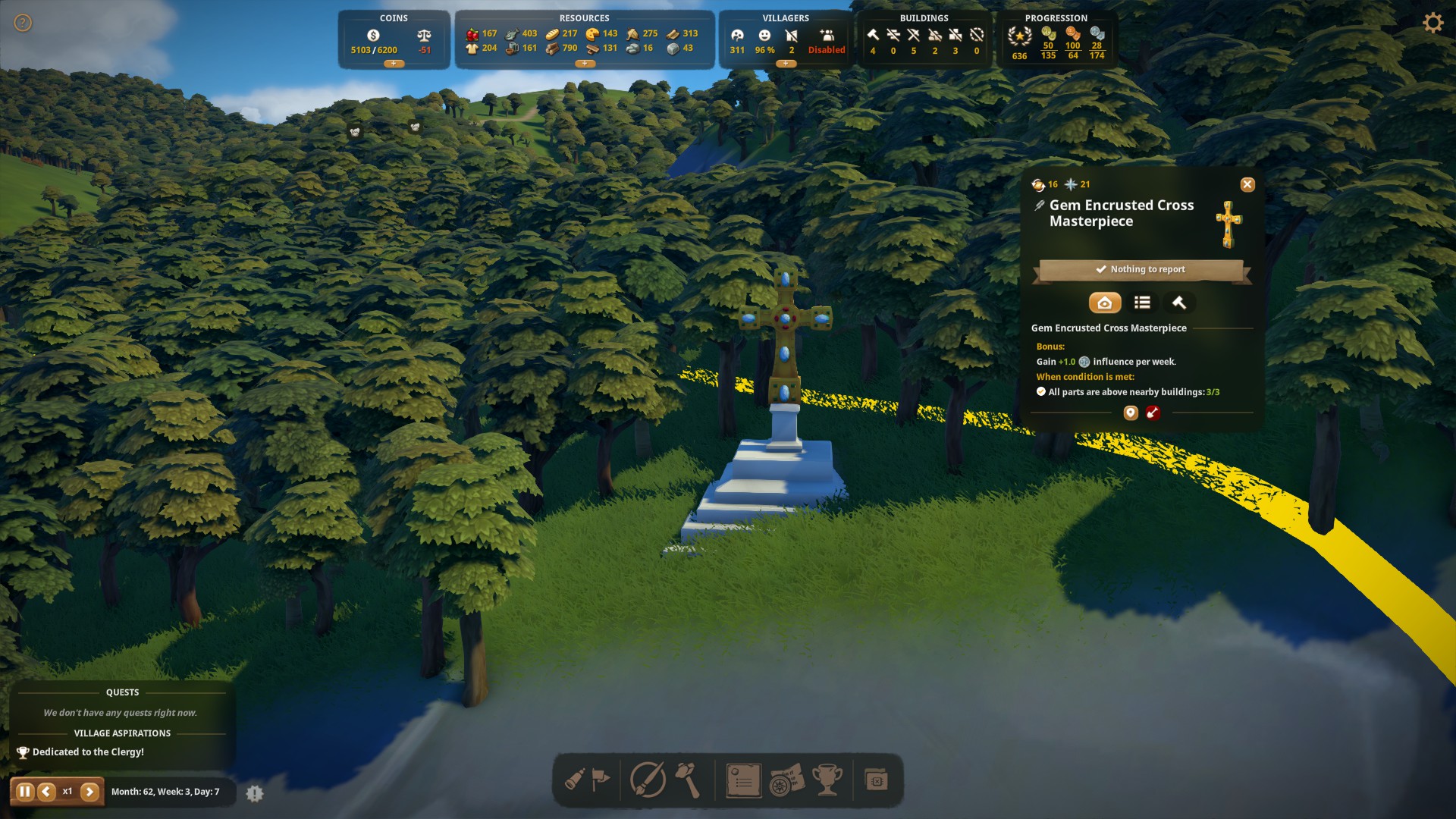 ZKE3PER TIP: This one requires gold bars, gems and marble so make sure you are already gathering those resources.
An Eternal Fountain

Unlocking: Survive the storm (bad weather event) with no one leaving your village and you will unlock this masterpiece.
Reward from the monument when condition is met: The buildings maintenance cost is halved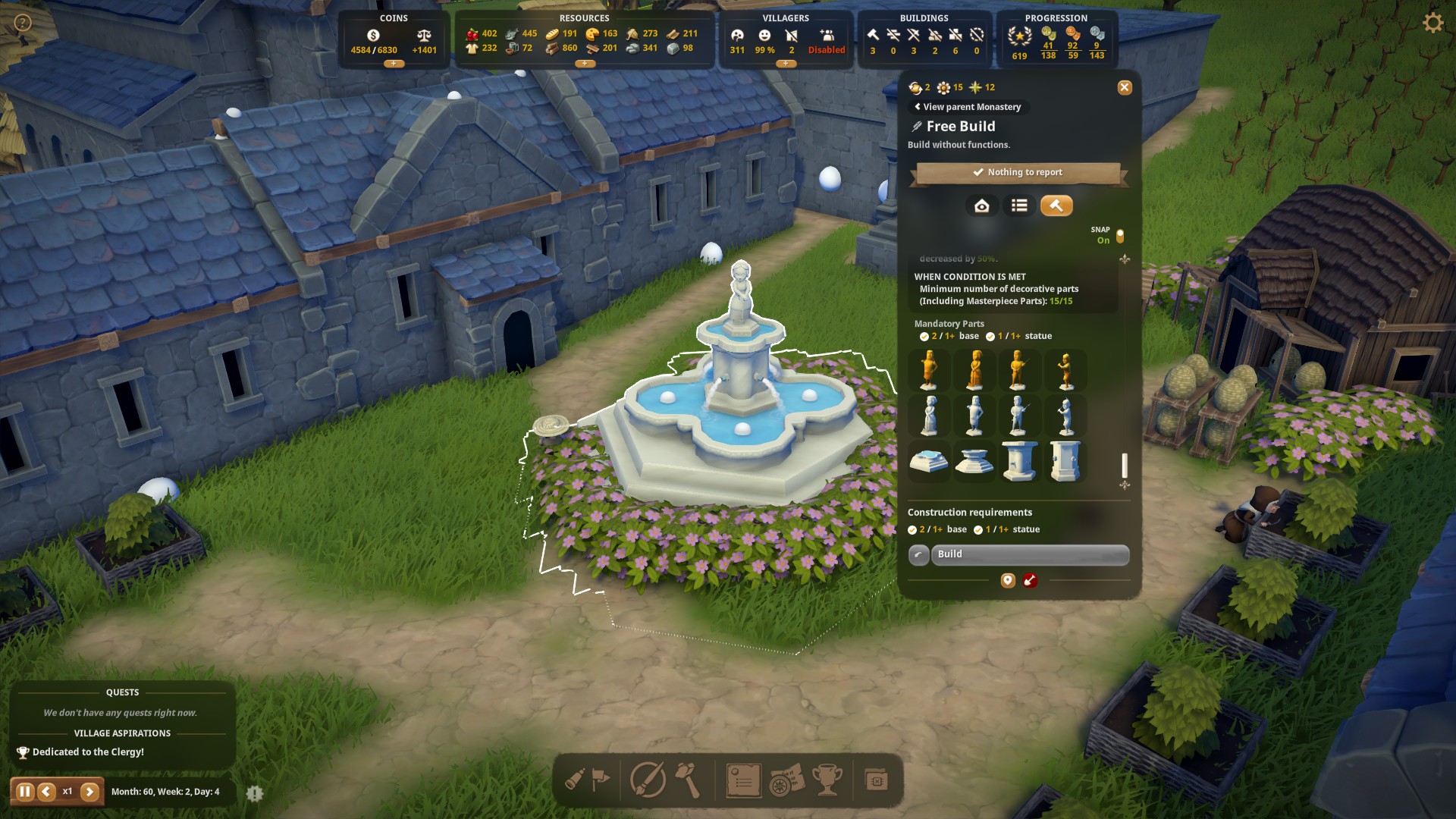 A Gateway to Greatness

Unlocking: Promote 6 soldiers to Knights via the mandate tab. This one is time consuming as you need to promote from Militian > Solider > Knight and they must be at the top level in each rank to upgrade them Militian (lvl 4), Solider (lvl 10) but you ALSO must have 5 Soldiers to every Knight. This was the last masterpiece I built and it is huge.
Reward from the monument when condition is met: None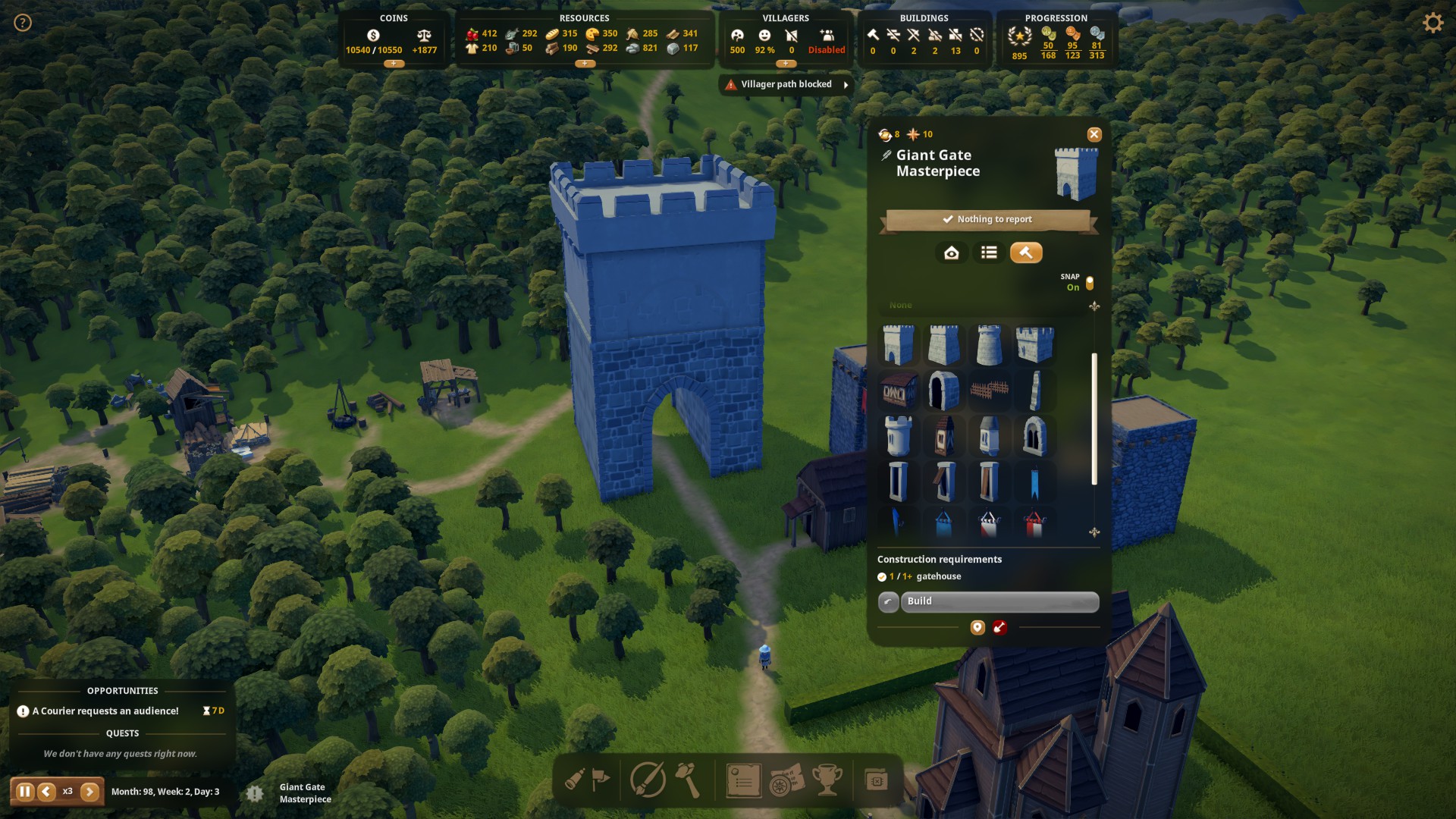 ZKE3PER TIP: I suggest grouping your militians in teams of 6 so that when they are all soldiers one can become the Knight. You will need 36 soldiers to get 6 Knights.
A Knight to Remember

Unlocking: Successfully complete the 'Kings Pledge' mission/campaign. After time and you have upgraded some troops (I had 1 Knight when I started to see this mission) you will get the 'Kings Pledge' mission option. Its labelled Very Difficult and an Unknown distance and does take some some for the troops to do. They need to complete it sucessfully to unlock the masterpiece.
Reward from the monument when condition is met: Luxury need lasts 150% longer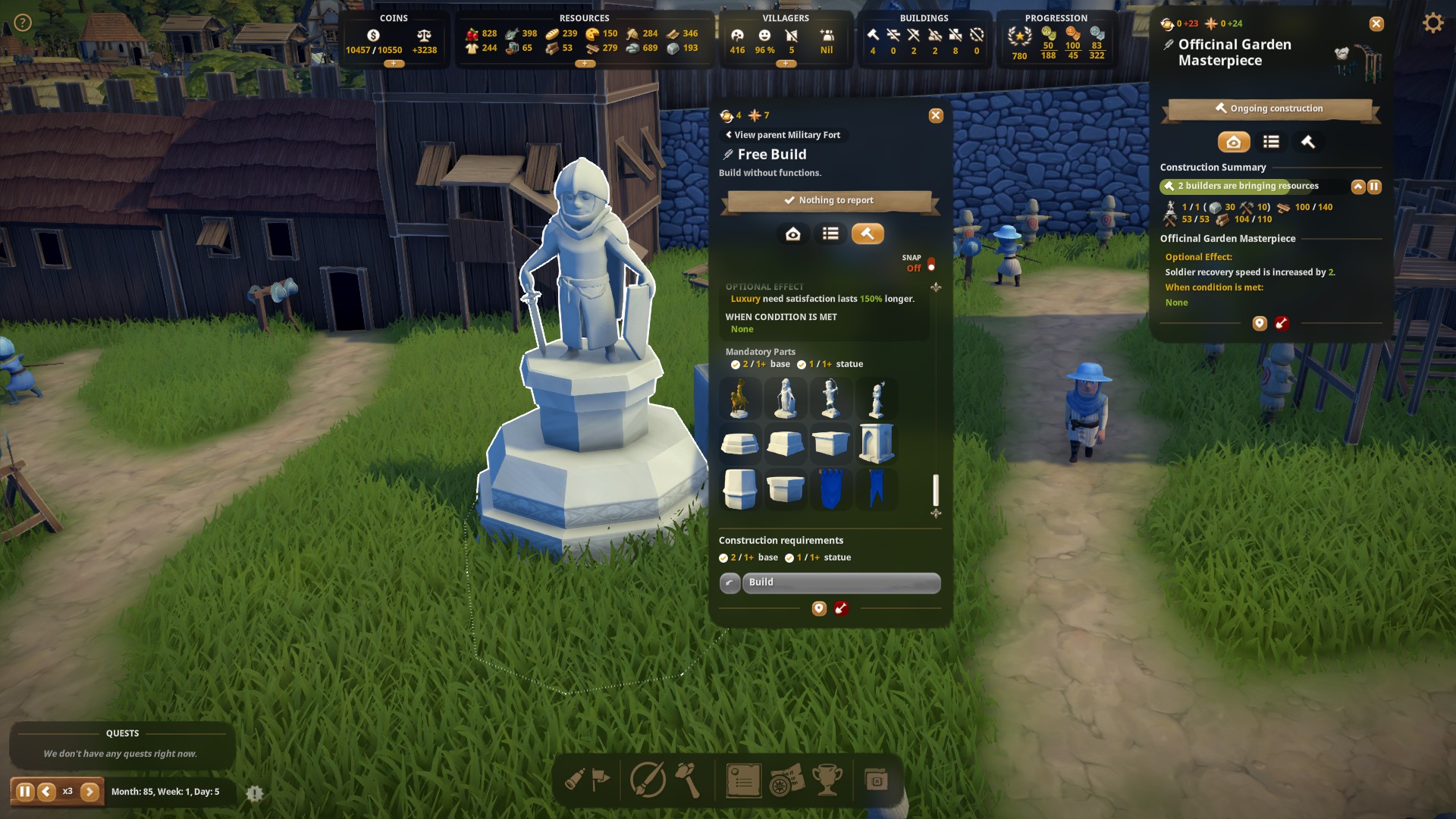 ZKE3PER TIP: Go on the campaigns "Train to Northbury" and "Raid an Armory" to gain spears which make your troops stonger than swords.
Your Own Botanical Wonder

Unlocking: Once you have unlocked the tavern and kitchen via the labour progression tab and built them, build a service counter and assign a commoner and beer to sell (beer is easier and the soldiers seem to like it) then build the kitchen and assign a commoner who will make and sell meals (made from cheese and boar) once you have sold 10 apparently a singer appears and you will unlock the masterpiece, I never received a notification about a singer but once I had sold beer and the 10 meals I unlocked it.
Reward from the monument when condition is met: This buildings splendour is increased by 200%
A Feudal Pharmacy!

Unlocking: This one was a pain, supposedly when troops get wounded you will unlock this masterpiece however if you have been playing this game you know it can be buggy. I had many militians wounded as well as soldiers then I had two knights injured and I couldn't figure it out. Upon reloading the game I got the masterpiece. So I cannot confirm how many of what rank troop but keep wounding them on missions and you'll be sure to get it.
Reward from the monument when condition is met: Soldier recovery speed increased by 2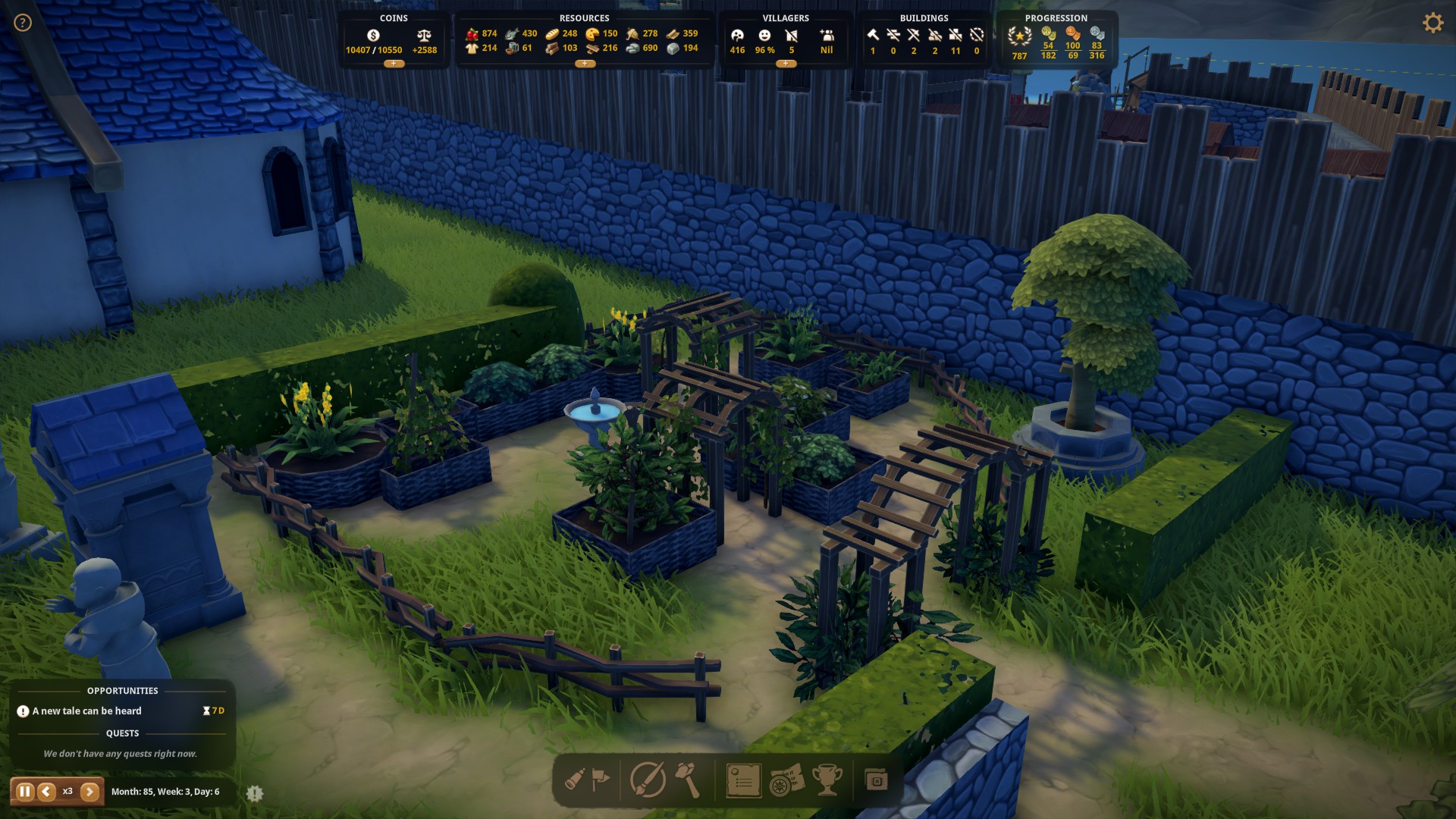 A Path the Soul Would Have Us Follow

Unlocking: This one is simple just time consuming. Promote the monks via the mandate tab, this costs manuscripts not money and only the monks produce manuscripts in the monastery scriptorium (a sub-function building unlocked via the clergy tree). Promote Monks; Novice to Brothers/Sisters and then to a Prior/Prioress, you will need 10 brothers OR 10 sisters to promote one to a prior OR prioress.
Reward from the monument when condition is met: Pilgrims will visit the shrine and might join your village
ZKE3PER TIP: You will notice I said Brother OR Sister so you need 10 Brothers for 1 Prior OR 10 Sisters for 1 Prioress.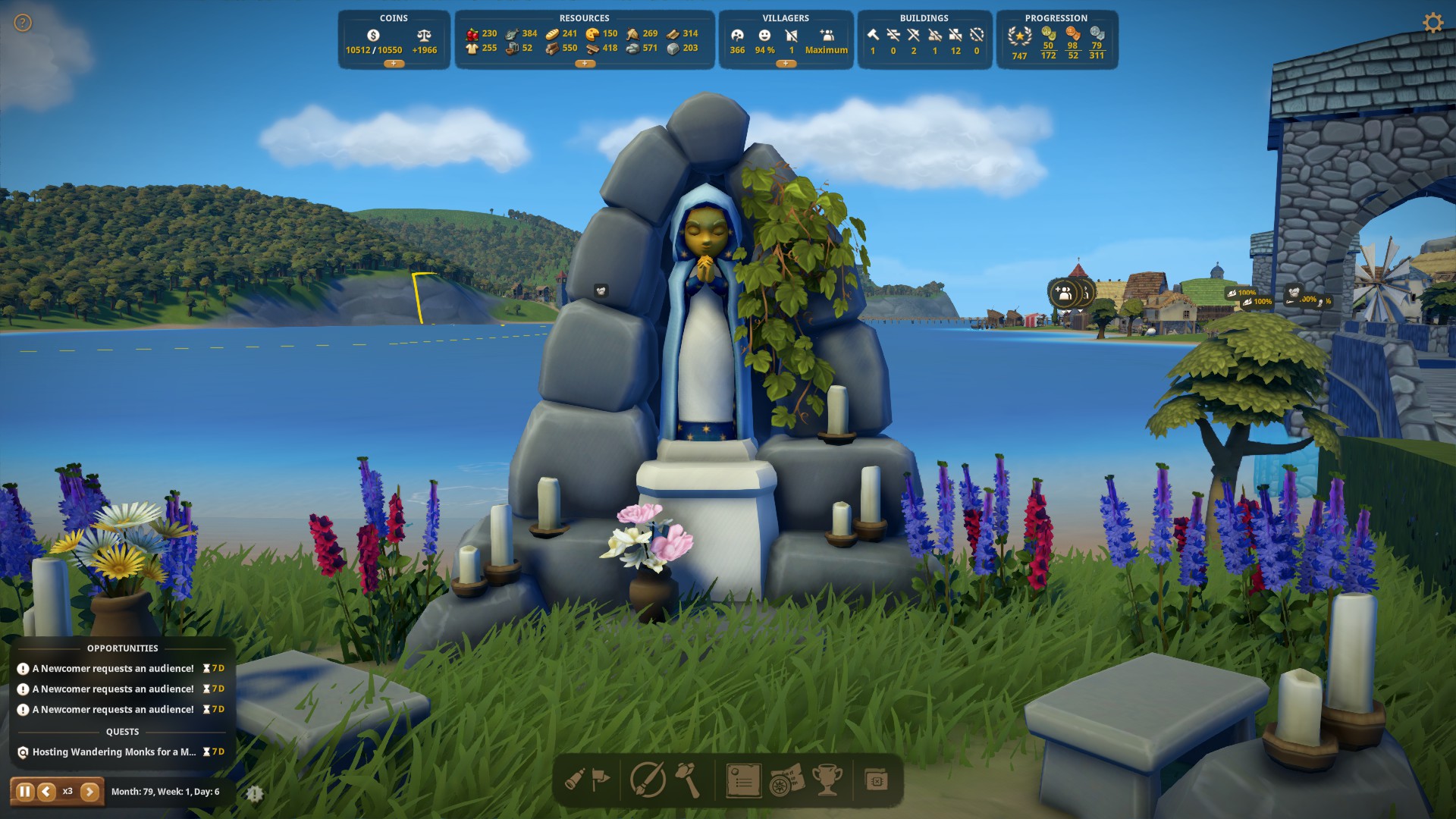 I think this masterpiece is the best!
Hope Shines Through

Unlocking: Obtain 50 Influence with the clergy tree, this is different to splendour. Influence is the little coins you earn/spend not the stars.
Reward from the monument when condition is met: A new trade route unlocked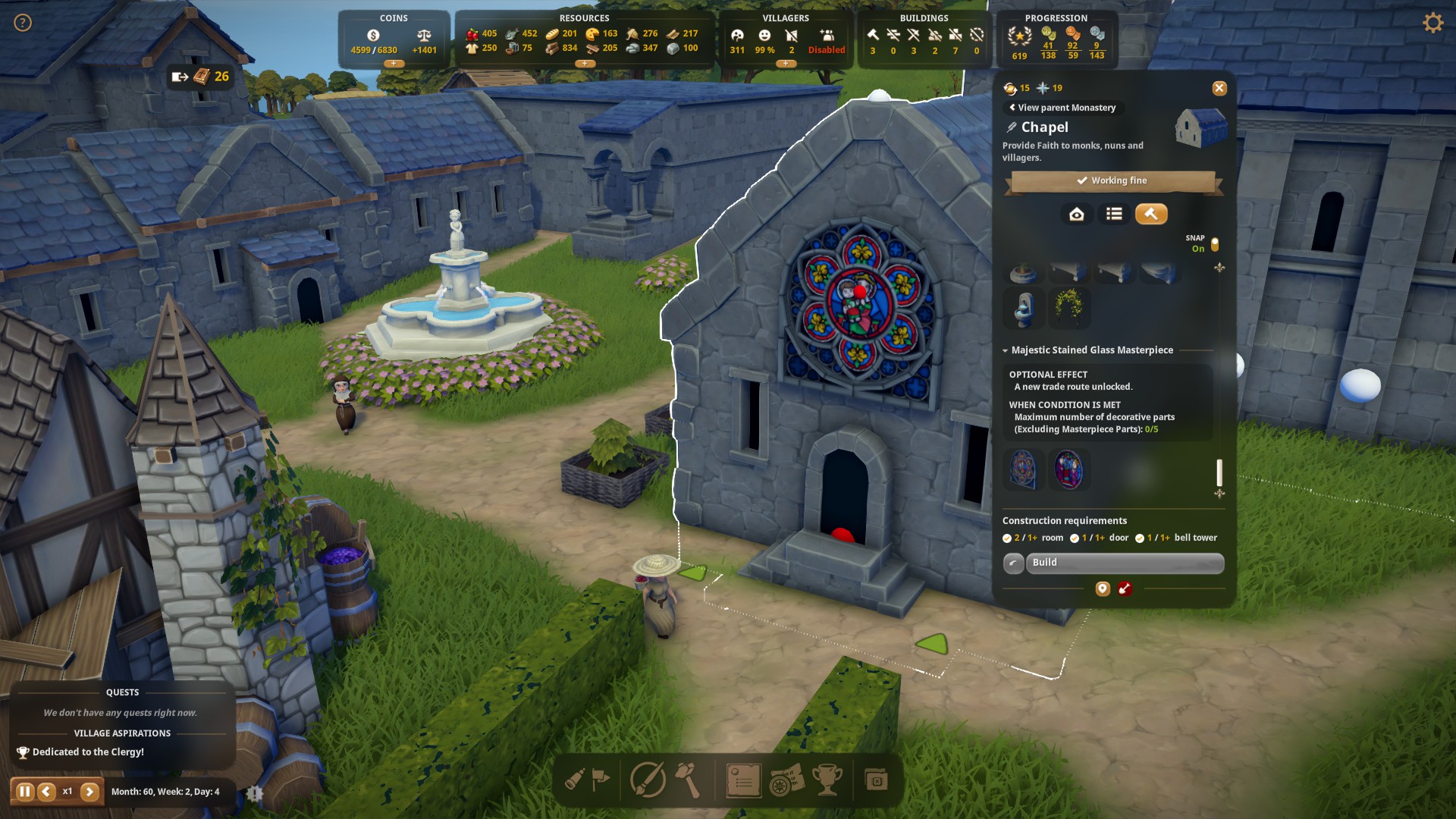 Filling Effect Conditions
These are generated randomly for each masterpiece and sometimes not very suitable for your map, it's just unlucky if you get a sucky one.
All parts by the riverside: Sucks if your on a hills map with no water. You need to build it close to water (river or ocean) the effect condition will go from red 0% to 100% to show you how close you are, this needs to be 100%.
Surrounded by forest: You can either build it in a generated forest or planted forester forest just make sure it says 100% surrounded near condition.
Above all buildings: Hope you have some hills or cliffs. Needs to be built above your nearby buildings make sure all parts are above (shows green near condition) buildings.
Must be part of the building containing the Great Hall: You can only have one great hall attached to your manor house, monastery or military fort, so choose that building and edit it. Make sure it is the great hall you have edited (highlighted yellow) and not another sub-function building.
Far from other buildings: As the name suggests, away from buildings it will show green near condition when correct.
Minimum number of non-decorative parts: The counter next to the condition will show you the number you have, try attaching it to a building if you can it may use some of the parts. Can not be a decoration (beautification flower).
Maximum number of decorative parts: Decorations like flowers or cypress tree
Achievements – Aspirations
Dedicated to the Labour

Have 100 Citizens (Citizen the status, not population count). Promote villagers via the mandate tab serf > commoner > citizen
Dedicated to the Labour HARD!

In the same map/save game not only have 100 Citizens but also never generate (never sell) revenue from trade routes. (You can still buy goods, this doesn't not affect the achievement)
Dedicated to the Kingdom

Succeed the KINGS PLEDGE military mission. Complete but also succeed, if you fail you'll just have to try again.
Dedicated to the Kingdom HARD!

Succeed the KINGS PLEDGE military mission and also sell 100 swords via trade routes within 30 days. Stock 100 swords in your warehouse, have a levelled up trade route so he can carry more stuff and this isn't as hard as is seems.
Dedicated to the Clergy

Build the Monastery Abbitial Church, this can be unlocked via the clergy tree when you have Prosperity: 250 Rating: 100 Influence: 50
Dedicated to the Clergy HARD!

Build the Monastery Abbitial Church and never promote a villager. Meaning you can only ever have serfs, militians and novice monks.
_______________________________________________________
I have managed to do all the aspirations in one game minus the two Labour ones and the Clergy HARD. These three can be done in a second map if you build it up together never sell any goods (just tax villagers loads) and never promote any one. Once you are ready create a save game.
Game 1 – Build the Abbitial Church and you will get both the Clergy Aspirations. Warning: you will need marble to build the church so I suggest looking for a mine as soon as you can.
Game 2 – Promote serfs to > commoner (100 x 20g = 2,000g) > citizen (100 x 100g = 10,000g) remeber your commoners will want goods now. Wait until you have 100 commoners to promote to citizen and 10,000g then promote them all annnnnnnnd quit cause sustaining 100 citizens it nuts.
Basic Tips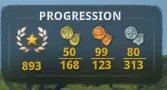 Just some basics for understanding the difference between; prosperity, influence, splendour and rating. In the picture above its shows Prosperity (wreath) then each tree; Labour, Kingdom and Clergy with the current Influence on top and rating below.
Prosperity
Comes with the natural progression of the game, you can see more detail in the common path tree and hover over each one for more details. To raise prosperity you will need to increase wealth, own more territory, increase population count, have decorations (Beautification/Flower Symbol), increase splendour (Star Symbol) with the Labour/Kingdom/Clergy and have trade routes (commerce).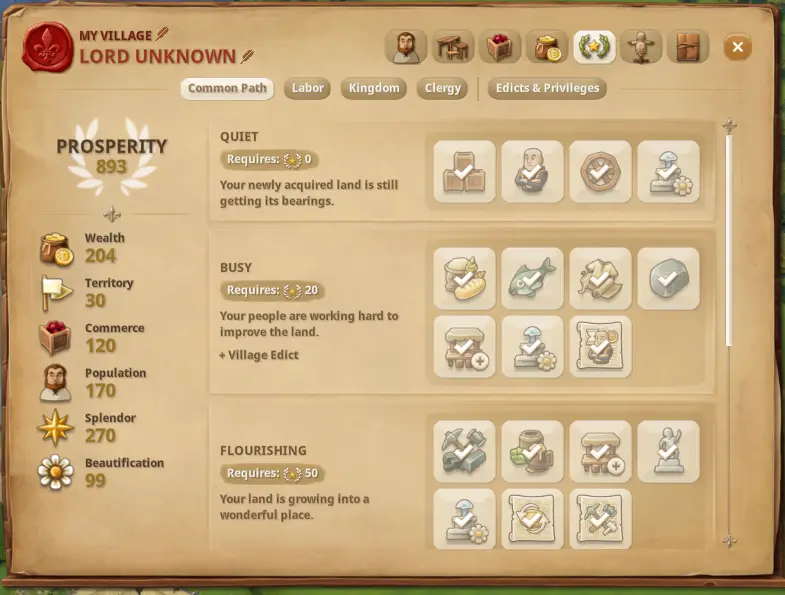 Everything in the Common Path Tree cost gold coin.
Labour/Kingdom/Clergy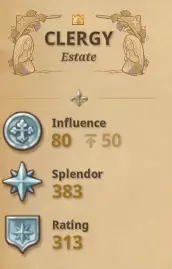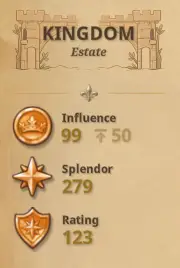 Influence
Gain Influence (Coin Shape): Doing quests brought to you by little messengers that visit you from time to time. You need these to buy additional items from the tree paths you cannot buy these with gold coin.
Gain Splendour (Star Symbol): Building things, some parts do not have splendour so be careful when building to gain splendour.
Gain Rating (Badge Symbol): Rating is just splendour minus any effects from the other trees as you progress you can obtain privileges which you need to assign in the edicts tab to reduce the negative affect of the other trees. You can also build masterpieces which can enhance your splendour by loads so negative effects wont matter.
Plebs – Statuses and Needs
Here is a table of the villagers, their statuses and their needs to stay happy. Usually a villagers day will consist of working "I am working" then "I am on free time" where they will go home for comfort, markets to buy food, goods and luxury, a well to get water and a church for service before going home again to then start working again.
Villagers
(everyday plebs)
Serf
Water | 1 food type | Service | Comfort
Commoner
Water | 2 food types | Service | Comfort | 1 goods type
Citizen
Water | 2 food types | Service | Comfort | 2 goods type | Luxury
Military Villagers
Militian
Water | 1 food type | Service | Comfort
Soldier
Water | 1 food type | Service | Comfort | 1 goods type | Luxury
Knight
Water | 1 food type | Service | Comfort | 1 goods type | 2 Luxury
Monks and Nuns
Novice
Water | 2 food types | Service | Comfort
Brother | Sister
Water | 2 food types | Service | Comfort | Access to Cloister
Prior | Prioress
Water | 2 food types | Service | Comfort | Access to Cloister
Water
Self explanatory I hope, build wells near by homes. It will also raise the desirability of the homes.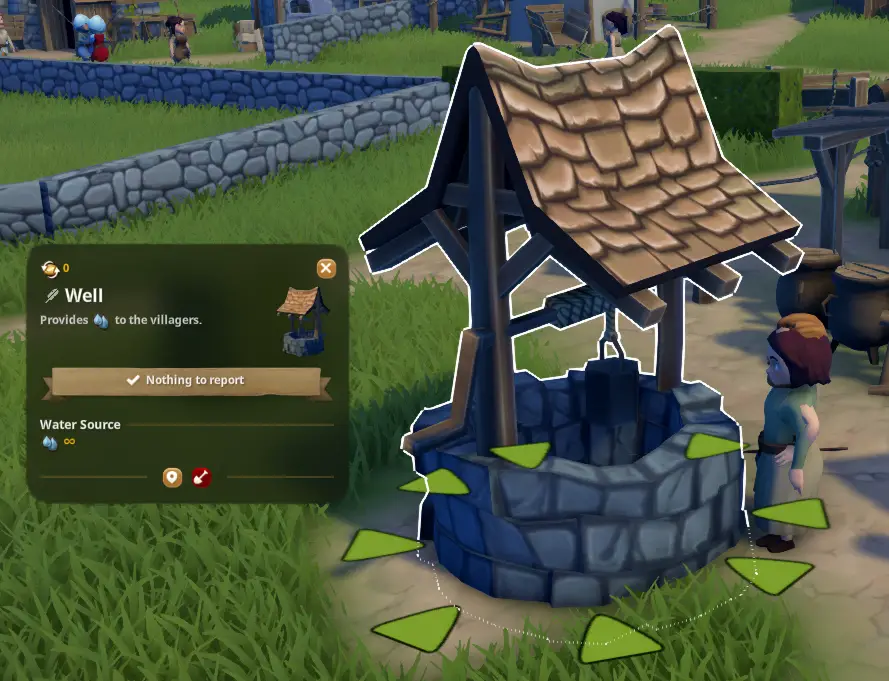 Food Types
Unlock food markets via the labour tab
Sell food from markets (Berries, fish, bread, cheese or boar).
Monks and Nuns are happy to be fed at the refectory where you can assign foods.
Note: Food must be in a granary for the market tenders to get it and stock their markets.
Higher Statuses: When the villager needs two types, two different types of food not just berries bought twice for example. They will need access to two markets selling different types of the five foods available.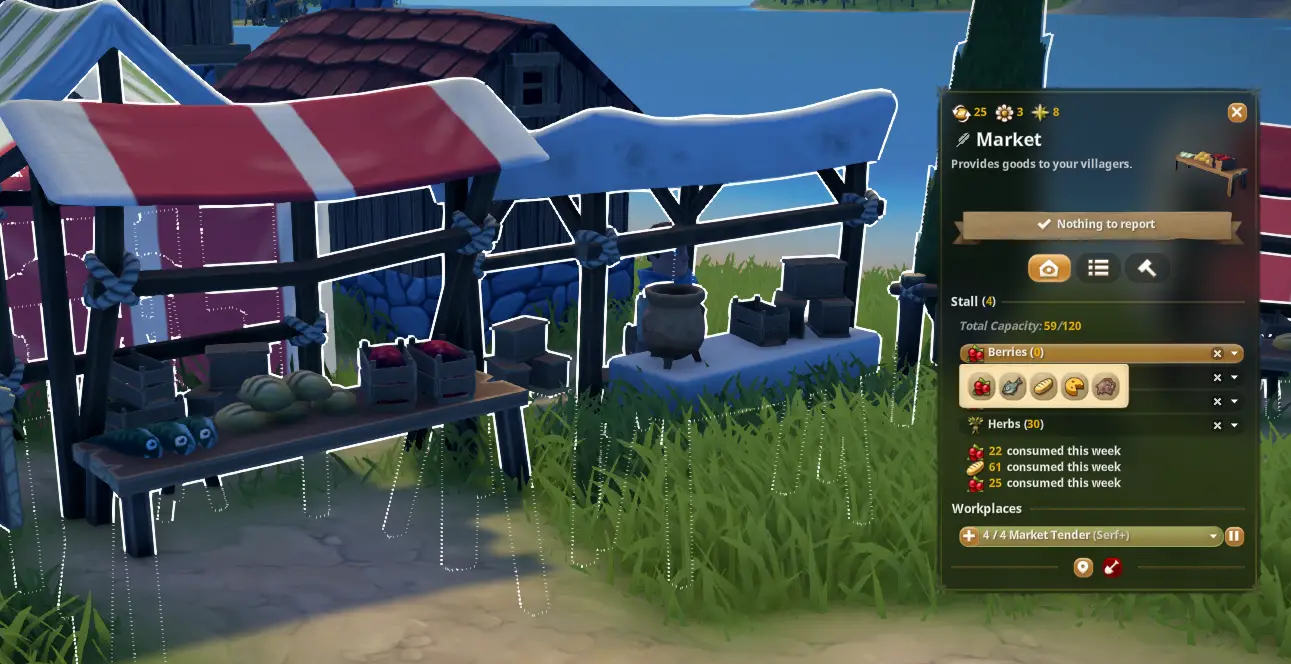 Service
This means they need access to a church, no access would mean you need to add buildings to the church to increase it's capacity or build more churches.
Note: More churches near all your housing areas means more efficient workers.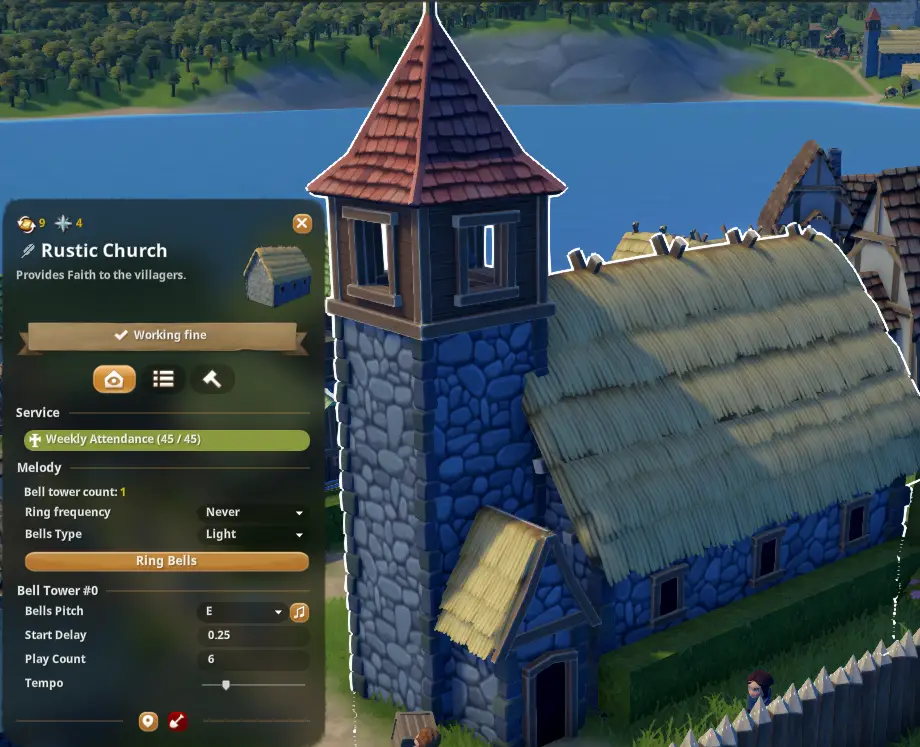 Comfort
Paint residential areas for them to build houses (barracks and dorms are place-able). This is where they are housed and will get comfort (House for villagers, barracks for militians and dorms for monks and nuns) The game states that villagers will move house overtime to become closer to their workplace but if there is no room they will work hundreds of meters away from their home which is not efficient, sometimes you may need to kick them out of their home so they will move/build closer to their workplace.
Note: Militians if they are housed before you make them join the military they wont move to the barracks, you need to kick them out of their house and then they will move to the barracks.
Goods
Unlock goods markets from the labour tab
Sell goods from markets (Clothes, common wares, candles).
Note: Goods must be in a warehouse for the market tenders to get it and stock their markets.
Higher Statuses: When the villager needs two types, two different types of goods not just clothes bought twice for example. They will need access to two markets selling different types of the three goods available.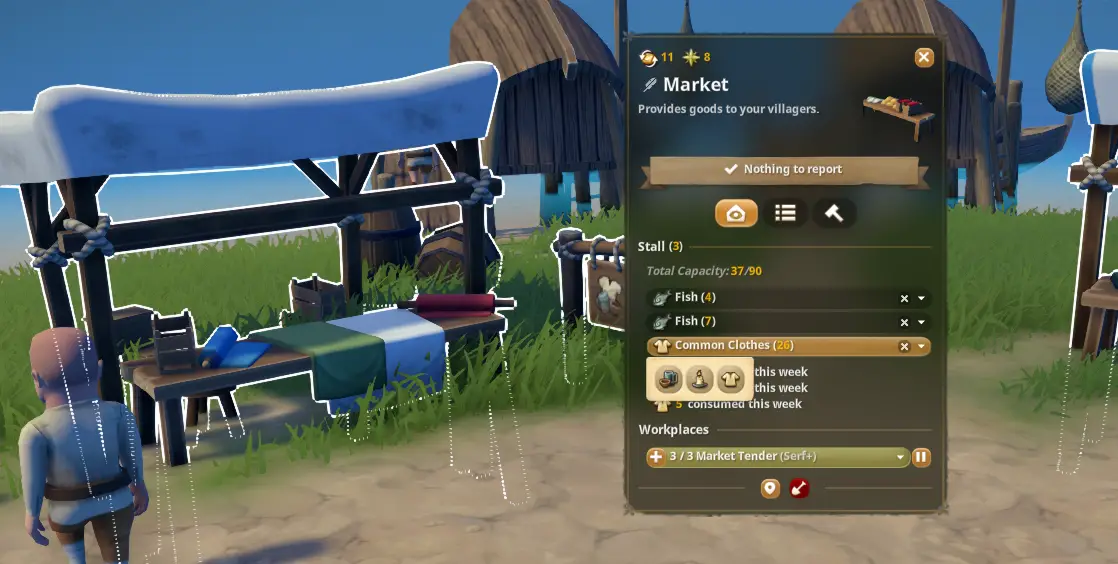 Luxury
Unlock luxury stalls from the labour tab
Sell luxury goods from markets (Herbs, honey, gems, jewellery, beer and wine).
Note: Luxury goods must be in a warehouse (gems & jewellery) or granary (Herbs, honey, beer & wine) for the market tenders/tavern to get it and stock their markets.
Higher Statuses: When the villager needs two types, two different types of luxury goods not just herbs bought twice for example. There are a few ways to sell luxury goods: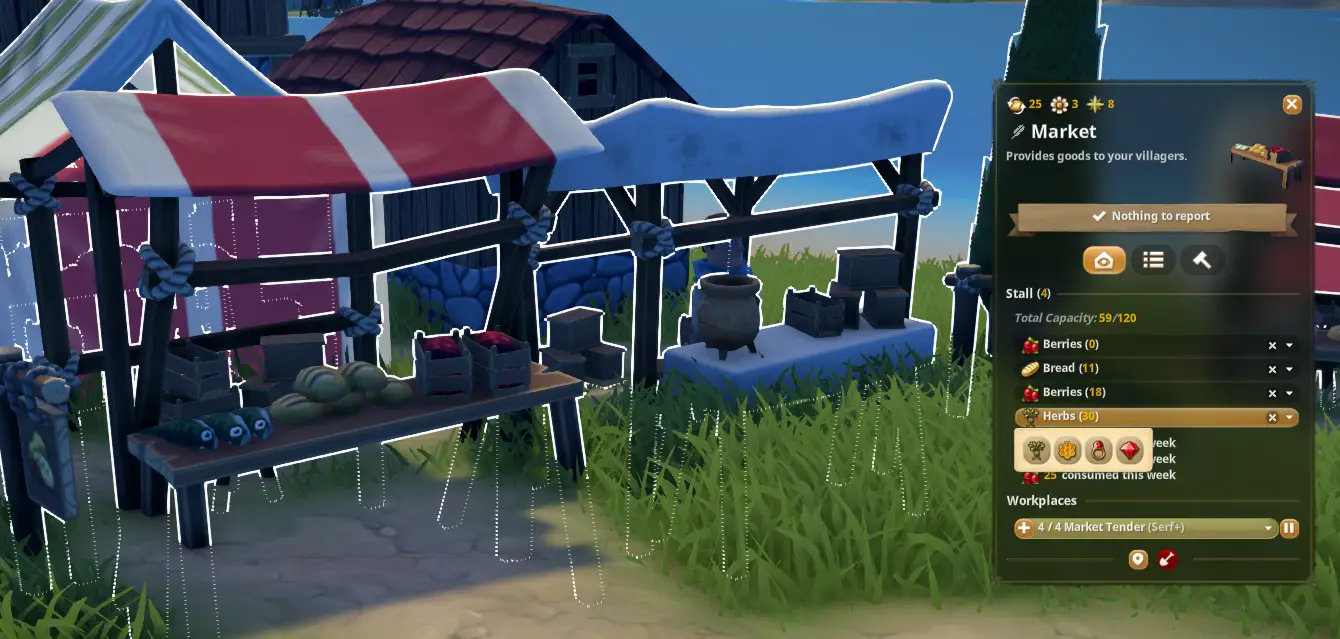 Luxury Market Stalls: Herbs, Honey, Gems, Jewellery
Tavern Counter: Beer, Wine
Cloister
Brothers, Sisters, Prior and Prioress will want access to a cloister where they can relax and do nothing. This is a building you will need to unlock via the clergy tree and is a butt to build. I have details on how to build this building in the guide as I figured out how to make them not get stuck.
Tavern Kitchen
Unlock in the labour tab
Bonus Happiness: Meal (boar and cheese) from a tavern kitchen
Requires Tavern and Tavern Kitchen unlocked and built, requires commoner to operate the kitchen.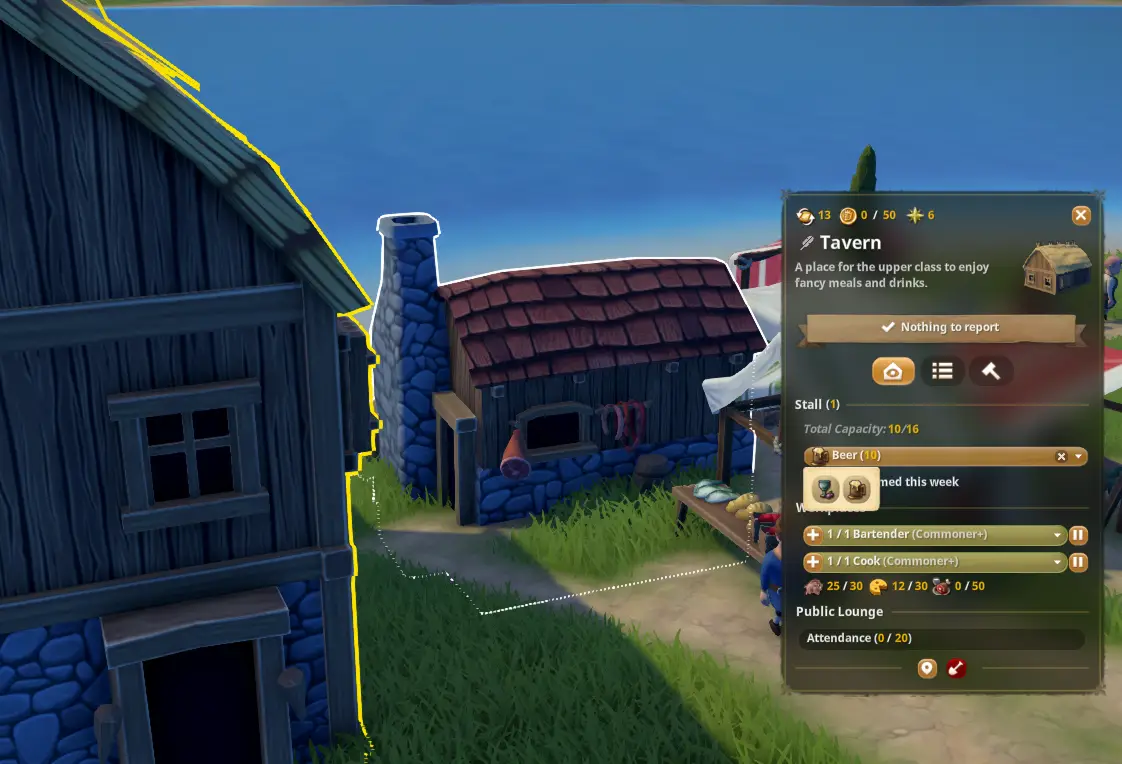 Monastery Kitchen
Unlock in the clergy tab
Bonus happiness from eating a monastery meal (herbs and water) from the monastery kitchen
Requires Refectory and Monastery Kitchen unlocked and built, requires Brother Or Sister to operate both the refectory and the kitchen.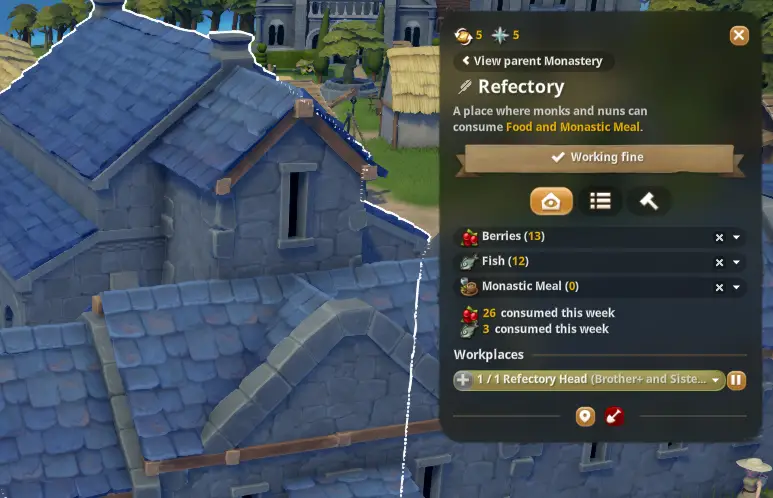 Trading and Trade Routes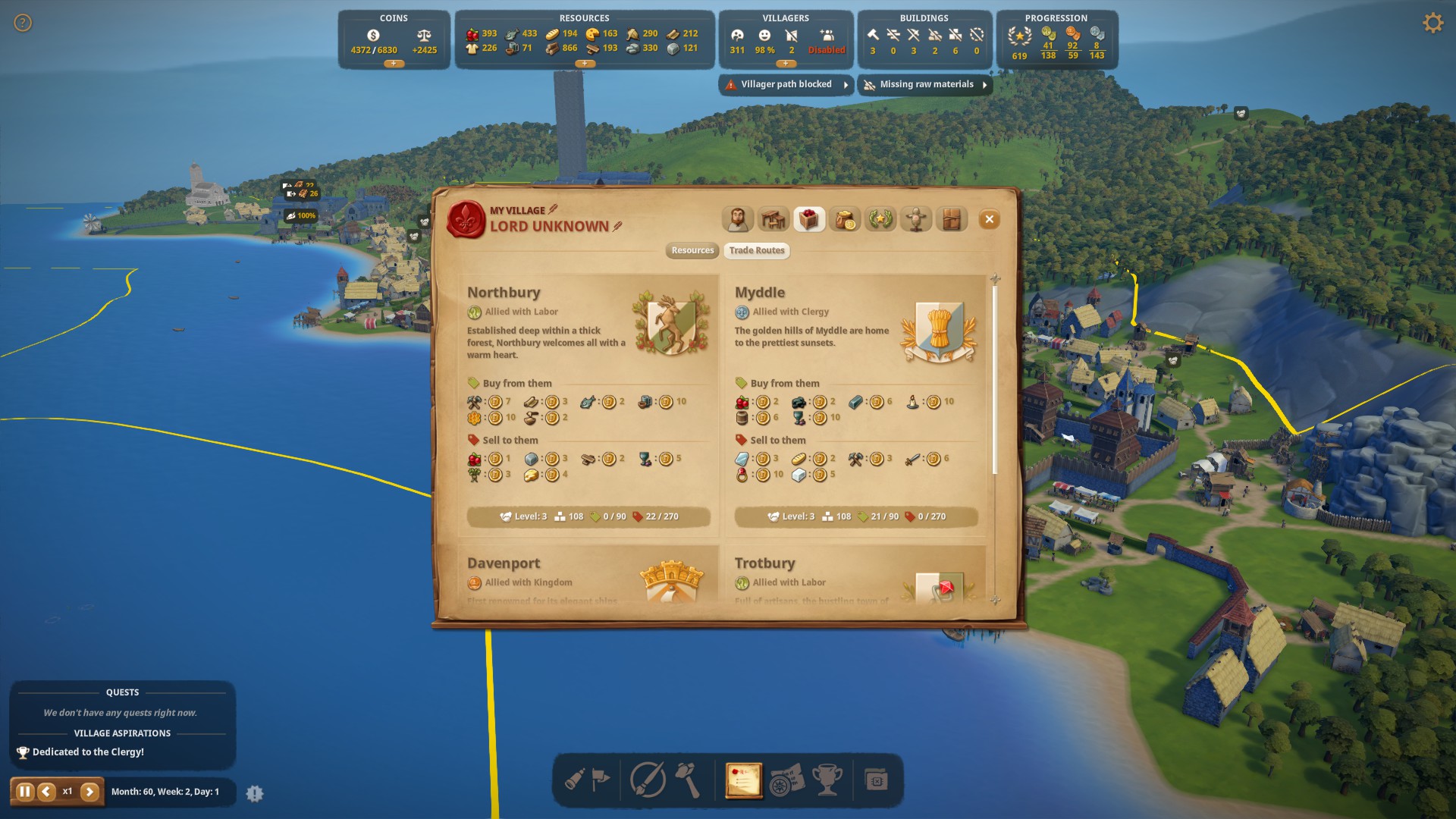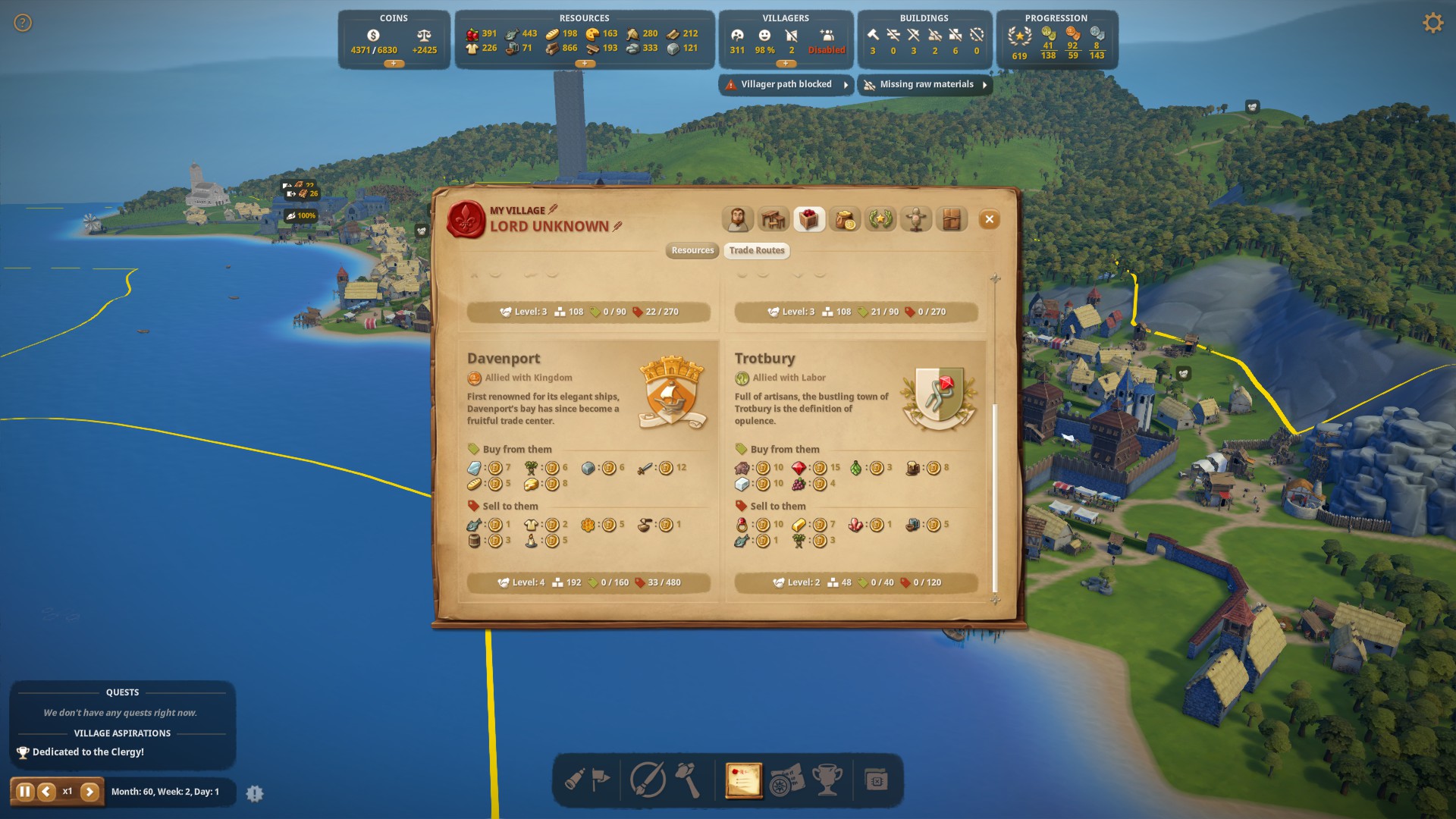 You start with three trade routes Northbury (Labour), Myddle (Clergy) and Davenport (Kingdom). They are locked and you need to stock up certain goods to unlock them once unlocked you can begin trading NOTE: the goods you want to sell and buy must be assigned a space in a warehouse or granary.
Later on you will unlock a fourth trading route with Trotbury (Labour) by building the stained glass masterpiece.
You will at least need trading with Northbury to buy tools until you can produce them yourself or start winning them in campaigns. Selling is dependent on if you want to make money or trying to get the dedicated to the labour aspiration but if you do sell you will make tons in the long run.
Looking at your resources tab is where you can decide what to sell and what to buy, note that you cannot sell everything only whats listed under the trade routes and only if you have them unlocked.
Northbury
Unlocked for 20 Planks
Cloth 3g
Polished Stone 3g
Tools are are staple as I mentioned but I have never bought anything else from Northbury. Selling; I always sell any berries over 100, polished stone over 100 and planks over 100 early game to get some coin flowing but be mindful if a storm is coming you might want to keep your berries.
ZKE3PER TIP: You will start getting wine as a reward for missions, sell it through trading your villagers are happy enough with beer and don't require it
Myddle
Unlocked for 20 Clothes
Barrels 6g
Rings/Jewellery 10g
ZKE3PER TIP: Once all your soldiers have spear rewards sell your swords from a warehouse they can get a lot of coin.
Davenport
Unlocked for 20 Bread
Polished Stone 6g
Honey 5g
Trotbury
Unlocked for 20 Herbs?? I think
Boar 10g
Rings/Jewellery 10g
Levelling Up
You can level up your traders so they can carry more, which means buy more and sell more. When you have bought enough (green tags) and sold enough (red tags) within a month a pop-up will appear to give you options to upgrade your traders. Doing this you will level up and the three boxes stacked will show you how much they can carry – see the first pictures.
Building Help and Tips
Some building in the game are not easy to find or build so as I came across spots I got stuck I noted the down, hopefully they help someone.
Editing Buildings
If you do the walk-through on how to play you will soon find that editing buildings is very annoying. If you cannot snap a chimney or flag; first makes sure snap feature is on then make sure the building you want to snap it to is selected (yellow).
Cloister
This building requires you to build it a certain size and have "1 entrance". The walkways are meant to be on the inside of the building not the outside (I have already made this mistake for you) and you do in fact need two entrances otherwise they get stuck on the inside of the building and really peeve you off. The entrance must be part of the wall on the inside and opposite it as an entrance to the outside of the building. It's a rather weird building and inst built how you would think (well not me anyway) See Below: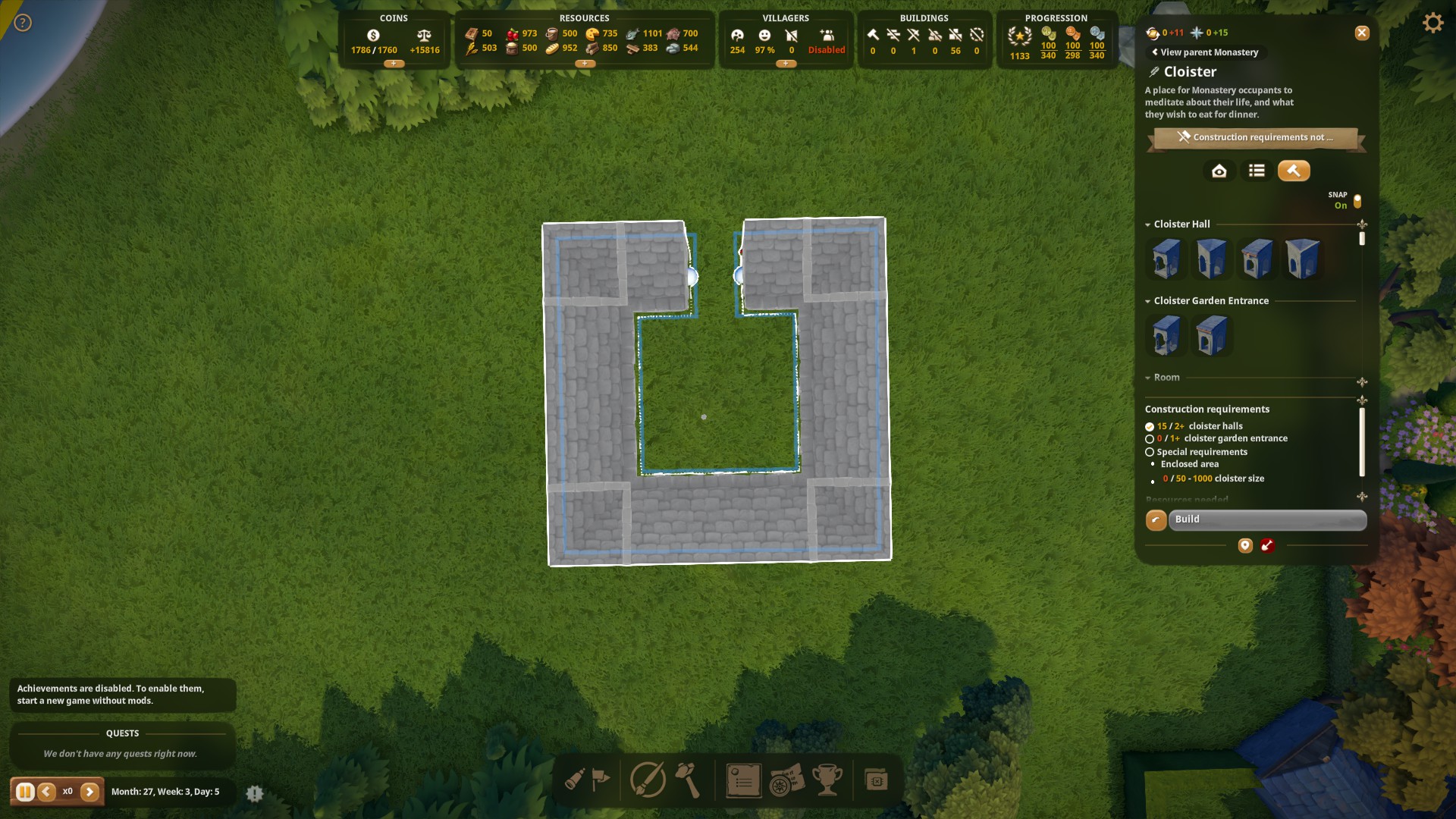 Walls and corners leaving the entrance way empty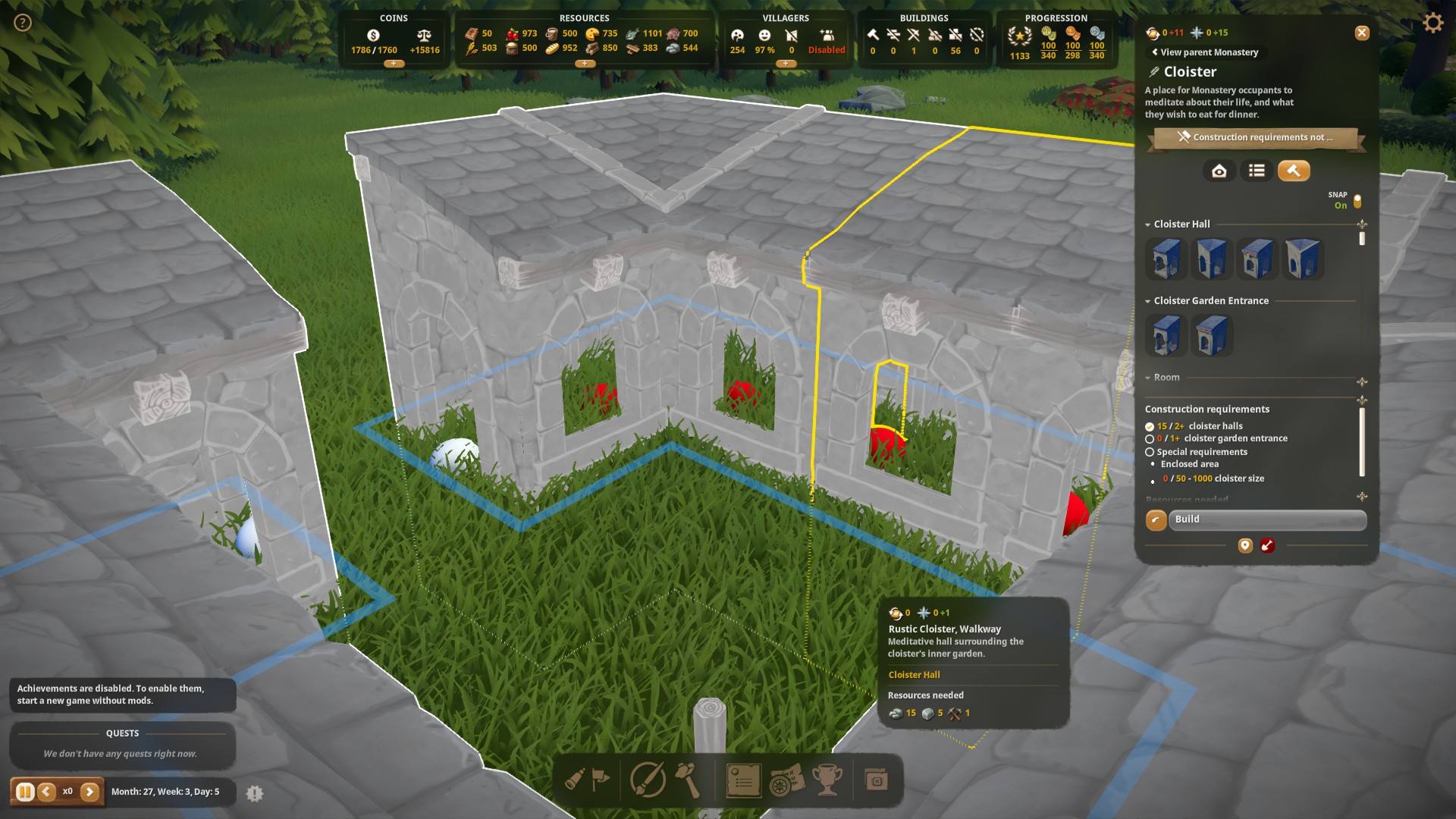 Entrance facing in and an entrance opposite facing out – This stops them getting stuck inside the building
It does not have to be attached to other monastery buildings but it does need to be an edit of the monastery with the dorms, so those monks/nuns assigned to that building have a cloister.
This is the smallest sized cloister, you can make it bigger if you want.
There are two types of cloisters to unlock: Rustic and Modist, they both look similar the rustic one just has wooden trimming and uses stone and less polished stone whereas the modist one uses loads of polished stone as well as takes longer if you are slow with masons. The one in the pictures above are a rustic cloister.
Sculpture Workshop
When you need to start making sculptures it is not it's own building nor is it part of the masonry (weird!) It is in fact an edit of the builders hut and requires a builder to operate it and they are slllloooooowww First you need to unlock it via the common path tree then you will be able to edit the builders hut and place it near by or snap it to the builder hut.
When they are making these slow and painful sculptures (you can have more than one sculpture workshop) they will make one, take it to the building, build it then start the next one. One masterpiece took 15 sculptures to build so be prepared.
Stained Glass Workshop
Just like the sculptures this is not where you think it would be, no it's not an attachment to the glass smelter it is an edit from the builders hut (*Insert confusion). It is a rather cute building though. It will take glass and tools. So depending how your playing you can build a glass smelter and employ a citizen to make glass from quartz (Hopefully you found a quartz mine because you cannot buy it). Or you can just buy the glass to a warehouse and they'll get it from there and take it to the workshop.
Mines and Prospecting
There are randomly generated mine deposits on the map as you expand your territories you will discovery sites nearby. Once discovered (you do not have to own the land it's on yet) you can send the bailiff to prospect it from the mandate tab (click the little dropper to see it's location). Once the bailiff has prospected the site (30 days) it will show as either; stone, iron ore, gold, marble or quartz. And if you get unlucky like me on your map you'll get a whole bunch of stone nearby and iron ore really far away and restart cause your also not going to settle for less than perfect map set up.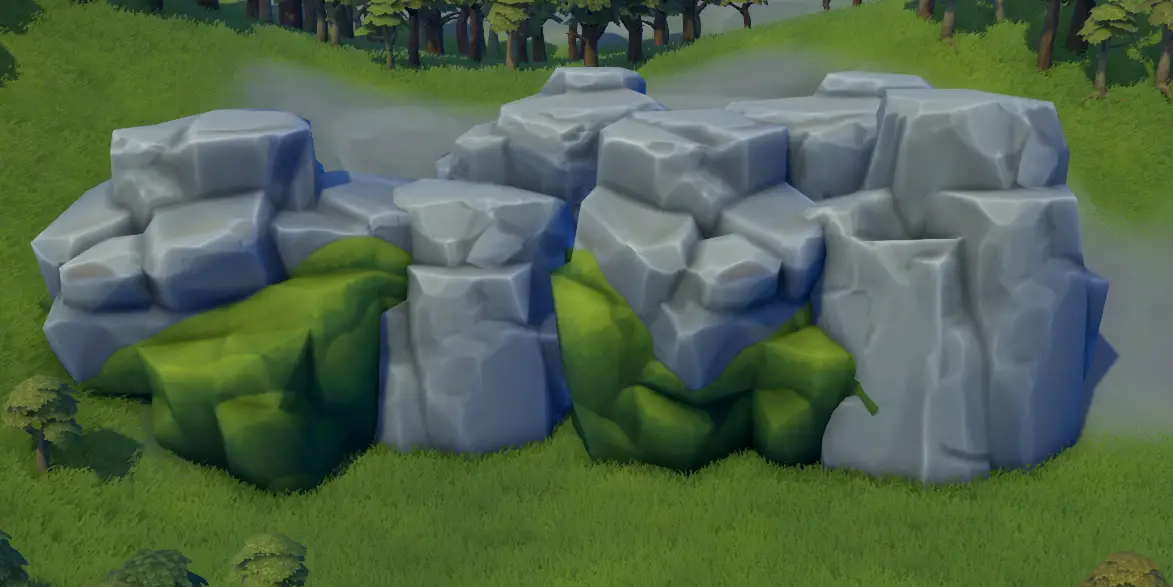 Once you have prospected it you can then purchase the territory if you want to mine it, or just go looking for another. Once you own the land its on you can build quarries on it. Click the mine and edit to build. Handy tip: make sure snap feature is on or you'll be rage quitting cause the quarry wont snap onto the little white dots.
Each quarry can hire two villagers and have two quarries totalling four employees. You must have minimum one storage and minimum one quarry to build and operate, the rest is for looks and efficiency. I suggest building a little village of homes, a well, a market for food and a church to get the miners not having to travel far between working and free time.
Stone
I like to build these cause they look cool but a mine site can have 5 miners whereas a quarry can only have 4 and the mine sites are way smaller.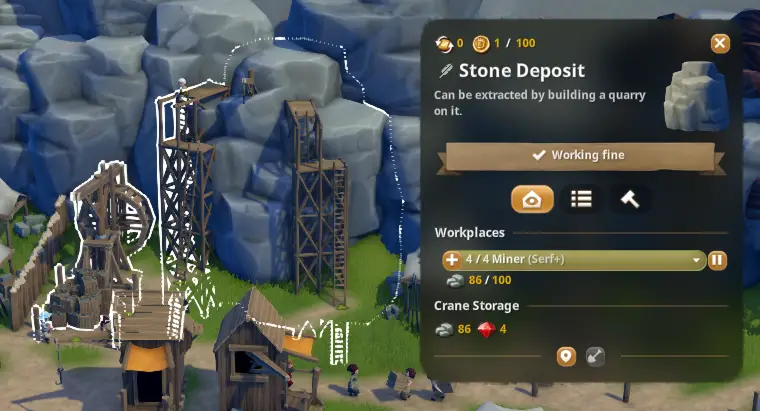 Iron Ore
Needed to make Iron bars and is the mine you hope to get multiples of because you use this a lot. Iron smelters will collect the ore from the quarry so no need to use a warehouse space unless you want to.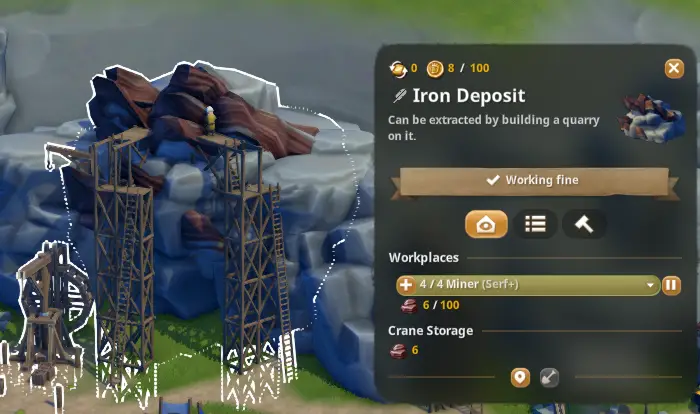 Gold
Needed to make gold bars for sculptures and jewellery. Good idea to store this one in a warehouse as you can sell gold and later on gold bars for lots of money.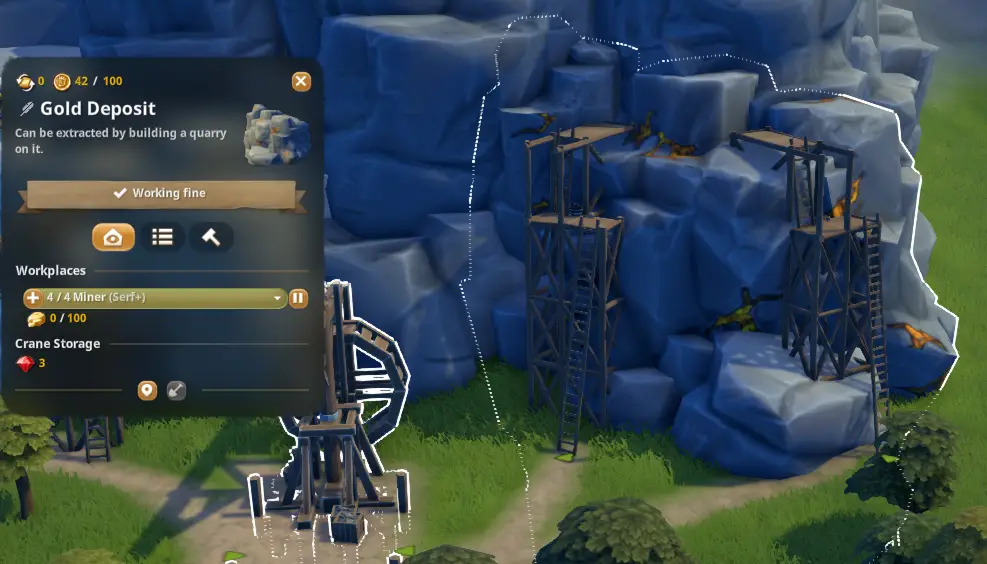 Marble
You will need marble to make the abbatial church and sculptures as a minimum for achievements, there are many other sculptures you can also build requiring marble. You can also sell marble for a decent amount from a warehouse.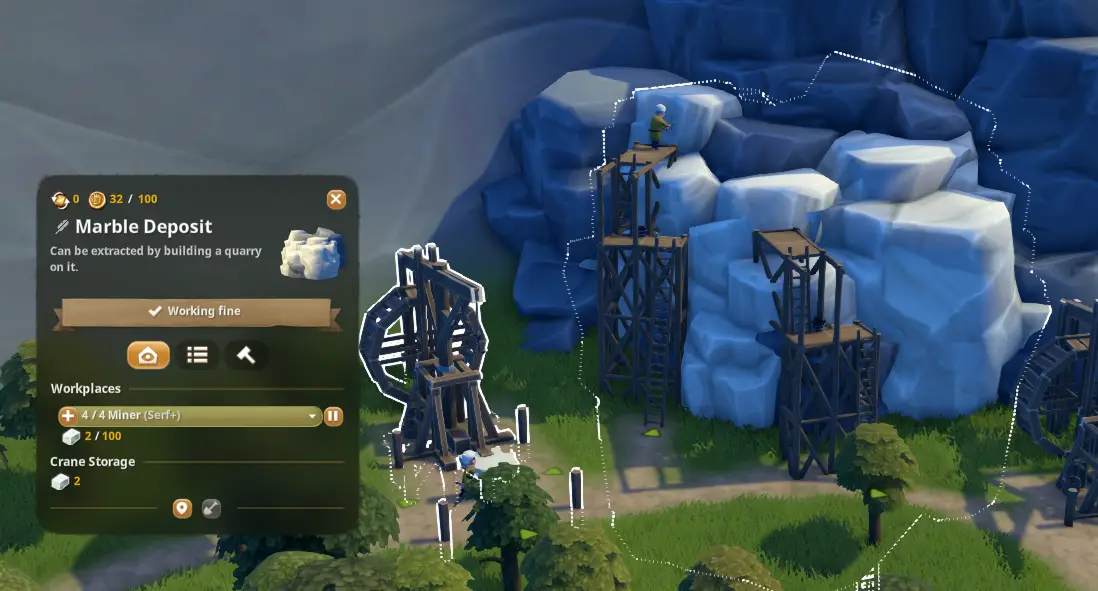 Quartz
If you want to smelt your own glass and not have to buy it then you will need to mine quartz.
Military & The Kingdom
In the first stages of gaining favour with Labour, Kingdom and Clergy the rating is similar but as you begin to do more for one or the other it becomes harder to keep them even until you unlock the bonus privileges and assign them in the edicts tab. It is possible to keep them relatively even but slower, basically if you gained favour with labour do a little with kingdom then clergy and so on.
When you get to 10 prosperity you can buy with gold the military fort this gives you the fortified keep, barracks, training grounds and treasury.
To get started you only need to build a barracks, while building the Kingdom will visit you and give you some influence coins and swords for your first militians. As soon as the barracks is built you'll get a pop-up to prove your worth its called "Proving Grounds" it is the only chance you get to do this mission.
I usually pause at this point so you don't loose the mission (it has an expiry), assign all my new soldiers swords under the soldier tab (I like to start with 6 or 12 militians – I'll explain why later) then switch to the mission tab and prepare troops for the proving grounds campaign. Its quick and easy and gives them a boost before doing the next lot of campaigns.
When soldiers are victorious a pop-up will show in the bottom left corner to say they were victorious and heading back to the village (there is still some time before they are back and you can send them on the next mission). Once they are back in the village a pop-up in the middle of the screen with a wax seal will show the rewards from the mission, they will go to the town centre storage and your transporters will take them to the warehouse if assigned or they'll just stay there forever. You can then also check under the soldier tab if any troops were wounded.
Wounded Troops
During missions your troops may become wounded and sometimes die. Wounded troops will have to train again at the training grounds; untrained/wounded > partly trained > mostly trained > fully trained. After some troops have been wounded it's possible to unlock a masterpiece that will speed up the recovery of wounded troops. Make sure to have the training grounds linked to the same building as your barracks or they wont train.
Selecting Missions
Under the missions tab you will overtime receive various missions at varying levels all with different rewards, as your militians become soldiers then knights they will have more success and you'll be able to send less troops but at a higher strength level. In the bottom right corner of the mission tab it will show you the rewards for the mission, when preparing troops for the mission it will also show the probability of the mission. Select enough troops (fully trained) so this is extreme and you shouldn't have any troops die.
Weapons
At the start you are given 20 swords as the only way to get swords is to have a production; Mine iron ore > make coal from wood > smelt iron bars (commoners) > make (commoners) or buy tools > make swords (citizen). This is end game.
Buy them from Davenport for 12 gold each!!!! ain't nobody got money for that.
OOOOOORRRRRRRRR; you can win them and everyone loves free stuff. So send your troops on missions to get swords or spears. There is an easy mission "Train to Northbury" which makes it easy to get spears which are much stronger than swords. So I usually get all my troops spears then sell any swords with Myddle for 6 gold each from warehouses.

Gems
Getting gems from mine sites is very slow and you cannot buy them until Trotbury (unlocked later on) but they are 15 gold each!!! and once again we prefer free stuff, so you can send your troops on missions to gain gems for free. I love my troops!!!
Unique Rewards
Some mission rewards are labelled as "Unique Reward" this is 10% chance to receive and can take time to get. These are all blueprints that you can unlock – see my achievement guide for more information on these.
That's everything we are sharing today for this Foundation guide. This guide was originally created and written by ZKE3PER. In case we fail to update this guide, you can find the latest update by following this link.
If you believe that any of the content on this site violates your rights, including your intellectual property rights, please contact us immediately using our contact form.