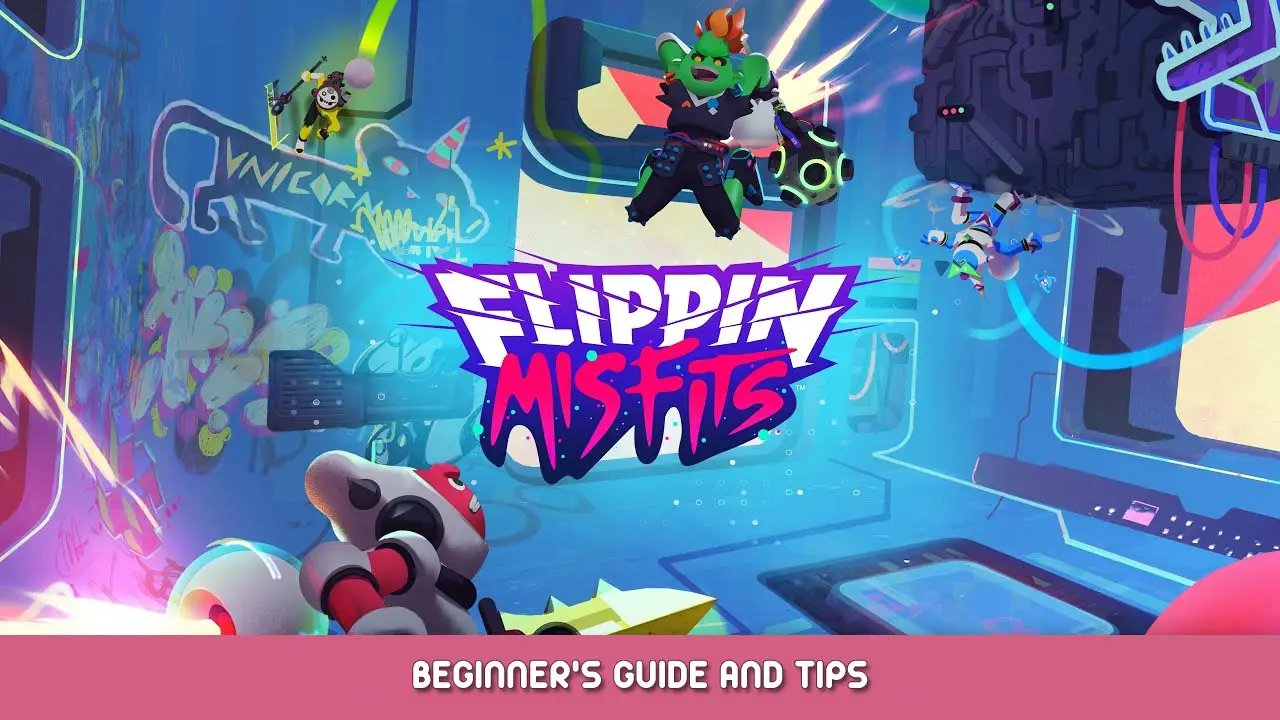 So you've decided to jump in and cause some mayhem with your friends, but you're not quite sure how to do it, and how to make it look good?
Don't worry, we've got your covered!
Read on, and discover how to embody the spirit of a Flippin Misfit!
Space, The Final Playground
You're about to join in the fun-having, unhinged, day-to-day lives of the Flippin Misfits, a band of renegade youths reigning at The Blank, a nearby trio of black holes.
Aboard the Arkade, their stolen and repurposed starship, they're issuing each other challenges, all crazier than the last. Their aim? To show off their skills and rub their awesomeness in everyone else's faces!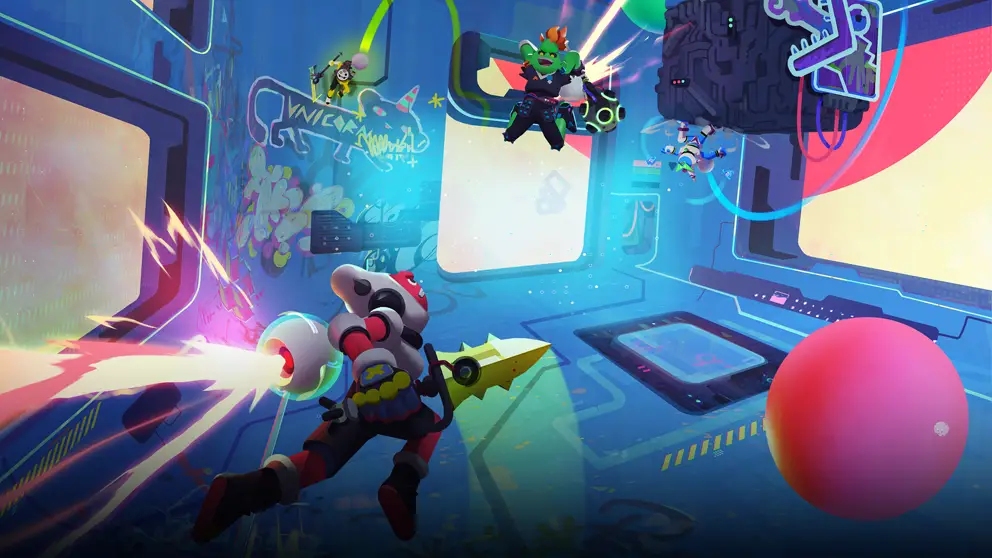 Using their allegedly stolen Blazarpack technology, the Flippin Misfits run around on the walls, ceilings, and even out there in empty space. Always on the lookout for odds and ends drifting into The Blank to modify their ship with. Over the years, the Arkade has been converted from a prison barge (or was it a garbage tanker?) into the weirdest, deadliest, most amazing playground in the galaxy.
So buckle DOWN and forget what is UP, because we're diving into the depth of Flippin Misfits!
Get A Grip
Before you can start playing with some silly banana controller for the updoots, you might want to learn about how to navigate and interact in this game. So here we are!
*Default inputs using an Xbox gamepad are used here for brevity.
MOVEMENT
Learn to walk before you try to talk smack.
Running Around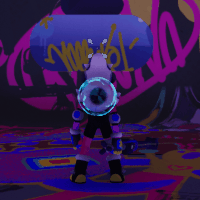 Use the left thumbstick to run around the world.
Ah, but there's a twist: you can run up walls and walk on ceilings!
No matter where you want to go, there's a good chance you can reach it by running toward it at full speed.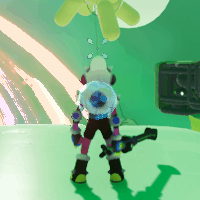 Use the right thumbstick to move the camera around.
Your character will always face the direction you're looking at, so we've made sure they can't break their neck by looking at their butts.
You'll want to be scanning the world around you for opponents since, you know, they can walk on the flippin' ceilings!
Jumping
Use the A button to jump.
A little hop goes a long way when trying to avoid a rocketing opponent or some single-minded mines.
Remember that you can jump off ledges at different angles to fall according to your current gravity's orientation. It's a bit confusing at first, but it's a powerful traversal tool.
Just don't ask us how many times we lunged into oblivion ourselves…
Dashing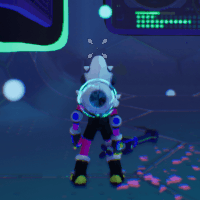 Use the Left bumper to dash. Use it with the Left thumbstick to dash backward or to the sides.
Got to get out of the way in a hurry? Then dashing's for you!
Whether you want to move faster toward your target, avoid an angry looking opponent careening toward you with weapon drawn, or because you're falling ever so slightly into the void, just dash!
You can even wait until attackers are close to you and dash to try and break their lock on you.
It's that simple.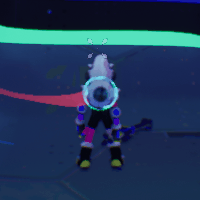 Pro tip: You can dash to the sides AND while in the air. Don't think, dash!
Troll tip: Dashing out of your own attack is a nasty way to psych out opponents.
Swapping Gravity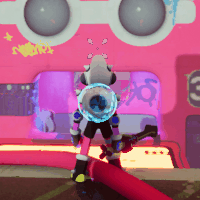 Use the Left trigger to swap gravity.
Using the revolutionary (and illegal) Blazarpack technology strapped to your back, you can reorient your own gravity to fit your whims.
Up is down, down is left, and everybody's falling with style!
Watch where you're headed though, since after swapping your Blazarpack will only reactivate after you've touched the ground or landed an attack. We'd hate to see you go in a poetic burst of flames at the edge of the atmosphere (but if you do, please send us the footage for meme-making purposes).
Pro tip: align your reticle with the surface you want to fall toward before activating the Blazarpack and remember that you can still realign slightly while in the air by using the left thumbstick.
COMBAT
Opponents, meet weapon.
Attack Ranges
Flippin Misfits relies on a 3-power attack system based on distance:
Close = STRONG
Medium = MEDIUM
Far = WEAK
Out of range
To come out alive from a skirmish, you'll need to either match your opponent's range, causing a clash, OR to attack from a shorter range, overpowering them with your nerves of steel.
Pro tip: Wait until the last possible second before reacting to an attack and you'll be a force to be reckoned with.
Attacking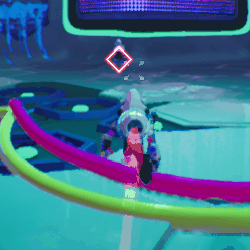 Use the Right trigger to attack.
So, they've insulted you, or your mama, and now's the time to show them they should've kept their mouths shut? HIT THAT TRIGGER!
After you have an enemy targeted and initiate the attack, you'll be locked onto them and your Blazarpack will erupt, propelling you toward them at great speed. Keep them in your sight until you connect and show them who's the boss.
If it takes too long to hit your target, or the turn angle ends up being too severe, you attack will be cancelled. Don't worry though, you can just find them again and repeat until they're toast.
Cancelling An Attack
You may use B, Dash or Jump to cancel an attack.
Jumped the gun? A bit too aggro there? "Oh Lord, what have I done I am so going to get killed?"
Fear not, you may cancel an ongoing attack, giving you all the time to contemplate the fragility of existence.
Pro tip: Cancelling an attack only to trigger another right afterwards is what we call a fakeout and it's a naughty-but-nice move to pull.
Clashing
Sometimes, when two people fight each other very much, it's possible for them to attack from the same ranges, causing a clash.
When clashing, everyone walks away scot-free, unless they get pushed back into a lava pool, or the deafening silence of space.
It's a normal thing, that happens to anyone, don't feel ashamed by it.
Revel in the bright lights of the clash and vow to forever slice and dice your enemies.
You got this.
Tracking Opponents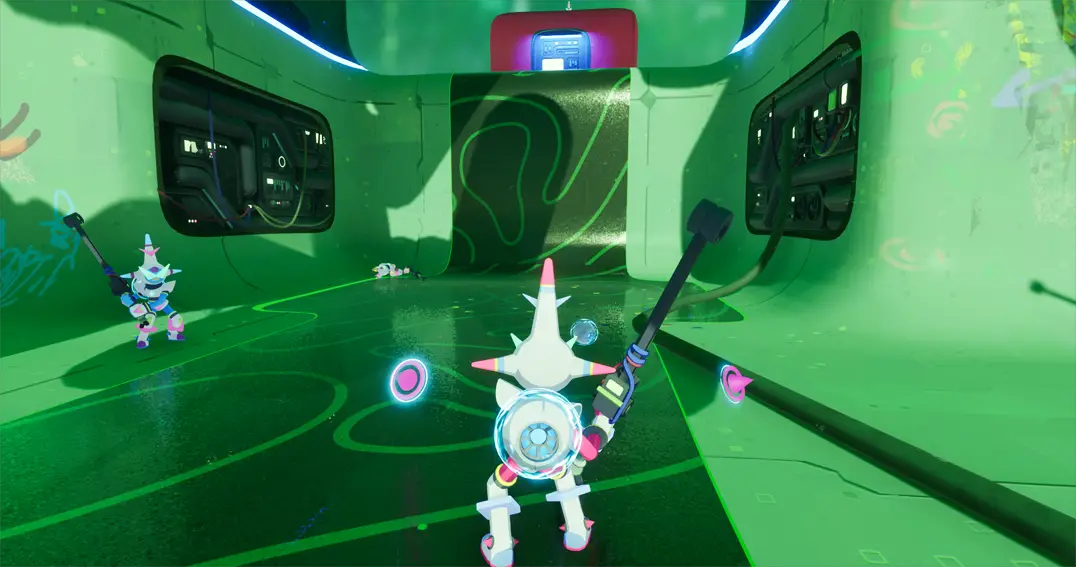 This little gadget spinning around you is your threat tracker. It'll appear whenever an opponent is aiming at you, letting you know where they're coming at you from. So, when it turns on, make sure to either get out of the way, or turn around to face them (and attack them) head-on.
Flipping Fun
Rub it in.
Flips
Use the Dpad buttons to trigger flips when in the air.
Want to taunt the enemy? Maddened by a very clutch attack that killed you so the opponent must be cheating? Bonked back someone into a lava pool and you feel like they should know it's making you laugh?
Jump into the air and FLIP
Flips come in 4 flavors:
Side Flip
Front Flip
Rider Flip
Backflip
Pro tip: please flip responsibly.
Time To Play
The Flophouse is the ship's Lobby. A place where you may invite your friends, or join strangers, to partake in the delightful art of annihilating others by knocking them across vast expanses of space.
JOINING A GAME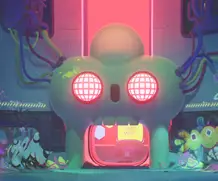 The simplest means to start and enjoy Flippin Misfits is to join an on-going public game!
Simply walk into the Skull Door in the Flophouse and select the option to "Quickplay".
If such a game exists, you'll be transported to the host's Lobby, or an on-going match.
If no such game exists, you're volunteering to be the host (congratulations!).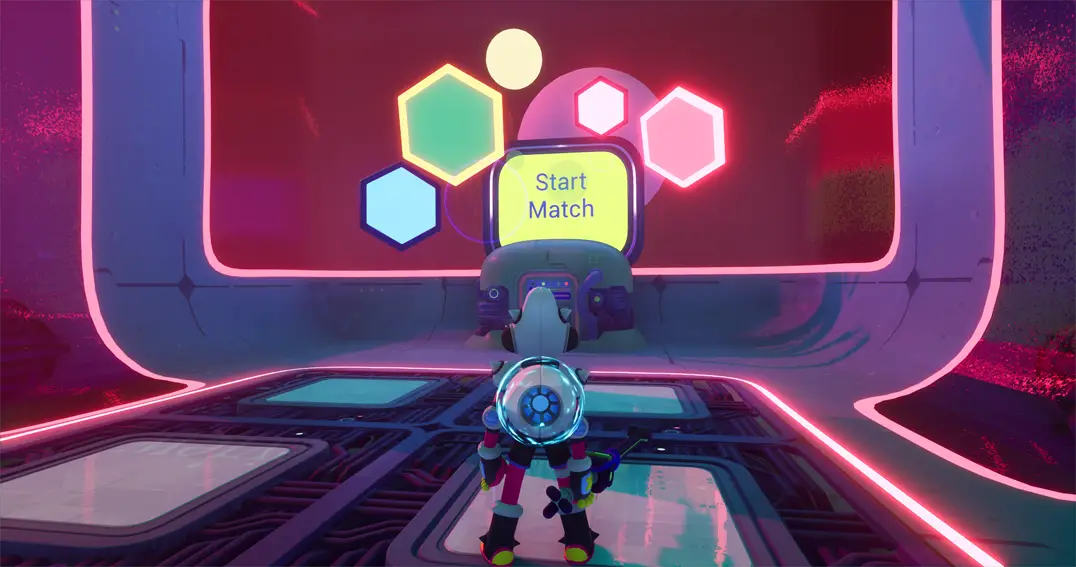 From there, hang tight until other players join your lobby, and once it's full enough (1 – 4 Players), stand in the Ready Zone until the timer's done! AND LET THE MATCH BEGIN!
CREATING A PRIVATE GAME
Hell is other people, so you decide who you let into your game. It's fine, we understand.
Just like joining a Public Game, you'll need to walk up to the Skull Door in the Flophouse and select the option to "Create Private Game". From there, you can invite up to 3 friends to play with you through the Game Menu. (You can invite more, but it's first come first serve and we don't like bickering on the 'deck'.
Note that if you quit the game, you'll be closing your server and therefore kicking everyone out. Just like quitting your own birthday party in real life.
INVITING FRIENDS
Your favorite people to play with are not random individuals from the vastness of the world? We got you!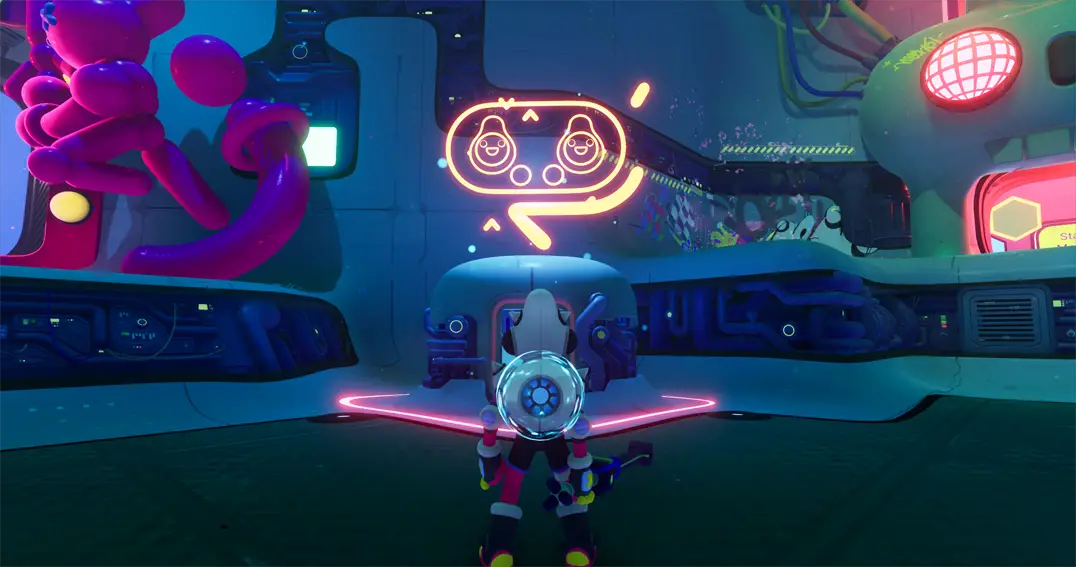 Interact with the Friends Booth in the Flophouse or open the Game Menu and then select an empty player slot to open Steam's Invite Friends overlay.
Note that anyone in your group may invite their friends as well, like a wholesome recursive party where people hit each other for funsies.
Also note that as the Host, you have the right to kick anyone from your group, by using the Kick button available from the Game Menu. Retaliation for doing so is not covered by our insurance policy.
Aboard the Arkade
You're ready to step out and step up to your opponents? Good on you! Know that you'll be visiting the most remote vistas of The Blank's region, and the modified husk of the starship Arkade. Watch where you step; there are a lot of things either on fire or trying to kill you.
THE FLOPHOUSE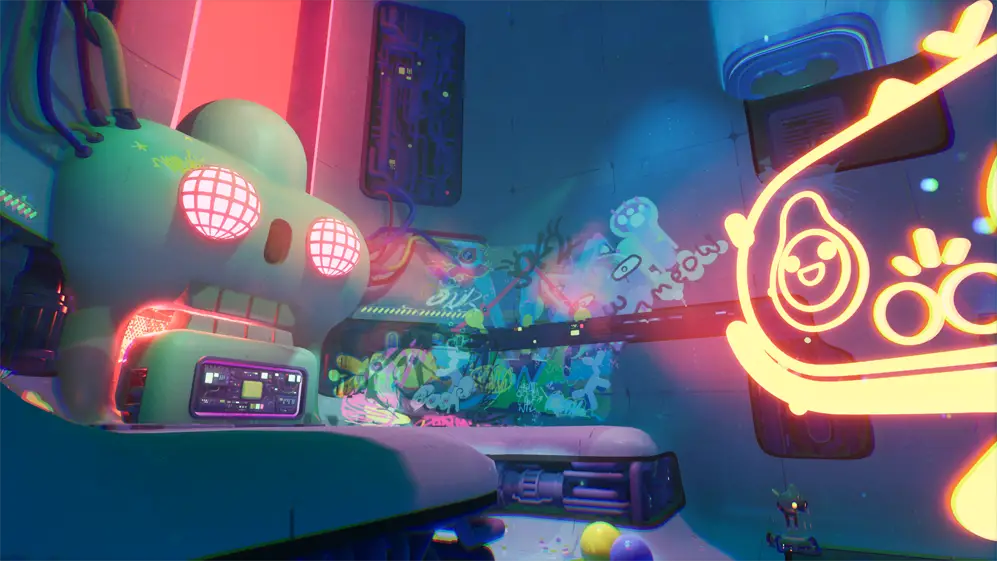 From the main deck of the Arkade, you can invite friends to battle, get a change of clothes, and learn the basics!
Oh and don't worry; this is not a safe space.
DISCO DNA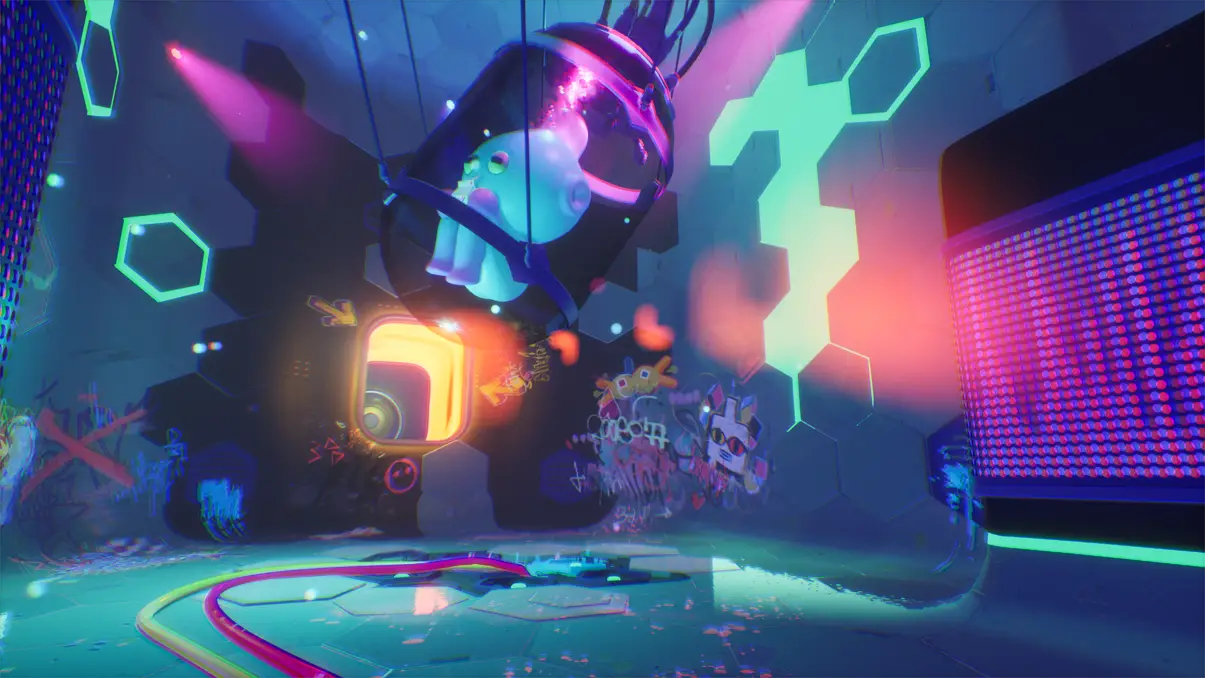 Time to throwdown?
Come by the Disco DNA and dance (or fight) in the bright reflecting lights of the cloning tanks.
It sure puts a brand-new spin on taking some "me" time, doesn't it?
MOBIUS MALL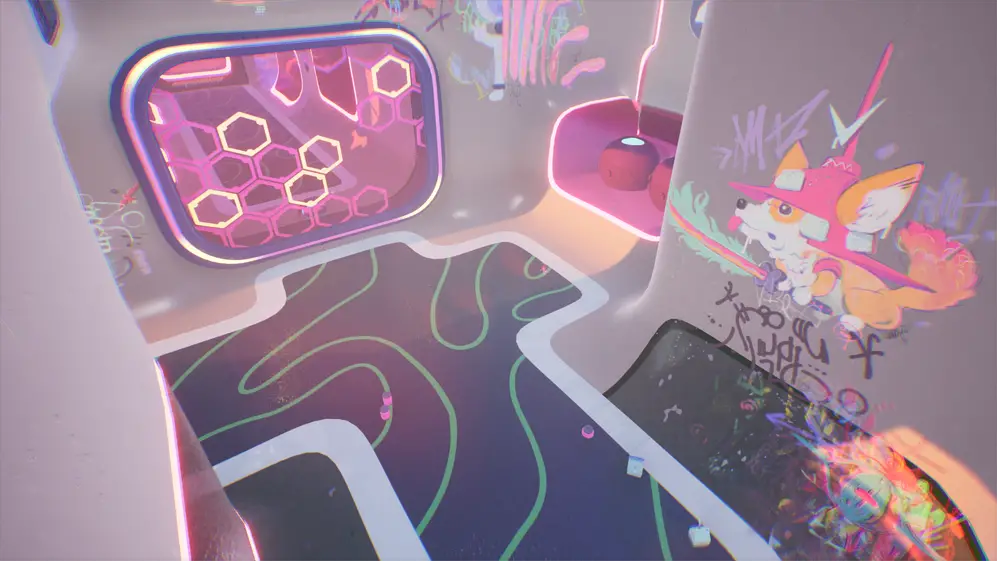 From weapons to plushies, the Mobius Mall's got you covered for the bare necessities of life on the outer rim!
Visit its winding corridors with a great view overlooking a way-too-close dying sun.
Remember that in space, no one will hear you sunburn, so lather up.
THE HOT SPOT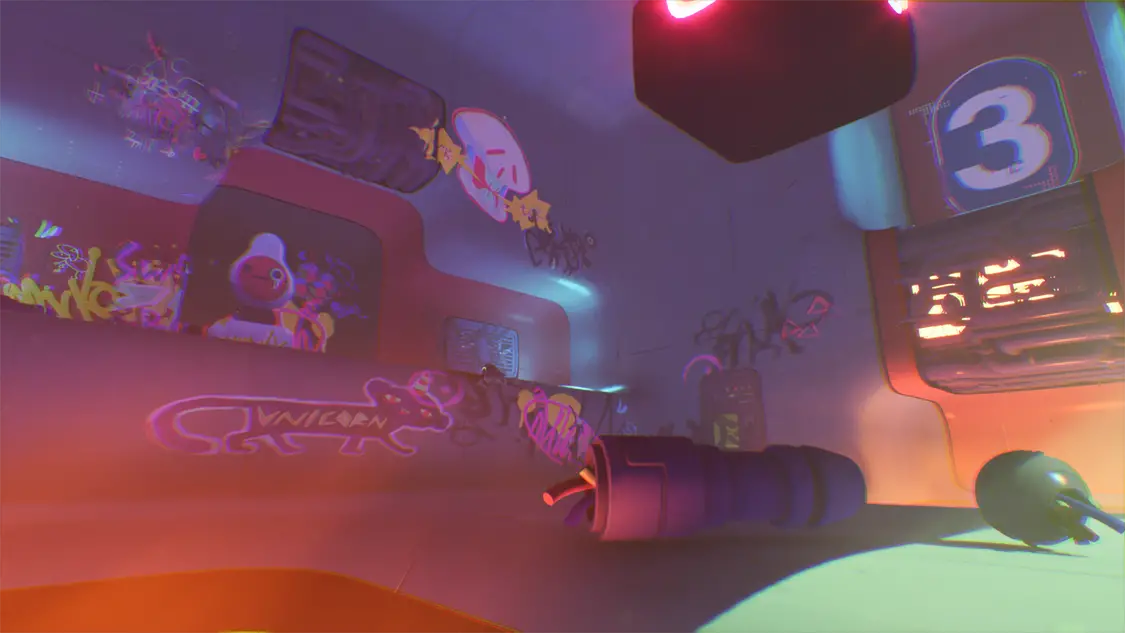 This repurposed hangar is fraught with perils, from pooling exhaust puddles to the accelerator's flame… But the heated floor sure feels nice!
So if you want to unwind, this Hot Spot is the place to be.
Watch your steps though; you wouldn't want to end up burnt to a crisp while tagging a wall…
GRAVITAS STATION
Residing on the ashes of a failed gravity reactor experimental station, Gravitas Station is always in movement.
Time your jumps as you explore its decommissioned entrails held together by luck (and some weird gravity wells).
Watch out for the stray speakers; you might not enjoy the pressure.
HORIZON PLAYGROUND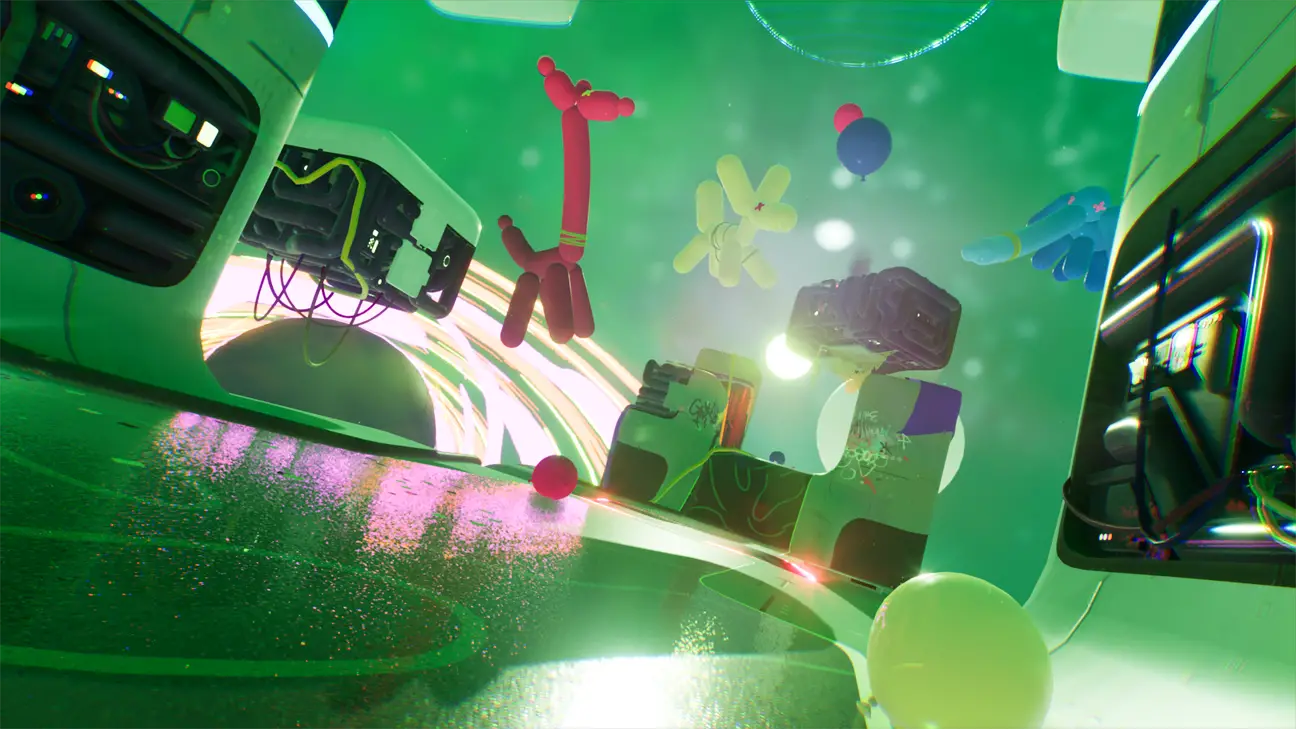 Come near this one-of-a-kind attraction (get it?) and contemplate the destruction of time.
Remember: prolonged exposure may lead to everyone you've ever known or loved growing old and dying while you're flippin' around the park.
MEOWSTEROID IV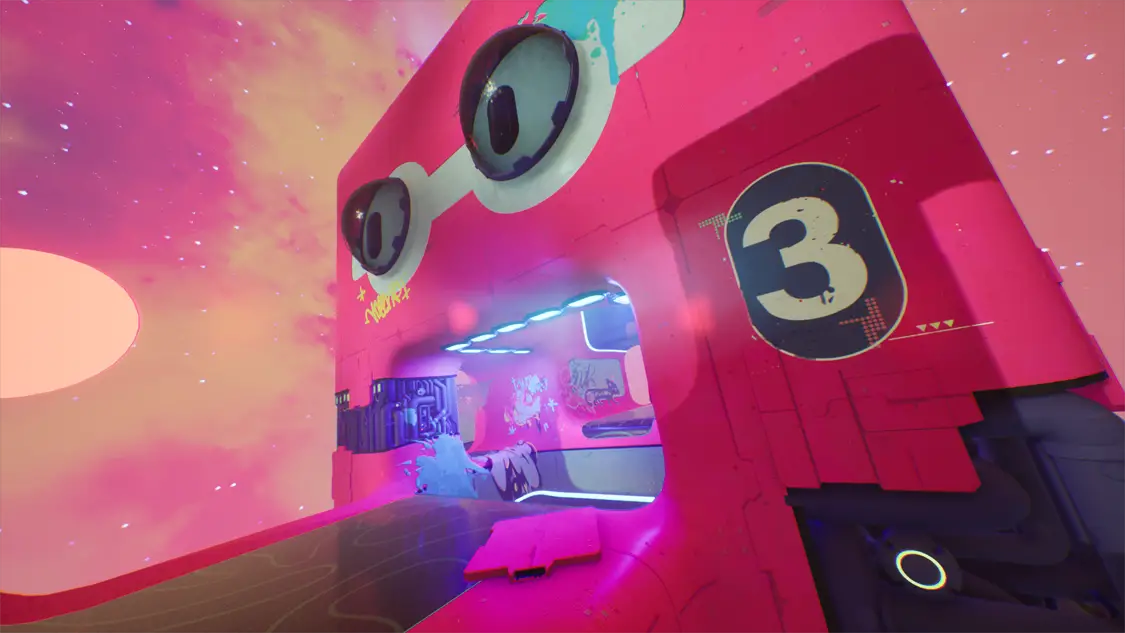 Some say Meowsteroid IV has been carved from the skull of a Purr Titan.
Some say there are no such things as Purr Titans.
Some are party poopers and should shut their mouths.
Mods Power
You want to be unique, bold, an unstoppable force yielding a mine on a stick or shattering the weak weapons of those who oppose you? Look no further than Mods!
EQUIPPING MODS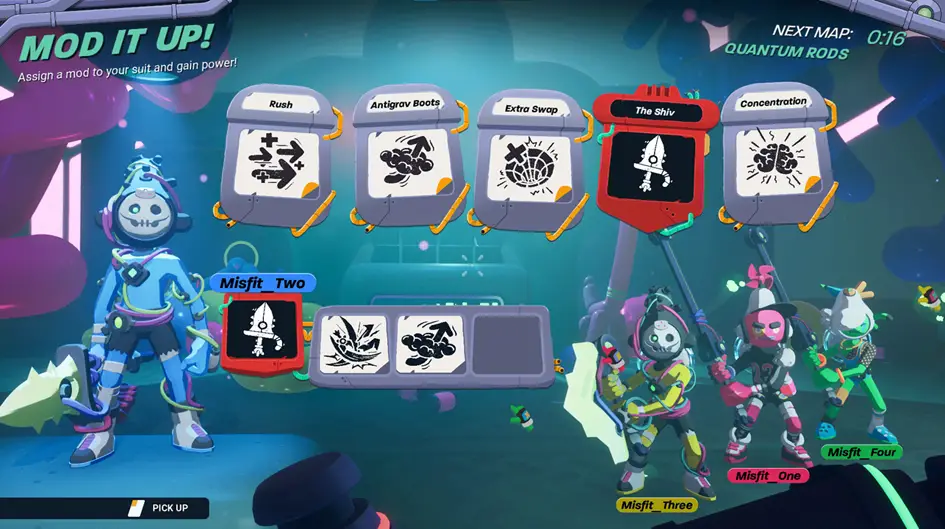 During a match, you'll be presented with the Mods Screen, where you can pick a single mod to equip on your suit.
The match's first player to pick is randomized, but the following rounds will always have the lowest scoring player for the round picking first (we're nice like that).
Mods come in 2 types: weapons and abilities.
Weapon Mods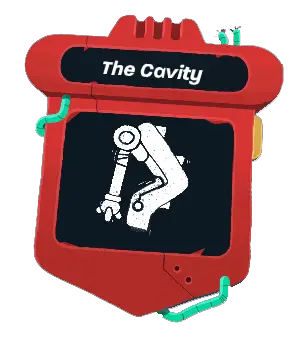 Weapon Mods allow you to discard the starting weapon (which looks like rubbish picked from the ground) and yield something way cooler. Some are bladed, some are blunt, but they'll all give you a nice bonus and help you win in a fight!
Ability Mods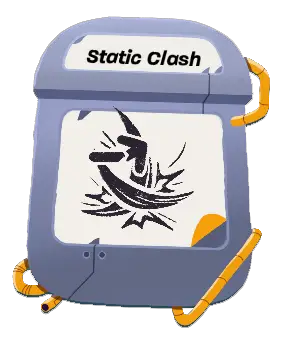 Ability Mods have a wide range of effects. Some are fairly standard like speed and range boosts, while others are less so, like allowing you to slow everyone near you when you touch them with your balls (we mean orbs, orbiting you). These little boosts go a long way if you make good use of them.
Dressing Up
Hello fashionistas! Beating up friends and randos is all fine and fun but doing so while wearing the suit that fits *just right*,that's priceless.
THE BODY SWEAT SHOP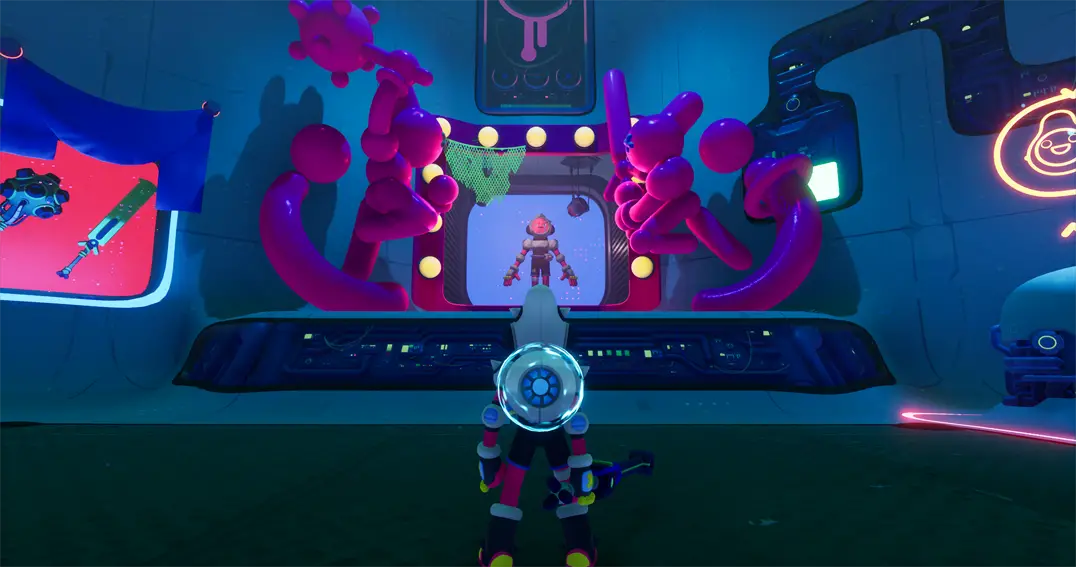 Step onto the dressing platform and use the A button and B button to swap your garb. Our mannequin keeps track of your current style so you can see how utterly bad*ss you look! Move off of the platform… and that's the new you, stepping into the world and ready to deliver gobsmacking blows to bewildered audiences!
The best part? Because our existence is fleeting and nothing really matters, everything in the Body Sweat Shop is free and unlocked from the get-go.
Treat yourself, you earned it!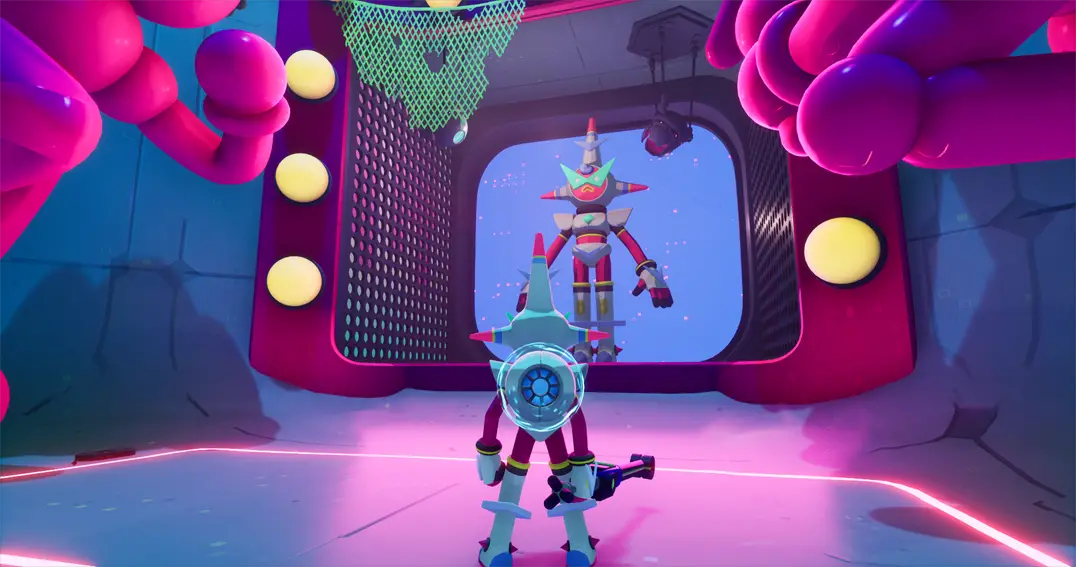 FAQ
I KEEP THROWING MYSELF INTO SPACE…
First, slow down. Take a bit of time to aim your gravity swap.
If the first tip fails, spend some time in the Flophouse's tutorial rooms and try to swap gravity towards the numbered plates in sequence.
Remember that you can move while in the air to tweak your trajectory. It also means that you might not want to move while swapping the first few times, so you'll land where you were aiming at when you started.
And if all else fails, try, retry, and overcome. We believe in you!
I SEEM TO ALWAYS LOSE WHEN I ATTACK SOMEONE…
Hey, it's okay, it happens to the best of us.
Twitchy fingers will get the best of you in Flippin Misfits. You must remember that power increases at close range. So let them come to you, bait them into making the first move, and then, when they're near, hit that ATTACK button and bash them out of this world!
You might also want to be sneakier, coming up to them from behind, and then hitting them where the sun doesn't shine… It's all about getting results. But remember, they can see when you're targeting them, so act quick!
I'M NEVER PICKING MODS FIRST. WHY DO YOU HATE ME?
It's not personal, we assure you!
The pick order for mods is based on last round's score. The lowest scoring player gets to pick first, and so on until the round's winner picks, last.
The one exception to that rule is the first Mods pick, which uses a random order. So, you see, you're not picking first because you're doing good. Keep at it!
I LOVE THIS GAME! HOW CAN I HELP MAKE IT GROW?
Look, we love it too! Be vocal and passionate about it, leave a review, stream it, tell your friends, family, neighbours, and local district representatives! Whatever you do, never shut up about it until it becomes #1!
That's everything we are sharing today for this Flippin Misfits guide. This guide was originally created and written by OhBehave. In case we fail to update this guide, you can find the latest update by following this link.
If you believe that any of the content on this site violates your rights, including your intellectual property rights, please contact us immediately using our contact form.