Title: Farm Keeper
Release Date: June 18, 2023
Developer: Napas Torteeka
Publisher: Napas Torteeka
This guide aims to provide expert advice on conquering the challenging EPIC mode in Farm Keeper. Please be aware that it contains insights into "secret tiles," and if you prefer to discover them on your own, refrain from reading further.
Prelude
Before embarking on your journey to conquer EPIC mode effortlessly, it is essential to unlock several "secret tiles," including:
CORN
TRACTOR
WEATHER-VEIN
WATER PUMP
Barn (optional but beneficial)
Ore (optional but beneficial)
You can acquire all of these tiles by playing the easiest difficulty level and successfully completing the corresponding challenges.
Additional Prerequisite:
To access EPIC mode, you must first triumph over Challenge and Boss modes, which can be accomplished using the following strategy with ease. Successfully overcoming these modes will grant you access to the "secret tile" for Chests. These Chests guarantee 2 stones, 2 wood, and 50 Gold. Moreover, Chests also leave behind tillable land, making them a priority whenever they appear.
Getting Started
For an optimal beginning in EPIC difficulty, it is recommended to commence with 2 rocks (or even better, ore veins) that you can immediately convert into 2 wells. Following this, focus on planting as many watered carrots as possible, utilizing the energy from the wells.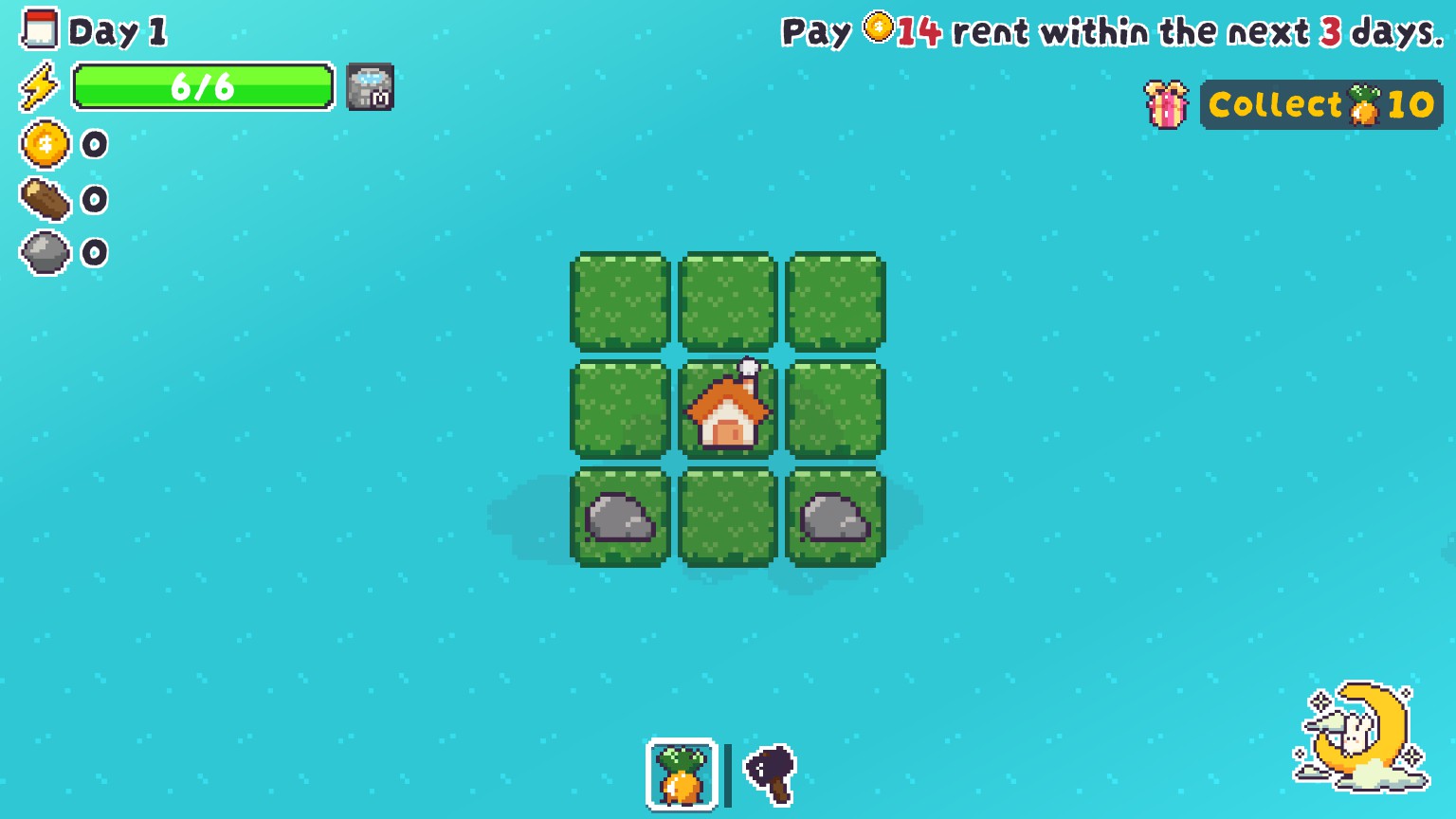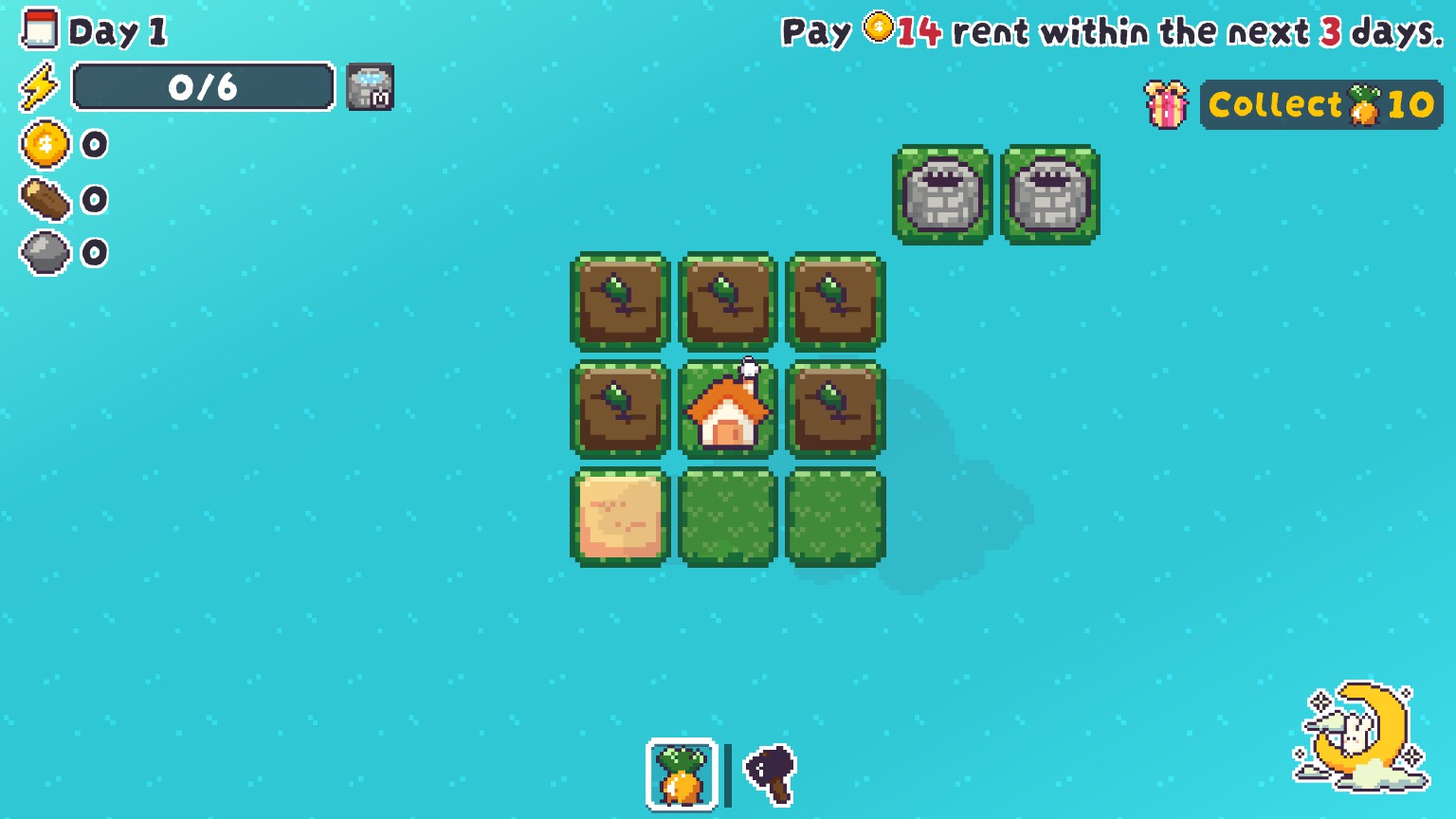 In the coming days, the best free tokens to acquire are rocks or ore veins, as they will not only give you an extra rock to build another well, but also a fresh token to start expanding your farmland. In cases where rocks or veins are not available, choosing a well or a tree is the optimal alternative. It is strongly recommended not to choose ranches or water spots.
Here is the ranking of tiles in descending order of desirability at the beginning of the game:
Chest
Ore Vein
Rock
Artisan Well
Fruit Tree/Tree
NEVER CHOOSE (choose to purchase an empty tile instead)
Ranch
Water
Boat
Mountain
The placement of both land and wells is very important. For land, a 3×4 grid configuration with a central hollow (2-space gap) is recommended, while wells should be organized in a 3×3 formation with a hollow center.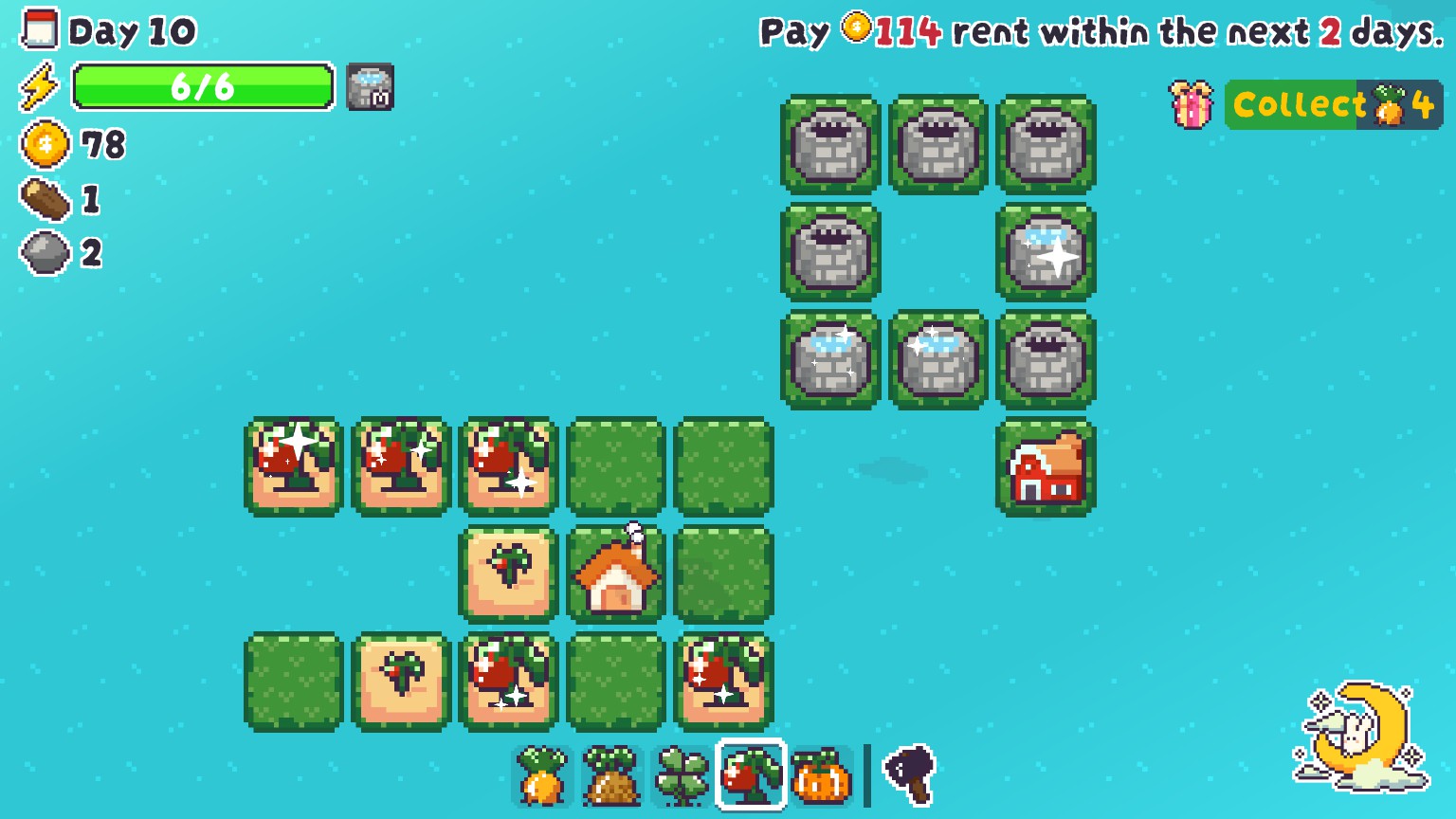 An important consideration is to switch from carrots to tomatoes as soon as the latter becomes available, as this would significantly optimize profits.
Finishing
The remaining steps in the process are relatively straightforward. Just make sure a pump is placed in the center of the Artisan Well grid. Then fill the empty 3×4 farm space with a Windmill in the rightmost position and a Farm Market in the leftmost position, if it already exists.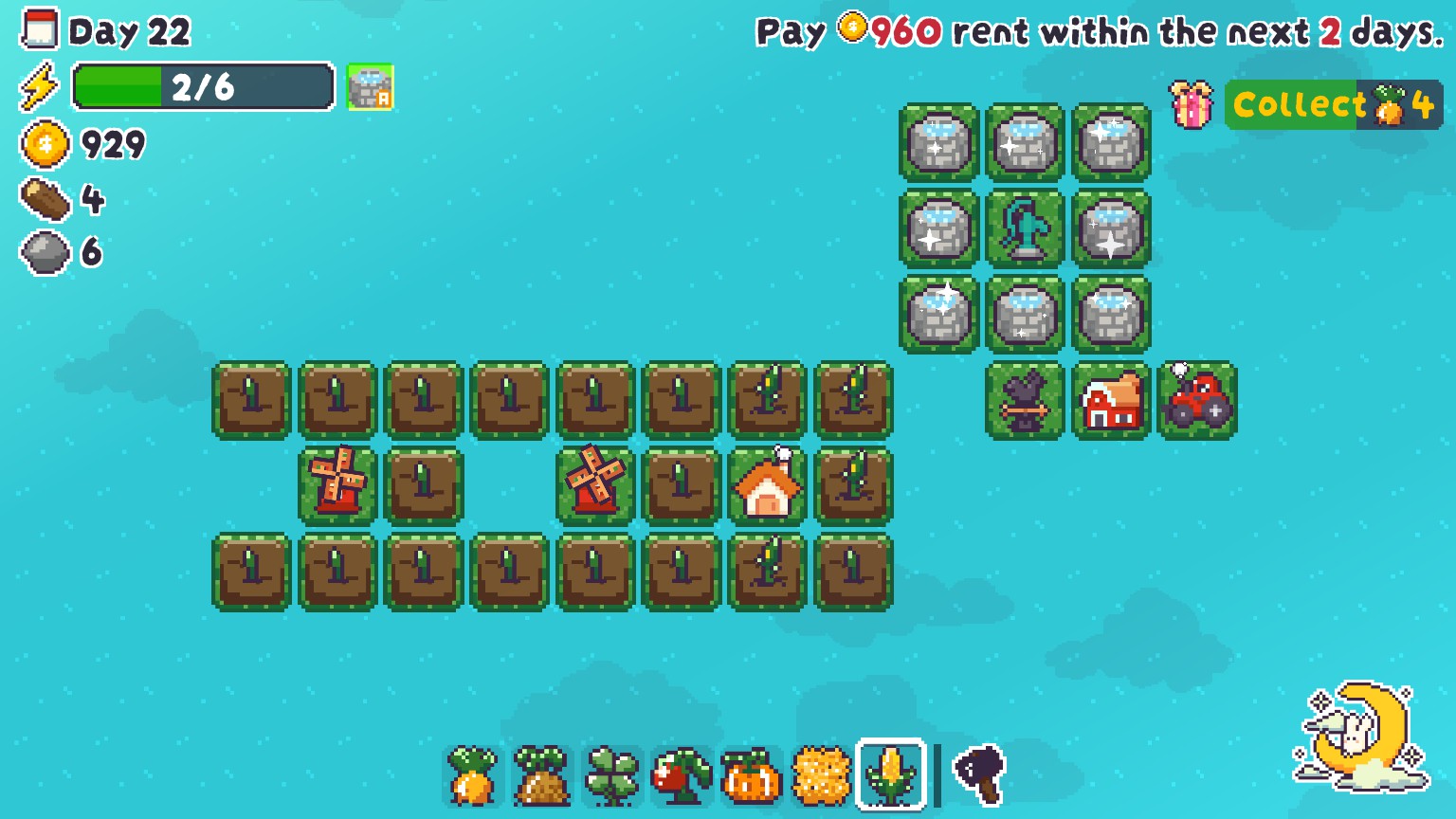 For optimal farm expansion, consider including the following structures
A Barn (Note: Re-roll ability does not stack)
A Weather Vane (Used to irrigate all tiles after tilling)
A tractor (Allows you to harvest all your crops)
Continually expand the land in a repeating 3×4 grid to the left. For maximum profit, plant corn immediately and use the tractor to harvest from the lower right corner. By using windmills, marketplaces, and a combination of corn and tractor, each newly added farm tile will yield 64 gold per day.
Some useful recommendations:
Use the pumps' ability to fill the wells before the end of each day.
Prioritize using the weather vane before planting corn to avoid accidentally wasting energy on irrigation.
Use the click-and-drag technique to quickly till and seed fields each day.
When complete, the final farm layout should resemble the one shown below: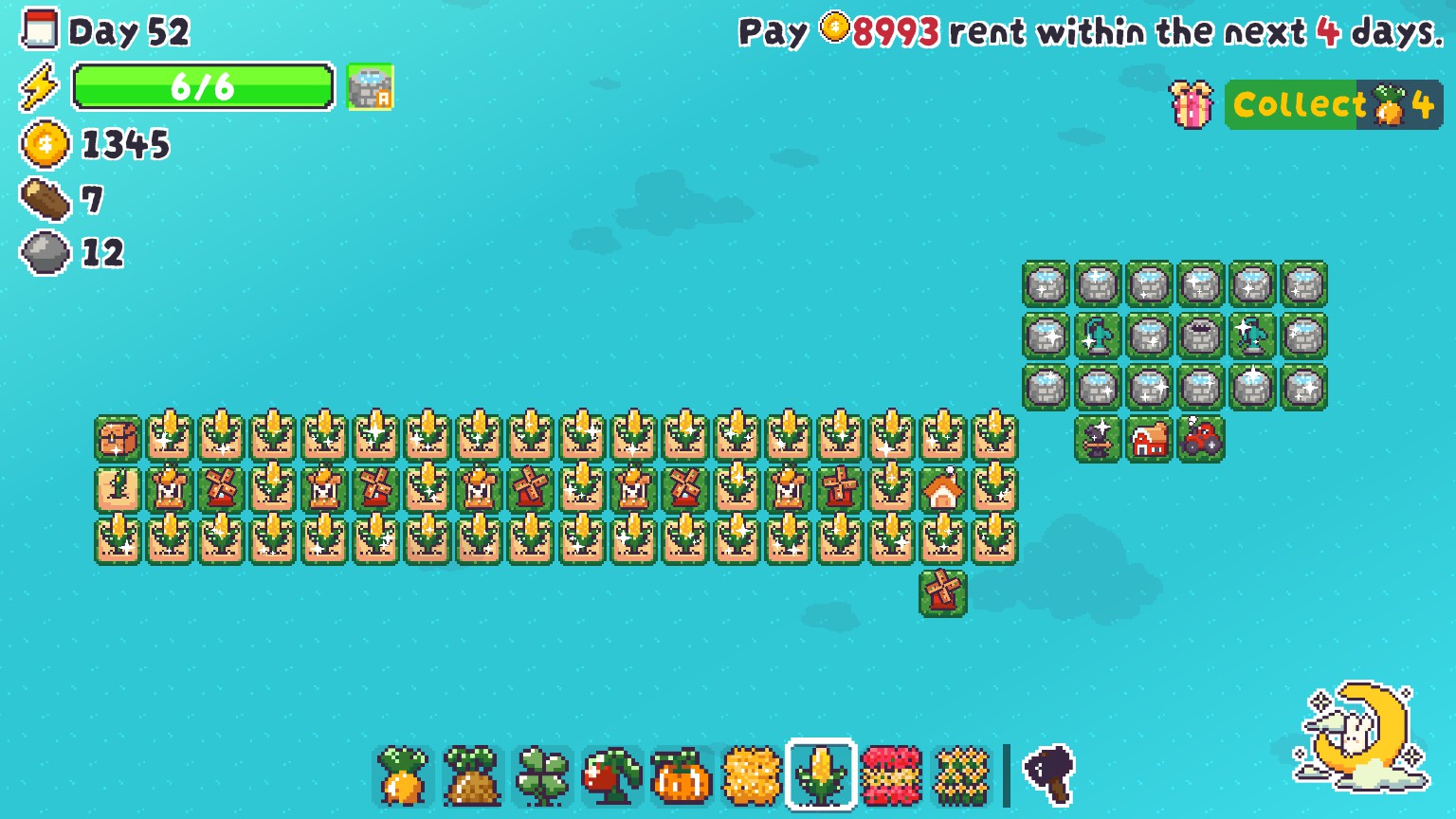 Congratulations on your achievement in conquering the Epic difficulty using corn as a strategy! I am now curious to explore alternative approaches for overcoming this challenge without relying on the utilization of corn.
That's everything we are sharing today for this Farm Keeper guide. This guide was originally created and written by GrayMatterMan. In case we fail to update this guide, you can find the latest update by following this link.
If you believe that any of the content on this site violates your rights, including your intellectual property rights, please contact us immediately using our contact form.