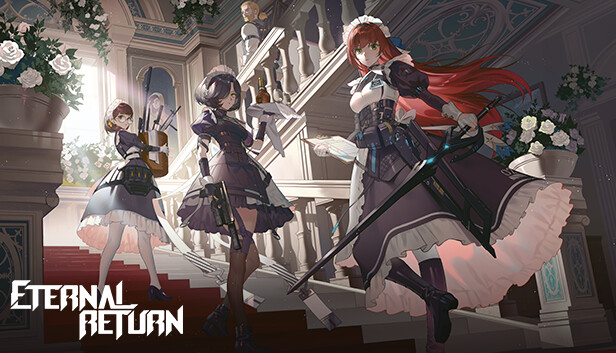 Hello! I'm going to explain the fundamental concepts of Eternal Return to help new players get started and become better at the game. Eternal Return is a game where you choose a character and compete against other players. You collect items, level up, and aim to be the last one standing. To succeed, you'll need to understand your character's abilities, find good items, and make smart decisions. Practice and learning from your experiences will help you improve.
Ultimate Crafting and Progression Guide
Crafting Items:
In Eternal Return, items are super important because they make your character stronger. To get these items, you should start by picking a save plan you like from the main menu or during champ selection. It's a good idea to choose one with a late game item list. Once you're in the game, you'll see some materials highlighted on the bottom right of your screen. Those are the items you need in your current zone. Your job is to find these materials by opening boxes around you. When you've got everything you need, they'll turn gray, and you'll hear a little ding sound.
After that, open your minimap by pressing "m" and see where the game tells you to go for more materials. They'll be numbered to show the order to visit them. If they're close, just walk there. But if it's far away, look for a circle with arrows on the minimap. That's a teleportation device. When you get close, you'll find a telephone station you can use to quickly teleport to the next zone.
Keep doing this in every zone until you have all your items. But be careful because sometimes other players might try to fight you for the materials. You can also use the quick craft option by pressing "z" to make things faster instead of clicking each material manually.
Once you've looted all the zones and crafted everything up to purple rarity, you've finished the first part of your build. Now, press "p" and switch to the late game item transition list. You'll see that these items are all gold rarity, and they're the ones you want for the late game. Besides regular crafting materials, you'll also need special objectives to craft them. A good goal is to get all your purple items before the start of night time on day#1.
Loot Distribution:
When you start the game, you'll see a bunch of boxes that are close to each other. These boxes have all the materials you need for your zone. It's a good idea to open all of them because you'll find everything you need in this cluster. So don't just open one or two boxes and then go somewhere else in the zone. Make sure to loot all the boxes in the cluster to get the materials you need.
For more detailed guidance, you can watch a video by "Homecoming" that explains this in depth.
Objectives:
In the game, you can find Meteorite and Tree of Life, along with bosses scattered across the map. These things appear randomly, and there are only a limited number of them on the map. Their exact location is decided one minute before the day or night changes, giving you time to get ready to compete with other players for these valuable resources.
Force Core:
To craft a Force Core, you'll need both Meteorite and Tree of Life.
Bosses:
There are three types of bosses – Alpha, Omega, and Wickeline. Each of them drops unique items.
Alpha drops Mythril.
Omega drops Force Core.
Wickeline drops VF Blood Sample, and items made with this usually have some healing properties.
These objective drops are crucial for turning your purple weapons into very powerful late-game gold items. Now, go out there, collect these resources, build your items, and enjoy the battles!
That's everything we are sharing today for this Eternal Return guide. This guide was originally created and written by Cursed Night. In case we fail to update this guide, you can find the latest update by following this link.
If you believe that any of the content on this site violates your rights, including your intellectual property rights, please contact us immediately using our contact form.