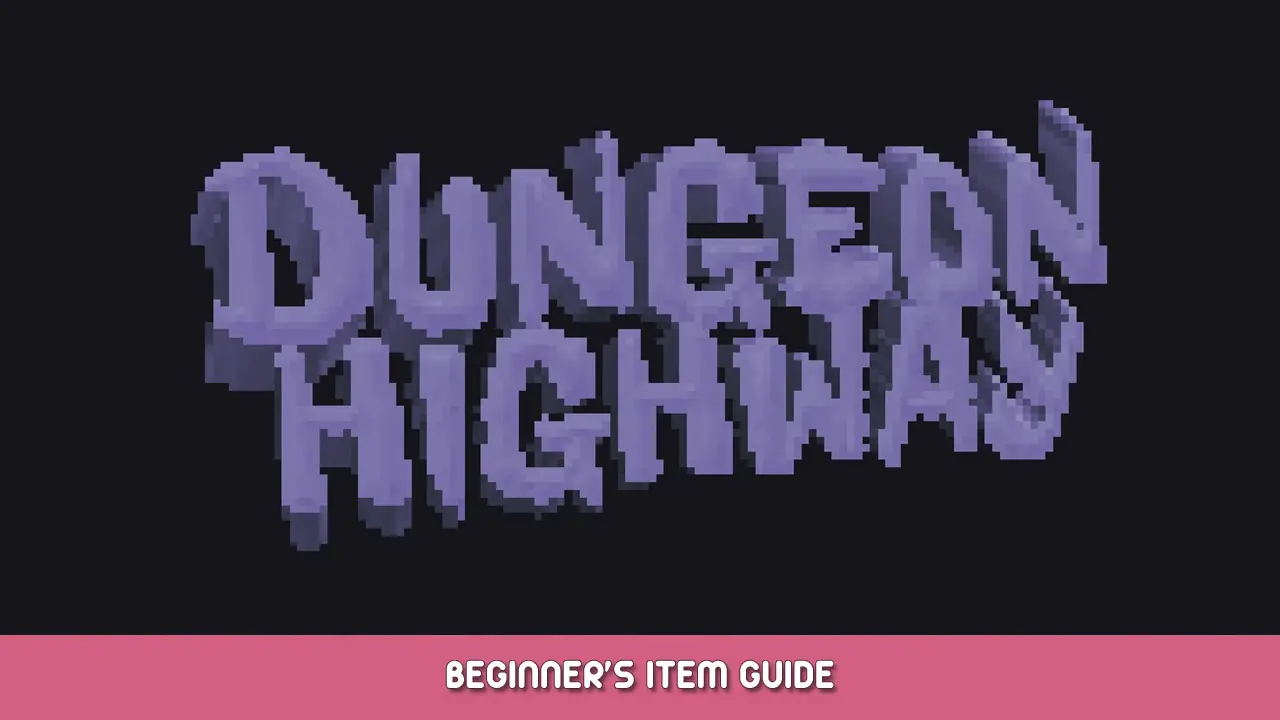 There's not much to guide in this game. So here are the items described for you.
Weapon Potions
Each character has its own unique set of weapons. We're not going to detail each character here to avoid potential spoilers, but try different characters as you unlock them to see what suits you.
You start each run with your chosen character's default weapon and can switch to their alternate weapons by collecting the appropriate color potion. Collecting the same potion in a row does not increase or change the weapon any further.
Some weapons you will prefer to others, making avoiding weapon potions sometimes part of your strategy. The three-color potions associated with weapons are as follows:
Red – Collect to return to the character's default weapon.
Blue – Collect to change to the character's first alternate weapon.
Purple – Collect to change to the character's second alternate weapon.
Generally, the default weapon is something basic, blue is often a split shot of 2 or 3 projectiles, and purple is often a whirlwind or other special weapon.
Each character is unique so the red, blue, and purple can potentially be very different from 'the usual'. We won't discuss them precisely here to avoid spoilers, but some weapons are faster than others, some will block your view a great deal, and some have good damage spread.
Speed Potions
There are 2 potions that will affect your speed for a few seconds. They both may be useful or you may prefer to avoid them. The color potions that affect speed are:
White – Will slow down time for a few seconds.
Black – Will make you run faster for a few seconds.
The white potion can be invaluable when you are at high speeds. It will give you a moment of lower intensity and can help make tricky movements. On the other hand, slowing down time may upset your flow for which you may decide to avoid this potion. When active, the white potion will also lower the sensitivity of movement which can potentially upset your natural positioning.
The black potion seems to be mostly a detriment. You will run faster requiring faster reflexes to maneuver between obstacles. On the other hand, running faster for a moment increases your steps per second giving you points faster for that time and putting you slightly faster toward that high score. You may want to collect the one often found before a straight, otherwise, I would avoid this potion.
Enemies to Coins and Scoring
This is the only item of importance to scoring. It looks as follows:
Square, Light Brown with Black X – Turns all enemies for s short distance ahead into coins.
Gold Coin – Rewards you with points when collected.
The X item is often placed before almost unavoidable stretches of enemies, as it turns them into coins which you can collect. Collecting a coin gives you more points than shooting an enemy.
Scoring in the game works as follows:
Walking 5 foot – Rewards 5 points
Shooting enemy/boss – Rewards 100 points
Collecting gold coin – Rewards 250 points
It is possible to play without shooting enemies. Playing this way makes Brown X items your one opportunity to get some decent points. This is called a passive run. Bosses require shooting once to pass, thus they are allowed to be shot in a passive run.
Big Mario Potion and Obstacles
This one is the most useful for survival because it gives you one free crash. The potion looks like this:
Yellow – Turn BIG and survive one crash.
Just like in the original Mario games, this item turns your sprite bigger until you hit something, at which point you will return to normal size rather than ending the game. You may also think of this as a one-use shield.
The obvious benefit of collecting this item is giving you a chance to carry on after a blunder. Sometimes they will appear in a set of 3 walls where collecting them and crashing through is the only way to progress. There are always 3 more potions on the left side after the walls, so the walls always offer the potential to go big or retain big if you arrived there already grown.
The downside of the big potion is that it may obscure your view a little. It can also make it harder to squeeze through gaps. It may give the impression you can no longer get through single gaps, but your size does not increase your hitbox. However, it can still make it harder to judge whether you are central to a gap. You absolutely want this item despite the downsides.
Obstacles
Only the items in this guide can be run safely. Running into anything else will end your run or remove the 'big' effect. Obstacles can be divided into three categories:
Enemies – Detailed sprites of similar size to your own
Bosses – Larger version of the enemy sprite
Pillars – Flat grey stacks of squares
Enemies can be dodged to get further along the dungeon highway. They may also be shot by your character's current weapon, at which point they will be removed from your path. Shooting enemies explode them into blood particles and leaves a blood stain on the ground.
Bosses act the same as enemies but cannot be dodged. They are large enough to block the three center lanes while the other lanes to the left and right will always be blocked by pillars. When a boss is up ahead, gateway pillars and arches and firey sprites will start appearing.
Pillars cannot be shot and must be avoided. They will often block your view ahead considerably increasing the difficulty of the game. They will often appear in familiar patterns, sometimes forcing you into particular directions or slaloms. Sometimes they will block the way entirely, but big potions will always be present to help you pass in such cases.
That's everything we are sharing today for this Dungeon Highway guide. This guide was originally created and written by kailomonkey. In case we fail to update this guide, you can find the latest update by following this link.
If you believe that any of the content on this site violates your rights, including your intellectual property rights, please contact us immediately using our contact form.