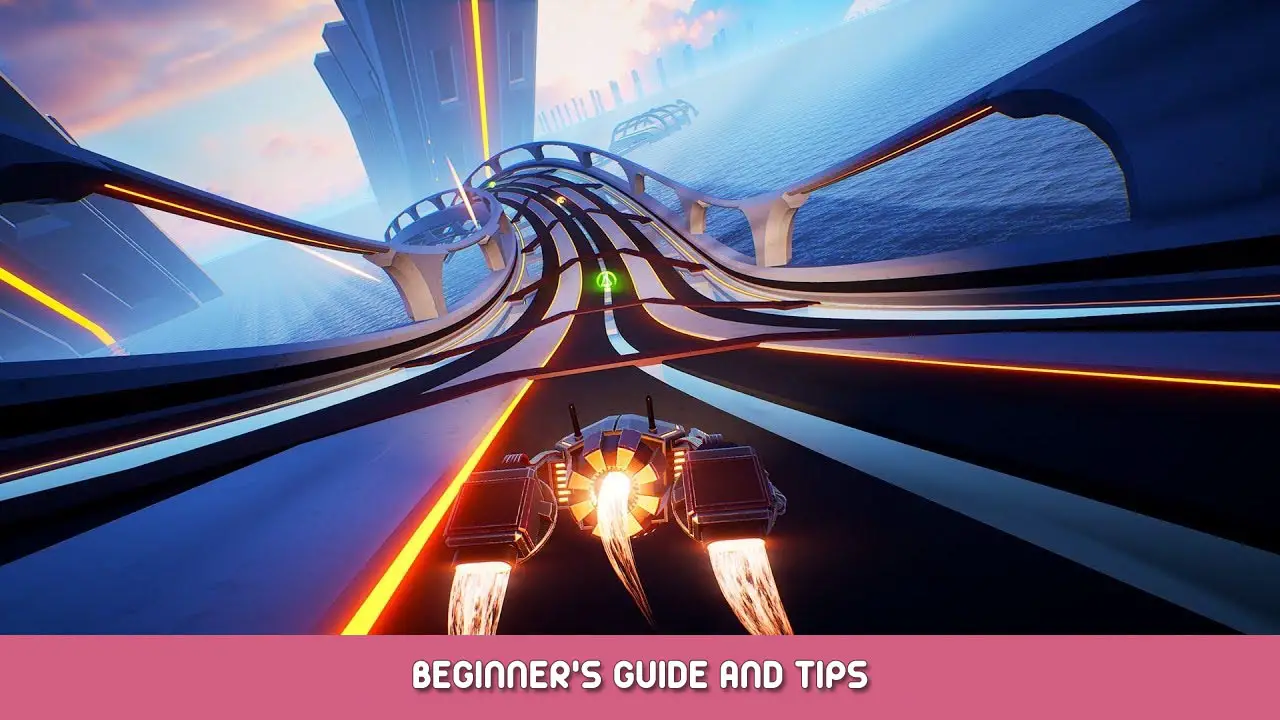 Short guide with advice on how to play better
Settings stuff
If you're using controller – rip.
If you're using keyboard and mouse – please use mouse for turning. I disabled it at first and used keys and I STRUGGLED.
Also, turn off vsync and set some fps cap.
Probably better to put all of the effects on low but idk if it helps.
If your game lagging – lover your render scale.
Basic stuff
this guide is not for beginners but I'll reiterate some stuff that even advanced players can miss:
You need to strafe into the green walls. At the end of the green wall strife to the opposite side to jump out of the wall (it's almost always a good idea to do that). If you boost right before strafing into a green wall you'll have same amount of boost energy after the wall grind.
If you loose yellow orb it's not a big deal. If you loose green one – it's a big deal. If you loose a blue one – damn, don't do that.
Boosting is good since it gives you more score but dying while boosting is bad. Only boost when you're too bored and wanna get to next section faster.
If you strafe left and turn left your left turn is sharper. But if before the turn you strafe right while strafing left and then release right strafe and strafe left immediately – you'll get the sharpest turn you can get. It's like turn preservation. Feels like drifting tho. Is that what name of the game referring to?
General tips
All of the maps in the same category are made from the same pieces.
Random tracks are generated from those pieces with some stuff randomized. Try to search for patterns.
Play one track a lot. Best to choose one seed of infinite mode so you can actually progress and get comfortable with controls. You may choose other mods too (but not Narrow Mode, nononononono).
Random seed is dependent on date I think? At least when I replay random seed during same game session it's the same map. You probably already noticed that tho.
Track mode is evil, don't play it
Infinite mode
Boost through first section, it's easy
In snow biome you can boost a lot on open sections since there are a lot of green walls so do that.
At roofed snow sections just keep yourself in the middle. Swing from side to side at spike sections, always ride green walls, if there is a turn go closer to the outer side.
In the long section with a lot of green orbs boost all the way to the first orb. Then get first 4-5 orbs without boosting. After that a portion without sharp turns should start, boost through it if you can get all of the green orbs on boost speed. Same strategy for all other sections of this type.
At desert narrow section try to alight your vector of movement to be perpendicular with road direction and strafe to avoid obstacles (don't boost).
At desert wide just be good I guess.
At the wheel don't try to go through, it's too random. Go to the outer side of the turn and behind the bars or between the wheel and the bars. It's hard but it's more consistent.
At the section with a lot of perpendicular parallelogramic obstacles it's easier to go between the wall and the parallelogramic thingy. Same deal with "a bunch of half-spheres" obstacle. But in the case of parallelogramic things try to go in-between them if you can do that.
Also at wide section there some green walls that have big obstacle at the middle of the road almost immediately after the wall. At those you need to jump out of the wall ride early.
At indoors bridge there are not much advice. Try to always be at the middle, especially if under the press obstacle. There is a long empty section before big drops, you can boost through it. You can almost always boost into green wall rides without much danger. On water bars section try to not strafe and just turn smoothly.
At outdoors bridge you don't wanna boost almost at all.
There is an obstacle that requires a sharp turn (you'll know what I mean). Try to stay close to the side of the road on this one, it helps but you'll still need raw intuition and experience to beat it.
Always ride green walls.
There is a section with arks with 1/4 of circle going from side to side in each ark. Try to not strafe on that portion.
There is portions with a big circle you need to jump through. There always two barrels before the ring and one barrel at the middle of the road after the ring.
On the narrow portions use drift technique from previous chapter of this guide. Store the turn before you go into the corridor and release it when you enter the corridor.
You can go through all of the double spike gates but don't try to goo through the narrowest, you're not that good. You probably shouldn't go between second narrowest even, just go around.
After that you'll get difficult versions of bioms. Try to get a lot of lifes and just try different approaches for each obstacle until you get through it. I guess one tip that still works is try to be in the middle of the road? Other than that, it's too difficult for tips to work. "Memorize and try again" is the approach
Linear mode
Linear mode, my beloved.
There are very narrow sections, like one corridor that has a lot of spikes that gets narrower and narrower. Don't fear them, usually you can get through if you skilled enough with mouse. Don't use strafe at those portions tho.
If there is a ramp – go at it. The exception is if there are a lot of blocks stacked on top (not just one-two stacks but a lot), you may be better off going around this one if the speed is too high.
But avoid intersections of straight and diagonal ramps. There is a geometry glitch there that does some strange stuff and may mess up your direction or even just kill you (your drone, not irl you).
Before and in the the corridors do the drift.
On other sections of the track mostly use your strafe. Turning is not that useful and can mess up your intuition.
Track mode
me dont like this one
Block mode
Always align your drone with the direction of the road and strafe around the obstacles.
Keep yourself at the middle of the road and strafe mostly to the outer side of the turn.
Boost in portions without blocks.
You can do a 360 turn but there is a barrier that prevents you from going back too far. But in theory you can grab multiple blue orbs this way (I wasn't able too but it's possible).
Space mode
boost when no wheels?
try to be at the middle of the road?
turning works differently since road is curved so get used to that first and try to use turning a lot and strafe less
Narrow mode
try not to use strafe, only smooth turning
look at what is ahead and not at your drone
don't boost, you'ren't that good
That's everything we are sharing today for this DriftForce guide. This guide was originally created and written by lopidav. In case we fail to update this guide, you can find the latest update by following this link.
If you believe that any of the content on this site violates your rights, including your intellectual property rights, please contact us immediately using our contact form.