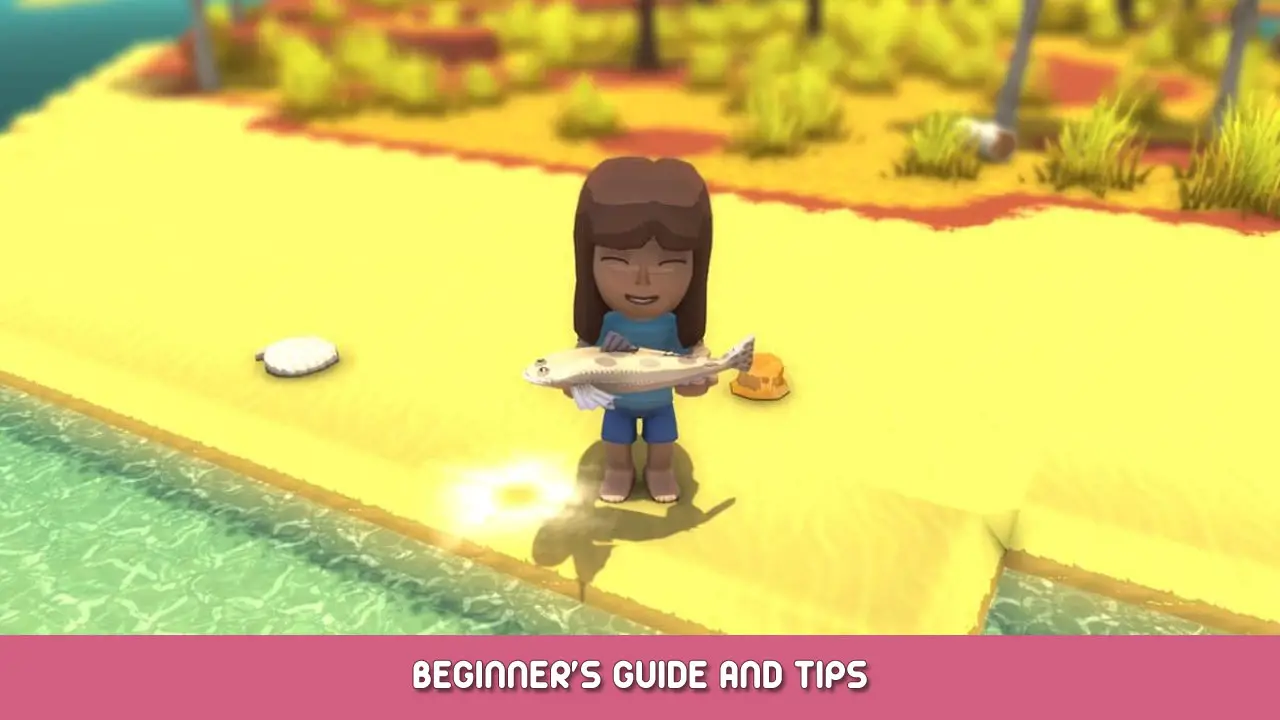 Some notes I have collected for Dinkum.
Introduction
G'day and thank you for visiting, mate!
This guide is a work in progress, and I intend to keep it up to date moving forward.
To be clear, this guide will not contain:
How to get rich as fast as possible.
How to "complete" the game as fast as possible.
Any info about mods, glitches, or cheats.
This guide will contain:
Lists.
Spoilers. Lots of spoilers!
Unfinished content — it is a WIP (work in progress) after all.
You can help! I welcome you to use the comment section to help improve this guide. I will consider every suggestion!
About me: I have played Dinkum since the start of early access. You can often find me in the official Dinkum discord as one of "Fletch's Helpers," where I volunteer to help the wonderful Dinkum community!
ALL content in this guide was sourced from myself, the official Dinkum discord, and/or the official Dinkum Wiki.
Advice For New Players
The first thing I recommend to new players is that they enjoy the game at their own pace.
Money is only scarce when starting out. You can make money in so many fun and different way in game, you can usually make "enough" money to not have to worry about "what makes the most" money.
The game is deeper than it seems at first glance. Raising your skills and buying new licenses will reveal a lot more about the many different things you can do to make money!
You should also be aware that the game wasn't meant to be played by focusing on making money doing just one thing over and over again. For example, some things have big payouts but you can't do them every in-game day.
Ultimately, you are free to play however you want. Just be careful and make backups frequently.
And last but not least, remember that you can just exit the game without sleeping/saving, so the whole day is deleted or "forgotten."
Getting Started
Starting at character creation, choose whatever looks, name and island name you want. It makes no difference in gameplay.
Each island is randomly generated. While they are similar to one another, the main differences are the river locations, the terrain and biome borders vary greatly. So, each island more or less
looksdifferent yet
feelsfamiliar!
The Tropical area is always in the same general area. The ocean is always ocean. The dock is always on the East side. There are always towers toward the Northern, Eastern, Southern and Western ends of the island.
Once you have seen the opening cut scene, you can skip it on your following play throughs by pressing escape.
You can pause the game in single player, in the game options, if you are using the experimental version of the game.
The time of day breaks down as follows:
Morning 7am – 11am.
Afternoon 11am – 6pm.
Evening 6pm – midnight.
LATE at/after midnight, until save or exit.
You can keep playing when it gets LATE if you wish, the only real limitation is that your stamina is greatly diminished, making it really costly to do actions that require stamina. I like to use this time of day to do things that do not require stamina, such as cooking, using the table saw and furnace, etc.
Best Location for Base Camp
It doesn't much matter where you set up your tents and build your village, except some spots will be more challenging than others. Islands that you have to swim out to at the start make for a pretty challenging start, but just about anything can work!
The preferred starting locations for many players seem to be either in the center of the map, or near one of the towers for easy travel once you have repaired the towers.
You can always move your buildings later on if you wish, with a couple caveats:
1. You cannot move the base tent or the player tent until you upgrade them.
2. It costs 25k dinks every time you want to move a building.
Ending The Day (AKA Auto-Save)
Through your dialogue on the first day, Fletch will offer you a sleeping bag while in the base tent. You can place it on the ground or carry it with you, and you can have more than one. These sleeping bags are simply a way for you to auto-save the game by ending the day, which you can do any time you like.
It is important to note that if you exit the game without sleeping/saving, you will lose all of the progress you have made since your last sleep/save. This is a feature that allows you to restart your day should you encounter a bug or glitch, if you get stuck or if you simply wish to undo something. This also makes it possible to cheese your way through game, but I wouldn't recommend doing so.
General FAQs
Hold shift + click to stack items from one window into another.
Queen bees have a higher chance of dropping from Blackwood trees (AKA dark wood trees, hard wood trees — they are the higher tier trees that are not pine trees)
Pre-requisites for Jimmy (the shady visitor): rain and 1,000,000 in the bank. He will then show up on his boat sometimes (20% chance) when it rains and you'll see a question mark on the map marking his spot.
Pre-requisites for Ted: Hunting license level 2 and some other conditions. Ted's location appears to be random.
Silo area: 8 squares on each side. Windmill area: 26 x 26. Water tank provides water 10 tiles out in each direction.
You can put a sprinkler on grass to make long grass grow where you want. (Vombats eat long grass!)
Weigh thunder eggs first to see how much John will give you and if it is under 60k (or whatever John will give you for 4 opals), crack it open instead.
The Windmill affects: BBQ, Furnace, Grain Mill, Stone Grinder
Water Can and Hoe: default tool affects 1 square, Copper 3 squares, Iron 6 squares.
Tractor had 3 modes, dependent upon irrigation vehicle license: harvest, till soil, and fertilize/seed — all done 3 blocks wide.
Sell bulk (stack of 50) to Jimmy, sell non-bulk (fish, bugs, etc.) to Ted.
Brewing
Ahhh brewing.
It takes a whole day or more to brew something it seems.
So I haven't got a lot of experience in brewing yet, but I learned that wattle brew gives you energy, and bottled brush gives you health.
You also need Jelly from jellyfish, for brewing.
Jelly can be obtained from jellyfish, on beaches.
Wattle can be found in the bush lands.
Bottle can be found in the pine forest.
Deep Mine
Some deep mine tips:
Bring lots of torches, Wattle Brew, ~2 pickaxes, old keys, candle hat/miner hat, Meat Sticks and Bananas for healing and Stam, a weapon.
The Iron hammer destroys iron ore in 2 hits (pickaxe 3), and mine walls in 1 hit (pickaxe 2).
Farm Animals
Chooks: similar to chickens, requires a bird coop for housing and a feeder to eat. Produces eggs to use by cooking or selling.
Requires Handling Licence Level 1
Vombats: similar to cows, requires an animal stall to for housing and a feeder to eat. Produces milk when they are old enough. Collecting milk requires a milk bucket which can be purchased from Irwin.
Requires Handling Licence Level 2
Pleeps: are a hybrid of sheep and platypus. Will eat tall grass for food. Produces wool which can be turned into clothes and sold at John's shop. Collecting wool requires sheers which can be purchased from Irwin.
Requires Handling Licence Level 3
Pet food can be purchased from Irwin, or created in a grain mill using seeds or wheat.
You can obtain them buy purchase from Irwin if you have the required license and rank.
Vombats and Pleeps become available after Irwin's Barn is built.
Farm animals can be kept safe by surrounding their living space with fences places on same level on the ground. Currently, if you place them on different levels of blocks, the fences may not be effective in keeping both pets in and predators out.
You can find a diggo collar and a mu saddle in the mines.
To use the saddle, first put it on your hotbar. Walk up to the mu and press the corresponding hotbar key, then right click the mu to "drive." Press 'E' to stop driving.
Use the diggo collar in similar fashion, and you get the option to "tame" it.
Farming
So far, I have learned that we can earn farming experience through:
Harvesting
Composting
Processing harvest crops (i.e., turn wheat into flour)
Watering
Fishing
The hardest part of catching fish is "hooking" them.
When you simultaneously see the splash and hear the loud sploosh, quickly left click on the screen to hook the fish.
If you succeed, you can just spam left click to reel it in (you can stop clicking when the fish is fighting and splashing if you want but it won't hurt if you don't).
If you fail to hook the fish, you can tap left click to try draw the attention of other fish, or just right click to cancel the cast, then left click again to re-cast it near another fish (if you try to re-cast it on the same fish you just failed on, you will want to wait for 4-5 seconds or that fish will likely ignore your bobber).
If you cast your line and don't draw the attention of any fish, you can try reel it in passed any fish in its path, but they will often ignore you if they are swimming away from your bobber when it passes.
Before you release to cast your line, you can still turn your character while "charging" your fishing rod — this is handy if a fish changes swimming direction and you want to land the bobber a few feet in front of their path to draw its attention.
Licenses
License
Ranks
Requirements
Agriculture Vehicle
1/2/3
Farming Licence 3, Vehicle, and Irrigation Licence 2
Building
1/2/3
Logging licence 1
Cargo
1/2/3
Toolbelt licence 1
Commerce
1/2/3
Fishing, Hunting, Logging, and Mining licence 2
Deep Mining
1
Mining license 2
Farming
1/2/3
Farming skill 0/??/20
Fishing
1/2/3
Fishing skill 0/5/??
Handling
1/2/3
Farming licence 1
Hunting
1/2/3
Hunting skill 0/5/??
Irrigation
1/2
Farming licence 3
Landscaping
1/2
Logging licence 1
Logging
1/2/3
Foraging skill 0/10/??
Metal Detecting
1/2
Excavation licence 1
Mining
1/2/3
Mining skill 0/10/20
Toolbelt
1/2/3
Fishing, Hunting, Logging, and Mining Licence 1
Trapping
1/2
Hunting licence 1
List of Buildings / Sizes
Listed below is the block space used by each building.
6×5Theodore's Museum
Post Office
5×5Player tent / house
Base tent / Town Hall
5×4Irwin's Barn
5×3Rayne's Greenhouse
4×5John's Goods
Clover's Threadspace
4×4Milburn's Bank
Franklyn's Lab
Melvin's Furniture
Villager's House
Visitor's Site
3×3Deep Mine
2×0.5Bulletin Board
Franklyn Loves Discs!
The more discs you turn in, the more commissions will be available.
Commissions0 Discs: Bomb, Repair Table, Weather Station
1 Disc: Lawn Mower
3 Discs: Jet Ski, Motor Bike
7 Discs: Gacha Machine, Quarry
10 Discs: Compactor
13 Discs: Chainsaw, Jack Hammer
20 Discs: Tractor
28 Discs: Helicopter
Not sure when 'Charging Station' unlocks? (all I know is it's under 40)
Recipes(randomly available):
Palm Wood Bench
Repair Kit
Relationships
If you chat with NPC's, do requests for them and spend money at their tent, you will increase your relationship with them.
As your relationship with them increases, you can have them move in to the village and hang out together on their day off.
If you press escape and click on 'Pedia', then select 'People', and click on someone; you will see your relationship level with them.
All you can see in game is a certain amount of hearts filled up on the page, with a total of 5 hearts.
To understand the loss and gain of points, it helps to know that there are a total of 100 relationship points, and each heart represents 20 points.
When a heart increase and decreases in game are only seen 5 points at a time, as the 'heart points' increase or decrease.
1/4 heart = 5. A full heart is 20 points.
This is why you don't always 'see' an increase or decrease in heart points, since you only see changes in 5 point increments.
Now that we understand how relationship points work versus hearts, we can explore more details.
To start, you should know that the NPC total relationship level is added to the towns happiness level. So you will eventually want to max out your relationships!
Each villager has a favorite food, and some dislikes. Those details can be found on the wiki.
The amount of heart points needed to move most NPC's into the village is 'greater than' 15. It is a little different in some cases but you should know that there are 3 NPC's that will not currently move in: the hair stylist (Sally) and the 2 rare/traders (Jimmy, Ted Selly).
Other relationship FAQs:
To hang out with an NPC, you need a relationship level of 45+.
Talking to an NPC adds 1 relationship point, available once per day.
Bulletin Board mission rewards 4 – 7 relationship points or mail.
Complete Request (>45) = (+3 to +5)
Complete Request (<45) = (+1 to +3)
Fail a chat request = -1
Hang Out = +2
Hated Food = -1
Save, Backup, & Cloud Sync
At this time, Dinkum does not have Steam Cloud synchronization, so creating backups and transferring game saves between devices need to be done manually for now.
Game saves are stored in the folder named Dinkum. This folder can be found at this location in;
Windows: %userprofile%\AppData\LocalLow\James Bendon\
Steam deck / Linux:~/.local/share/Steam/steamapps/compatdata/1062520/pfx/drive_c/users/steamuser/AppData/LocalLow/James Bendon/
To make a backup of all of your games, just copy and paste the Dinkum folder somewhere safe, in a different location, such as your desktop.
To play the same game save(s) on different devices, just transfer the Dinkum folder between devices to access your saves. You may wish to set up auto-sync to automate this process using an online file/folder syncing tool.
Be sure to make backup copies!There are online tools to help sync folders between devices, should you wish to automate this process.
That's everything we are sharing today for this Dinkum guide. This guide was originally created and written by Aiona0001. In case we fail to update this guide, you can find the latest update by following this link.
If you believe that any of the content on this site violates your rights, including your intellectual property rights, please contact us immediately using our contact form.