Title: Desynced
Release Date: August 15, 2023
Developer: Stage Games Inc.
Publisher: Forklift Interactive
Automatically choose mining locations based on the resources you need. Streamline resource collection by automating the transportation process for your miners. Employ automated scouts to identify the most valuable resource-rich areas.
Getting Started
Initially, resource management might seem straightforward, but it can quickly become a hassle. You end up creating mining robots, assigning leaders and transports to them, and eventually lose track of their locations. You're constantly concerned about which resource will run out next.
This system manages the entire decision-making process for three fundamental resources: Metal Ore, Crystal Chunks, and Silicon. It can be easily adapted for other resources as well.
In the early stages of the game, construct and dispatch inexpensive drones to autonomously discover and mark resource locations.
Establish a storage area where collected resources will be stored.
Implement a controller that determines which resource is running low and where to deploy the next miner.
Create miners that autonomously locate mining sites based on the resource you require the most.
Build a few transports that automatically identify which miner needs unloading and where to deliver the resources. Whenever you update your storage depot, all transports will be informed and will deposit items at the new location!
Scouting Resources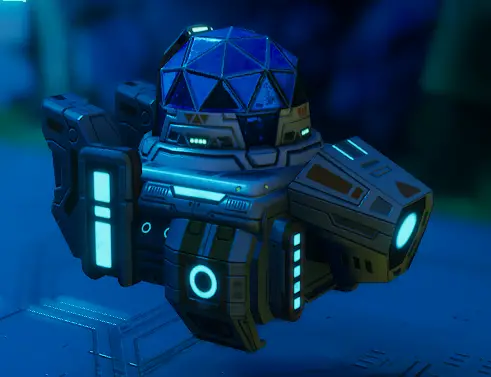 These small scouts roam the map and discover resource nodes for you. They are very cost-effective and can be mass-produced early in the game.
They operate based on a straightforward logic pattern:
Avoid other resource signal bots and refrain from marking the same resource.
Locate a resource node.
Calculate the most abundant resource in mixed fields.
Signal that resource along with the visible quantity.
When a resource node is depleted, the signal bot will automatically relocate. Since it lacks radar, there might be instances where multiple bots mark the same resource patch. However, it will actively avoid other signaling bots when it encounters them.
Blueprint: To create this, employ a worker as the chassis. Add a behavior processor and a solar panel for power. That's it, you're finished!
DSBSy2hQTcm0tROij16cOVY2Q3toX2f5JBC1rtFqB08W0YU0iumC82cnaLb3R7dFM4eLnfC4EcihF1FxBId1yinQ91Jkk881gmCOy3B8Wex2GetIY2tNWIe2Yhd361vPtLv2VHu0m3fZ9FF2IUiLR0OAnnm4V5y9q02Lkqy3QncGX35EUFz0677kj30536r34pe5I3TROV10489RS1gpEsr2QzRP62hxmHQ2Gs3XH1sBnuG212XlS14tufn21Jyga3BP6PB1BLFVF1urj5v1gaht70RVSyo2bJqm027B70X1t3kLp3q2ouT1AUgAm2Ftm4T2MP1o00PSDsi3Hsxl81SEHN12yGubS4bZwtt41Z14z4Ncscj45tfwv3TGnmQ48N20L2O6PIh1CYKzL1OMUv40na2UZ0lFWux1NP4Rq47g1ba0xoqYT4PjGqN1Nv0bh2ioYX544tZmd40wvYo1rtcWE1oRrCC3IsCQl3YHoU53rkIf42oIFVO2NlvuA0p9rln0n17lV4H1vhi4MBEYD2hdTkw35V0BW1GPSSH1kgvoA3Y9ww32Pi3Yw1lh3eb22YAbH2GEfr02vWBC40f2mnT1pKjhq2djnqx2JJ7dg3qMmzP3Ma6fZ1c5XN02SCP3G3rabOP4M2E8C1Qbo8z0gxmcx14t1fK3RT7OQ3v5lDx0Qf5bB0ETwV82y7F5h0CHgOM1EIqQH1kBCvq2UBvXl3d3nws3SWgYF4ADaU449ny4V1ANlLq4Dyy3B4SX3922MIivg18EDCD2MfpuO0Q4bVv1jqNqw1zGt9x27t9kyEGrO
Logic: Go through the signals in a loop. For each signal, calculate the distance. If the signal falls within your visual range, perform an evasion maneuver and then restart the process. Once you've processed all the signals and no evasions are required, you can proceed with the resource search.

Loop through all the resource nodes within your field of vision. For each resource node, compute the quantity of each resource visible. Choose the resource with the largest quantity and send a signal for that resource, including the amount. If you don't spot any resources, meaning you would signal an amount of 0, relocate and begin the process anew.

The logic is pretty rough and can be improved.
DSC18k2gXTqK0tTK1R3zhdMC0p6UJZ0TX5sI1e0sod0ICRhT2WCCaW1VOSiW0FdVwf0QLX862SPCIS2NiK7H4C1DRO1JXK8I15BmqQ0axf6U4eK3Gp0ZrulL1uxui133qUVd0SM1Kx2jHjAb3rfLBP3TCWjR3AwqEL1Pe5fq0VRivy07I6k23tdfWt0mMvV83eoIVi0IBCvI1ptsPy2ZGyT20WHwcA3CLlqc1PKyd51YBezf4eMH7849C91546D4J708tHuW2C0tTd2ZmSCl1Ku3RU14Jgd10Rn8bq3jZbRZ1njMEn3hP8IA1T0feO0ucUWI3Dhg1m0xQcdk2t8nd91UR8yJ1tJ8TG0N2nGN1xr0ut2fgl1y1W48R21FArQu3TE7U71firfh2ytfyz4S2TZX137huR08cMTC0wdmJs2LtLmL3w6Y4F1aKxgn06YVip0gx8c73oevAr2Qn8B10O4Uje0cvXQ931pBNy2ImfrF1j6b3K3nVmS80Rnac90wUfpV1i015u0D1KZ91uM3f90oClDh2CgvQW2KTmdL4Fnnzd2WB3Ll0hHKRY3rz1bJ0zm27u1bVpfc2hpNlu06IZWL090ZxY3X6BTR2MJZUg4TBheG1Oh9B63oV5MV4axRgi1k7Kwc2uQlTd1ikOph3u21bS3Z2coc49jSMF2Been51i1fIi4HpxEO24kWwC1EcsoP01yMK54TxxcB361iYk0OLczi3Ll0vi4fLePL1HFuj52lTBPG19E8Td2TZYK84T0dys0XI5EO4RiqYq1YZHRg4gaeL33YjC1w1yq
Storing resources
This serves as the drop-off point for your transports and the entry point for resources into your base. You can distribute resources from here according to your preferences.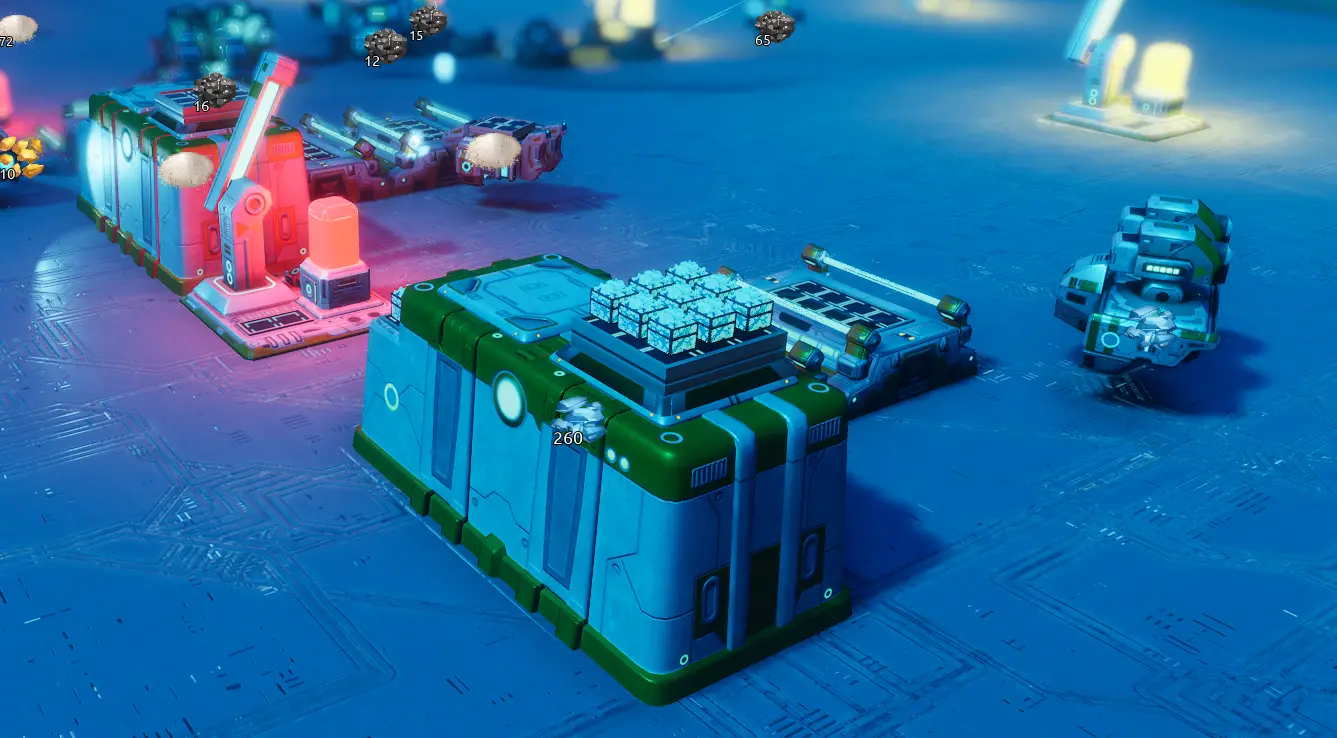 The storage system involves two radio transmitters, one behavior controller, and the item transporter.
The first radio transmitter is controlled by the behavior controller and broadcasts when it has available space. In the context of a single small storage, this signifies that the resource is nearly depleted. However, if you connect multiple storages in a chain, it's advisable to place this logic somewhere in the middle to respond earlier to shortages.
The second radio transmitter can be positioned anywhere and broadcasts the location of the drop-off point for a specific resource. Radio Transporters use this information to determine where they should deliver resources. Typically, I direct it toward the end of my storage chain.
Logic
The logic essentially checks if a secured storage slot (remember to always lock your slots for these storages!) is vacant. If it is, it transmits the resource type and a set number (in my situation, it's infinity) to the radio on a specific channel.
DSCAx2e3USG0tMLNL0mtH283FA9o200j6ki25mAoo0G95Hs1ItzNe1742hc0zMGS22SOwqW1XRHKD2Hpiv643urPD2OysFi40f2FP40iJIV0AMrGT43dhmx2VJKoL46Ryvp1WQerM2o6zFV2HOchf0OYelH34sXjU1cDCVw4S1rIq4PrswG2c1IQv0lCTHY18V1DK27MlnH1i5ZFv2qEwiL0uWFbP2iGlaZ2fWoYw3gg8ln2uzad32eXRaC1GO5Of2mZBFo1Ze2Cs2qzQz92UDi2M1bkJ1r3fah9B4E3P3B0HJL9T27ZwKR0IW3iT69u0
Blueprint: Not really necessary. Any warehouse with sufficient item slots will do.
DSCAx2e3USG0tMLNL0mtH283FA9o200j6ki25mAoo0G95Hs1ItzNe1742hc0zMGS22SOwqW1XRHKD2Hpiv643urPD2OysFi40f2FP40iJIV0AMrGT43dhmx2VJKoL46Ryvp1WQerM2o6zFV2HOchf0OYelH34sXjU1cDCVw4S1rIq4PrswG2c1IQv0lCTHY18V1DK27MlnH1i5ZFv2qEwiL0uWFbP2iGlaZ2fWoYw3gg8ln2uzad32eXRaC1GO5Of2mZBFo1Ze2Cs2qzQz92UDi2M1bkJ1r3fah9B4E3P3B0HJL9T27ZwKR0IW3iT69u0
Prioritize missing resource
This controller serves as the core of the operation. Warehouses transmit a radio signal when their resources are dwindling. Scouts communicate the locations of resources, and this controller directs the miners to the most promising spots. It can be positioned in any structure, but you'll require a behavior controller, a radio receiver, and a radio transmitter.
Logic:
In this scenario, the system oversees the essential resources: metal ore, crystal chunks, and silicon. Each corresponding warehouse sends a message on a specific channel, like [resource]2, when it's low on that resource.
The subroutine sequentially tunes the radio receiver to these three channels. When a channel contains a message, that resource is selected and returned from the subroutine. If no warehouse is running low, the process stops, and the prioritized resource remains unchanged.
Once a resource is chosen, the program examines all signals from scouts for that resource and identifies the nearest one. The location of that scout is then broadcast via the radio transmitter as the target for all miners in need of new instructions.
It may take some time for miners to request new orders. If you urgently need to address the shortage, you can either construct new radio miners or manually direct some to an appropriate resource node. They will handle the situation.
DSC19v2ijs6K1BbU9n2bTUh601HTUZ42JiYX2ORhXZ1uXrmX4RhasI0CFGft3Cc15H0eZ9yF2deyp001X5YG0fsSR33rwIbC1HPmeu3eMRFI0bCqpE44Yak42homHE2QqeVB4GkwPc3DdEBV4O6Ksa2tIBoA2rjKuX3wTbo40JDMMn0STT6d3E14O10YTjLb0MOiTh4deIBr3B3jAY3oMK6x3B2EXR2mTuuP26UOFF4PxKTE0kLzDt40CtZL2wgOTy05UP9Q28Tk5r3i1i8q295v5W43jSp74Oa4C40oKK283jpBUd2DER4V40Hw840VbasH2ZbLUS1eVHpD1guEFi0MTunr1dJFtf3s8JdW0jgDEB23uBnD4TY5XZ0OxYHb1Q3Oxd1fWkrH4XdODb12Sx7U0H5zRB3FROqy41gme82FNW441DBUeO36rnZo1U7Ise1boMrK0Ipcxy2qNmtN1Og6D50PGmkI35P40J21voTz4evNov3wLism0qvdD13coIww4eNbwN38ilTz2S07pT4DLxSp3ex0Zc46Y69C1j1PdT2aLGrb1Wvi574Cs54q3tzlgH0wVjQZ4JZrn64a6lRa43lhKc3rZAS22XPg9g1La3T04ZUP664FTgDT1Y72N12wOQMc338fkB3TWiZI3d12oi06PvnQ3bwm4K1U7OAd3DLcou0Vdkxy4botNZ3fpisu10CvhD2wht3E4Na41i2Mmr232EKIXZ4buURF1NcTuE1JuoTw1GTwuL0zelIs2Kgmj13ffMTE0We0xj0ZHUqA2JssKL2WfvRG19SgtY2YOxsU26hISn4YZXxJ3lhGZJ3BK
Radio Miner

The most intricate part of this setup involves the behavior of the miners, which follows this pattern:
If a resource node is in sight, head towards it.
If there's no visible resource node, move to the mining location broadcast by the storage controller.
If you can't accommodate the resource you intend to mine, send a signal and wait for pickup.
When you're capable of mining the resource, proceed to mine it.
The sequence of the first two rules might seem counterintuitive, but it's designed to prevent miners from constantly changing directions. They'll stick to one location and mine it until it's depleted, at which point they'll rely on the controller for new instructions.
You can construct this setup on any chassis that can support the following components:
At least one mining tool or drone.
A behavior controller.
A radio receiver.
Since new locations are consistently ordered based on proximity, it's relatively straightforward to keep miners within power coverage. For this purpose, I mostly use twinbots equipped with dual lasers.
Logic:
DSC16k1WlAKG1BbU9l39mZqy2WP45Y1CcaZG0jRl9Q2Ece112nXye33ixv1h1iWX9C0qFHEO3FBEYm0B4vWE0KWuh027wP902dZcW413ag004V0I274S9Qfk015m9G1QpBHk09CimB0blbQX1iTtaT1KOaHJ1XXnzJ1DnJ2M3a7wlJ06zdqr17iKPT1M2QSu4XevIB1DpeBF3xj9t82IH6a32yTKZQ0FZMmx1yYEE13XJo773KxIIq3AR5OC0h5ee42CbOoC49mMHK3syQc22GLKS5005UCG468mII08bt9J3tyiYm2VNuGc1jDzuk4ZMboj25NIs04dKqft3DzJ0Y0t90Om0bgKhM03Igjg3HFCIv1oozBL0ZMFfg1vvqvC26hpjU0ZDza31aTCtn0ofPJw38k76p1hYjrt1RiW1y0eIFYL2UwccC349S2F4bl5Yq0v8xn82Q8Jk30WOKGa2RgEe21di0zk1dgCFw4ITyqq3wAzgH0hp4uV0itcEm1vePyD0mSl4o0tpaPy17pF6n3Q2FX40SQ27M1TJjHp0JydOi3vLvSE3ptGM60GRiSe0WpJRd2ZDdLS0SKHPO1Yoxzf2eVvcO4eKjd13Kj5rl0EXvTr09hddl2ZMlxn0GtKaU1oG2X417NjaL4cjtH63lrgat1PsxUQ3xXGTh0HhXug2WbiSf1ZiGCE0FbhNs15QrJv2miLNI4ElU3z4W8L5K2aMVHs2mcXFp2cAjF335sxsQ0vaLxP0jrS2o0jn9H04CohGX1zPnmS43m1oA2sprcN0OoiRy4IYLEv4IOMsG1hf0Gv3uSnj70kAoxs0BNUPZ2CcD641lw5zj4K2dux0hl5Qk3TkdZI0smxs90NIdSo4X38N83cQewY8V9d
Blueprint:
DSB1GZ1XvlEm1BbS1d2AXAu81XRdlz1j1QcU0bSq3M3550DN3m6Jdt19L9kL3oL60h2GNv373zo5UB35DO5M2eAvZI0oZzXm0JHjrw3mQOXI10k9f53nSBzT4avul30HsaJc1hXGUn01xF1e3bn8pr1JTOuB3XvzCB2caOep1sSmFl21QfgF0Gpfu129n1Hb20QYQy2hF0NH29QREx2TVfd61pGxAZ0O0XuQ06gFWX4HxKX304yT8t3CXOCc0ag27P2MbTwz2ufOff1WEx4q15Wlxv2ofUTO2kLOWy3t6MBZ2MOGfB2cEYF64E6lWW36zmJk0UOCMX0ufZBP1T1mPX350R3Z013tOz4dZlGy1djCpi3PNlco2YCzWc0BNs6y07tDue3iDRti3ZKqUG0pfTeK2uzT2D31hWhU3wRxxB3CVqZf0Q8g6t01qZ6z48al7r402ve11gCLwH07p3uE16JIZb1FxAXO31fEHk3qV9yn1FX9Nj0hE9BN3PKAHD01VBk344N1ys2FLODv0uVtN44cCZ9S2jkETw2pMXQC1gdlvy0vnusu3HpLbl3uhpcG0Tm0J01GiI7o338vcv0X5PQk14e2iS4K2teQ3YfN6j3PnmfQ0nvVG60HLxdk2EECUw0MqOJy1Uyix513EFKD1Wi9Rv3dBfKB2y0d9U2aP4Tg0TmVxQ114Gen0TSmVr1JdTnT4I73sK0ysWoV08bIaJ1iuml80VsLdS3aSTlP3KBVT33pLF6Y3QCwxJ0RRBHk0g2TzQ2D5PeE2f25Mv0Pr5aQ12Fplz1Wzgb54YpruE1CVoXx36XXa03KgjpM1yBfYD3FcJbJ0dy2VU2kIXJo013mDr2cDlsA3sz4DS0kC5Ip3gTX1r4Zyit00X7dA24araj324sFlE4EtYPi14tzaj4GjE4J425Qvk1GGbaf4T5H6H33U5I84WWvSl1YLIdt49w7Bt3E23G64NQYrm36YHUO1iCUzN0oZu5x4Cjxc72SKmT94aUkkR4DsYtd2l2qYk0OmKFB0CY7vU0nFI5o2nrst3351PlS1hZIWi3VoJuG3lzCW7f
Radio Transport
These transport units are designed to detect pickup signals from your miners, collect the valuable resources, and deliver them to the suitable storage facility. While they may not be particularly fast, they are a cost-effective solution.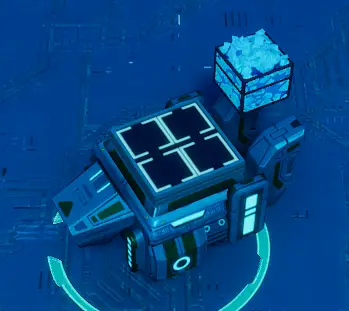 To create one, start with a dashbot as the foundation. Equip it with sufficient storage capacity to empty a miner in a single trip. Additionally, include a radio receiver and a behavior controller. Apply some logic to complete the setup, and you'll have an effective transport unit ready for action.
Logic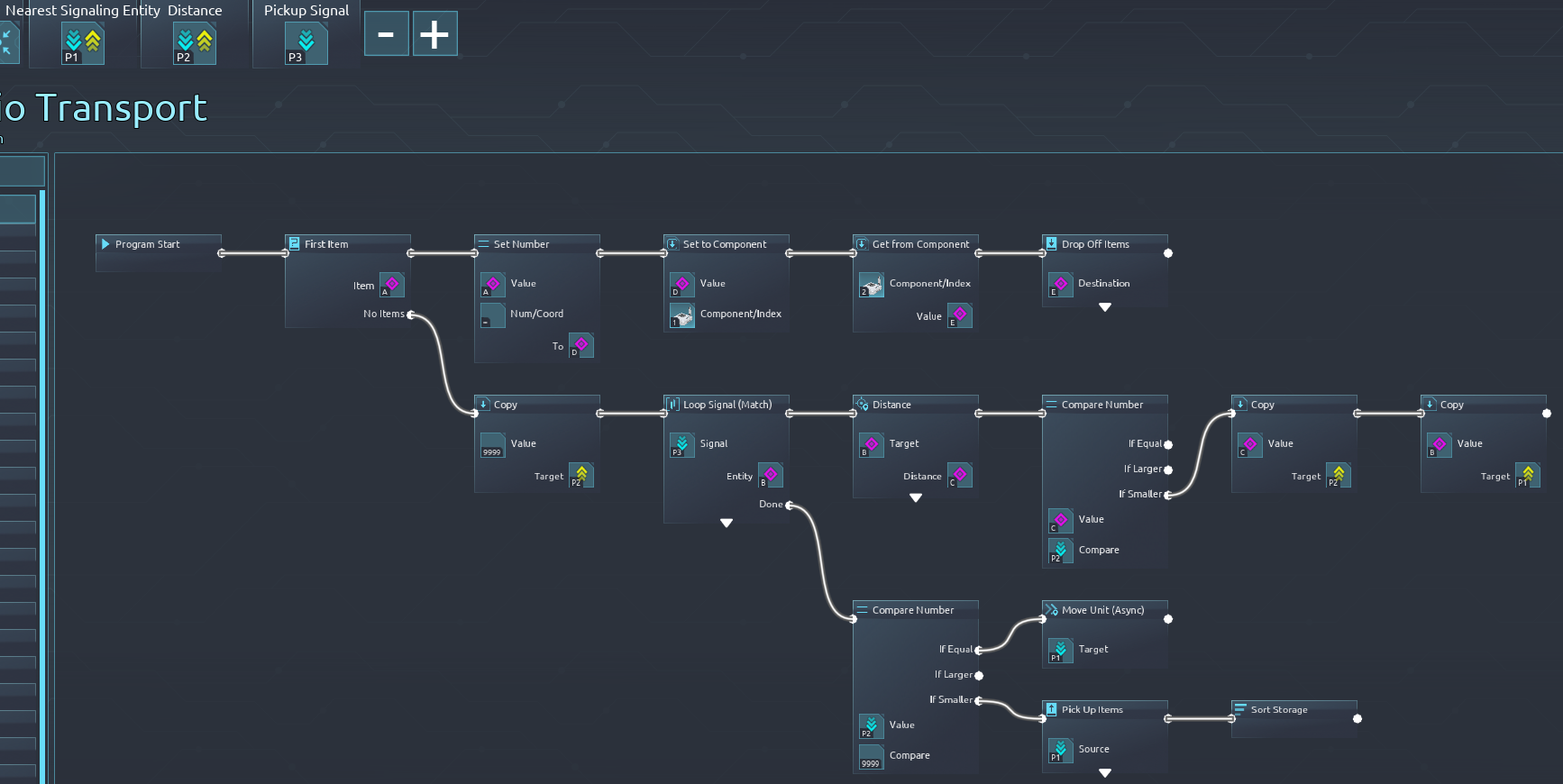 The logic circuit is quite straightforward:
To begin, start by unloading your items. To do this, pick the first item in storage. Tune the radio to the correct channel to locate where this item is stored, and then drop it off there.
Once all the items are stored, locate the nearest unit that is signaling for pickup. To accomplish this, you need to go through all the signals and determine the distance to their source. If the source is closer than the current minimum, it becomes the new pickup destination. After processing all the signals, you will know where to go. Move with the async option to continuously reevaluate the best destination while in transit. This way, you can adapt to any changes in nearby miner signals or the availability of another transport.
Optimizations: The logic could be made more efficient by using the UNLOCK command followed by the WAIT TICKS (1) command right at the beginning. However, there is currently a memory leak issue in the game's behavior logic, so it's best to keep it locked until the bug gets fixed.
Logic:
DSCIb1UUNHk0te0q50LFR3Q0VggIU2TYYbQ1UauEO3w1t7f2qTTs52NHuHG0R2Kmq3fOw483nCjjm0j9qhZ10Rrv82305Cu3gtljy1lZqMR2rTlYo1s2QoX0hRTaj3jmX0u30dCVJ2vw87m00HKN92OpiaW3rLqX644cuKm1mO4CO1l0UOh0kiqzl3ha0UZ16qm6a4IHypZ2o4f8H1fluot0MmznV3kR4h347GgSM1YSAR219iYru1lgEnJ4SOPTD1SKlpB0Q3rvv0F6mlA3inGSa31pgp32O3seM1cbwSK1yiirK3krW330JUwLK16ZETk2XhJ6r2cpTLa47tNgH38kvs20nFSM21q49AP2wvr953KdMss2fo0xc0Wc6YE1KeeVm3bKnqa12KhsD0DzrPZ1VKttg3hKu7P3ZhZDU2sAYnz20NpDN1hDLKA3Ebfl62sMIH62Yv5sD2mse081sJkz51yRAnI4bI3Yl3tftjL1rXcAJ09lk3G0osWZv2rEGGm06Y7mY
Blueprint:
DSBNr2gI56W0tkt3h2siYeO0mLm3R257ZZS2fqB8Y01BK1D14vQVr3TMC0h42PAuY3oFhXG2eQu1k2UUZMI1UQmm32WdTpv3qSFXm3kZdwG2dShKh3QtCxw3ysm6V4FiXVe0Ixato0oxNUy4aoMb40ZqgJv0VEjuU46hDS60qxqou2QQb1N0OybyB2rRRJD0JHqyI1kFiSQ3bo9jJ3u2QLY46XfNY24BN2U2D93bE3ed4S10zrwKj37glAy11jt7V3QyffP0EWMdd3YhITm42fVhA4DVlRI3NdcCO2COQVo1N0CNJ4VrqeJ252fiX4PWdYh1Cjq0E4LS5OC3OVIqa3rlRvx0q6W3n10nO6v4I09lc0hRwd30LFPbO1RPvle1EWiTN4AZjws0GbQrD09xN6l4ZSVT80BzcTE0uoh3L27vNSs342dVA0oE10e1BsLB332onm53OOPQX1pnbxX47zQMm3DBMbF1RPmHD0JqMaG10DkVf13XQSY1Bq5Go2h7vXs2cfSiL06FPa126ixLB25mxig3AiJGJ20Bn7F197leR34DIlI2WRuFz2n1zve4efC7u3bkjmX4ZzVcy40ybqH0TCaTt3wosaV1FAehp42gplX0D5NFt1tL6nQ0JhWjc2TGmZu0xMcxo2mQDXo3NqNPi3NPclz3JWot3G7Sm
That's everything we are sharing today for this Desynced guide. This guide was originally created and written by NormalityBytes. In case we fail to update this guide, you can find the latest update by following this link.
If you believe that any of the content on this site violates your rights, including your intellectual property rights, please contact us immediately using our contact form.