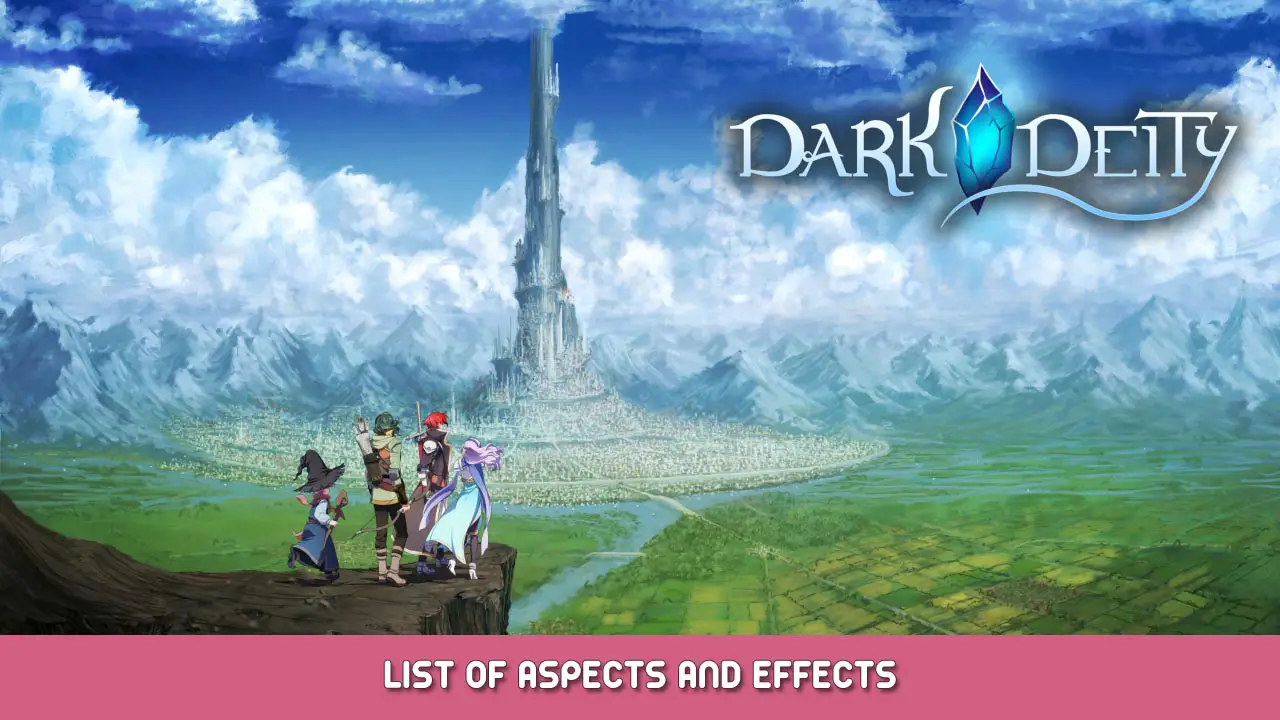 I wrote down the list of aspects and their abilities. The game interface doesn't make it easy for you when you want to see both the stats and the aspects at the same to determine who should receive what.
List of Aspects – Table
Aethe's Chill
Grants 80% resistance to fire magic.
Almadessa's Glade
Fortitude +10 with no adjacent allies.
Altum's Descent
Dodge increased by 30% of strength.
Ancara's Glow
Luck depleted to increase power, dodge, and true speed.
Ayn's Premonition
True speed doubled when below 30% HP.
Cassara's Blaze
10% chance to deal 1.5x damage.
Darmena's Kiss
Swaps 50% of crit and power.
Ellis's Light
Healing power increased by 50%.
Faine's Judgement
Bonded units within 2 tiles increase damage by 5%.
Heclean's Pride
Enemies are much more likly to attack the holder.
Huss' Hush
Neaarby enemies deal 15% less magic damage.
Innileth's Scale
Swaps defense and strength.
Izn's Hope
Grants 80% resistance to holy magic.
Jahno's Stupor
Dodge reduced by 60%, defense and fortitude increased by 10.
Kaithir's Promise
Counterattack damage increased by 25%.
Kitara's Chord
Swaps accuracy and dodge.
Koeli's Spirit
Swaps defense and fortitude.
Kyne's Passage
Each turn grants a 1% buff to advanced stats.
Lenhera's Whisper
Swaps power and true speed.
Malice's Suffering
Crit increased by 30% defense and fortitude halves.
Manos' Fury
Hit rate is always 50%, power increased by 50%.
Njallum's Heritage
Mastery increased by 20%.
Orion's Pursuit
Hit chance increased by 15%.
Pelagiel's Flash
If doubling, second attack deals 25% increased damage.
Prisbel's Rumble
Grants 80% resistance to storm magic.
Quintare's Quill
Swaps mastery and luck.
Samaran's Shade
Significantly lowers the rate at which enemies target the holder.
Sarathels' Sight
Attacks mark enemies increasing damage taken by 10% for 1 turn.
Shamac's Tide
Dodging heals for 5 HP.
Soleric's Rally
Attacking and defeating an enemy heals nearby allies for 10% HP.
Theron's Passion
Critting increases crit chance by 1% of the rest of the level.
Varden's Ardor
Power increased by 15% of each weapon stat.
Vigmar's Charge
Kills grant 2% power til end of chapter.
Vosh's Sanguination
Advanced stats increased by 10% of max HP, max 8.
Yl'andra's Font
Power +20%.
Yl'undrea's Drift
Magic depleted to increase defense and fortitude.
Ylmar's Faith
Grants 80% resistance to arcane magic.
Zeltar's Flight
Swaps strength and speed.
Ziegrich's Luminance
Half of mastery is added to accuracy.
If I missed some, let me know and I'll add them.
By the way, if you wonder what that little blue star next to enemy's name is, that means that the unit carries an item which you will get when you kill the unit.
That's everything we are sharing today for this Dark Deity guide. This guide was originally created and written by antja. In case we fail to update this guide, you can find the latest update by following this link.
If you believe that any of the content on this site violates your rights, including your intellectual property rights, please contact us immediately using our contact form.