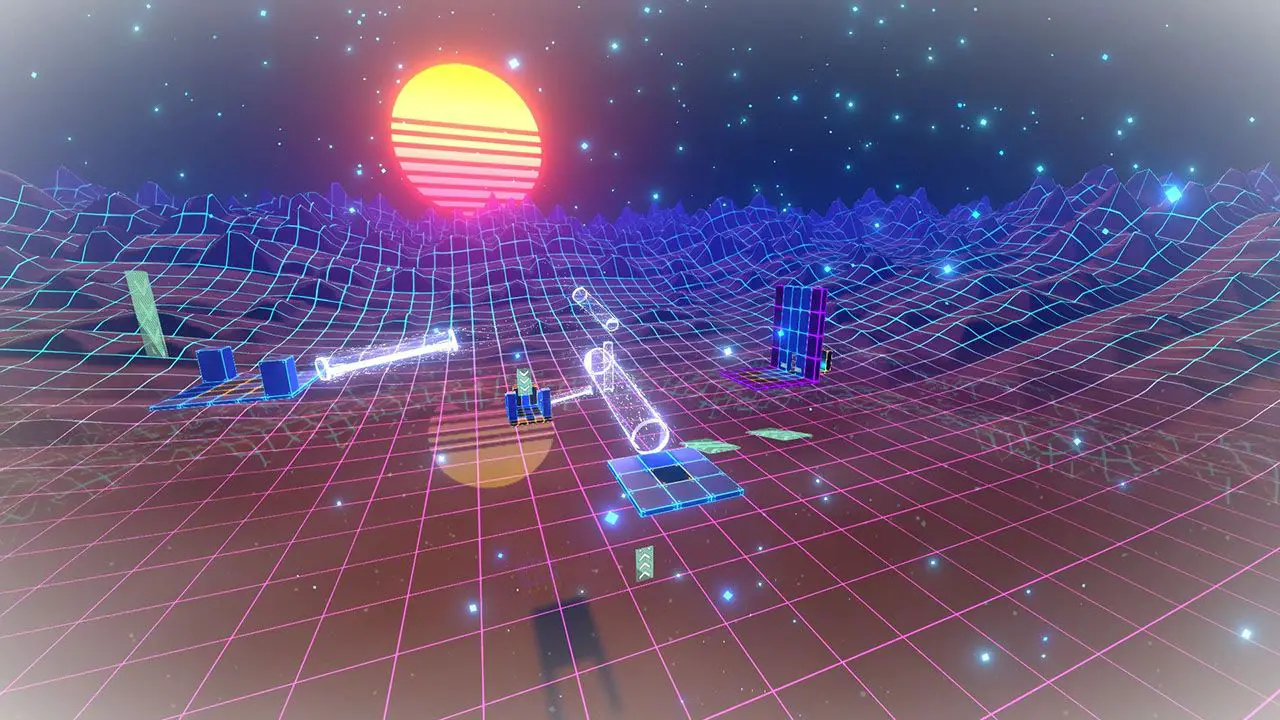 100% achievements guide for Cyber Hook game.
Cyber Hook Achievements Guide
Getting started – First tutorial cleared
This should unlock once you go through the first portal in the game. Nothing more to say.
Getting real – Full tutorial cleared
Play until you've earned all your abilities. Focus on getting used to the gameplay at this part of the game — a lot of the 3-crystal times in the first chapter will kick your ass if you go for them now. I speak from experience.
Yep, that kills you – Die once
Self-explanatory. I'd be blown away if you didn't get this at some point during your playthrough.
At least it's a "nice" number – Die 69 times
The funny number has arrived and I am therefore obligated to laugh. Ha. Ha. This achievement should unlock through natural progression unless you're a speedrunner using a smurf account or something.
I just missed once, ok ?! – Retry 100 times
Again, unless you're The Human Spider in real life this should happen naturally. Keep in mind you can double-tap "R" to quickly restart.
The thousandth "last try" – Retry 1000 times
The number might seem intimidating but you'll most likely hit it if you're going for all crystals or even if you're playing the game casually. If you don't get it by the end of the game, just sit in a level and spam "R" until the achievement pops.
That's a 10 – Get 3 crystals on a level
You should be able to earn 3 crystals on the first level even if you play like an orangutan. The game has plenty of lenient 3-crystal times after that as well.
It's personal personnal – Beat your personal best time on a level
You'll definitely revisit a level at some point for more crystals, so this will happen naturally.
Ain't got timewarp for that – Clear a level without using timewarp
Much easier to do on the early levels. If you're going for fast times, you'll only want to use timewarp for the extended range anyway.
Saying no to the green stuff – Destroy 420 cubes
Again, should happen naturally, though I should mention that it's often faster to swing around green blocks instead of breaking them. If you need to grind this achievement, go to a level like The Game (The End) and shoot everything you see.
Am birb – Fly for 100km
The number here is realistic for a casual playthrough, unlike a certain other achievements, so you should earn this through natural progression. You'll be spending lots of time in the air anyway.
Cyber Hooked – Finish the game
Play until you unlock all the chapters and witness the underwhelming finale. The achievement should unlock once you head back into the game from the title screen. You'll need to collect a hefty number of crystals but I believe in your sport.
Snoppin on the pros – Watch a top 3 replay
Due to the competitive design of the game, some of you might think to do this without the need for achievement. In case you don't know, you can access leaderboards from the level select screen. From there, you can download and watch the best run of anyone you can see. Watch someone from the top three, cry about how you'll never be as good as them, and move on.
Isn't it a bit Isn't it a bit narcissistic? – Watch your own replay
This involves a different process than earlier unless you can get on the leaderboard yourself (much easier to do with the national leaderboards), which then you can select your own replay from that list. If not, then click the "Save Replay" button from the results screen of any level, then watch that hot trash from the main menu.
JUST A FEW MORE FRAMES! – Clear a level 10 times
This one's a piece of cake but I'm putting it here because it's easy to mix up with "Relief at last!" All you have to do here is beat a level ten times. You'll probably earn this one trying to collect more crystals at any given level.
Relief at last! – Clear a level after retrying 10 times
The requirements for this achievement are misleading, so listen carefully. You'd think that earning this achievement would entail retrying ten times and then clearing the level, but that's not the case. Instead, you must beat the level ten times in a row, hitting the "Restart" button after every attempt. You must hit the "Restart" button on the results screen. Double-tapping "R" won't do. If you need to grind this, load a short level like Xitra (The Mastering) and clear it ten times, making sure to hit "Restart" every time.
! SONIC BOOM ! – Go beyond 343km/h
You probably won't earn this achievement through natural play unless you know speed tech or ate Sonic the Hedgehog limited edition blue curry before playing. Fret not, for there's a simple trick to pull this off. Go to the hub and find the long square walkway. Start running down this walkway and your speed will gradually increase. If the corners start to feel tight, slow downtime to make turning easier. After a minute or two of uninterrupted running, you'll reach 343km/h.
Casually running a marathon – Run 42 km
There's a chance you might earn this on a casual playthrough, though you'd have to spend a lot of time on the ground. In case you don't, performing the same trick you would for "! SONIC BOOM !" will earn you this achievement in a matter of minutes.
Better than united airlines – Fly for 1000km
Download this as this achievement blows. The number is completely unfeasible for even a completionist to earn on a full playthrough. Only speedrunners who dedicate tons of hours to practicing would earn this achievement through natural play. Of course, not everybody can be a speedrunner. If you're desperate to complete this game without playing it for five times its intended length, then load this workshop level, hop in the funnel, and go watch Rush Hour or something. It took me a total of 80 minutes to earn this achievement, so settle in for a long AFK session.
Simple perfectionist – Get 1 star for every level
The 1-crystal times are typically generous, and I could see someone earning this achievement simply by beating all the levels without caring much about time. I'd recommend adopting that sort of playstyle if you find yourself stumped by the tougher 2-crystal and 3-crystal times.
Cool perfectionist – Get 2 stars for every level
The 2-crystal times are often close to the 3-crystal times, so being on track for this achievement should place you within trajectory for the next achievement as well. I couldn't see someone going for this one individually; if you have this achievement and are not "PERFECT perfectionist," it's probably because you're stuck on the 3-crystal times for a handful of levels.
PERFECT perfectionist – Get 3 stars for every level
The 3-crystal times vary drastically between levels. Some might take you one attempt, while others might take you over an hour. I can't offer you level-specific advice here, but I can present some general tips I picked up while playing, as well as some useful stuff I learned from other difficult games.
General Tips
Don't rely too much on the hook. This point's a pretty counter-intuitive one, which is why I chose to present it first. The hook is an essential tool for building up speed quickly, but that doesn't mean it's the only tool you should use to build up speed. Simply running and jumping can prove far more effective than latching onto every blue surface you see.
Change your approach. This relates to my earlier point. If the route you're taking simply isn't getting you the time you need, then try something new. Watch the level preview again, peek at a replay close to your skill, or simply take your time combing through the stage. You might find that a section you were ramming your head against can be skipped by running up a wall, or something to that effect.
Avoid green blocks if you can. I touched upon this earlier. Aiming and firing can make the precise movement needed for this game a lot more frustrating than it needs to be, so don't do it unless you have to. This tip especially helps if you're not all that confident with first-person shooters and such (like me).
Move on if you're frustrated. Playing angry only makes you suffer for longer. Choose another level to play if you feel that your nerves are getting to you. Make progress elsewhere for a while, and return once you've settled down. Failure's a natural part of playing, so embrace the sense of improvement that comes with it.
That's everything we are sharing today for this Cyber Hook guide. This guide was originally created and written by WheatyTruffles. In case we fail to update this guide, you can find the latest update by following this link.
If you believe that any of the content on this site violates your rights, including your intellectual property rights, please contact us immediately using our contact form.