Title: Condemned: Criminal Origins
Release Date:
Developer:
Publisher:
In this guide I'll be sharing some basic configurations you can do to modify your game's save file to create entertaining results, such as invulnerability and super speed.
I haven't seen any guides on this, so I've been sitting on this discovery for a long time and waiting for the right moment. I hope that by sharing this technique, I will encourage others to explore the game's files and uncover more cheats and secrets.
Introduction
Hello, and welcome to my elite hacking guide. If you're viewing this tutorial, it's probably because you also share an admiration for our favorite ultimate schizo cop, Ethan Thomas.
With this guide you'll reach the potential that Ethan never could. From running down subway crackhead miscreants at Sonic the Hedgehog speeds, to performing spine crushing melee blows and executions that send foes flying.
You'll be putting superhero's across the globe to shame as you lower the Metro City's crime rate, provide rapid solutions to homelessness, and provide valuable life lessons to disgruntled transients.
Let's Get Started
Before you begin you'll need a text editor such as Notepad or Notepad++. I personally like to use Notepad++.
To start modifying the game, you'll need to locate your game's save folder which is typically located here:
C:\Users\Public\Documents\Monolith Productions\Condemned\Save\Profile000\SinglePlayer\Slot01\Slot01.save

Of course, I recommend backing up your unmodified save before editing, or at least writing down the values you change, in case anything goes wrong. I like to keep a little text file next to my modded save to remember what I've changed.
Editing the Save File
After opening the file, you're gonna see a whole scramble of words and numbers.

Don't get scared I'm here to help you!
As you can see from the screenshot I have a very ugly color scheme but bear with me.
Now, I've rummaged around in the file for quite some time and I will say, there's a lot I don't understand, but the general idea is that you look for a name and change the value next to it.
In this example let's go to line 13 in the file.

Where it says RunSpeedMul ignore the BS and NUL symbols and pay attention to the number value to the right. 01.00000 is the default value and you can change this to suit how fast you want to move.
So let's change it from 01.00000 to 80.00000 and see what happens.
Now you should be careful, because increasing speed can end with you noclipping through walls and falling though the map, or if you're lucky, exploring areas you previously didn't have access to.
It's important to note, adding additional decimal places can cause the "out of memory" message or the level just won't load. That's no good.
There's not much else too it really. Here's a little cheat sheet I made to help you make your way up the Metro City PD ranks and eradicate crime.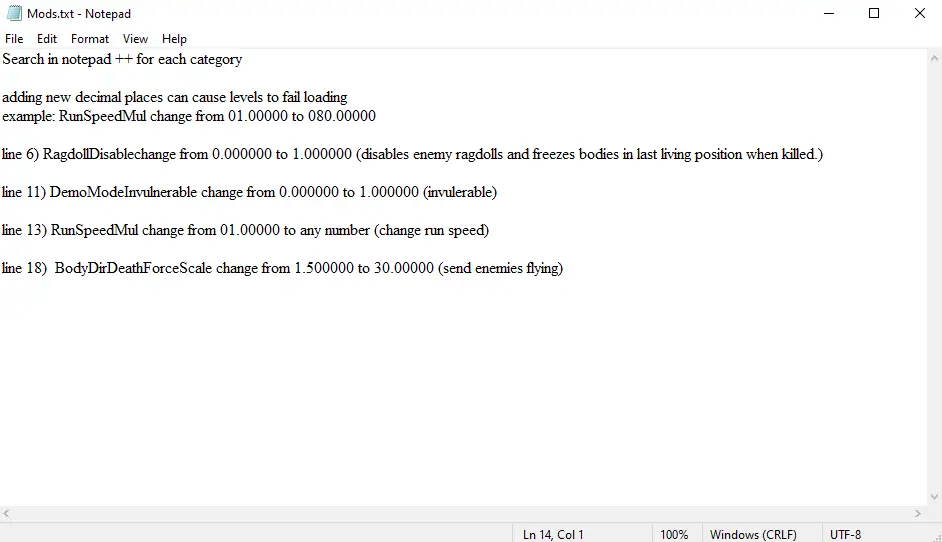 Conclusion
That's pretty much it! Hope you have fun and enjoy the results! Don't be afraid to mess around as long as you backup the file beforehand.
I really enjoyed this game and the atmosphere it provides, so I wanted to try to breathe new life into it and maybe spark some inspiration in the community members. Please feel free to use this guide and go crazy at uncovering more cheats. Let me know what you find!
That's everything we are sharing today for this Condemned: Criminal Origins guide. This guide was originally created and written by Naytone. In case we fail to update this guide, you can find the latest update by following this link.
If you believe that any of the content on this site violates your rights, including your intellectual property rights, please contact us immediately using our contact form.