Okay, so you wanna trade fast? It's really simple. Buy low, sell high. Every time you land. Go to the nearest vendor, check their inventory, and note down what their selling for what costs. Then buy whatever you think they are selling cheap, and fly to another layer of Novalis and try to sell it. The cheapest items are found in the lowest/Northern sectors of Nivalis. But the merchants there will also pay the least for anything, even junk you find on the ground. So save it for the higher sectors on the South edge of the map. That's the basic gist, but there are a few tricks that might make your life easier.
What defines an item as "cheap"
A good way to figure out an item's value is using your inventory. This is because each item has three values at any time.
First is the value the merchant sells it to you at, this is also their buy price. Then there is the value listed in your inventory, which is the average. Using our inventory, we can buy one of an item we think is "cheap" and then check its average value. If the merchant charged more than the average we can sell it back to them for a 100% refund. Note that this only works with Merchants! Dealers do not buy items!
So, how do we maximize profit? Well. Take Liquid Sun. We can buy it for as little as 72 lims in The Marrow (specifically the Cauldron). However its inventory/average value is 90 lims! That's 18 lims of profit for just buying the bottle, but we want more!
So we travel to Avelon heights, (specifically Diamond Hills) and there we can find a merchant who buys it for 108 lims! That's 36 lims profit per bottle! In case you couldn't follow my directions here's a map with that route highlighted in yellow!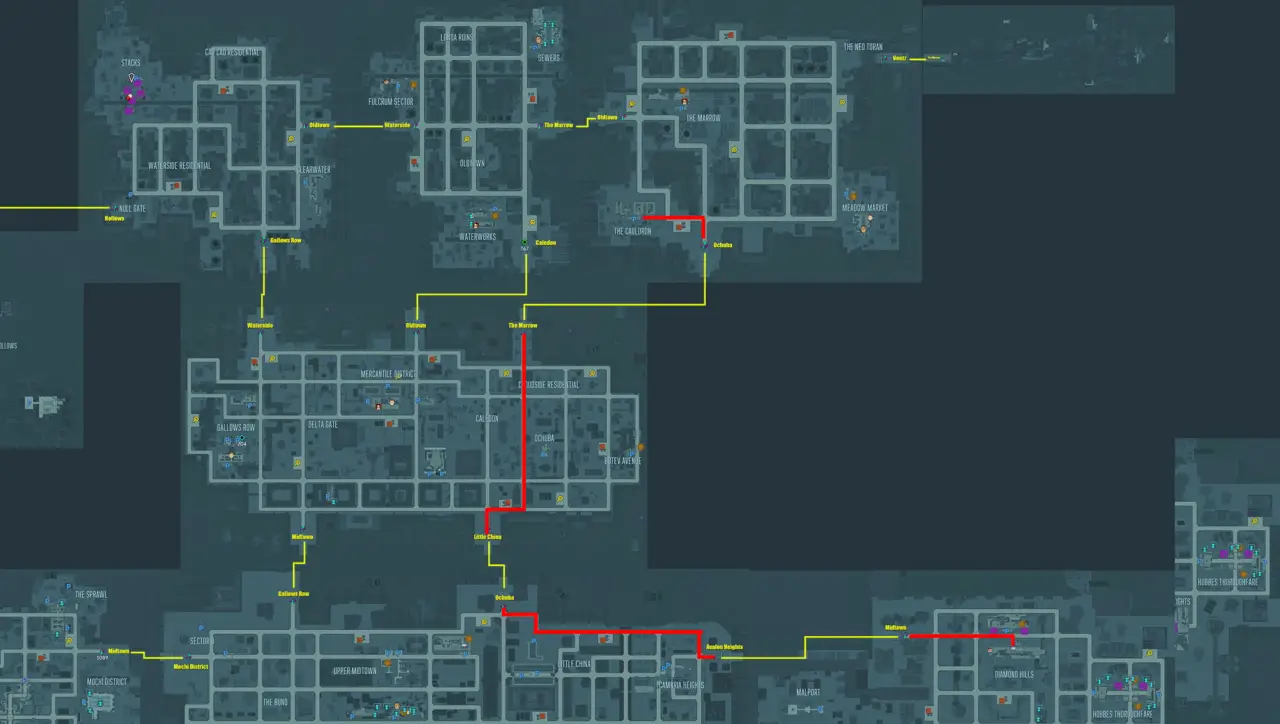 Minimizing Expenses to Maximize Profit
The first step is very very simple, don't buy repairs. Ever. No matter how often, or how hard you crash your HOVA cannot be disabled, destroyed, or otherwise negatively impacted. Even if you boost directly into a head-on crash there is only cosmetic damage, I've beaten the snot out of my HOVA and never noticed a performance drop.
You do still need to buy fuel though. Which is not sold at a constant value. Different stations have different prices. I'm not entirely sure where the best places are to fill, the lowest I've seen is around 2.3 Lims per litre in the Marrow. It seems prices of fuel get lower the further North/Down you go in Nivalis.
Speaking of fuel, you should watch your speed! Boosting or using the highways makes you faster yes but you burn extra fuel at an equal rate! Also, most food will be consumed as soon as you buy it and cannot be resold.
So avoid buying anything that doesn't come in a package IE: noodle bowls, sushi, and coffee aren't "packaged" and get consumed on purchase. However, Liquid Sunshine, Soda, Energy Drinks and Candy bars are all food but cause they are all "packaged" they won't be consumed on purchase.
Closing thoughts and the Big Catch
Sadly items are not infinite, Merchants have about 50~ units of any one item. This limits how much profit can be made and also means that eventually you will run out of Lims and have to start a new game. This makes trading rather shallow, which makes me sad because I really wanted to go further and try to unearth some cool hidden mechanic in this otherwise kinda boring game. Either way, that's enough rambling. I hope you appreciate the work I put into this guide and would drop a thumbs up, maybe even a favorite.
And that concludes this Cloudpunk guide. Help us improve this guide by leaving your suggestions in the comment section below.
If you believe that any of the content on this site violates your rights, including your intellectual property rights, please contact us immediately using our contact form.