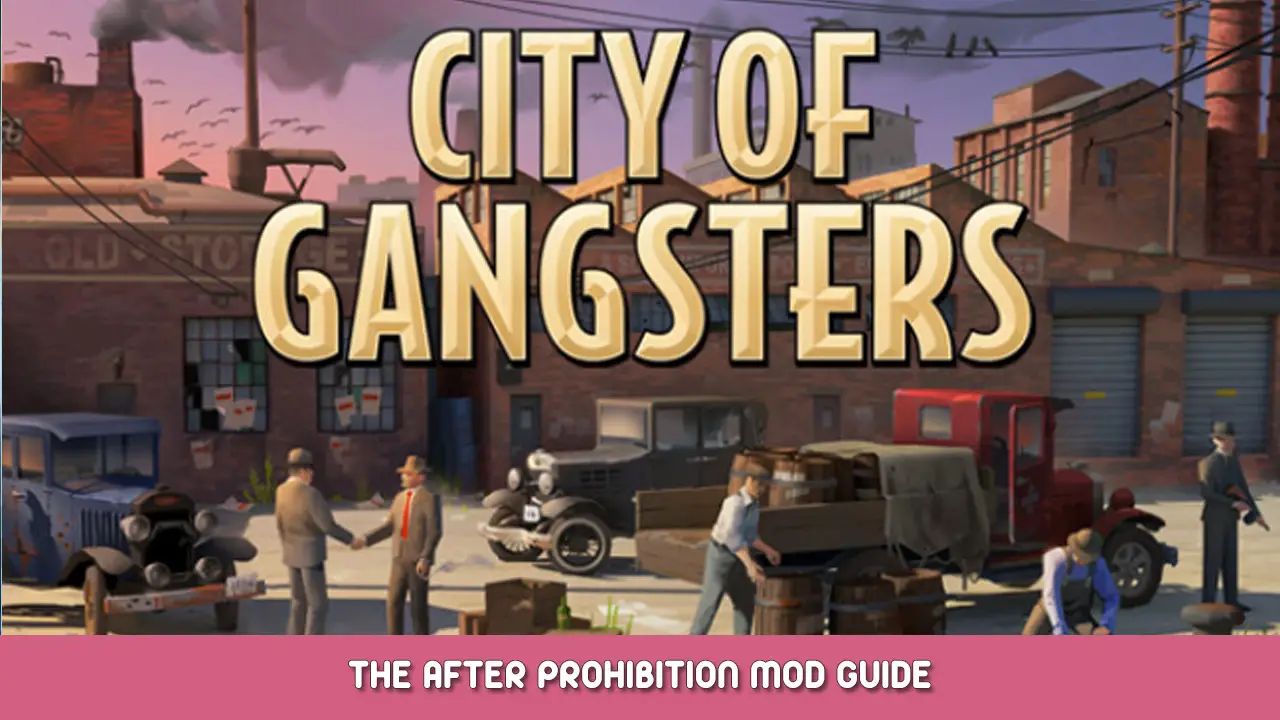 This guide may be outdated. Click here if you want to read the original and updated content about the City of Gangsters – The After Prohibition Mod Guide.
This is a mod collection and a new main game script. The new game script adds more skills and backrooms for smuggling with your closer crew member. As for the mod collection, there are a collection of vanilla mods that can be used with only a vanilla game in mind.(Vanilla as in Non-Modded game)
All Skills Are Unlocked At Luncheons Primarily and can also be found at Poker Games and Dinner Parties On Occasion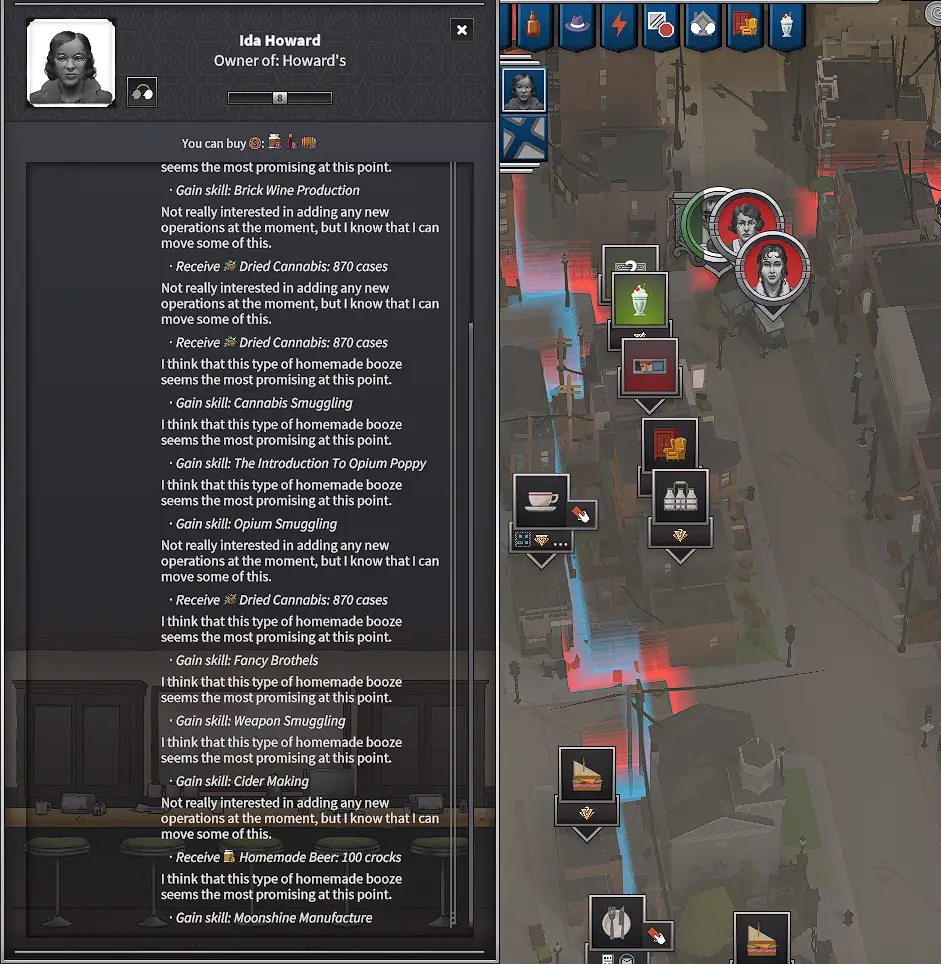 Illegal Drugs 101
The Introduction To Hemp (Basic Cannabis Production)
Cannabis Smuggling (Bulk Cannabis Production)
The Introduction To Opium Poppy (Basic Opium Production)
Opium Smuggling (Bulk Opium Production)
Weapon Smuggling (Basic Weapon Production)
Brothels (Found In Casinos Once Unlocked)
Fancy Brothels (Upgrades Found In Casinos Once Unlocked)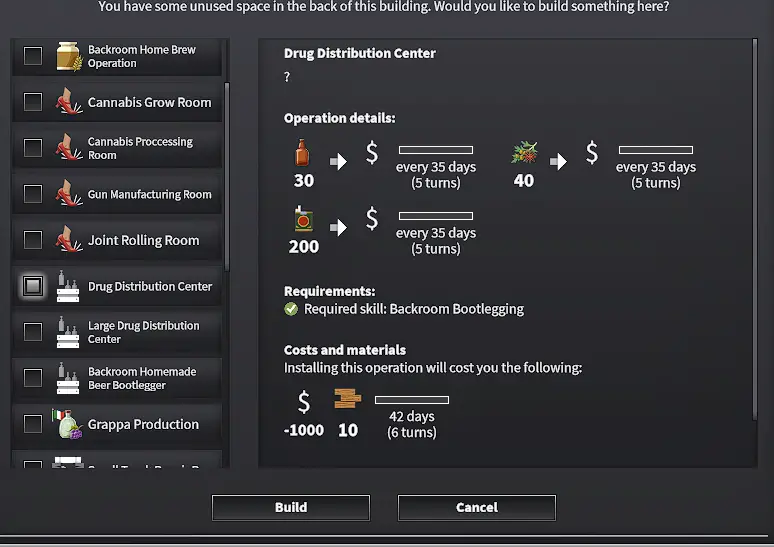 Cannabis Grow Room
Cannabis Proccessing Room
Large Cannabis Proccessing Room
Cannabis Packing Room
Joint Rolling Room
Opium Poppy Grow Room
Opium Packing Room
Complex Opium Proccesing Room
Gun Manufacturing Room
More A.I Recruits and Better Cash Drops
A.I Tend to recruit more and 1 man crews can now recruit as well so be even more careful. On the plus everyone tends to drop more loot and more loot can be attained from safehouses. This is still a work in progress. 1 man crew recruiting can be excluded with After Prohitbiton (Without A.I Recruit More Mod) main script file
Bail Time And Cash Update
The time your crew member waits for trial is increased. The amount of cash to get your crew member out of jail is increased drastically as well.
Res Events For Smuggling Skills and More
Poker Games – Will help you find connections to buy opium and cannabis.
Dinner Parties – Will help you find connections to sell cannabis mostly and opium.
Luncheons – Will help you find connections to sell opium mostly and cannabis. Also you will find connections for all skills
All Events have a chance to offer you the new skills for a fee but Poker games and Luncheons are the most likely to offer them.
Schemes
Bulk weapons and drugs can be sold with the closer scheme and the time to repeat the scheme is decreased for a majority of schemes. Its now easier to upgrade a crew member to a specialist. Just have a captain experience a few fights or maybe even one to unlock most specialist roles except for operator and accountant.
Mod Installation
This mod was made for individual use so producing drugs and having brothels are completely optional. If you want you can choose to only smuggle weapons and liquor.
Please save your games frequently and make a backup copy of your streaming assets
Installation
Go to the Link below and download the After Prohibition Mod and place all files into your streaming assets folder. This will be the main script so any mod you place after must have After Prohibition labeled afterward. For example, if you download the Cheaper Buildings (After Prohibition) folder it will only work correctly for the main script but Cheaper Buildings (Vanilla) will not work correctly for your main script.
Install Steps for multiple mods can look like this
Put files inside After Prohibiton folder into the streaming assets folder.
Now put files inside Cheaper Buildings (After Prohibition) into the streaming assets *Entities* folder
After that put files inside Profitable Front's into the streaming assets *Settings* folder
If there is a map in Double A.I Outfits On Vanilla Maps you want to use, you can put the files inside the folder into your streaming assets *Map* folder after the main script as well.
That's everything we are sharing today for this City of Gangsters guide. This guide was originally created and written by MilanoParis. In case we fail to update this guide, you can find the latest update by following this link.
If you believe that any of the content on this site violates your rights, including your intellectual property rights, please contact us immediately using our contact form.