Title: Chillquarium
Release Date: September 7, 2023
Developer: Ben Reber
Publisher: Ben Reber
I understand that you're looking for a way to fill out your fish pokedex without spending a lot of money on Marine and Giant packs. Let's get started with this method.
Introduction
To kick things off, you'll need a substantial amount of money. In my experience, I found myself investing $100 billion at a time to efficiently farm golden giant packs. However, as we progress, this process becomes increasingly manageable because you'll start acquiring painted fish that generate significantly higher income. The key strategy here is to secure all your painted Epic+ fish, and you'll notice that your income will steadily increase as you continue.
The Method
Within your chillquarium save file, there exists what's known as a "pity counter" or, in this game's context, a "mercy timer." These values, "mercy_timer": 301 and "rainbow_mercy_timer": 1913, play a significant role.
In the realm of gacha games, these counters are typically established by developers to ensure that you receive a high rarity pull after a certain number of attempts. Now, we can harness this to our advantage. Much like in gacha games, each fish you obtain through pulling increases these numbers by 1. The higher these numbers climb, the greater your likelihood of acquiring rare fish, specifically golds, and if luck is on your side, even rainbow ones.
What You Need to Do
Since there are only 2 packets of freshwater fish, I was able to effortlessly spam 100 fish at once in my third freshwater tank. The process is easy.
We're basically going to buy 25 packs of fish to fill the tank in our third freshwater tank. Since each pack contains four fish, this will bring our total number of pity up by 100.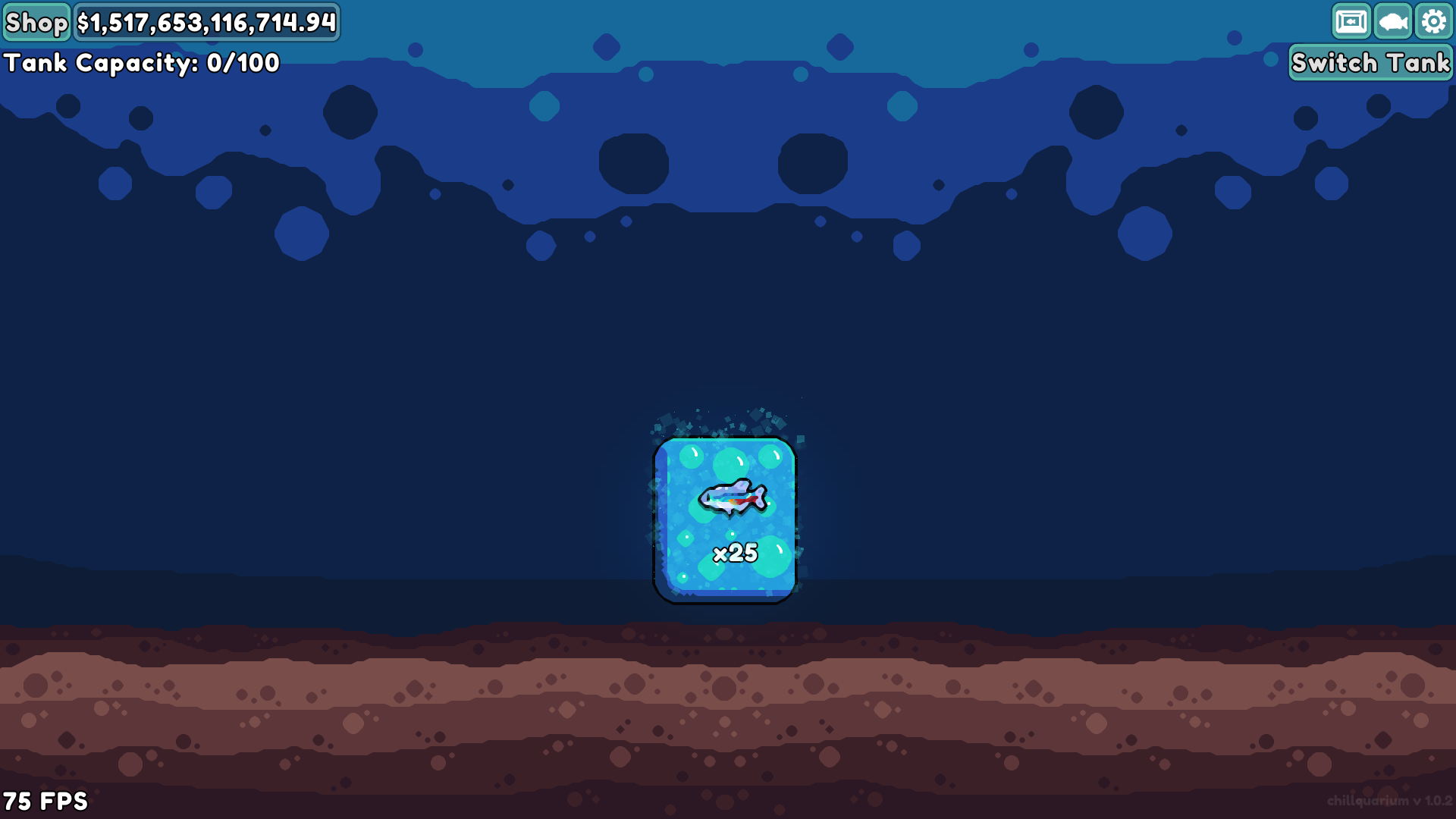 After we've opened these packs, we won't bother raising the fish we caught; instead, we'll sell them right away. Since the packs only cost $5 each, you may do this indefinitely, and your passive income should entirely offset this.

We're going to utilize this strategy to increase our pity as much as we can, and because of the way the game's pity mechanism is written, it persists over all of the fish packs. You can raise your level of sympathy as high as you'd like. I often like to reach 700–800. Remember that if you pick golden and rainbow fish from your freshwater packs while you are spamming them, this will RESET your golden and rainbow pity times.
We're going to switch over to whichever tank you are trying to buy fish for once your pity is as high as you want it to be (you can see how high it is by opening your save file; it refreshes once every 60 seconds with the game open). I'll move to my saltwater 3 tank as that is where my gigantic fish are kept. We're going to buy as many packs as we can once we switch to our favourite tank and keep buying packs until a golden appears.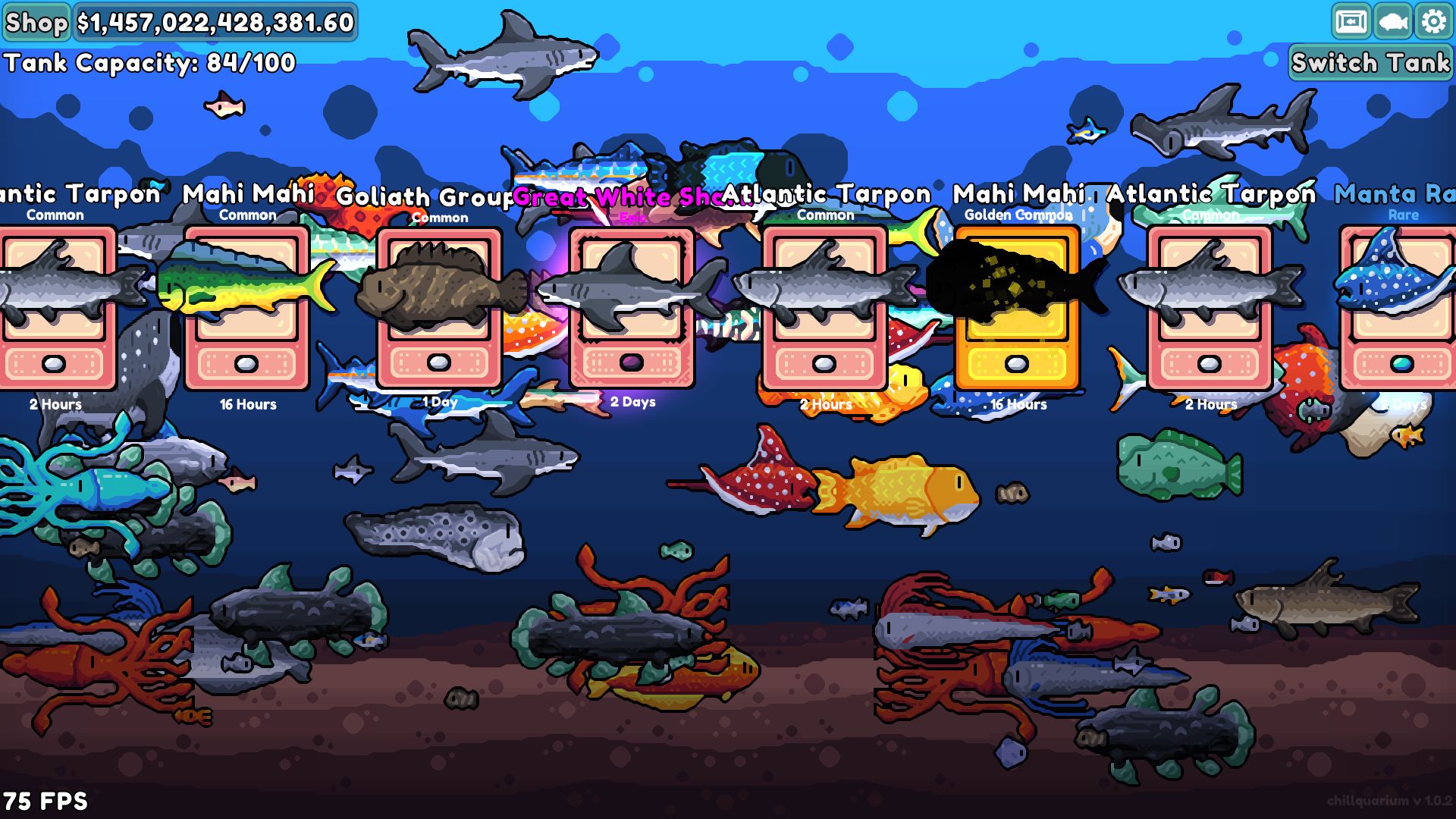 I was about 1016 pity here.
I like to sell the commons and rares I obtain right away to make sure I have enough room to spam packs. The easiest to obtain and lowest paying passive income sources are commons and rares. I'll keep my giants tank at roughly 70/100 so I can complete 7 packets at once.
By using this strategy, we effectively save $1.6 trillion by purchasing 200 freshwater packs at $1000 and 50 gigantic packs at $400 billion instead of, say, 250 packs to reach 1000 pity on our counter, which would cost us $2 trillion. (These numbers were chosen at random and arbitrarily; depending on your luck, RNG may be kind to you or a cruel mistress.)
Bonus Information
If you're close to finishing your pokedex of golden and rainbow fish, you could choose to expand your current stock of fish before attempting to get more. In order to reduce the likelihood that you may draw a golden fish that you have already grown into an adult, the game contains a reroll feature. If you land on a golden fish that you have already grown into an adult, the game will reroll and give you the golden fish that it rerolls on in its place. Unless you have all of the rainbow fish, it will always offer you a new rainbow fish that you do not already possess as an adult.
I'm unsure if this will be modified or fixed in next patches. Right now, it appears to be purposeful. Having said that, have fun looking for sparkling objects and luck landing huge golden fish!
That's everything we are sharing today for this Chillquarium guide. This guide was originally created and written by Zen. In case we fail to update this guide, you can find the latest update by following this link.
If you believe that any of the content on this site violates your rights, including your intellectual property rights, please contact us immediately using our contact form.