Title: Chillquarium
Release Date: September 7, 2023
Developer: Ben Reber
Publisher: Ben Reber
Welcome to this concise guide on optimizing your fish XP per hour while tending to your Chillquarium. It's important to keep in mind that this method requires a significant time investment and may not maintain the typical idle nature of the Chillquarium. Nonetheless, it will accelerate your fish growth, allowing you to profit more quickly.
Requirements
Now, to implement this strategy, we'll be utilizing an auto clicker. You can easily find an auto clicker online if you don't already have one. For the purpose of this guide, I'll be using a specific one called "OP Auto Clicker 3.0."
The XP Method
Launch the application and ensure that the settings match the configuration I've provided here.
Verify that you are using right-click as the click action, not left-click. Additionally, make sure to enable the "Repeat until stopped" option; otherwise, the clicking will halt after a certain number of clicks.
Adjust the time interval according to your preference. Faster clicking will result in more XP. I personally have mine set to 10 milliseconds, but you can lower it to 1 millisecond if necessary.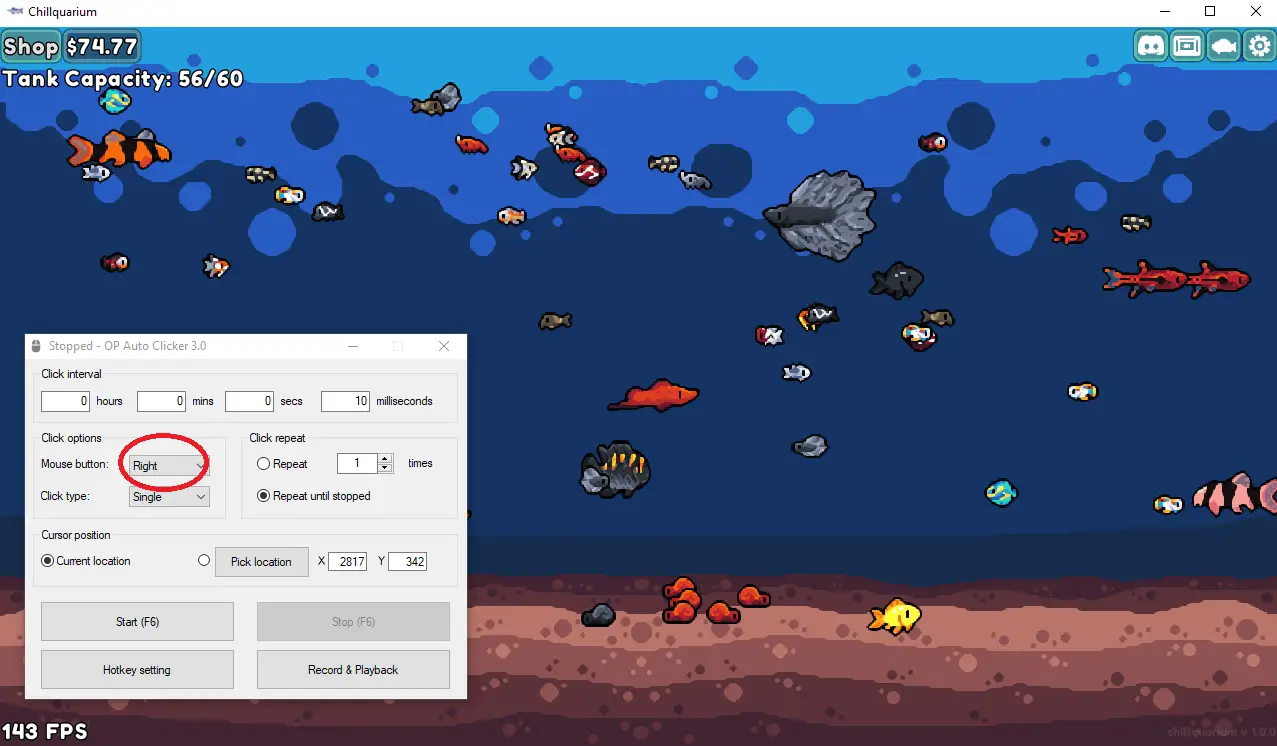 Press the F6 key or the designated key for starting the software if you're using another auto clicker.
You can now either move your mouse cursor across multiple fishes or, if you want to focus on a specific fish, drag your cursor just in front of its mouth. It will start following your cursor automatically while continuously receiving food.
Keep in mind that because the food is being distributed rapidly, it disappears quickly. Therefore, try to keep your cursor in close proximity to the fish at all times for efficient feeding.
Conclusion
Indeed, that's a concise and effective guide to optimizing fish growth. If you have any additional tips or tricks, please don't hesitate to share them in the comments, and I'll gladly incorporate them into this guide, giving you proper credit.
Alternatively, you can choose to play the game in a more conventional manner, running it in the background or on your second monitor. We won't judge! As for naming the famous golden goldfish from the guide image, how about we call it "Aurelius" to reflect its golden glory?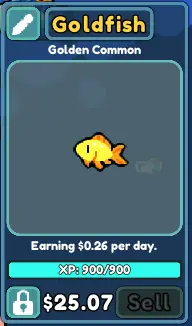 That's everything we are sharing today for this Chillquarium guide. This guide was originally created and written by Vintmix. In case we fail to update this guide, you can find the latest update by following this link.
If you believe that any of the content on this site violates your rights, including your intellectual property rights, please contact us immediately using our contact form.