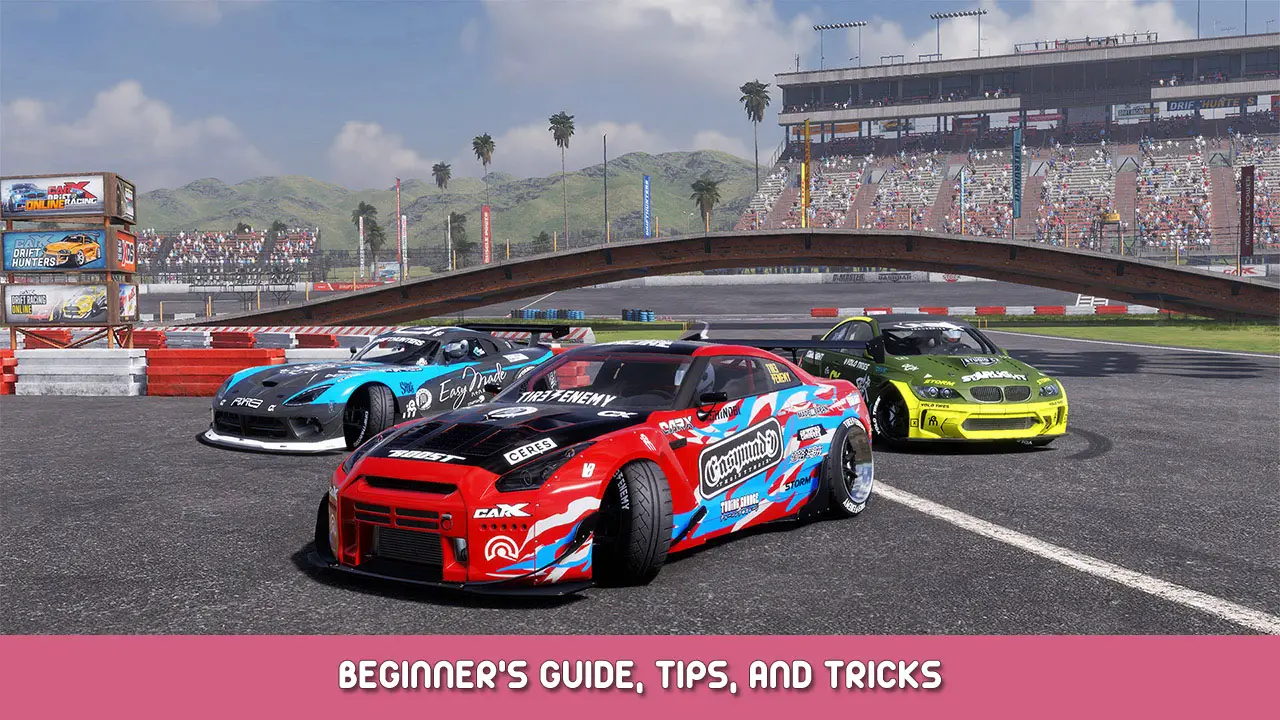 A guide for beginners explaining the basics and mechanics of CarX
Starting!
Welcome to CarX! Upon loading up the game, there is a lottttttt of options, and it can be quite daunting for beginners, and for most beginners, it's quite confusing. I know i was completely lost when i first opened the game. So i'm going to try my best to explain things here
Cars and Liveries
Upon starting the game, you have three cars in your inventory. You can access them in the catalogue in the garage menu, and you can change cars by double clicking on the car you would like to drive. Also in the garage menu, you will see tabs pertaining to editing your car. The body kits tab, the design tab, the mods tab, and the dynostand tab. All of these are for editing your car, and i will explain what they all mean below.
Body kits: In this tab you can edit the body of your car. There are several body kits to choose from, costing a fair amount of money each. In each selected body kit, you can select from many different parts for each part of the car. ie, you can chose from different fenders, hoods, spoilers, etc, and each body kit has a different selection.
Design: In this tab there is two other tabs, paint and vinyls. The paint tab is for, you guess it, painting the different parts of your car. The vinyls tab is for creating liveries with an assortment of stickers. I'd recommend spending a little while in the vinyls tab getting used to creating designs for cars, and seeing what looks good, and what you like.
Mods: This tab is for selecting a modification for your car. Usually these are for different versions of your car, ie race, drift, ultimate etc. As the name suggests, the ultimate mod is usually the best choice, but it can be fairly pricey.
Dynostand: This the tab for fine tuning the performance of your car. For beginners, i'd recommend not changing much in there other than your camber and spring length. At the top of the dynostand tab you can find other tabs for changing other parts of the car, like the how the engine performs. You can use this to crank the horsepower of your car. It's also worth mentioning that the dynostand is unavailable with some mods equipped.
Drifting
Quite literally the whole point of this game is drifting. It's in the name after all. While it may seem hard at first, all it really takes is a lot of practice. Doing some singleplayer sessions and just practising will almost definitely guarantee your improvement.
For beginners I HIGHLY recommend that you set your gearbox type to automatic, so that you can get a feel for drifting without having to worry about shifting.
Below is a very good tutorial to go over the basics of drifting in CarX
CarX Drift Racing Online – Beginners Guide to Pro Drifting
Making money
In order to change pretty much anything about your car or to buy new cars, you'll need to have the money to do so first. There is quite a few ways to make money, and i'll go over them here.
First off, any time you are drifting in game, you are making money. The amount of money depends on what you are doing (ie, drift race, multiplayer game, etc) and also depends on the class of car you have. The higher the class the more money you make.
In my opinion, the best way to make money is through drift races. You can do these in the single player tab from the main menu. Doing lots of these and trying your best and beating your current records can earn a lot of money very quickly. You can use that money to buy a car from higher class and do the same thing over again to earn money even quicker.
If doing the same race over and over again isn't your cup of tea, then playing multiplayer can also earn you a significant amount of money, but not nearly as fast.
Another way, albeit somewhat cheat-y, is to install a money mod. There is many mods made for giving the player free money. I won't link any here because it's kind of cheating, but know you can find some if you search for them.
Modding
Carx is a very modifiable game, and installing mods is pretty easy.
The first way to mod the game is through workshop mods. There is quite a few that can be easily downloaded and installed by simply pressing the subscribe button. HOWEVER. These mods commonly lag out the game for anybody else in the lobby with somebody that has workshop mod(s) especially body kit mods. So if you are planning on playing multiplayer, then out of courtesy, please do not use any workshop body kit mods.
The second, and far better (by general opinion) is through the use of plugins. In order to install plugins, you first must install a plugin manager like BepInEX. Using this tool, you can download custom maps, plugins, and all sorts of mods for the game. Below is a good tutorial for installing BepinEx and custom maps.
HOW TO INSTALL CUSTOM MAP MODS in CarX Drift Racing Online
While you're at it, i'd highly recommend downloading the kino mod. Most of CarX players have this mod, since it adds a lot of useful features, plus the ability to install graphical mods that make the game look amazing. Below is a good tutorial on how to download and install it.
How To Install Kino Mod For CarX Drift Racing Online 2021 Tutorial
There is a huge amount of tutorials for bepinex, kino, and other carx mods online, so if you want to download something, finding a tutorial on how to won't be hard at all.
While these mods are nowhere near necessary for playing the game, and you can still have loads of fun without them, they are very beneficial, and make the experience a lot more fun.
Different ways of playing
CarX can be played with keyboard and mouse, controller, and with a wheel.
If you have a wheel, then make sure to use that, but if not, a controller works just fine. If you have neither, keyboard and mouse can be used as a last resort, but it makes the game extremely challenging, and i would highly recommend investing in a controller if you plan to spend a lot of time playing this game. You don't need a super fancy controller, and just about any controller will get the job done well.
Multiplayer
Before starting in multiplayer, it's best to get a feel for the game in singleplayer. Once you're somewhat confident in your abilities, then it's time to take them to multiplayer!.
To start, it's best to start in a lobby with collisions off, so that if you make a mistake it won't cost other people. In lobbies that have collisions on, frequently colliding into other players can get you votekicked from the lobby, so start with collisions off! If you can't find a lobby that has what you'd like, you can always create one, and people will most likely join pretty quickly.
Once you're more confident in your abilities, you should try to join a lobby with collisions on, and tandem with somebody. This is a good way to practice your car control, and also to have loads of fun. Some of the most fun i've had ever is tandeming with a load of friends in a custom lobby.
It's also worth noting that if you have the Kino mod installed (see the modding section) there is separate lobbies for only people that have the mod installed. In these lobbies you can use the kino mod as much as you would like.
Finishing up
I hope that this guide has helped you learn some things about CarX and how the game works. Hopefully you'll be able to enjoy your time in carx, and maybe even meet some new friends! I know i met quite a few of my best friends in this game. And remember, all this game takes is practice! Put some time in, and soon enough you'll be up there with tons of car control and getting sick lines. The CarX community is pretty amazing, and if you ever need help with anything, you can ask pretty much anybody, and they'll most likely give you some help! Now, get out there and drift!
That's everything we are sharing today for this CarX Drift Racing Online guide. This guide was originally created and written by HannahSoftie. In case we fail to update this guide, you can find the latest update by following this link.
If you believe that any of the content on this site violates your rights, including your intellectual property rights, please contact us immediately using our contact form.