Title: Call of the Wild: The Angler
Release Date: August 31, 2022
Developer: Expansive Worlds
Publisher: Expansive Worlds
In this comprehensive tackle guide, I aim to equip you with the essential gear required to successfully catch all reserve fish rated at bronze quality or higher.
It's crucial to keep in mind the Golden Rule of fishing: A small hook has the potential to land bigger fish, whereas a larger hook is ineffective at catching smaller fish.
As the author of this guide, I've taken into consideration a tackle box with a generous capacity of 60 slots. While I'll be listing the top-tier rods available in the game, it's important to note that you don't necessarily need these specific rods, as acquiring them can be quite challenging. They are included in the guide primarily for their statistical significance. Feel free to substitute them with their non-souvenir counterparts or other rods with similar attributes. Alternatively, opt for the best rod currently accessible to you as you work your way towards obtaining the recommended tackle.
Rods
Rods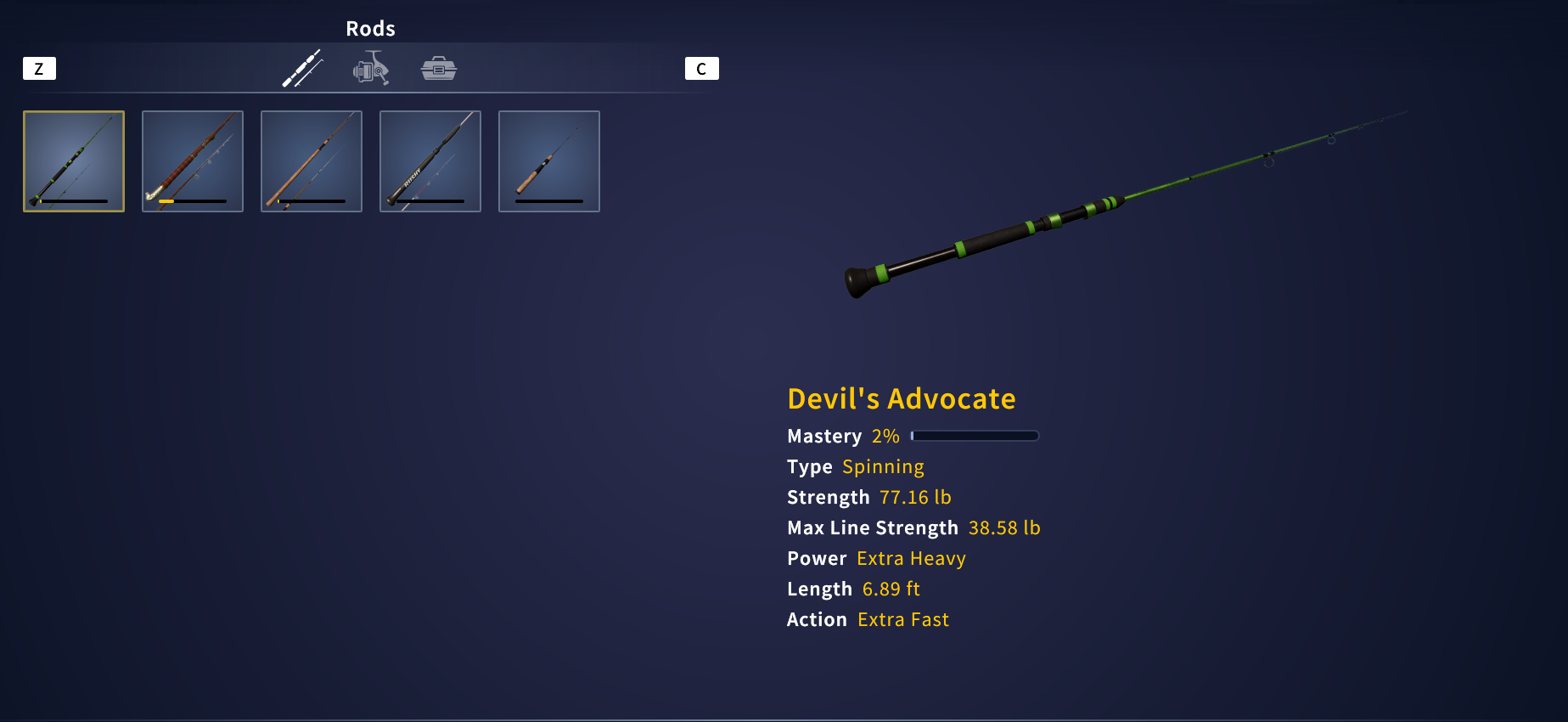 Devil's Advocate: This rod serves as a versatile option suitable for both fishing and general use. It's designed for individuals who prefer a straightforward approach, offering adaptability and a high line poundage capacity.
Whippet: Tailored for light lure and jigging activities, the Whippet is ideal for catching trout and bass. It excels at reeling in fish weighing up to 22 lbs, with an average range of 5-18 lbs.
Deft Nexus: The Deft Nexus is a general-purpose float fishing rod with impressive reach and a robust line strength threshold. It's particularly useful for reaching tight spots and shore fishing.
Graureiher X: When you're targeting extremely heavy fish, especially legendary species or those found in deep waters, the Graureiher X is your go-to option. It's especially handy for catching large species like Atlantic Salmon in Norway or gold to diamond Lake Trout on Golden Ridge Reserve, though it's not commonly used due to its specialized nature.
Goldhorn: The Goldhorn is a lightweight model, similar to the Dock Demon, suitable for pier, boat, and shallow water fishing. It's primarily employed for float fishing and jigging panfish. The shorter casting reach of this rod is advantageous for positioning your float precisely for panfish. It's the preferred choice for sniping panfish that come near your boat or dock, especially when using a size 9 hook, heavy jig head, and bait like bloodworms or tube lures.
These rods each have their unique strengths and are tailored to specific fishing scenarios, allowing you to choose the most suitable one for your fishing needs.
Reels
Reels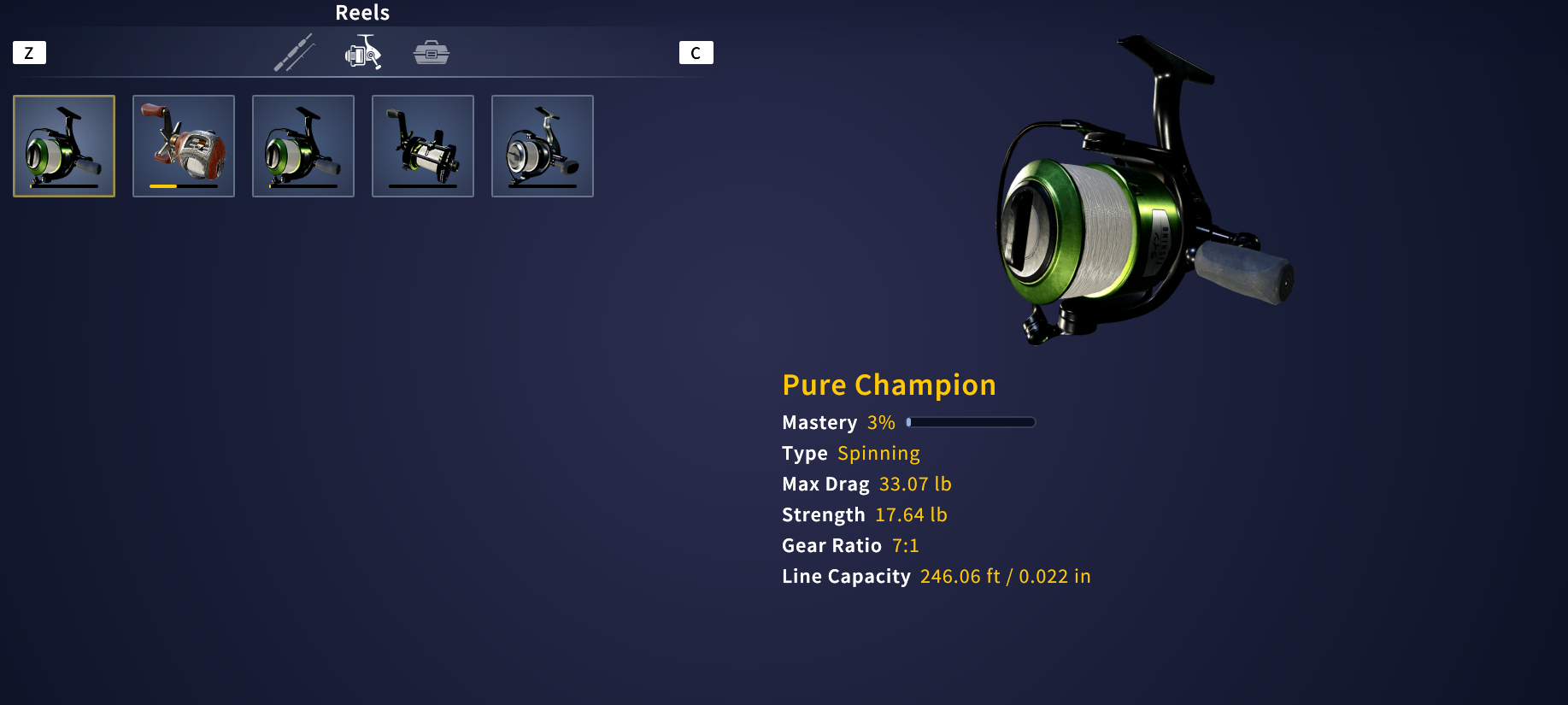 Pure Champion #1 is employed as the advocate for the Devil's cause.
Lurcher serves as the choice for the Whippet.
Pure Champion #2 is designated for the Deft Nexus.
True Mediator is the selection for the Graureiher X.
Epilogue is the option employed in conjunction with the Goldhorn.
Line
Line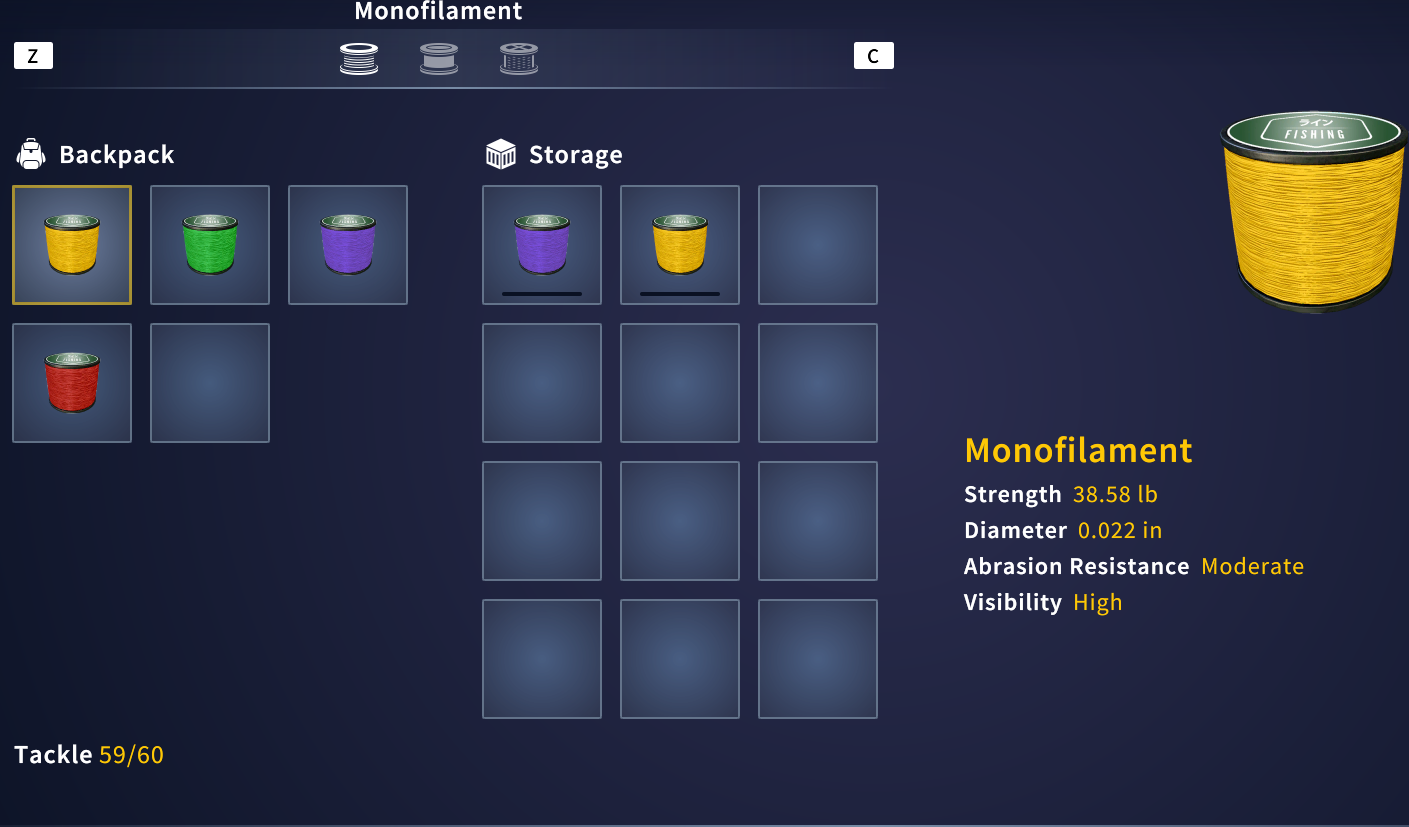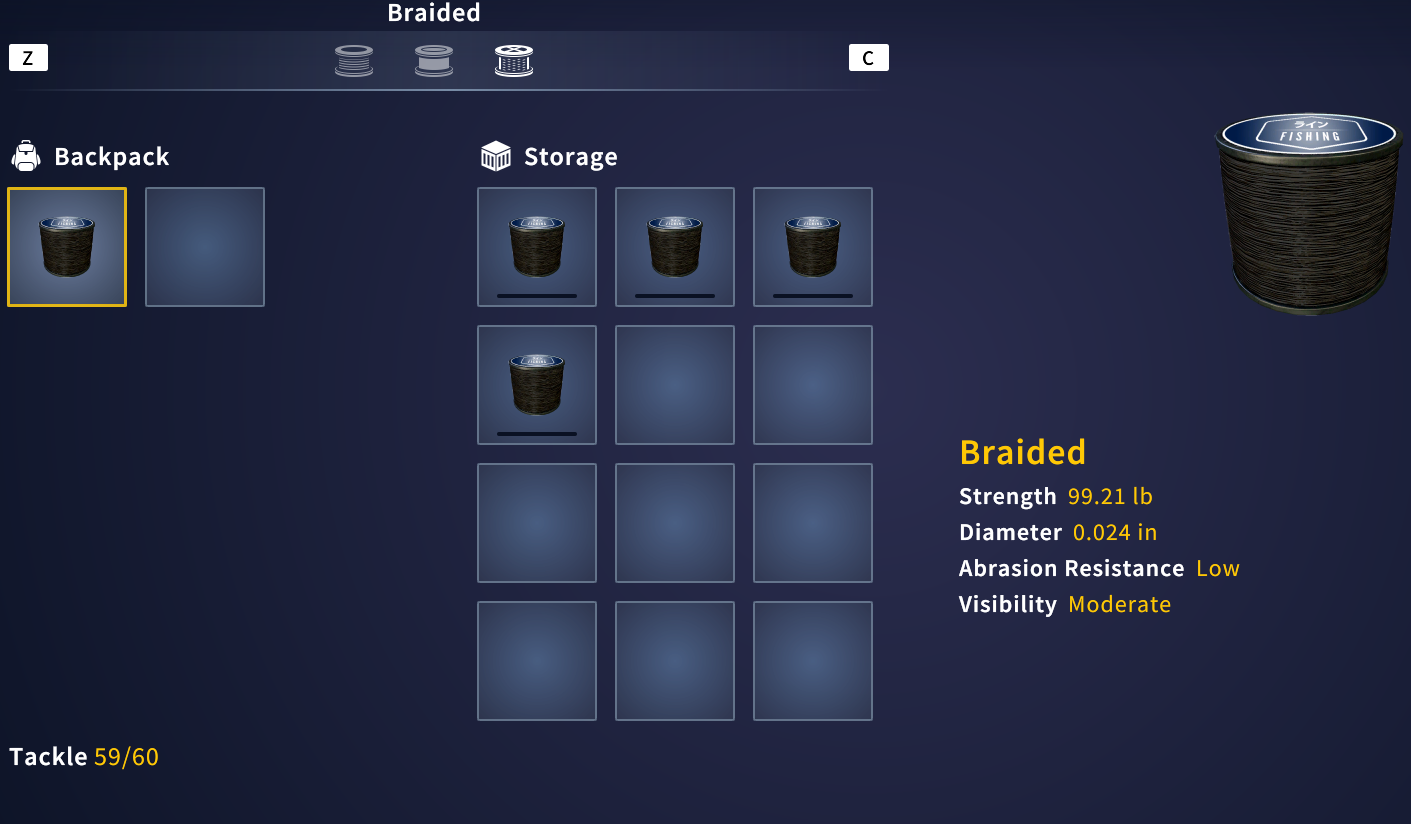 Please note that the type of fishing line used is a matter of personal preference and does not currently impact performance. However, if you want to optimize your score and experience gain for specific species, you can adjust the line poundage accordingly. For example, you can switch the 22 lb line on the Whippet to a 2-3 lb line to target Kohanee Salmon.
Here are the line specifications for various combinations:
Graureiher X/True Mediator combination: 99.21 lb Braid.
Devil's Advocate/Pure Champion combination: 38.58 lb Mono/Fluoro/Braid.
Deft Nexus/Pure Champion combination: 33.07 lb Mono/Fluoro/Braid.
Whippet/Lurcher combination: 22.05 lb Mono/Fluoro/Braid.
Goldhorn/Epilogue combination: 5.51 lb Mono/Fluoro/Braid.
Tackle
Tackle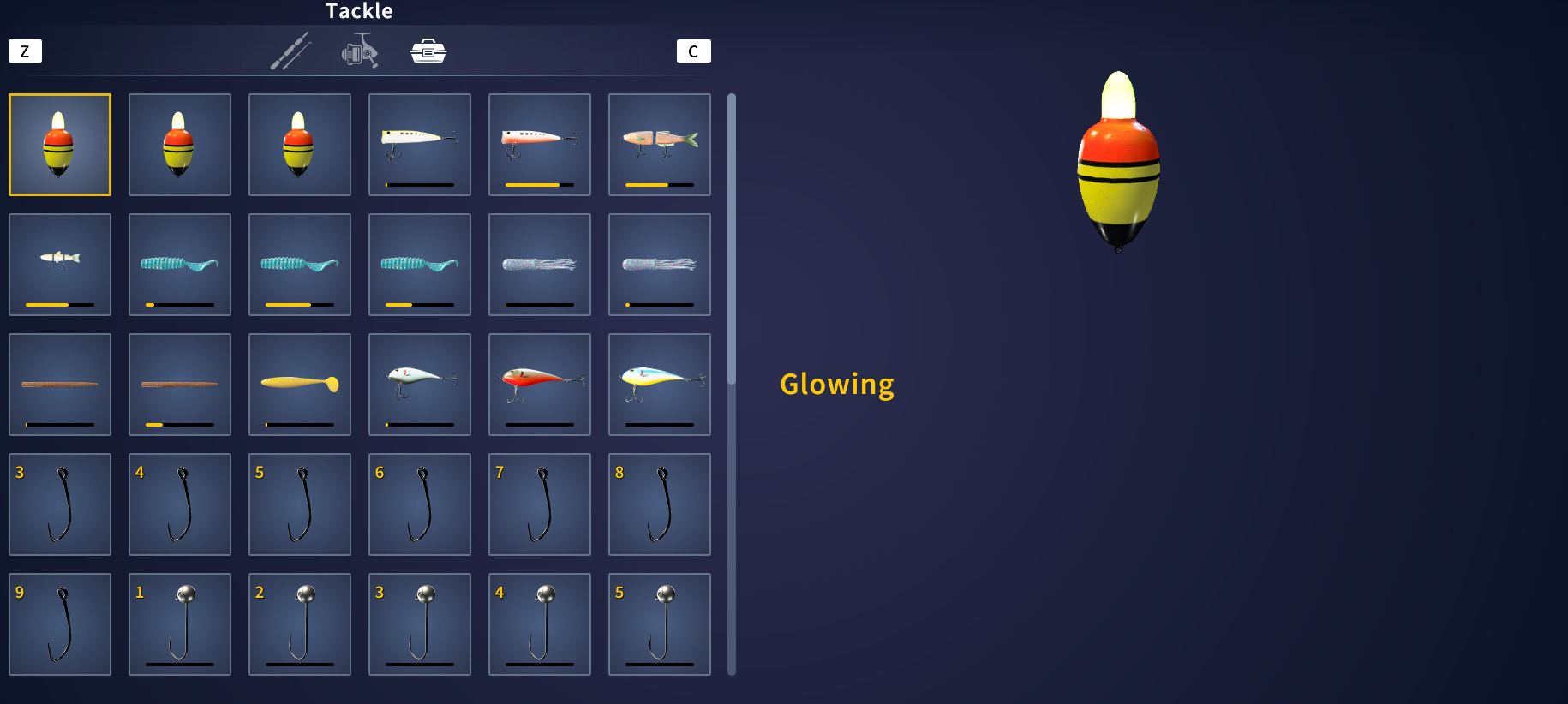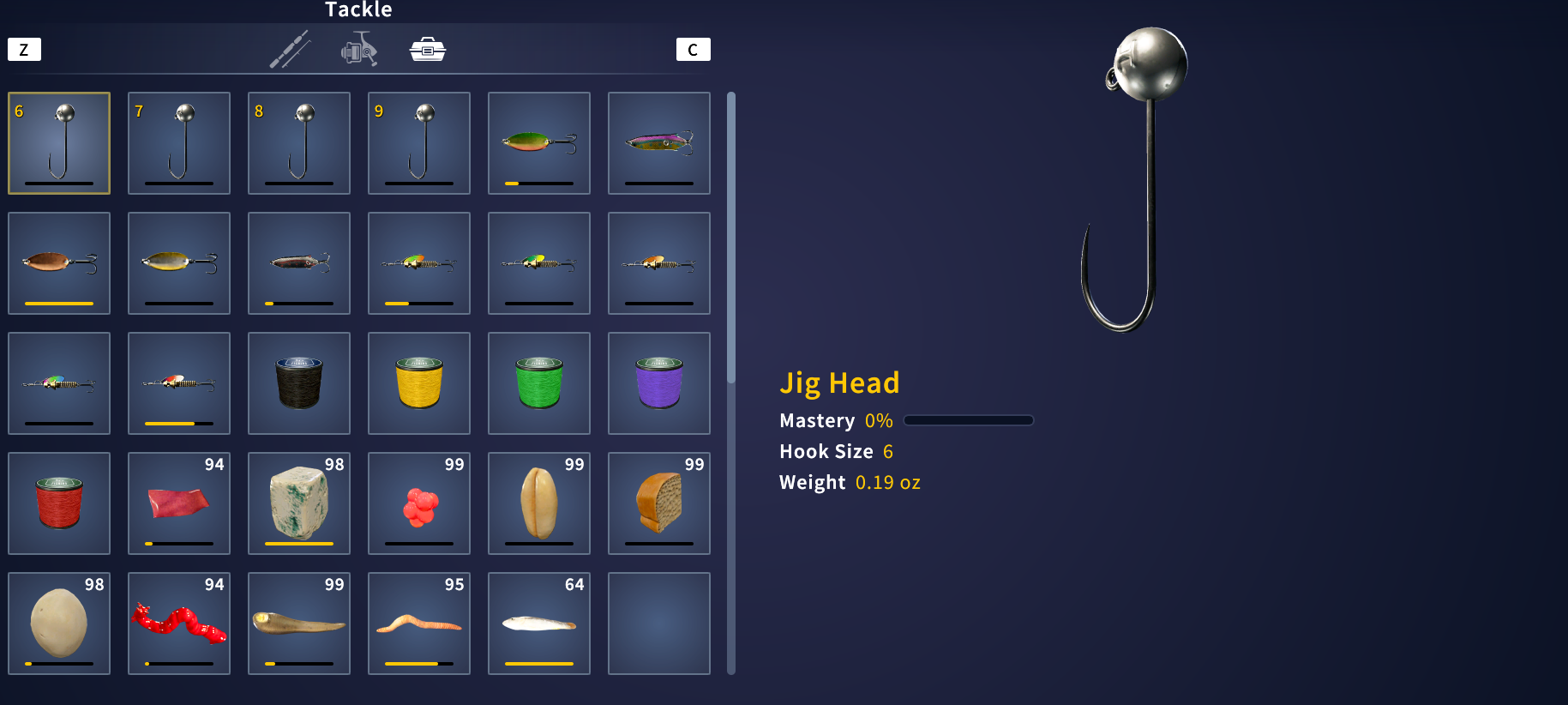 Glow Bobbers (x3):
Used for the Devil's Advocate, Deft Nexus, and Goldhorn.
Poppers:
Sizes 6 & 7, primarily for topwater bass fishing on the Whippet.
Swimbaits:
Sizes 4 & 6, used primarily for Tiger Muskie & Northern Pike fishing on the Devil's Advocate (size 4) and Whippet (size 6).
Grubs:
Sizes 3/1, 5/4, 7/6, used for jigging with the Graureiher X (size 3/1), Devil's Advocate (size 5/4), and Whippet (size 7/6).
Tubes:
Sizes 10/9 & 8/7, used for jigging with the Goldhorn (size 10/9) and Whippet (size 8/7) for panfish and various small species that share bait.
Worms:
Sizes 2/1/0 & 5/3, used for jigging with the Graureiher X (size 2/1/0) and Devil's Advocate (size 5/3) for large species like Lake Trout and high-rating Largemouth/Smallmouth Bass. Can also be used with the Whippet with care for line tension.
Shad:
Size 5/3, used for jigging with the Devil's Advocate and Graureiher X for large species, particularly Tiger Muskie/Northern Pike in deeper water. Can be used with the Whippet, but watch line tension.
Crankbaits:
Sizes 6, 7, & 8, primarily for Walleye with the Whippet, but versatile for various species that share bait preferences.
Hooks:
Sizes 3-4 recommended for the Devil's Advocate/Deft Nexus, sizes 5-7 recommended for the Whippet, and sizes 8-9 recommended for the Goldhorn.
Heavy Jig Heads:
Sizes 1-4 recommended for the Graureiher X/Devil's Advocate, sizes 5-7 recommended for the Whippet, and sizes 8-9 recommended for the Goldhorn. The choice of heavier jig heads is to achieve a faster sink rate, which is advantageous when jigging.
Spoons:
Sizes 1 & 3 recommended for the Graureiher X, sizes 4-5 recommended for the Devil's Advocate, and size 6 recommended for the Whippet. Spoons are versatile and suitable for testing new fishing areas.
Spinners:
Sizes 1 & 3 recommended for the Graureiher X, sizes 4-5 recommended for the Devil's Advocate, and size 7 recommended for the Whippet.
One Open Slot:
Reserved for a larger lure/hook when targeting specific high rating fish, such as gold or diamond ratings.
Additionally, a technique called "dancing the jig" for grubs and shads, involving a mix of casting, jigging, twitching, and retrieval to attract a wide range of fish species.
These equipment choices and techniques should help you maximize your fishing success in different scenarios.
Hook Size Charts
Hook Sizes
Golden Ridge Reserve (USA)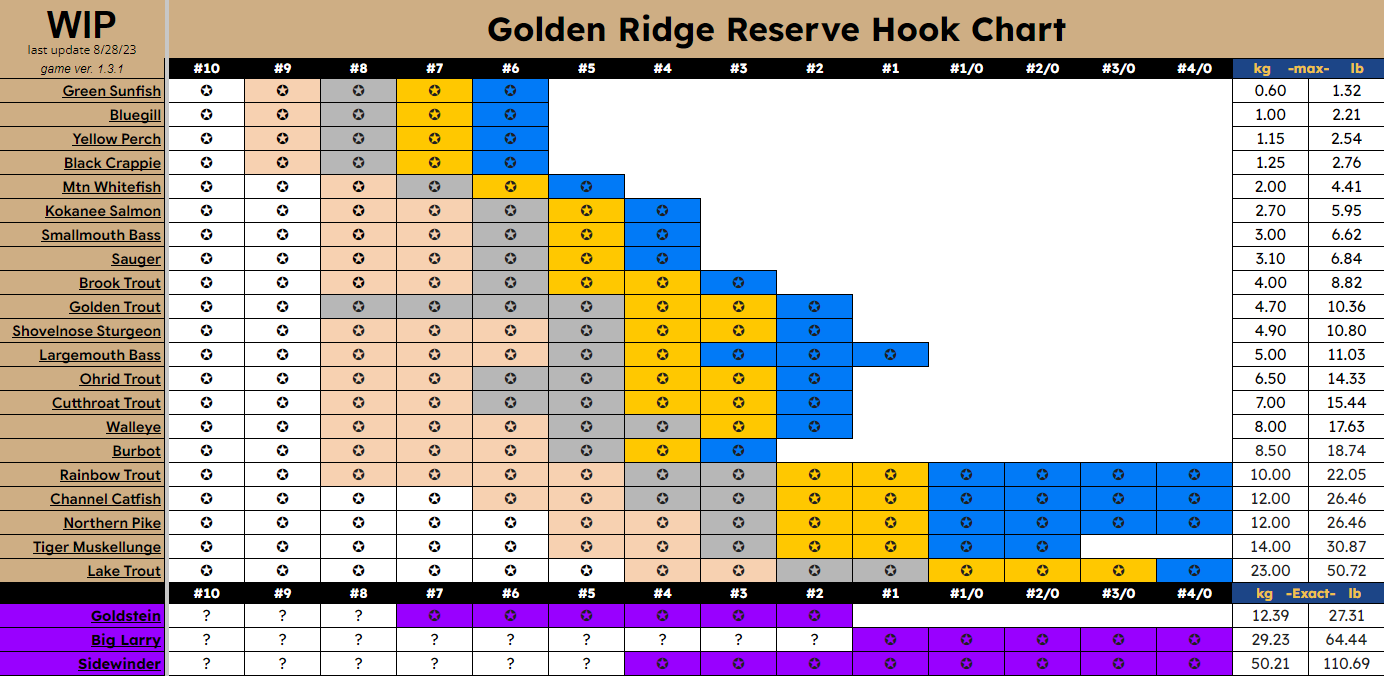 Trollsporet Reserve (Norway)

Free Gear
Additionally, you have the opportunity to acquire complimentary equipment by successfully accomplishing in-game missions. Moreover, you can obtain additional gear through the cost-free downloadable content (DLC) available on the Steam platform.
The Wright Baitcasting Line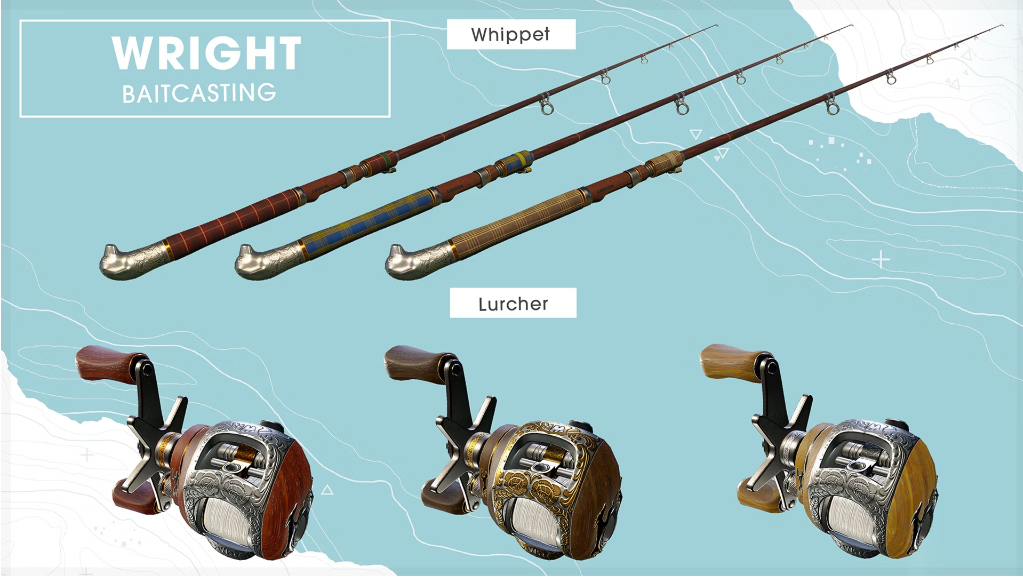 The Perk'n'Kins Baitcasting Line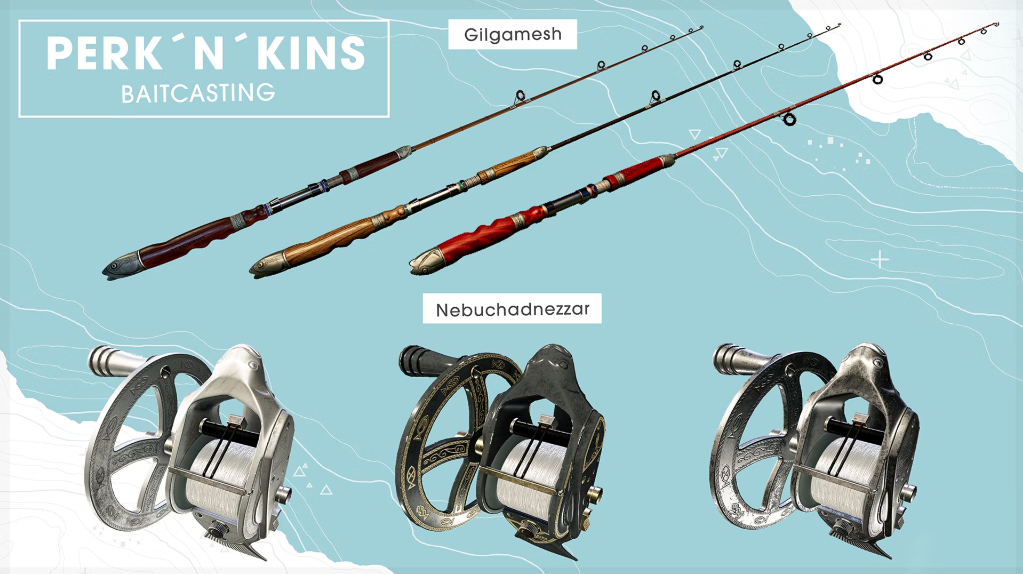 The complimentary DLC package also includes a selection of lures in highly practical sizes. It features the Stallo Rod & Hund Reel combo, accompanied by a complimentary Size 1/0 Fløyte swimbait to round out the set.
Furthermore, if you happen to possess the Norway Reserve DLC (which I highly recommend for its enjoyable content), it's advisable to equip yourself with some robust tackle beforehand. To acquire the Stallo Rod, all you need to do is successfully complete the "Find The Rod" missions within the reserve. This rod boasts impressive line poundage and serves as an exceptional all-around choice for anglers.
The Stallo Rod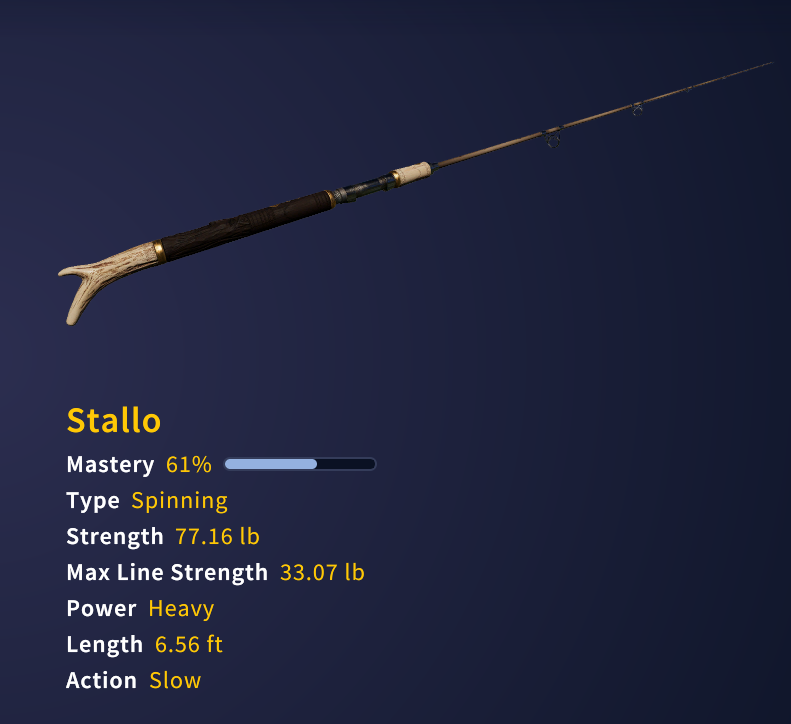 The Hund Reel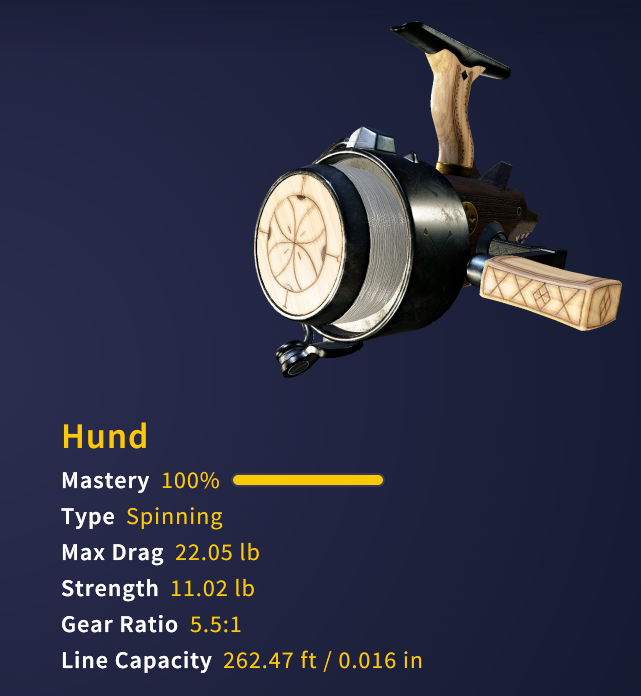 Fløyte Lure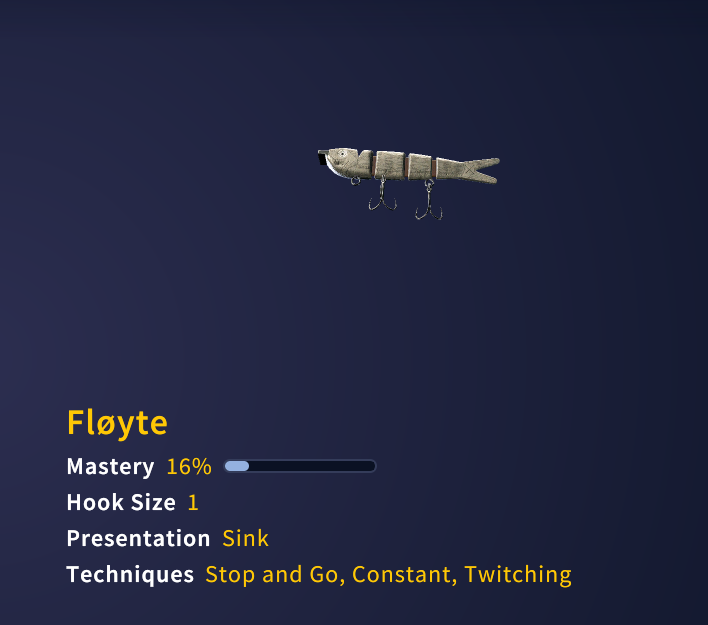 Community Information
I strongly recommend that you consider joining the public Discord community. By doing so, you can access a wealth of information and contribute your valuable insights to enhance the growth of this game and shape the simulated fishing genre.
I highly encourage you to explore the exceptional reserve data compiled by the dedicated members of this community, all of which is designed to benefit and enrich the experience for fellow enthusiasts.
Lastly, I extend a heartfelt thank you to WeDGE and his team for their commendable efforts in assembling the reserve information and conducting the research necessary to create the species statistics and charts. Their contributions have been instrumental in making this knowledge accessible to players like you.
That's everything we are sharing today for this Call of the Wild: The Angler guide. This guide was originally created and written by Weerum. In case we fail to update this guide, you can find the latest update by following this link.
If you believe that any of the content on this site violates your rights, including your intellectual property rights, please contact us immediately using our contact form.