Title: Boneraiser Minions
Release Date:
Developer:
Publisher:
Tips and "walkthrough" of how to beat King Gigald loop 3 and get highscores
Tips for newbies
1. Play the game and unlock everything you can, unlocking Heroic Metas are very important to making sure you last long enough to beat each form of Gigald. Unlock the invincibility dash quickly and don't blow your money on Architecture too early.
2. More (Stronger/Blessed)Enemies=More Bones=More Minions/Relics=Longer lasting runs (and higher scores). Don't be scared to take Wanted Poster relic or the relic that blesses enemies, the more bones you can get the more things you can summon to keep kicking ass! Prioritize taking relics that give you and enemies more boosts to your bone intake versus taking slow damage like "Rune Arc" or "Bustling Diaper"
3. Your minions (generally) can't keep up with you, run in small squares versus trying to kite the entire map. Remember this game isn't Vampire Survivors (unless you play as the Brainworm Brainiac), things that work there won't work here. You should be surrounded by bros for them to protect you, not far away on your own where they cant kill things trying to get you or slow them down for you. A very basic strategy I use is buying 2 of the Well architects next to each other, and running in between and around those (and dashing when you have the Meta unlocked gives invincibility, use it! There is even a relic that makes the dash cooldown faster). Remember enemies get stuck on the gravestone/architecture too and an extra half second could be life or death! I highly recommend NOT use the charge up dash, this can get you into trouble very quickly and you won't learn the boss for when the boss starts taking longer to kill!
4. Balance your damage with getting support items, if enemies are getting to you too quickly (and aren't blessed), stop taking Chesty Bro and get more damage! If you are doing fine currently you can afford to start picking up berrybros. Same with Relics, don't overlook Suffering Configuration, it might hurt you a bit when you get hit but the extra damage you deal means less chances for you to take the extra damage you'll feel! Plus you'll find Ward Amulet soon I promise!
5. Highly recommend rushing the following Daemons: Auger Daemon (benevolent auger to lvl 3 then a hero soul, this Daemon hastes you AND your minions which increases movement speed (and I think attack speed)) = Unholy Daemon (unholy monk to lvl 3 then a hero soul, this daemon summons other demons, gives you a % less damage taken (forget how much) AND he sometimes unblesses enemies (kind of awful). He can summon any other daemon randomly and frequently summons the very strong Diablos minions) > Jinx Daemon (5 LARGE hex square debuff which makes your minions deal extra damage or even allow enemies to die in 1 hit, Jinx minion to lvl 3 then a hero soul) = Tangler Daemon (Large slow field AND summons hearts you can walk over to heal on) > everything else. I don't recommend changing any of these guys to a Diablos Minion as the Unholy one will summon them and the support they gave is MUCH better than the DPS another provides, this will make your runs MUCH easier
6. Just have fun with your runs, Architecture helps but isn't necessary to beat Gigald the 1st time.
7. Here's what settings I have that make it easy to see attacks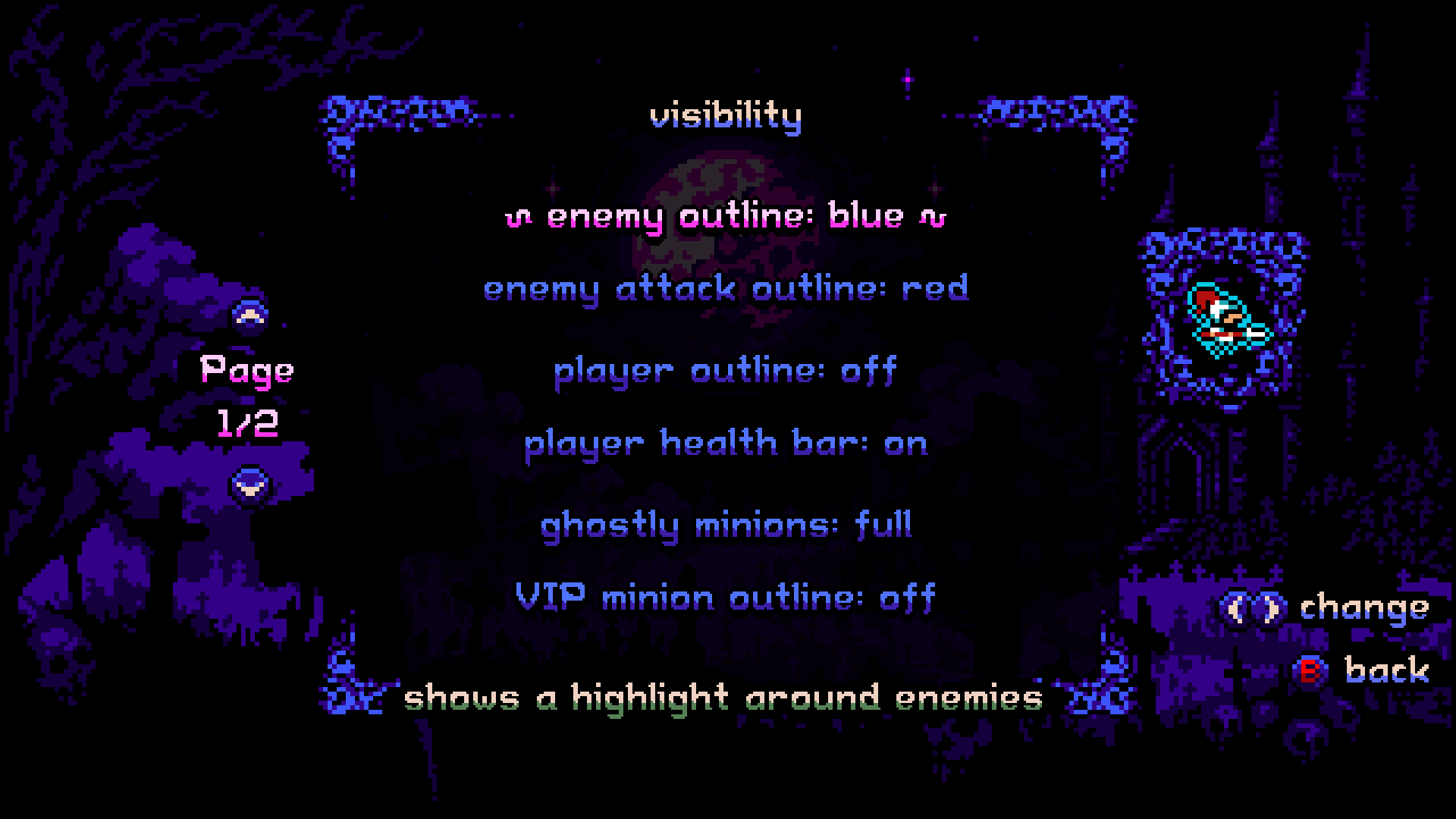 Advanced Tips
If you're reading this you should have everything unlocked and be pretty familiar with the game.
If you didn't read the beginner guide, a few tips might be reworded here.
1. Giga Banish things that work off of you, like Bustling Diaper, Rune Arc so you don't get these rolls very often and can instead get better relic rolls like Ward Amulet and Book of Grudges. I love clicking the Loot box relic even if I get 2 trash relics from it if there is nothing else good. If you have a relic roll that has 2 good relics, I recommend getting the one you DON'T already have, for example if you have to choose between getting Scope Sight to lvl 2, or getting Broken Bones, I recommend getting Broken Bones (those sweet lvl 3 summon chances later are super nice), but you do you and get what you like
2. Try not to make ALL your architecture memes like Exploding Pumpkins and Fire Lanterns and the Curse one, I personally like having the minion coffins, the things that level up your first summon, 2 wells NEXT to each other, the fruit plants that give you max HP and give a heal and now the new blessing architecture/The restless Monument, and the rock + max HP things. Staying between your damaging architecture (like 1 Fire lamppost) and your wells will make things a lot easier for you, especially if you just move in a square around them and rarely leave your minion wall.
3. With the new updates, I HIGHLY recommend getting more Giant Minions now, especially the Daemon ones they are absolutely badass now that they don't lock you out from getting the support daemons and they deal a ton of damage, only really bested by the lvl 3 bro minion and the lvl 3 Meldus minion honestly. You should probably have the lvl 3 bro minion by the end of Gigald 2 if possible, if you can get it earlier it will be even better, and stop summoning meme minions I personally HATE the joker minion and the Magick dude
4. The new Restless Abyss map is actually pretty fun IMO because of the strategy of not trying to run around the entire map constantly (only for pickups), you get less chances to get walloped because they can only come from 3 directions instead of 4
5. As you get into more loops of Gigald, he has more projectiles. Eat the lesser projectile to save you from taking damage from the higher one if you cannot absolutely dodge it. This is especially true for Gigald 3 who fires blue,purple and gold projectiles.
6. If you're playing Castle Conquest, choose routes with more bones or % extra score until you get the relic that gives you bones from gems based on their score, Queen Gigald is silly easy this way
7. Next to each of the areas you see different amounts of "green gem" amulet things, thats for how many loops you've beaten. You can see I harness the power of "got good" so I have the max on some of the harder levels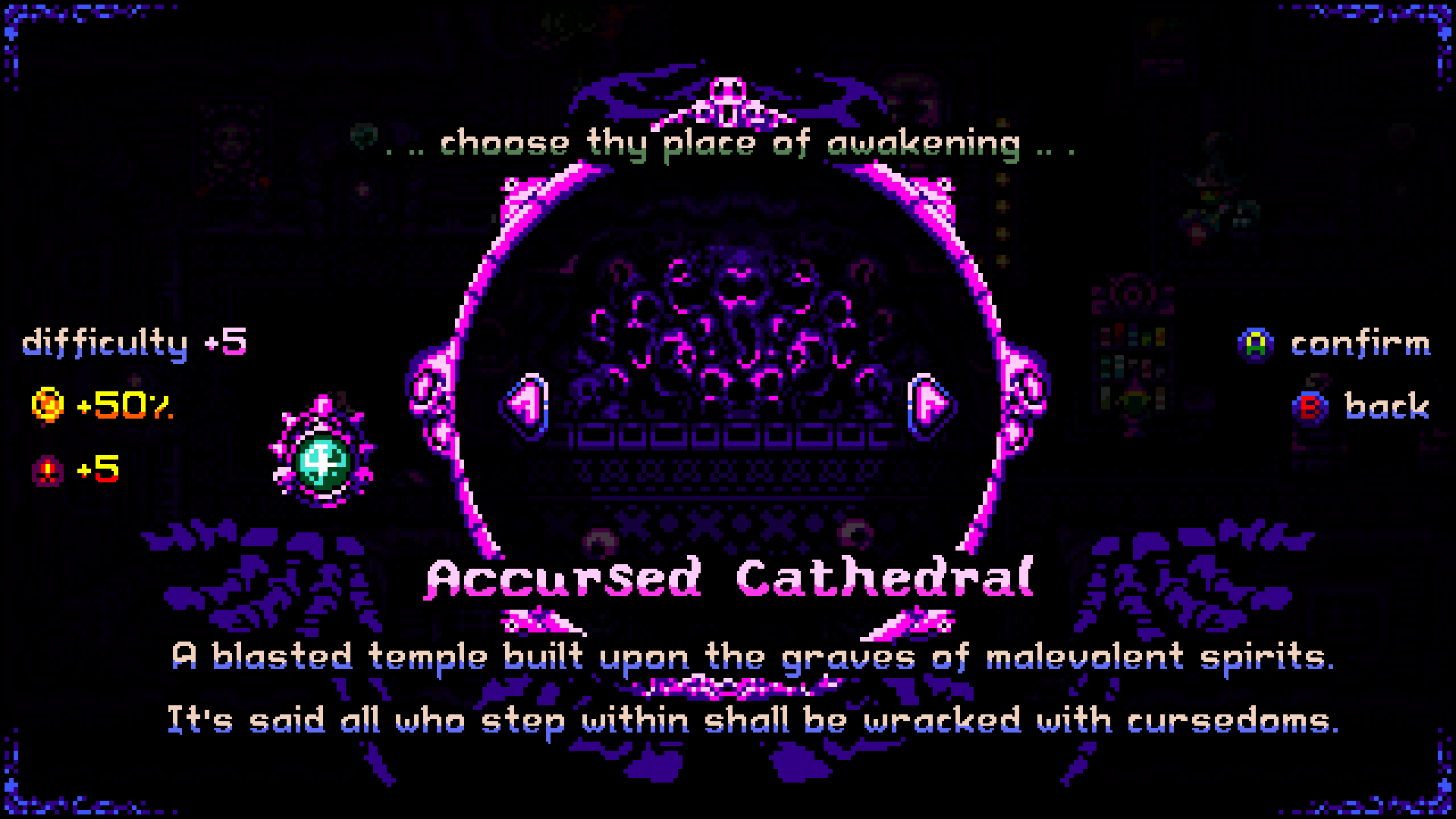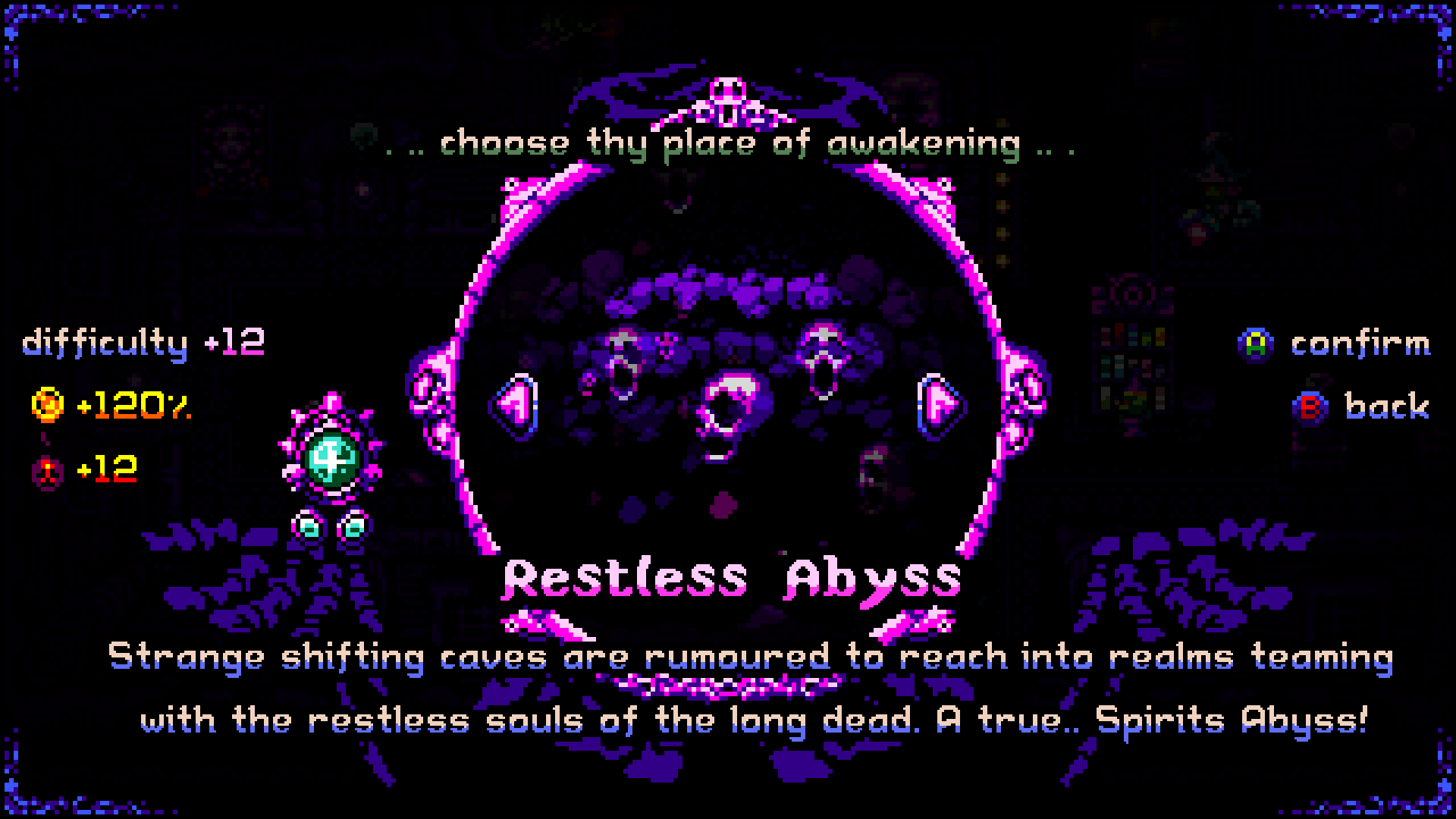 8. Have fun still
Walkthrough for how to successfully beat 3 Gigald Loops: Minions/Relics/Spells to look for
This is going to be a messy walkthrough writeup but here it goes:
1. You should have all unlocks available and go into runs with at least 20 hero souls
2. Pick Lich Necromancer, this is probably the easiest time I've had
3. Deck out your architecture, pick whatever you want but I like at the very least MAX Cadaver Coffins, 2 Blood Barrel (next to each other you'll be "playing" in this area primarily), Boning Totems, Burly Boulders, Bushy Fruits and a Sacrilegious Altar (this will be used during Gigald phases)
4. Relic Choices, IMO its better to take a "new" relic over upgrading one if the upgrade isn't that much for example taking Broken Bones over taking an upgrade to Scope Sights, Prioritize based on your situation if you are struggling to kill things, take the extra damage You should upgrade the Crystal Ball and Service Bell quickly though as they offer you more relics/buffs:
S Tier TAKE Immediately: Enboned Heart (especially if you get it early), Bottled Fairy, Ritual Kapala, Ward Amulet, Blood Pact (if offered with 3 other decent relics, if all the relics are mediocre just save this), Suffering Configuration, Bonechemist Slab, Book of Grudges, Scope Sights, Bernard's Watch (this is a based relic that small invincibility window saved my life), Occult Artifact, Sinicious Ritual (only if you lose less than 150 hp, otherwise ignore this relic), Magnifying Glass
A Tier (Take these when you can): Virginial Bow, Jewelry Box (only if you already have Bonechemist Slab), Scavenger's Mitts, Aromatic Mushroom, Nature's Wrath, Wanted Poster, Soul Blades, Flesh Larva, Loot Box, Occult Potion, Deboning Cutlery, Broken Bones, Box of Tricks, Crystal Ball, Deamonic Sigil (you're going to probably have a lot of Gigantic Deamons, but other things can be taken over this), Magpie Monocle (only with Bonechemist slab taken), Mimic Teeth, Stolen Divinity, Service Bell, Spirit Whispers, (whatever those ones that boost Meldus and Giant damage are also good to take too)
B Tier: Soul Taint, Calf Donors, Skelly Key (if you get mimic teeth, chests open on walking over them anyway), Penitence Pin, Blooden Cloak, Box of Tricks, Ring of Fire
Trash Tier: Everything that gives you +1 to a bro minion (besides the meldus/deamon one) and stuff like Rune Arc/Blue Candle. If I didn't mention it, either I forgot about it or its not as good as other relics.
5. Spells:
S Tier: Barrowern Caress (do the opposite of normal, run away from your minions and hope a group of baddies surrounds you before your minions can help, and get as many in your cast as you can), Humongous Bones, Magical Chest, Barrow Bonebolster (seems silly to take as a Lich right? It's still not) , Blessed Tidings, Echo of the Wilds, Humongous Gems, Jewelry Royalifier, Midas Touch, Sanguine Shovels, Travelers Lure, and the new one that summons a Restless Monument
A Tier: Bloodletting Marrow, Stars Alignment, Card Catcher, Trap Surprise, Spellious Spewious, Contraptor Spirit (use it on one of the Coffins), Fleetly Hauntings
B Tier: The rest for varying reasons and I'm too lazy to list them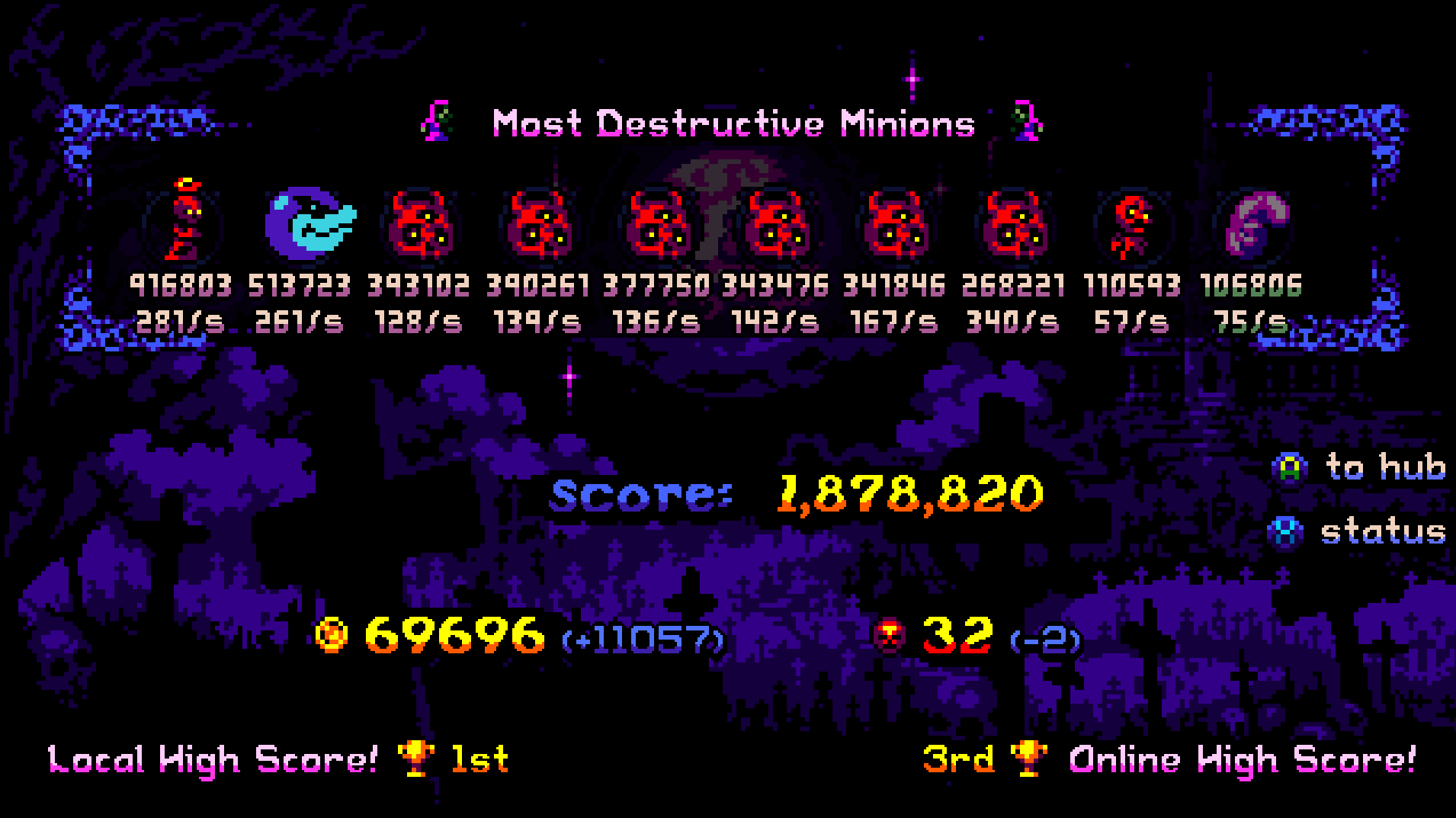 Walkthrough of how to successfully beat 3 Gigald Loops: The Run
How a Typical Match goes:
Since you're a Lich Necromancer, lvl 1 skeletons are your friend, so banish lvl 2 dudes of things you don't want as Deamons. When you summon a lvl 1 dude bones suck towards you, so just remember you don't HAVE to run around the map if you don't want to, don't be shy to let bones stack up a bit. You also get a "slight" bit of safety for the later loops, you sacrifice a minion to stave off death. If you have to sacrifice minions more than twice, and not even on Gigald, you're guaranteed a loss though. Rush Unholy Monk/Auger/Jinx (or Tangler) Deamon, it doesn't matter which comes first but these should be your base 3 and you shouldn't fuse them into a Diablos Minion, Work on getting Meldus Minions so you get Megas Meldsumassous quickly as well. It honestly doesn't matter which minions you get at the start but don't fuse away your Augur/Monk/Jinx until they are Deamons. With the update to the Giantous Deamonous not counting towards your Deamon cap, these things will probably be your early game material. I usually get offered loads of Giant Mages at the start and they are based magic shotgun men, roll away your lvl 1 dudes for these its not going to hurt at all until you hit the cap. Once you hit the cap for giants (not just Deamon giants but in general) start hitting the Meldus and Deamon cap if you haven't already and this should take care of Loop 1 Gigald pretty easy. I like getting my supports on this loop, like Shroom Bro (I HATE firebro) and I love the Chupabros. Use your spells frequently. You should get 2 of the Fruit Plants for +80 max hp and you should hopefully end at over 250 Max HP. You should have learned the bosses patterns so they aren't too hard to avoid while your minions wail on them.
If you're struggling to kill gigald here, you aren't taking enough damage relics/taking meme minions like Joker, he dies pretty damn fast and you should activate that Sacriligious Altar architecture at the gigald fight as well. The basic idea is to run at the bottom of the screen left and right until the boss spawn dies, which I've gotten lucky to the point Gigald hasn't even started to fire until after these dudes are dead honestly, then run a bit closer to Gigald and unload any spells you have and dash around his attacks until his head pops off, use this opportunity to not just walk to avoid his projectile but to time the dash so it misses you. As King Gigald 2 will shoot an extra purple projectile and king gigald 3 will shoot the purple AND a gold projectile on top of it. Make sure to collect EVERYTHING before Gigald dies, you don't auto collect it. I left a Hero Soul behind once and while I still won, that really sucked.
Loop "1", You're going to start having a harder time, make sure you're taking relics and minions at this point that can heal you quickly if you start taking damage, Virginial Bow is a god send of an item and guzzling down Occult Hearts at your Blood Barrels should be enough for when you are in trouble. You also better have a batty pushing dudes away from you, a tangler slowing them down AND an item like Flesh Larva if they start to get close. You're going to start to see blessed meanies naturally so slow is VERY important now. The scariest enemy on this loop and the next loop is the Elden Tree, especially if its blessed. A good idea would be once you see them, move in the opposite direction they are coming at you from and dodge INTO them if they get on top of you, this should give you enough leeway that your meanys should have killed them by now. This loop you should start upgrading your damage immensely, start filling out Gigantic Deamons, get the Lvl 3 Meldus minion if you don't have it and start getting skeleton minions based on what relics you have (if you don't have scoped sights quite yet start rolling for it). I like the Scalp minions over the arrow ones, and I like the Skewer one sometimes over the Guard one but getting a mix of everything won't hurt you at all. Melee in this game is pretty based so don't sleep on them. Start getting lvl 2 bro minions during this loop too, we're shooting for the Lvl 3 bro minion during Gigald or early next loop. You should have Crystal Ball and Travelers Bell somewhere around here, I always kill Maidens for the free heal and extra max HP, and I only get tricked rarely. You should have at least 500 HP here by Gigald but you will probably have more.
King Gigald 2 is a tough guy, he shoots two projectiles instead of one. The Blue one is super slow I doubt you'll get hit by it, but if you have to take a choice between taking a hit from a blue one or a purple one, take the hit from the blue one. Use dashing FREQUENTLY to invincibility frame between attacks but same as before, sometimes you can kill his 2 boss spawns before he starts attacking. Make sure you use your Deamon Altar architecture, I sometimes forget but it will help immensely. Once he is a head, walk AROUND the blue projectile and dash when the purple is near you so you're not on a cooldown when purple is nearby. If you take a death anytime before the end of this and had fairy bottle, don't be sad I had one game where I got 3 fairy bottle relics and won it.
Loop "2" the last loop:
This is going to start off slow, and its going to ramp up fast. If you survived Gigald 2, congrats, a lot of people can't including myself for awhile I usually could make it to him but never survive him. If you don't have the Lvl 3 bro minion yet, work on him FAST. The biggest reason beyond his insane damage we need him for, is his Eggy Form. He summons 3 lvl 1 dudes within 30 seconds, thats a LOT of extra dudes and damage for you. This loop any chances you take, will end you. If you want to collect a chest that is halfway across the map, you better move SLOWLY towards it because if you get out of the minions range and they are busy clearing out enemies behind you but not around you, you're going to die very quickly. If you want to risk it, dash like a madman and then dash back into your mob and go back to the safety of your occult heart generating well. If enemies are penetrating you, you have not taken enough damage relics and you need to take them FAST. Again this loop should be all about you taking damage minions, you should just be loading up on the lvl 1 skeletons. Hopefully you maxed out your Crystal Ball and Travelers Bell and they should be showing up VERY frequently, so you should be getting lots of spells and ♥♥♥♥. Start taking damage spells too to help clear out waves if you haven't been. If you're scared here, DON'T active restless monuments but you're going to lose out on those precious bones that may just help you kill Gigald with another summon. I would NOT recommend trying to scale back any of the blessings you've given enemies and weaken them, if you are struggling on the waves Gigald will kill you. If you can tell what's been going on, on your screen during this loop you probably are going to die, I've even lagged out a couple of times here too.
Gigald 3: Gigald 3 shoots ANOTHER projectile on top of his other 2, and its gold like Queen Gigalds, but it does a lot more damage. You're going get hit and there is nothing you can do to stop it, so I hope you have at least 750+ hp and a fairy bottle. Like Gigald 2, we don't want to eat gold shots, we'd rather take the lesser hit, and this is where Bernards watch relic is really based, you have 3 boss enemies that have to die first, so you want that hero soul to get the invincibility frames while another boss dies, and this will help you out immensely. Gigald WILL stack his attacks on top of the boss monsters, focus on avoiding Gigalds gold shots over everything else, but they are FAST. It's ok to lose Fairy Bottle on part 1 after he gets below half hp, but if you lose it prior to that you might not win. When his head comes out, walk around the blue shot, and eat the purple shot. Congrats if you won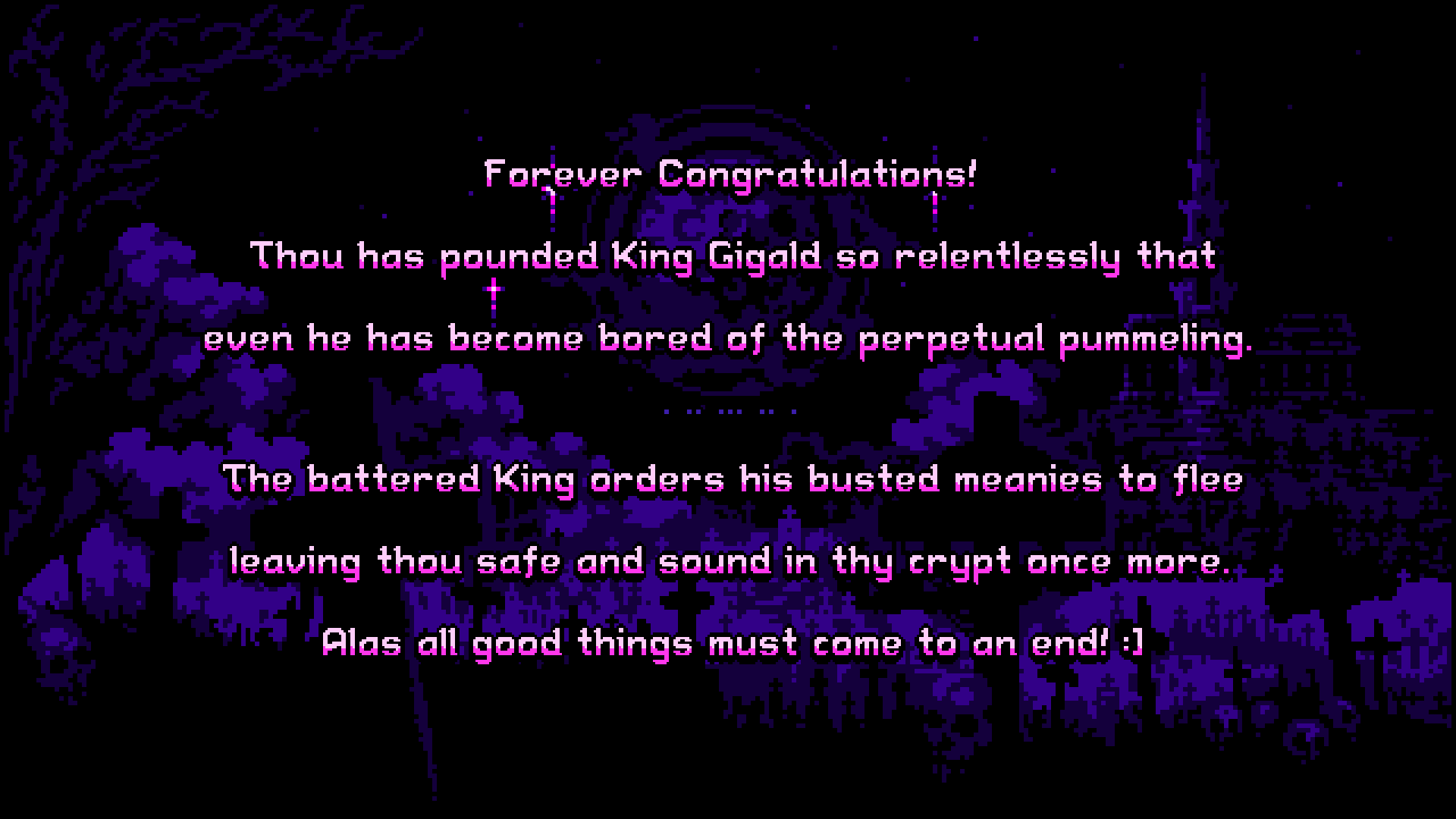 Leave me a comment
Hope my poorly written guide helps you out 🙂 I hope to see you on the leaderboard above me!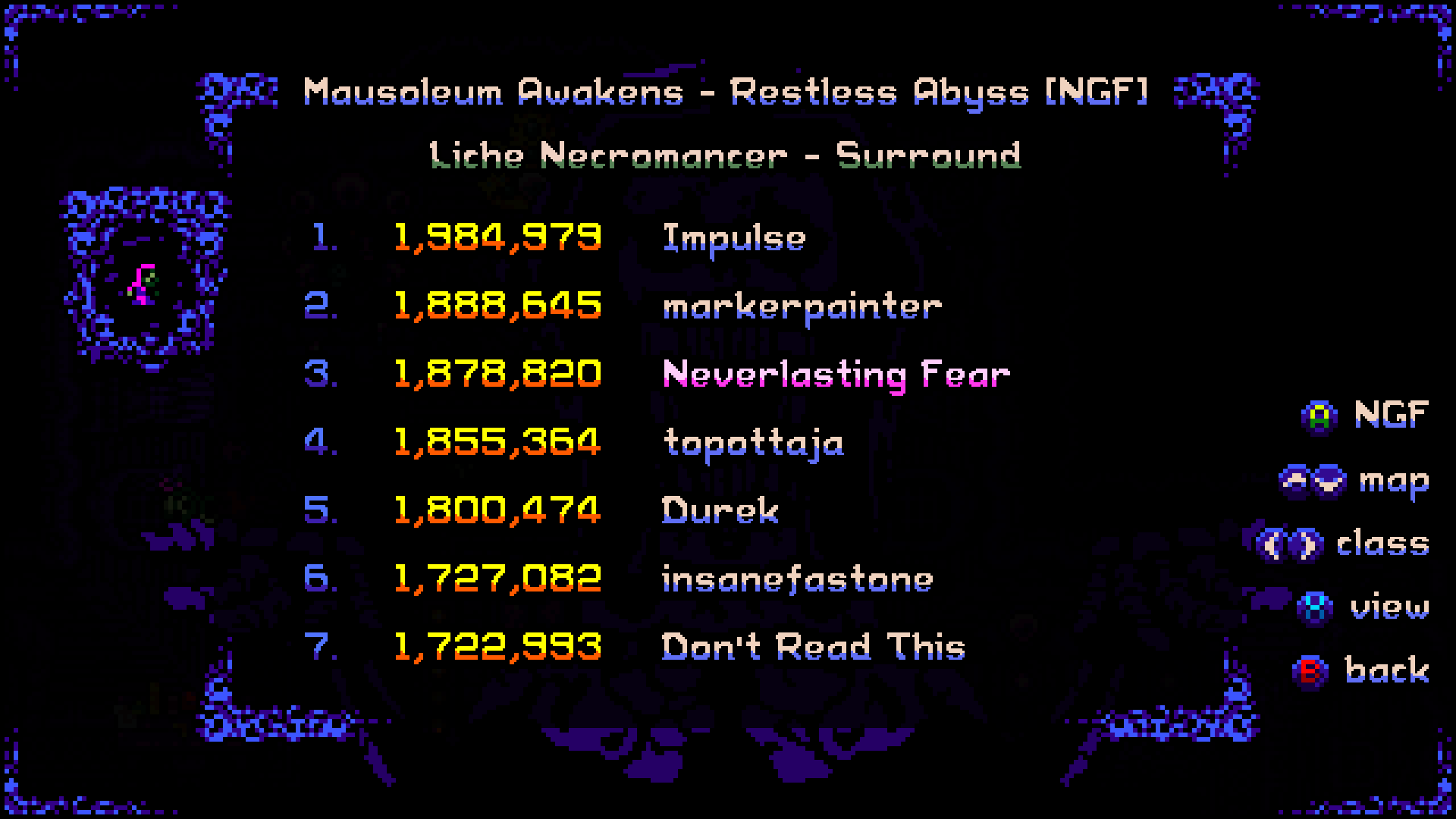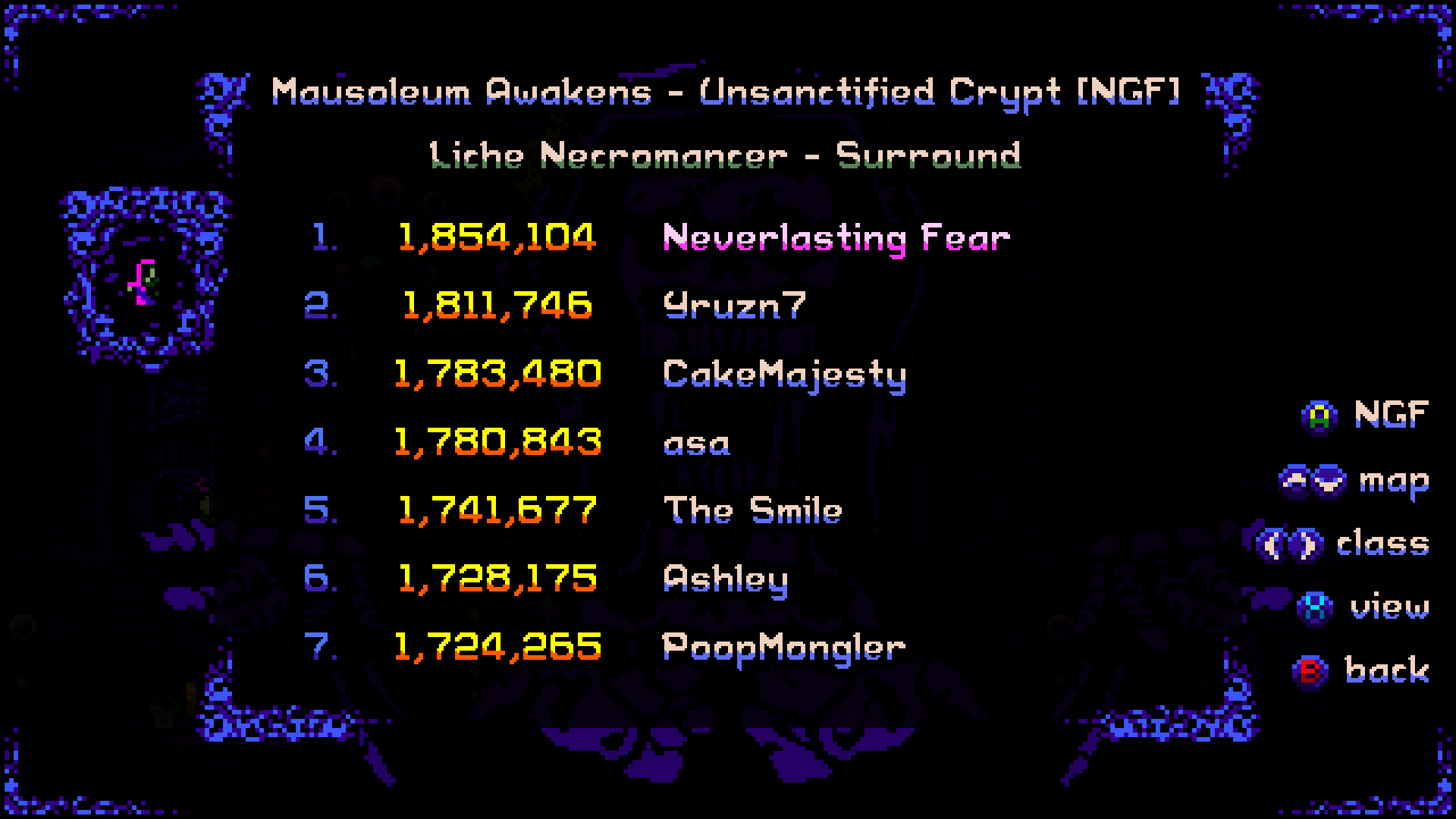 That's everything we are sharing today for this Boneraiser Minions guide. This guide was originally created and written by Neverlasting Fear. In case we fail to update this guide, you can find the latest update by following this link.
If you believe that any of the content on this site violates your rights, including your intellectual property rights, please contact us immediately using our contact form.