Title: BlazBlue Entropy Effect
Release Date: August 16, 2023
Developer: 91Act
Publisher: 91Act
This page covers the quick character overview and some valuable tips for Hakumen in BlazBlue Entropy Effect
Introduction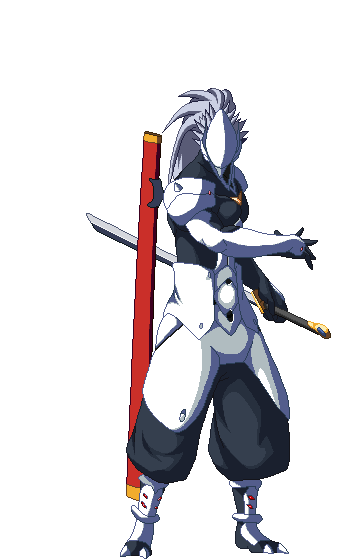 I purchased this game primarily because of Hakumen, and I've been dedicating a substantial amount of time to playing as him. Although I wasn't particularly fond of his character in the main series, I find him incredibly enjoyable to use in this game. His parry move, in particular, stands out as a remarkably potent ability, and when coupled with the appropriate skill upgrades, Hakumen can become an indomitable force.
Advantages:
Robust Health
Significant Damage Output
User-Friendly Mechanics
However, there is a notable drawback to playing Hakumen, aside from his inherent slowness, which is that if you don't build him correctly, you may encounter considerable difficulties when facing bosses.
With that said, I firmly believe that Hakumen serves as an outstanding character choice for newcomers. He boasts impressive damage potential and durability right from the outset, complemented by his formidable parry ability.
Early Game and Evotypes
Let's start with the basic kit.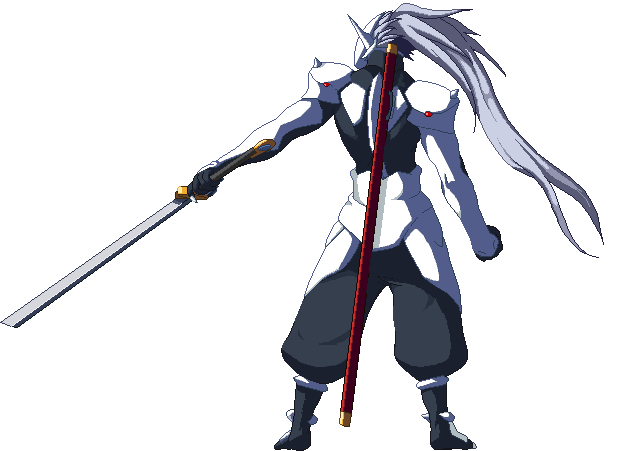 Basic Attack and Heavy Attack: Hakumen's standard attacks may not be flashy, but in the initial stages, it's advisable to rely heavily on heavy attacks to maximize your damage potential.
Evotypes: My preferred choices for Evotypes typically include Kokonoe and λ-No.1.
Both Kokonoe's and λ-No.1's legacy skills prove highly beneficial for Hakumen, especially considering his lackluster air-to-air capabilities. Additionally, λ-No.1 offers a valuable perk that facilitates life recovery within a brief timeframe after sustaining damage, which is particularly advantageous for our stalwart Hakumen.
Potentials and Tactics
In terms of potentials, there's one particular route that I can confirm to be effective.
Potentials:
Shiden: Triggered by [Down + Dash], this potential serves as the cornerstone of the build.
Triple Dash: Grants you three dashes, allowing you to use Shiden more frequently.
Isaha (Shield): While dashing, you gain immunity to damage, making you invulnerable during Shiden.
Isaha (Far): Enhances the distance covered by your dashes, extending the reach of your Shiden.
Kokuujin Yukikaze [Recur]: Your skills inflict damage multiple times, and enemies you hit remain immobilized for a longer duration. This benefits your parry and Shiden, amplifying their damage output.
Sekka: Transforms [Heavy Strike] into Blink, increasing the damage of your heavy strikes when combined with Kokuujin Yukikaze.
Fun Potentials:
Yanagi: [Basic Attack * Dash] enables you to grab enemies and slam them to the ground, although it doesn't work on bosses. It's an entertaining move, especially for dealing with groups of regular enemies.
Kokuujin Jinrai: By blocking a hit, this potential summons a powerful thunder attack. Keep in mind that it relies on SP, so it's not a constant ability, but it's impressive when it lands.
Rakurai: After a [Double Jump], execute [Jump] again to dash upward and then plunge to the ground. If you make contact with an enemy, you grab and slam them to the ground. This potential allows for creative combos, although it's not effective against bosses.
Tactics:
Regarding the Tactics system, your choice is flexible, but I personally recommend opting for the ice element, as it has the advantage of slowing down enemies, giving you a tactical edge in battles.
Strategy
The most effective strategy revolves around maximizing your potentials in the late game while capitalizing on heavy attacks and parry during the early game. This approach ensures a well-rounded and potent gameplay experience, adapting to the different stages of the game's progression.
That's everything we are sharing today for this BlazBlue Entropy Effect guide. This guide was originally created and written by Astro. In case we fail to update this guide, you can find the latest update by following this link.
If you believe that any of the content on this site violates your rights, including your intellectual property rights, please contact us immediately using our contact form.